23rd November 2002
Pathfinder Tours
The Shap Streaker
| | |
| --- | --- |
| Locos Used | 47840 'North Star', 90037 & Steam: 60009 'Union of South Africa' |
Route: (1)
1Z50 : Birmingham New Street to Carlisle
1Z51 : Carlisle to Birmingham New Street
| | |
| --- | --- |
| Loco | Route |
| 90037 | Birmingham International - Stechford - Proof House Jn - Birmingham New Street - Soho South Jn - Galton Jn - Dudley Port - Wolverhampton - Bushbury Jn - Stafford - Norton Bridge - Madeley - Crewe |
| 60009 | Crewe - (via WCML) - Carlisle |
| 60009 | Carlisle - (via WCML) - Preston (2) |
| 47840 | Preston - (via WCML) - Warrington Bank Quay - (3) - Acton Grange Jn - (via WCML) - Crewe |
| 90037 | Crewe - (reverse of outward route) - Birmingham New Street |
Notes:
(1) Reporting codes were given as from/to Birmingham New Street whereas the train actually started/finished at Birmingham International.
(2) 60009 was replaced owing to problems keeping a good fire going.
(3) Was train routed via Walton Old Jn as booked or did it go mainline?
Sources : Steve Robinson & Gordon Jakes (on from Stafford on outward to Preston on return)



Photo Review
(all photos: Gordon Jakes)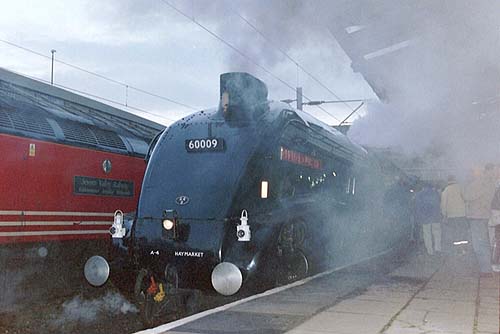 60009 waits to leave Crewe.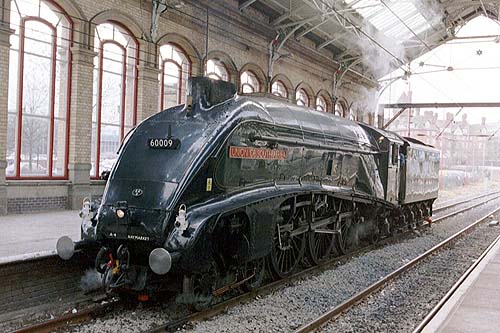 60009 goes to be watered at Preston.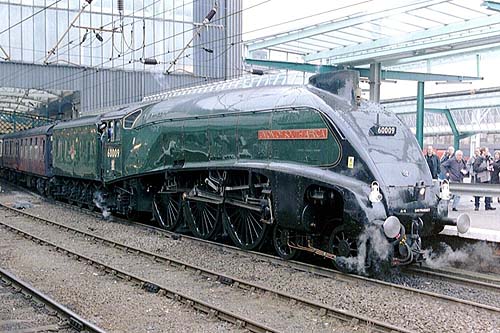 60009 on arrival into Carlisle.


Timings (Booked & Actual)
(from Gordon Jakes)
M.C
Location
Booked
Actual
Booked
Actual
0.00
Birmingham International
05.45d
?
22.46a
?
8.18
Birmingham New Street
06.00a ~ 06.03d
?
22.27a ~ 22.30d
?
10.19

Soho South Jn

06/08
?
22/23
?
11.77
Galton Jn
06/10
?
22/21
?
13.46
Sandwell & Dudley
06.12a ~ 06.15d
?
22.15a ~ 22.16d
?
15.42
Dudley Port
06/19
?
22/12
?
21.02
Wolverhampton
06.28a ~ 06.30d
?
22.04a ~ 22.05d
?
22.56
Bushbury Jn
06/35
?
21/59
?
36.33
Stafford
06.46a ~ 06.52d
??.?? ~ 06.52
21.35a ~ 21.46d
?
41.62
Norton Bridge
06/59
?
21/29
?
52.64
Madeley
07/08
?
21/19
?
60.70
0.00
Crewe
07L23a ~ 07L50d
07.21 ~ 08.20 [P12]
20L51a ~ 21L10d
?
8.66
Winsford SB
08/05
08/40
20/38
?
17.22
Weaver Jn SB
08/13
08/48
20/31
?
22.24
Acton Grange Jn
08/19
08/52
20/22
?
-
Walton Old Jn
20/18
?
24.11
Warrington Bank Quay
08/21
08/54½
20/13
?
27.47
Winwick Jn
08/28
08/58½
20/02
?
34.42
Springs Branch Jn
08/36
?
19/54
?
35.71
Wigan North Western
08/38
09/10½
19/52
?
43.42
Balshaw Lane
08/46
?
19/44
?
45.45
Euxton Jn
08/53
09/23½
19/42
?
51.01
Preston
09w05a ~ 09w46d
09.35 ~ 10.33
19w00a ~ 19w32d [P5]
19L20 ~ ??L??
55.59
Barton & Broughton Loop
10*00 ~ 10*16
10.47 ~ 10.49
71.79
Lancaster
10/38
11/08½
18/32
18/58
78.07
Carnforth North Jn
10/44
11/14
18/24
18/52
91.07
Oxenholme
10/56
11/31
17w22a ~ 18w05d
18.05 ~ 18.33 [UGL]
98.20
Grayrigg Loop
11*05 ~ 11*22
11.48 ~ 12.08½
104.20
Tebay
11/33
11/33
17/06
?
123.19
Penrith
11w58a ~ 12w38d
12.45 ~ 13.02
16/44
?
141.08
Carlisle
12.58a
13.25 [P3]
16.16d
16.25