19th October 2002
Pathfinder Tours
The Yns Mons Express
Locos Used
47749 & steam: 6233 'Duchess of Sutherland'

Stock Used (1)

3143

+

99125+4951+4994+1981+99680+99318+4940+4984+5032
Route:
1Z29 : Cardiff Central to Holyhead
1Z49 : Holyhead to Cardiff Central
| | |
| --- | --- |
| Loco | Route |
| 47749 | Cardiff Central – Newport – Severn Tunnel Junction – Pilning – Bristol Parkway – Westerleigh Jn – Charfield – Standish Jn – Barnwood Jn – Cheltenham Spa – Abbotswood Jn – Worcester Shrub Hill – Droitwich Spa – Stoke Works Jn – Barnt Green – Kings Norton – Selly Oak – Birmingham New Street – Proof House Jn – Aston – Bescot Stadium – Bushbury Jn - Stafford – Norton Bridge – Madeley – Crewe |
| 6233 | Crewe – Chester – Rhyl – Llandudno Junction – Bangor - Holyhead |
| 6233 | Holyhead – (reverse of outward route) – Crewe |
| 47749 | Crewe – (reverse of outward route) – Stoke Works Jn – Abbotswood Jn – Cheltenham Spa – Barnwood Jn – Gloucester – Chepstow – Severn Tunnel Junction – Newport – Cardiff Central |
Notes:
(1) Plus support coach (identity required) whilst 6233 was on the train.
Source : Gordon Jakes (on train from Birmingham New Street, outward, to Stafford, return)



Photo Review
(all photos: Gordon Jakes)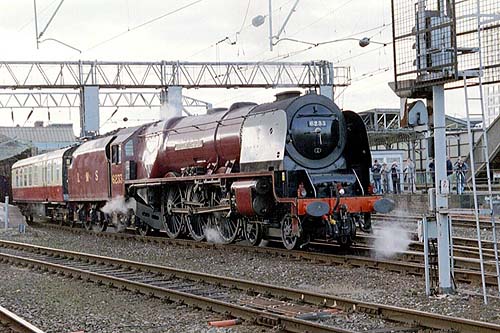 6233 plus support coach at Crewe.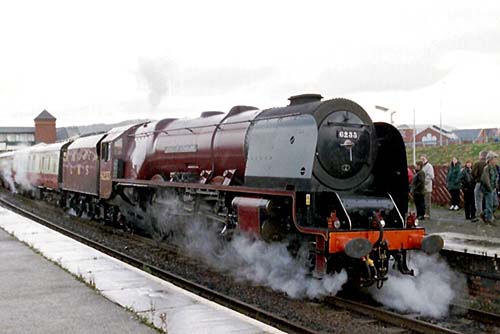 Llandudno Junction, on the way to Holyhead.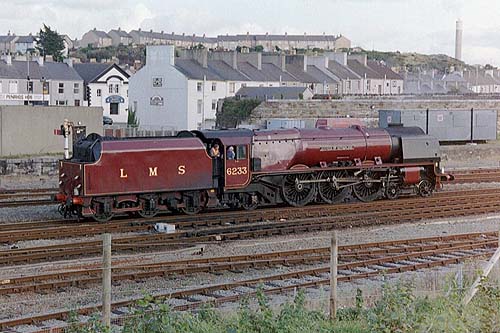 6233 returns to Holyead after turning on the triangle at Valley.


Timings (Booked & Actual)
(from Gordon Jakes)
M.C
Location
Booked
Actual
Booked
Actual
M.C
0.00
Cardiff Central
05.40d
?
23.37a
?
162.64
6.50
Marshfield
05/48
?
23/26
?
156.14
11.60
Newport
05.55a ~ 05.58d
?
23.08a ~ 23.20d
?
151.04
21.49
Severn Tunnel Junction
06/08
?
22/59
?
141.15
22.59
Severn Tunnel West
06/09
?
28.45
Pilning
06/14
?
32.11
Patchway
06/19
?
33.33
Bristol Parkway
06.30a ~ 06.32d
?
38.03
Westerleigh Jn
06/38
?
39.55
Yate
06/40
?
46.16
Charfield
06/46
?
59.41
Standish Jn
06/57
?
65.51
Gloucester Yard Jn
07/03
?
-
Chepstow
22/52
?
133.67
-
Lydney
22/44
?
125.71
-
Awre
22/39
?
120.56
-
Gloucester
22/26
?
106.38
-
Horton Road Jn
22/25
?
106.15
66.38
Barnwood Jn
07/11
?
22/24
?
105.41
72.01
Cheltenham Spa
07.21a ~ 07.24d
?
22.15a ~ 22.17d
?
99.78
79.12
Ashchurch
07/32
?
22/08
?
92.67
89.79
Abbotswood Jn
07/40
?
22/00
?
82.00
90.61
Norton Jn
07/42
?
93.66
Worcester Shrub Hill
07/48
?
94.33
Tunnel Jn
07/49
?
99.45
Droitwich Spa
08/03
?
103.60
Stoke Works Jn
08/08
?
21/52
?
70.63
105.73
Bromsgrove
08/10
?
21/50
?
68.50
109.36
Barnt Green
08.17a ~ 08.20d
?
21.42a ~ 21.45d
?
65.07
112.11
Longbridge
08/28
?
21/37
?
62.32
114.44
Kings Norton
08/31
?
21/34
?
59.79
116.58
Selly Oak
08/34
?
21/29
?
57.65
120.09
Birmingham New Street
08.47a ~ 08.51d
??.?? ~ 08.56
21.08a ~ 21.20d
?
54.34
120.65
Proof House Jn
08/53
?
21/05
?
53.58
122.65
Aston
08/57
09/07
21/02
?
51.58
125.07
Perry Barr North Jn
09/01
?
20/57
?
49.36
129.44
Bescot Stadium
09/08
09/15
20/53
?
44.79
130.62
Darlaston Jn
09/09
?
20/52
?
43.61
133.61
Portobello Jn
09/12
?
20/47
?
40.62
136.29
Bushbury Jn
09/24
?
20/43
?
38.14
150.06
Stafford
09.36a ~ 09.39d
09.39 ~ 09.41
20.27a ~ 20.30d
20.20 ~ ??.??
24.37
155.35
Norton Bridge
09/46
09/47
20/22
?
19.08
166.37
Madeley
09/55
?
20/12
?
8.06
172.59
Basford Hall Jn
10/02
?
20/07
?
1.64
174.43
0.00
Crewe [P12]
10L10a ~ 10L40d
10.04 ~ 10.41
19L39a ~ 20L01d
19.05 ~ 19.54
0.00
105.52
1.41
Crewe Steel Works
10/47
?
19/23
?
104.11
10.60
Beeston Castle & T. SB
10/57
?
?
?
94.72
21.10
Chester
11p13a ~ 11p27d
??/??
19.04 ~ 19.07
18/34
84.42
23.01
Saltney Jn
11/30
?
19/00
?
82.61
31.51
Rockliffe Hall
11/42
?
18/49
?
74.01
37.76
Holywell Jn
11/50
?
18/40
?
67.56
51.08
Rhyl
12/04
11/37
18/23
?
54.64
61.45
Colwyn Bay
12/16
11/46
18/11
?
44.07
65.55
Llandudno Junction
12w22a ~ 12w54d
11.51 ~ 12.47
17w19a ~ 18w05d
17.10 ~ 17.49
39.77
70.63
Penmaenmawr
13/02
?
17/09
?
34.65
80.11
Bangor
13/13
?
16.54a ~16.56d
16.48 ~ 16.51
24.61
82.62
Menai Bridge
13/17
?
16/48
16/42
22.70
84.29
Llanfairpwyll
13/19
?
16/44
?
21.23
87.15
Gaerwen
13/23
13/18
16/41
?
18.37
102.07
Valley
13/38
?
16/23
?
3.45
105.52
Holyhead
13w50a
13.40
16w15d
16.16
0.00