10th August 2002
Pathfinder Tours
The West Wales Excursion
| | |
| --- | --- |
| Locos Used | 50031, 50049 & 66092 |
| Stock Used | 5322+5366+5341+1203+3244+3223+3188+3240+1699+1683+3181+17105 |
Route :
1Z50 : London Paddington to Fishguard
1Z51 : Fishguard to London Paddington
| | |
| --- | --- |
| Loco(s) | Route |
| 50031 + 50049 | London Paddington - Slough - Reading - Didcot Parkway - Swindon - Bristol Parkway - Pilning - Severn Tunnel Junction - Newport - Cardiff Central - Pontyclun - Bridgend - Port Talbot Parkway - Court Sart Jn - Swansea Burrows Sidings |
| 66092 (1) | Swansea Burrows Sidings - Felin Fran - Llanelli - Robeston Sidings |
| 50031 + 50049 (2) | Robeston Sidings - Herbranston Jn |
| 66092 (2) | Herbranston Jn - Milford Haven |
| 50031 + 50049 (2) | Milford Haven - Clarbeston Road |
| 66092 (2) | Clarbeston Road - Fishguard Harbour |
| 50031 + 50049 (2) | Fishguard Harbour - Clarbeston Road - Whitland - Carmarthen Bridge Jn - Carmarthen Jn - Llanelli - Swansea Loop West Jn - Landore Jn - Neath - Margam Moors |
| 50031 + 50049 | Margam Moors - Port Talbot Parkway - Bridgend - (reverse of outward route) - London Paddington |
Notes:
(1) 50031 + 50049 on rear.
(2) 66092 on rear.
Sources : Steve Cassidy & Alan Vickers



Tour Review
(by Andrew Wilson)
For this tour I had booked the 23.30 Manchester Piccadilly - Paignton on 9/08/02, to Bristol Temple Meads, which would leave nearly a whole morning to get to my booked pick up point of Bristol Parkway as tight connections cannot now be trusted as I know to my cost. I arrived in Piccadilly at about 23.05 expecting to see the new "super-duper technology" that Richard Branson had inflicted upon us but I was pleasantly surprised to see a rake of stock with 47848 simmering at the end of it.
I bumped into some of the northern shed desperados on the platform and one of them told me that the last run of this train with loco and stock would be on the 16/08/02 and after that it would go over to Voyager operation.
47848 was in fine fettle and we pulled into Bristol slightly early at 03.10 but I was surprised when the Train Manager announced that the booked time of departure forward was 04.40. There is probably some good reason for this but I am still trying to think of one (recovery time possibly?? ) - answers on a postcard to Virgin Trains. This Train Manager was not the most popular guy as the Manchester man did a full grip leaving Stockport and when the Birmingham man took over he also did a full grip from Birmingham waking up many dossed out families with small children in my coach.
I arrived at Parkway at about 9.00 and during the wait I received a phone call from John Aston telling me that 47292 was working the Green Express tour from Llandudno Junction as Fragonwagon were yet again low on power. He also said 37203 & 37426 were working the BLS tour of Scotland and 37114 & 37521 were rumoured to be working the Cardiff - Liverpool football special next day as DRS had no spare power either. I was glad that I didn't need anything so I wouldn't have to do any desperate leaps to scratch them in. A shed basher told me that there was a choice of 4 sheds on Margam, and 3 of them hadn't worked before, so I thought it was a very good bet that control would put the dud shed out, but it must have failed, as further gen reported 66092 (a winner) was to work our tour.
At 9.49, exactly on time, 50031 and 50049 rolled into Parkway looking absolutely immaculate in blue with the old nameplates and crests that they used to carry in BR days. The headboard was also an old original one proclaiming 'Dyfed Dub-Dub' a similar Pathfinder tour which ran some years ago. I have always had a soft spot for Class 50's and I used to bash them in pairs on the overnights up the Devon banks more years ago than I care to remember. I can't understand why many bashers dislike 50's, as they are from the same stable as the 20's, 37's and 40's. I boarded the train and found my seat but claimed a window for the thrash to Newport and I wasn't disappointed as they stormed along. We left Newport about 5 down after the panel had let some all shacks go before us, which is generally the case. We traversed the centre road at Cardiff Central without stopping. We took the left hand freight connection at Briton Ferry and staggered slowly down to Swansea Burrows Sidings where 66092 was waiting to go on the front for the run to the West Wales branches. Purely a personal view but it would have been better to run the 50's round to lead and put the shed on the back as the 50's would now be shut down until much later in the day. We departed and took the Jersey Marine North curve to traverse the Swansea District Line. We tottered along passing Felin Fran and reached Morlais Junction on the Central Wales line where we were held for a unit to pass. Further Northern Class 66 suspects appeared and stopped to chat as they walked down the train to bale at Kidwelly. I received various dubious comments on my presence on this particular tour such as "Now then Bert, where's Ada today!!" My protestations at needing all track west of Swansea, as I had previously refused to scratch it on some nodding dog, meet with further derision and contempt. The shed men baled at Kidwelly as booked after their fix along with some passengers who had booked the option of an afternoon at the Gwilli and Teifi Valley Railways. The shed then carried on to Haverfordwest where more passengers got off for the 2nd option to view some old ruin at St David's (I thought it was Margaret Thatcher but in fact it was some old church). Two more Northern shed bashers got on at this point and said they had had 47292 that morning to some shack then doubled back to Llandudno Junction for a fast car to Haverfordwest via Blanau Ffestiniog. When they reached Milford Haven they would take a service bus back to Haverfordwest and then drive north. That's what I call commitment!
The tour carried on to Robeston Oil Terminal, the brochure stated we would reverse at the Railtrack limit and that is what Chris Brooks announced over the tannoy. The chap opposite me who had a Quail map went to the front of the train and reported that the train had actually reached the gates of the terminal itself - very unusual these days to get Brucie Bonus extra freight line mileage.
The 50's were then started up and took us to Herbrandston where the train reversed and the shed took us into Milford Haven station slightly early. A road tanker was waiting to fill the restaurant car tanks as it was a diner, but there was some delay and head scratching due to pipe coupling problems (now where have I heard that before!!). Railtrack staff allowed photographers to wander anywhere they wanted to get their shots which was a nice touch although there was no danger from passing trains or even any trains. The 50's fired up again but we left 17 late due to a vandalised phone at Milford Haven and they took us to the next reversal point of Clarbeston Road.
Was it Confucius who said "A Tour is not a Tour without a farce?." We stopped at Clarbeston Road box to take the token for the final leg to Fishguard Harbour and waited and waited. There was a crossover onto an adjacent loop line or a direct line we could take and the man with the Quail said we could use either, and Railtrack were probably debating which line to use or the crossover points had failed.
A man in an orange jacket (pilotman?) then got out of the leading 50 on the rear of the train and proceeded to walk, with the token, to the front of the train and got into the cab of the 66. Vestibule windows were all occupied as cranks thought the train would be away shortly. After about 10 minutes the same man in the orange jacket got out of the 66 and again with token in hand proceeded to walk down the track back to the 50 and all the cranks could do was shake their heads in utter despair. Chris Brooks came on the tannoy again "the delay is due to EWS and Railtrack not formulating a method of operation using the token system". You could just imagine him shaking his head as he was announcing it.
Formula: 1 Train + 1 Token + 1 Signalbox = Total Mass Confusion.
After a short time the shed finally started moving forward along the direct line and a cheer arose from our coach. We tottered along the branch to Fishguard (I noted the Trecwyn line has been severed completely, not far from the junction, as the bridge carrying the railway over the road has been demolished). We arrived approximately 40 late and a groan was heard from our coach when an announcement was made that our booked departure time of 17.55 had been put back to 18.10. The options road coaches were arriving at Fishguard as we pulled into the platform. An interesting fact, the chap with the Quail told me that Stena own Fishguard station and the track leading from the station, which I didn't know. This was evident however as Stena officials walked over to Team Orange and told them to move the train back as it was blocking the road crossing.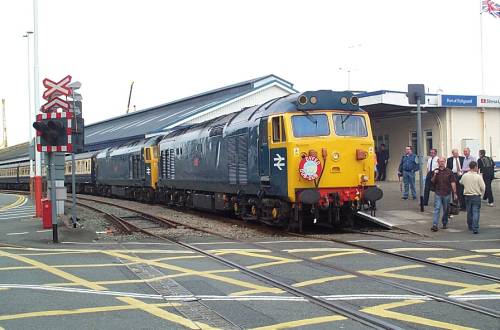 The tour at Fishguard Harbour (Photo : Steve Cassidy)
18.10 came and went and we stood and stood, a chap at one of the windows told me that Stena staff wouldn't let us traverse the crossing even though there was only one car using the crossing roughly every two minutes. He reckoned it was deliberate because we had blocked the crossing going in but I am not that cynical and put it down to the old time favourite line of "operational difficulties". We finally left Fishguard at 18.27 (32 down on original schedule) and the 50's were in superb form again and the deficit was 25 down as we reached Whitland. Farce number 3 happened just before Carmarthan Bridge Junction where the driver slammed all on and stopped just before the signal. A glance from the window spotted the problem immediately. The road had been wrongly set to run into Camarthan station rather than our booked route over the avoiding line and at this point I was convinced I would be knocking up my landlady in Bristol at midnight (anyone sniggering at this remark has a dirty mind!!). My fears were unfounded however as the correct road was quickly set and we thrashed all the way back to Margam Yard gaining time all the way. The shed was dropped off the back here and we were on our way in just 5 minutes, now just 20 down. We arrived in Newport only 8 minutes down but the Newport dispatcher was on another platform and he let some 158 go before our train and he then ambled over to our platform, probably stopping for a cup of tea on the way, and eventually he blew his whistle and we were away. We were booked a generous 39 minutes from Newport to Parkway but we needed it now because we were behind the 158. We traversed the Bishton Flyover although it wasn't booked and it was an added bonus for some and I finally arrived in Parkway just 8 minutes late.
Verdict
A thoroughly enjoyable day out which did all booked track (and more besides!). The fiascos on the way were all due to very poor planning by EWS/Railtrack before the tour and on the day. I have got used to delays/operational problems at busy stations/junctions but when you are on the only train for miles and miles around it beggars belief that such operational difficulties should occur.
Andrew Wilson



Timings (Booked & Actual)
(from Andrew Wilson & Alan Vickers)
M.C
Location
Booked
Actual
Booked
Actual
M.C
0.00
Paddington
07.09d
?
23.45a
?
133.30
4.75
Acton West
07/16
?
23/38
?
128.35
9.01
Southall
07/21
?
23/33
?
124.29
18.31
Slough
07.34a ~ 07.36d
?
23.16a ~ 23.19d
?
114.79
24.14
Maidenhead
07/44
?
23/10
?
109.16
30.76
Twyford
07/50
?
23/05
?
102.34
35.73
Reading
08.05a ~ 08.08d
?
22.55a ~ 22.58d
?
97.37
53.05
Didcot Parkway
08.28a ~ 08.31d
?
22.35a ~ 22.38d
?
80.25
53.50
Foxhall Jn
08/33
?
?
?
79.60
63.75
Challow
08/49
?
22/25
?
69.35
66.34
Uffington
08/51
?
22/23
?
66.76
77.18
Swindon
09.01a ~ 09.03d
?
22.10a ~ 22.12d
?
56.12
83.02
Wootton Bassett Jn
09/11
?
22/02
?
50.28
94.05
Hullavington
09/19
?
21/46
?
39.25
107.07
Westerleigh Jn
09/39
?
21/36
?
26.23
111.57
Bristol Parkway
09.45a ~ 09.49d
?
21.27a ~ 21.30d
?
21.53
112.79
Patchway
09/52
?
21/19
?
20.31
116.45
Pilning
09/55
?
21/14
?
16.65
123.41
Severn Tunnel Junction
10/05
?
21/08
?
9.69
126.02
Magor
?
?
21/04
?
7.28
133.30
0.00
Newport
10.21a ~ 10.24d
??.?? ~ 10.26
20.48a ~ 20.51d
21.04 ~ ??.??
0.00
127.76
M.C
Location
Booked
Actual
5.10
Marshfield
10/30
?
11.60
Cardiff Central
10/40
10/43
22.70
Pontyclun
10/49
10/53
31.75
Bridgend
10/57
11/01
44.09
Port Talbot Parkway
11c09a ~ 11c12d
11.11 ~ 11.14
48.07
Court Sart Jn
11/17
11/20
49.16
Dynevor Jn
11/19
11/24
50.24
Jersey Marine South Jn
11/23
11/29
53.71
0.00
Swansea Burrows Sidings
11L31a ~ 11L51d
11.39 ~ 11.54
2.47
Jersey Marine Junction South
11/59
12/04
3.49
Jersey Marine Junction North
12/03
12/09
6.10
Felin Fran
12/11
?
14.52
Morlais Jn
12/26
12/31
17.20
Llandeilo Jn
12/42
12/43
18.71
Llanelli
12/47
12/48
22.66
Pembrey & Burry Port
12/51
12/58
28.03
Kidwelly
12.58a ~ 13.00d
13.05 ~ 13.08
38.61
Carmarthan Jn
13/18
13/23
39.03
Carmarthan Bridge Jn
13/24
13/24
51.45
Whitland
13/40
13/41
63.42
Clarbeston Road
13/52
13/54
68.54
Haverfordwest
14.03a ~ 14.05d
14.03 ~ 14.05
73.38
Johnston
14/14
14/14
75.63
Herbrandston Jn
14/19
?
(76.72)
0.00
Robeston Sidings
14.29a ~ 14.34d
14.26 ~ 14.31
(1.09)
0.00
Herbrandston Jn
14.44a ~ 14.49d
14.39 ~ 14.42
1.53
Milford Haven
14.54a ~ 15.54d
14.45 ~ 16.14
3.78
Johnston
16/02
16/22
8.62
Haverfordwest
16/09
16.30a ~ 16.44d
13.74
0.00
Clarbeston Road
16.23a ~ 16.47d
16.55 ~ 17.22
15.55
0.00
Fishguard Harbour
16.47a ~ 17.55d
17.32 ~ 18.19
15.55
Clarbeston Road
18/17
18/45
27.52
Whitland
18/29
18/56
41.14
Carmarthan Bridge Jn
18/46
19/17
41.36
Carmarthan Jn
18/50
19/18
52.14
Kidwelly
19/03
19/30
57.31
Pembrey & Burry Port
19/08
19/35
61.26
Llanelli
19/12
19/38
62.77
Llandeilo Jn
19/13
?
68.60
Cockett West
19/19
19/45
71.64
Landore Jn
19/29
19/51
78.26
Neath
19/39
20/00
83.67
Port Talbot Parkway
19/43
20/06
87.42
Margam Moors
19L48a ~ 19L58d
20.12 ~ 20.19
87.62
Margam Moors Jn
20/01
?
96.01
Bridgend
20/11
20/29
105.06
Pontyclun
20/19
?
116.16
Cardiff Central
20/34
20/48
112.66
Marshfield
20/41
?