6th July 2002
Monmouthshire Railway Society
The Demon Docker
| | |
| --- | --- |
| Locos Used | 08854, 08951, 37038 & 37197 |
Route:
| | |
| --- | --- |
| Loco(s) | Route |
| 37038 (1) | Newport - Newport Docks South Quay |
| 37197 (2) | Newport Docks South Quay - Newport |
| 37038 (1) | Newport - Tidal Sidings |
| 08951 (3) | Tidal Sidings - Channel Sidings |
| 08854 (4) | Channel Sidings - Kings Wharf Jn |
| 08951 (3) | Kings Wharf Jn - Minimet LC |
| 08854 (4) | Minimet LC - Tidal Sidings |
| 37197 (2) | Tidal Sidings - Pengam Sdgs |
| 37038 (1) | Pengam Sdgs - Cardiff Central - Barry - Bridgend - Tondu Llynfi Goods Loop |
| 37197 (2) | Tondu Llynfi Goods Loop - Park - Margam Moors Yard |
| 37038 (1) | Margam Moors Yard - Bridgend - Cardiff Central - Ebbw Junction - Ebbw Vale South GF |
| 37197 (2) | Ebbw Vale South GF - Park Jn - Newport |
Notes:
(1) 37197 on rear.
(2) 37038 on rear.
(3) 08854 on rear.
(4) 08951 on rear.
Source : Trevor Cockram



Tour Review 1
(by Trevor Cockram)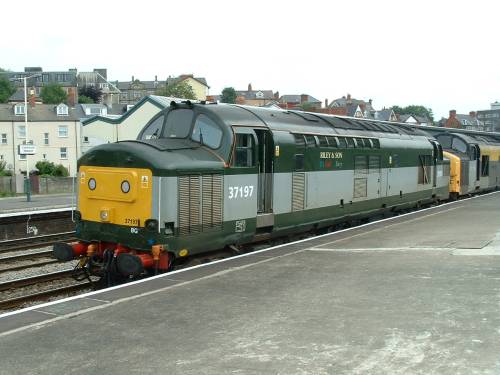 37197 & 37038 at Newport (photo: Trevor Cockram)
This was the second attempt to run the tour, after Railtrack cancelled the previous attempt at short notice. It was with some relief that notification was received that the tour was to run and over the booked route, particularly as there appears to be general reluctance to run trains over any freight lines. If it safe for the crew to operate heavy and often hazardous traffic over freight track, then why does the enthusiast have to be wrapped in cotton wool? (There goes the job!)
The par of Riley 37's were at the head of the empty stock at platform 1 Newport in good time, so why was it not until the booked departure time that 37197 was run round to the rear of the train? With a reduced set of coaches and a late departure we crossed to the northern tunnel to head for Alexandra Dock Junction. The direct southern tunnel was blocked by engineering work. Steady progress was made down the former Alexandra, Newport & South Wales Dock & Railway Co line past the transporter bridge to stop at the start of the fan of sidings by South Quay. GBRf 66711 was sat in the sidings awaiting attention before joining the fleet. The train was held to allow two engineering trains to pass at Alexandra Dock junction before return to Newport platform 1 for a brief reversal. It was noted that a number of stewards from another tour operator had become for the day part of the Rolling Riot team!
A run along the mainline was brief before the 37's were removed and replaced by two of the 08 shunters from the ASW hire pool. The initial movement was over the Compass swing bridge, which opens for shipping to enter Roath Dock and down into Channel Sidings. The previous railtour was not permitted beyond the start of the sidings so the run along 2/3rd of the sidings was new track for most. Returning to South East Junction the next movement was to the level crossing just before the Minimet depot at the end of Longships Road. With ASW going into administration the following week it was likely to be the last ever tour into this part of Cardiff Docks.
Running almost RST and after stopping at Cardiff Central to allow the Barry stopper ahead, there was an uneventful run to Bridgend East Junction where a further stop was made to allow an HST to pass. Reversal at Tondu was in Llynfi Goods Loop for the run over the line via Park Slip open cast mine to reverse in Margam Moors Yard No 1 loop. The horn on 37197 was briefly stuck on when the reversal point was reach.
The final visit of the day was up to Ebbw Vale South, this was possibly the last tour over this line as the Corus works here had closed the previous day.
I having been travelling on Monmouthshire Society railtours for more than 20 years and this was another classic. Many thanks to the extreme efforts put in by them to run this tour.
Trevor Cockram



Tour Review 2
(by Ken Strachan)
The first and last word on this tour must go to a certain rolling and riotous person. "When I saw the stock was in an hour early", he said, "I knew the tour would run late. Teas, coffees, light refreshments…".
Typical really. I'd arrived at Leominster for my plastic to Newport with 2 minutes to spare, and for the first time in living memory, the grotty thing ran to time. It even got to Newport on time; and there was the stock, in platform 1. Hard to miss, really; not much else happens on 1 in Newport.
Also hard to miss were the two tractors sitting there heating the stock, which of course you do need in early July. "The rain is so much warmer at this time of year". Both were from Mr. Riley's stable in Bury, 038 leading in a traction sense, if not in appearance; and 197 trailing - eventually. It was run round late, so we left Newport 9 down.
We duly wandered down to Newport docks, where we saw 66.711 sunning itself outside #5 transit shed. You too, might think long and hard before committing yourself to any intimate involvement with Railtrack "assets" after an arduous sea journey. Poor thing was probably still seasick. We had gained valuable seconds by missing our operational stop at Alexandra Dock Junction, and went down the dock line at a good 10mph; but things would soon get worse. Crawling back to the main line at a good 5mph, our one minute op' stop at ADJ dragged out to 18 minutes; there was "an 08 fiddling about in the yard". As it happens, the likely candidate was 09.105; but the delay was unwelcome. At least it let us watch the Transporter Bridge operating from an unusual angle. It also gave the Ferrywagon men more time to get numbers. Each to his goat, as they say in Brittany.
While 038 was leading, I was in the prime thrashing seat, E29B. The train was more than 5 coaches, they just put E next to an engine (strange sense of humour they have in Wales). I was next to the leading vestibule; if I'd got any closer, I'd have been sitting on the buffer. The other advantage of coach E was that you could catch up on some sleep in Hillfield tunnels, as the lights were switched off… after three trips through the tunnels, the novelty wore off. It certainly made it more difficult to read the route description, which had been attacked by an over-zealous spell checker – Gear Junction, indeed – and had occasional passages through hyperspace, where several miles of track disappeared into black holes. Never mind; it told me some things I didn't know, even after living (surviving?) in South Wales for over ten years.
Our run to Cardiff was uneventful, but for an unexpected visit to the former Pengam Freightliner depot. (#2 road). The old truck and container storage area is now of course prime real estate, being built all over; but the loops survive, and there we were. After a fester of acceptable length, (not recorded – no official timing points!) we passed down through Splott (one of my old stamping grounds: don't ask), and duly rolled into Tidal Sidings. We noticed a hydraulic excavator charging off up a disused formation on our West side, but any fantasies about clearing undergrowth and relaying track were shortly dispelled when it started digging into a pile of stone chippings and loading them into a tipper.
In the midst of this sideshow, 08.951/D4181 (grey/grey) was bolted onto the front, and 854 (EWS livery, and freshly converted to remote control) was tied on at the back. I think some of us were up for more Gronk spotting, but only one other could be seen at ASW; and it was too far away to read the numbers. We did see 08.466 at Splott Junction. It had a shunting pole draped elegantly across its buffers, but much amusement was caused by its unofficial name: "Brillo". Someone was heard to ask, "what's it like being famous?" – no answer was the stern reply. It was of course amusing to be in a coach with all the traction men, who had probably fought tooth and nail to be there; whereas I had arrived by chance after a last minute change of seat.
As we headed for New Sidings, there were contrasts between past and present. Rationalization was threatened, but there were new sidings for European Metal Recycling beyond Splott Junction. A complete double slip crossover lay by the line for scrap, but there were wagons full of new reinforcing bar in New Sidings. We passed back through Compass Bridge, then alongside it to the Minemet Oil Siding, where once more we could clock the church on the hill in Penarth; if we really wanted to. Back then to Tidal Sidings; 08's off, 37's on; up to Pengam Sidings – booked this time – and into Cardiff Central, 46 down; where several stout men bailed. We had a spirited run through the Vale of Glamorgan, but still lost time, being 48 down at Bridgend.
David Bowie sang about "the hinterland, the hinterland", but I don't think he'd been to Tondu (there be dragons). The line down to Margam looked distinctly rusty as we headed for the Llynfi goods loop – or so we thought. Instead of that scenic delight, we actually ran onto the first section of the Blaengarw line; which I last rode on behind a 50 or two back in spring '92. Not being possessed of the Big Boy's Book of Track Plans, I had assumed the entire branch had been lifted and fed into a furnace at ASW Cardiff years ago, but yet again, I was wrong.
038 seemed to be leaking brake air, but it can't have been terminal; we only (!) took the required 18 minutes for reversal. The atmosphere in our coach was becoming surreal here, as there were mind bending arguments about whether you could scratch a 57 for sight if you'd seen it as a 47 – going by the number of guys with big rotating keys in their backs, there was some ferocious winding up going on.
At last, it was time to head off for Margam, passing a single HAA in a siding at Parc Slip, the stub of an old branch – not at all unusual in South Wales. The wagon had been there long enough for weeds to grow in the coal… reversal at Margam Moors Yard (60's and 66's on shed) only took 3 minutes, and we were back on the main line heading for England. Well, towards England. Cutting a long story short, after picking up waifs and strays at Cardiff, we headed up past Park Junction to Ebbw Vale. About 90% of the branch still had a second track laid; but vastly overgrown. You really have to be decisive if you aren't going to flail or use weedkiller. It was all a bit tragic, as the track was continuous for a quarter mile, then there'd be 20 feet missing.. a bit of a waste really. Much looked pretty derelict on this visit; particularly the villages of Llanhilleth and Victoria. But there were quite serviceable platforms left at old stations like Cwmcarn. Lime Kiln Junction 'box was in fine fettle; but the less said about Aberbeeg, the better. The signal box looked grim, and trees were growing in the yard up to the tops of the lighting towers.
We stopped about 20 feet short of a red metal gate, closed across the track at the foot of the steelworks marshalling yard – the "new yard" built at the time of the Garden Festival. The engines were shut down, and everything went deathly quiet – a most poignant moment. The locals knew the significance of our train, and many were out to wave us past or phot' it. But to this passenger at least, seeing the Oakdale branch heavily overgrown and the site of Marine colliery an abandoned car park brought on nostalgic feelings. I hope for the locals' sake, this branch is re-opened to passengers soon.
We caught up 8 minutes heading down to Newport, and entered platform 3 just after my connection left. This led me to seek food in Newport, which in turn led to the conclusion that when the Lord created Sodom and Gomorrah, He was just practising. I was very glad to be back on the station, even for plastic.
Ken Strachan



Timings (Booked & Actual)
(by Trevor Cockram & Ken Stachan)
| | | |
| --- | --- | --- |
| Location | Booked | Actual |
| Newport [P1] | 10.15d | 10.24 |
| Alexandra Dock Jn | 10*19 ~ 10*20 | 10/32 |
| Newport Docks South Quay | 10.40 ~ 10.50 | 10.52 ~ 10.57 |
| Alexandra Dock Jn | 11*10 ~ 11*11 | 11.25 ~ 11.39 |
| Newport | 11.15a ~ 11.25d | 11.47 ~ 11.55 |
| Marshfield | 11/33 | 12/03 |
| Tidal Sidings | 11L45 ~ 12L05 | 11.22 ~ 12.40 |
| Cardiff Docks New Sidings | ??.?? ~ ??.?? | 13.15 |
| Minemet LC | ??.?? ~ ??.?? | 13.30 |
| Tidal Sidings | 13L25 ~ 13L45 | 14.13 ~ 14.35 |
| Pengam Sdgs | 13.51 ~ 14.01 | 14.45 ~ 14.46 |
| Cardiff Central | 14.06a ~ 14.23d | 14.52 ~ 15.03 |
| Cogan Jn | 14/31 | 15/11 |
| Barry | 14/43 | 15/25 |
| Aberthaw | 14/51 | 15/36 |
| Bridgend | 15.12 ~ 15.14 | 16.01 ~ 16.06 |
| Tondu Llynfi Goods Loop | 15.22 ~ 15.40 | 16.13 ~ 16.25 |
| Margam Moors Yard | 16.20 ~ 16.30 | 17.16 ~ 17.17 |
| Bridgend | 16/42 | 17/30 |
| Pontyclun | 16/55 | 17/40 |
| Cardiff Central | 17.09a ~ 17.11d | 17.51 ~ 17.53 |
| Marshfield | 17/17 | ? |
| Ebbw Jn | 17/21 | 18/10 |
| Park Jn | 17t24~ 17t25 | 18/17 |
| Ebbw Vale South GF | 18.13a ~ 18.23 | 19.05 ~ 19.10 |
| Park Jn | 19t11 ~ 19t12 | 19/59 |
| Gaer Jn | 19/15 | ? |
| Newport | 19.18a | 20.04 |