29th June 2002
Mercia Charters Limited
The Collaboration
(run in association with Pathfinder Tours)
| | |
| --- | --- |
| Locos Used | 5301, 5315, 5528, 8216 & 8221 |
| Stock Used | 21015+21017+9001+21123+21030 |
Route :
| | |
| --- | --- |
| Loco | Route |
| 5301 (1) | Namur - Ronet Formation (2) |
| 5315 (3) | Ronet Formation - Namur - Jambes Etat - Assesse - Marloie |
| 5301 (1) | Marloie - Meireux Hotton (4) - Sy - Rivage - Tilff - Angleur - Y Aguesses - Y Val Benoit - just past Kinkempois depot |
| 5301 | set back at Kinkempois depot (5) |
| 5528 | Kinkempois depot - Y Val Benoit - Y Aguesses - Angleur - Pepinster - Verviers Central - Welkenraedt |
| 5528 | Welkenraedt - Montzen yard (4) - Y Bernau - Y Longchamp - Visé - Bressoux - Y Val Benoit - Kinkempois Formation |
| 8221 (6) | Kinkempois Formation - Y Renory - Seraing - Y Val St Lambert - km post 6.5 on Engis Zoning branch (7) |
| 8216 (2) | km post 6.5 - Y Val St Lambert - Seraing |
| 8221 (6) | Seraing - Y Val St Lambert - Y Borgnet - Flémalle Haute |
| 8216 (2) | Flémalle Haute - Y Leman - Flémalle Espérance |
| 8221 (6) | Flémalle Espérance - Y Leman - Flémalle Haute |
| 8216 (2) | Flémalle Haute - Y Leman - Jemeppe-sur-Meuse - Liège Guillemins |
Notes :
(1) 5315 on rear.
(2) Booked depot visit cancelled owing to late running, caused by late marshalling of stock and last minute swap of loco from 5201 to 5301 to match tour specification ( 2 x 53 requested).
(3) 5301 on rear.
(4) Booked photostop not taken owing to late running.
(5) train set-back onto next loco, 5528. 5538 was rostered loco but was failed upon being prepared. Choice of 5503 or 5528 was offered, 5528 being chosen as 5503 has seen use on a previous Mercia Charters railtour. Depot visit allowed during layover at Kinkempois.
(6) 8216 on rear.
(7) Train was booked to run to Engis Zoning but was stopped at km post 6.5 owing to the driver not having a key for an adjacent set of trap-points.
(8) 8221 on rear.
Source : Gary Thornton
(on the train throughout)



Tour Review
(by Gary Thornton)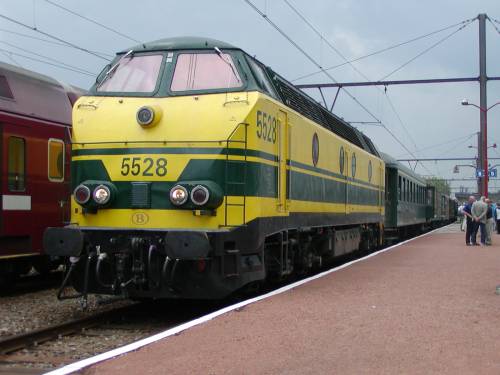 5528 at Welkenraedt (Photo: Gary Thornton)
Another day, another railtour. After the previous days successful tour a repeat performance was being hoped for by all involved...
For Mercia Charters however this tour was also of a higher significance than previous ones as it was being run in conjunction with Pathfinder Tours. With Pathfinder filling a 53 seat road coach this train stood to carry around 150 passengers, around a third more than on previous all day tours. To allow for the additional punters it had been decided by the Mercia Charters team that additional stewards would be required....thus your Webmaster received a request to be one of the additional yellow vest wearers! Whilst acceptance of the role meant an alcohol free day (well, until the tour was over at any rate!) I was quite happy to oblige.
Thus, this particular review will give a slightly different perspective as it reflects what it is like to be working for the day rather than quaffing beer...
Following months of behind-the-scenes pre-tour organisation, Friday evening over a meal in our hotel in Namur saw the start of the detailed arrangements for those working the train. Starting at Namur at 08.30, four of the coaches for the tour were overnighting at nearby Ronet depot whilst the fifth, the PFT buffet car, was arriving on the morning. I was part of the group who would start at Ronet depot, preparing the train for the day.
06.30 and we met as arranged outside the hotel, just a stones throw from Namur station. First problem - our main French speaking member of the team no-showed and his mobile was switched off so we couldn't find out where he was. We caught the 06.49 to Ronet as planned then, as we walked down the depot access road, we got a text message from Richard to say he'd over-dossed and was now en-route to the depot in a taxi!
Problem no. 2 of the day - finding the person in charge at Ronet yard. Problem no. 3 was spotted as we were still in process of resolving problem no. 2....locos 5201 & 5315 were in process of being prepared - the tour spec however stated the train would have 2 x 53's as the main tour engines at the start of the day!
Whoever said running a railtour was easy!
The next 90 minutes or so proved to be very frustrating - cutting a long story short it was eventually arranged to swap 5201 for another 53, 5301, and also get the stock marshalled correctly (buffet car in the middle). Because of the delay in starting the operation we weren't able to get on our way to Namur station until after 9am, over half an hour late already! At least we had stewards on the station so we were able to keep the passengers informed.
So, to the tour proper! 09.22, 42 minutes down, and we set off....back to Ronet yard and depot! 5301 was on the Ronet end and 5315 on the other. A depot visit at Ronet had been requested but we were signalled into the yard and a visit was denied to us because of the late running - frustrating as much of the delay appeared to be down to Ronet depot/yard staff not following the SNCB-issued instructions in the first place!
Back then through Namur and onwards towards Marloie where a short photo stop was taken before reversing. The thrash away from Namur up the bank from Jambes was something to remember...possibly the highlight of the tour for me!
We departed Marloie 30 minutes late at 10.50 - a booked photo-stop at Malreux Hotton being abandoned as a result of us still being behind time. The decision not to stop was made easy - if we'd still wanted the photo-stop then departure from Marloie would not have been until 11.28!
After skirting through the Liège suburbs we arrived at Kinkempois depot where we were due to lose the pair of Nohabs in favour of a type 59. Unfortunately the remaining class members were withdrawn a couple of months earlier and SNCB decided the condition of those still working was too poor to permit them onto the mainline on a passenger train (they will carry on until their next exam is due or a failure occurs).
Bit of a farce at Kinkempois - having arrived we then set-forward past the shed then back onto the next tour loco, 5528. Another story there - 5538 was rostered but the driver failed it on preparing it. Choice was then 5503 or 5528, the former having worked a previous Mercia Charters tour left it to be 5528 as the loco used.
A depot visit was permitted here - some initial confusion about whether the shed itself was out of bounds was soon resolved - on telling people they could go round the shed a large cheer went up...so presumably popular with the passengers then!
After rounding up all the tour participants we set off back to the mainline then onwards to Welkenraedt where photos were taken whilst 5528 ran round the train. From here we traversed the freight route to Montzen yard. A photo-stop here was not taken, continuing lateness again being to blame for the change in plan.
We curved off the freight line at Visé, heading back to Kinkempois for our next loco change which was in the yard. Unfortunately luck was really not on our side and we sat for almost an hour waiting for the pair of type 82's to appear (8216 & 8221). Why? Well it seems there were no other members of staff on depot so our driver had to dispose of 5528 then prepare both the 82's before running back to our train! Rest assured this, plus some of the other delays that were put down to SNCB's way of operating on the day are being brought to SNCB's attention by Mercia Charters in the hope to avoid such things happening in the future...
Any hope the days problems were now all behind us were short-lived. Pathing through Seraing delayed us further, putting us 90 minutes late. Then, en-route on the freight line to Engis Zoning, we arrived at a set of trap points...for which the train crew had the key but found it wouldn't work! As a result, to save losing yet more time it was decided to turn the train here so we missed the last 1.4 kilometres of the branch - very annoying for the track bashers, but little else that could be done in the circumstances.
Around this time the train crew also began making noises about wanting to finish the tour as soon as possible. That was not on as the last branch of the day (Flémalle Espérance) has been missed out on TWO previous Mercia Charters tours. Was this about to be third time lucky, or third time missed?!?
Reversing at Seraing again we waited quite a long time - again because it was being planned by SNCB to simply run the train straight to Liège, but after much negotiation the driver agreed to proceed on the condition we did not have a photo-stop at the end of the final freight branch.
Flémalle Espérance - what an interesting location...
....the railway ran along the back of a row of terraced houses and it seems the occupants of every one of them owned at least half a dozen dogs - the racket made by all the dogs barking was quite unbelievable. Strange too was that, despite all the disturbance, not one person was seen coming out to see what was going on!
After five minutes waiting at Flémalle Espérance the driver came to ask if we were all getting off to look around....um, we'd agreed to abandon the photo-stop, but he still thought the passengers wanted to get off to explore! The perils of discussing details in a language other than your own strikes again!
After the short run back to Flémalle Haute we reversed for the last time and took the mainline to Liège Guillemins where our arrival was just over an hour down.
One last treat was the arrival of preserved Nohab 202.020 to collect the PFT buffet car - one of the Pathfinder representatives was heard to comment that he was well impressed with it and wanted to see it on a future tour....I dare say it could happen sometime, watch this space!
Verdict : A tour fraught with problems and late running but I think it's fair to say that, on reflection, it was one that was enjoyed by most of the passengers onboard. We managed to do all the track advertised (albeit less a couple of km's at the end of one branch) and all locos advertised except the 59. The loss of a couple of the advertised photo-stops and one depot visit was regrettable, but I guess understandable owing to the late running...even though that was primarily caused by SNCB themselves. Some complaints were voiced during the day but I think it was a little unfair of the passengers concerned to expect absolute perfection....after all, how often these days does a UK railtour succeed in providing all that is originally advertised? The trials and tribulations experienced simply proved that running a complex railtour in any country, especially one where English is not the first language, is not always without its difficulties.
Particular thanks on this occasion should go to Matthew Reeves and Richard Lea - without their efforts on the day negotiating with numerous SNCB members of staff, the tour would undoubtedly been a lot less successful than it actually turned out.


Route, Distances and Timing's (Booked & Actual)
(by Gary Thornton)
Train Reporting Codes :
Z18319 : Namur - Ronet Formation
Z18320 : Ronet Formation - Kinkempois ATD
Z18321 : Kinkempois ATD - Montzen
Z18322 : Montzen - Kinkempois Formation
Z18323 : Kinkempois Formation - Engis Zoning
Z18324 : Engis Zoning - Seraing
Z18325 : Seraing - Liege Guillemins
KM
Location
Booked
Actual
0.00
Namur
08.30d
09.22
3.30
0.00
Ronet Formation
08.40a ~ 09.00d
09.29 ~ 09.34
3.30
Namur
09/10
09/43
21.40
Assesse
09/32
10.09a ~ 10.14d
32.10
Ciney
09/46
10/23
54.80
0.00
Marloie
10.06a ~ 10.20d
10.41 ~ 10.50
13.10
Malreux Hotton
10.28a ~ 10.36d
11/00
25.10
Bomal
10/43
??/??
32.70
Hamoir
10/53
??/??
42.00
Rivage
11/01
11/26
45.70
Poulseur
11/05
11/30
62.10
Angleur
11/17
11/44
62.70
Y Aguesses
11/18
11/45
63.30
0.00
Kinkempois ATD
11L24a ~ 12.09d
12.15 ~ 12.44
0.60
Y Aguesses
12/11
21/51
1.20
Angleur
12/12
12/52
18.80
Pepinster
12/25
??/??
23.00
Verviers Central
12/29
13/05
36.40
Welkenraedt
12.40a ~ 13.05d
13.36 ~ 14.01
8.60
Montzen
13.20a ~ 13.35d
14/24
14.20
Remersdael
13/40
??/??
??.??
Fouron
13/44
??/??
24.00
Y Berneau
13/50
14/43
24.90
Y Longchamps
13/52
14/45
27.25
Visé
13/58
14/48
40.05
Bressoux
14/11
14/59
43.95
Y Garde Dieu
14/17
15/03
45.35
0.00
Kinkempois Formation
14L23a ~ 14L45d
15.20 ~ 16.08
1.90
Y Renory
14/51
16/10
5.30
Seraing
14/57
(16.17a ~ 16.26d)
7.70
Y Val St Lambert
15/01
16/32
??.??
km post 6.5
??/??
16.53a ~ 17.15d
15.60
0.00
Engis Zoning
15.45a ~ 15.55d
-
7.90
Y Val St Lambert
16/40
17.32a ~ 17.35d
10.20
0.00
Seraing
16.45a ~ 17.00d
17.39 ~ 17.57
2.30
Y Val St Lambert
17/05
18/03
4.50
0.00
Flémalle Haute
17.08a ~ 17.13d
18.08 ~ 18.17
1.80
Y Leman
17/18
(18/21)
?.??
0.00
Flémalle Espérance
17.24a ~ 17.34d
18.30 ~ 18.38
?.??
Y Leman
17/39
18/43
?.??
0.00
Flémalle Haute
17.44a ~ 17.56d
18.45 ~ 18.56
4.90
Tilleur
18/03
(18/06)
11.20
Liège Guillemins
18.08a
19.13
All distances courtesy of Stuart Clarke.
No attempt has been made to verify the distances given. A correction needs to be made for the reversal at km post 6.5 rather than Engis Zoning.
Key;
a : arrival time
d : departure time
DIV : diverted via different route
/ : passing time
* : Pathing stop
A time in brackets is approximate.



Back to "The Railtour Files"