8th June 2002
Pathfinder Tours
The (Post) Festive Freighter
| | |
| --- | --- |
| Locos Used | 37042, 37372, 37670 & 37798 |
| Stock Used | 5335+5331+3122+3112+3140+3098+21272+1863+5009+4927+5040+4963+5029+4902 |
Route :
1Z37 : Crewe to Portbury Automotive Terminal
1Z38 : Portbury Automotive Terminal to Crewe
| | |
| --- | --- |
| Locos | Route |
| 37670 + 37798 | Crewe - Norton Bridge - Stafford - Bushbury Jn - Portobello Jn - Bescot Stadium - Perry Barr North Jn - Aston - Proof House Jn - Birmingham New Street - Selly Oak - King's Norton - Barnt Green - Bromsgrove - (via direct route) - Cheltenham Spa - Charfield - Westerleigh Jn - Bristol Parkway - Filton Jn - Dr Days Jn - Bristol Temple Meads |
| 37042 + 37372 (2) | Bristol Temple Meads - Dr Days Jn - Filton Jn - Bristol Parkway - Westerleigh Jn - Yate - Yate Middle (to incoming line on Tytherington branch) |
| 37670 + 37798 (1) | Yate Middle - Yate - Westerleigh |
| 37042 + 37372 (2) | Westerleigh - Yate - Yate Middle (to "incoming line" on Tytherington branch) |
| 37670 + 37798 (1) | Yate Middle - Yate - Westerleigh Jn - Bristol Parkway - Filton West Jn - Hallen Marsh Jn - Avonmouth |
| 37042 + 37372 (2) | Avonmouth - Hallen Marsh Jn - Filton West Jn - Filton Jn - Dr Days Jn - Bristol Temple Meads (down through line) - Parson St - Ashton Jn - Portbury Dock Stop Board - Portbury Automotive Terminal |
| 37670 + 37798 (1) | Portbury Automotive Terminal - Portbury Dock Stop Board |
| 37042 + 37372 (2) | Portbury Dock Stop Board - Portbury Coal Terminal |
| 37670 + 37798 (1) | Portbury Coal Terminal - Portbury Dock Stop Board - Ashton Jn - Parson St - Bristol Temple Meads (down through line) |
| 37670 + 37798 | Bristol Temple Meads (up through line) - (reverse of outward route) - King's Norton - St Andrews Jn - Proof House Jn - Birmingham New Street - Soho South Jn - Perry Barr North Jn - Bescot Stadium - Walsall - Hednesford - Rugeley - Stafford - Norton Bridge - Crewe |
Notes:
(1) 37670 + 37798 on rear.
(2) 37042 + 37372 on rear.
Source : Gary Thornton.
(joined/left the train at Birmingham New Street)



Tour Review
(1) by Gary Thornton
Here we go then, a post Christmas railtour....what's that, yes...I know it's June, but that doesn't alter the fact that this is Pathfinder Tours post-Christmas railtour...just a little later than planned owing to waiting for the key piece of track to be opened, that to Portbury Docks. As the train was also doing Machen, my last "big branch" in Wales my booking was in in plenty of time.
Wonder how much the interest was on x-hundred lots of £42 for about 9 months.....
The above comment prompted a reaction from Pathfinder - I'm therefore quite happy to record their reply in answer to my comment:
"A big zero! Business accounts do not receive any interest payments, although the Monopolies and Mergers Commission has just condemned the practice, and there may be some change soon. Another couple of points worth noting, we had to write out three times to everyone who had booked, two man days work each time and over £200 each time for postage, envelopes, etc. Plus the loss of two dates for potential other tours, plus having the details in three brochures, plus the admin costs of over 100 separate refunds (cheques cost 27p inward and 54p outward each in bank charges)."
So, there you have it, both sides of the story.
Unfortunately this tour didn't survive as well as the Christmas cake normally does....by the time June came round it was looking decidedly mouldy in fact...Machen had long dropped off the plan, Fifoots Point came on as the replacement, then that too was dropped. The replacement....Avonmouth (yawn...again!!!) and Westerleigh. I stuck with it though, partly for the chance to get Portbury and partly because the advance gen suggested I might do quite well on the traction front.
Better still, I received an e-mail on the Thursday night (from a colleague who also happens to steward for Pathfinder) offering me a lift to the tour. So, when was the last time Pathfinder arranged to pick you up and deliver you to one of their tours?
Steve rolled up a little after 7am on the Saturday morning. Our plan was to head to Barnt Green but a good saw us passing Birmingham International with enough time to spare to go for Steves "plan B", dump car at Marston Green and scratch in a 323 to New Street. Steve scored 323208 but it was dud for me as I've travelled in all three coaches on previous occasions.
Arrived into New Street, passing 90030 going the other way on a private Birmingham to London charter ("Barclays Express"). Per usual no sign of the platform up for our tour. Interesting to see one entry on the departure screen though;
time destination Due
02.02 Aberystwyth 14.37
Hmmm, really??
A call to the train confirmed our train was due into platform 8 and we walked down just as 37798 & 37670 rolled in. Coach S, mine for the day, was at the front :-)
Some good thrash ensued out of New Street and at various stages on our way to Bristol Temple Meads. Here we were due to get a pair of 37/4's on the other end of the train however a lack of available /4's meant EWS ended up offering a 66....or pair of 37/0's. No competition really and so 37042 plus 37372 were added to the rear of our train. Well pleasing for me as both were required haulages!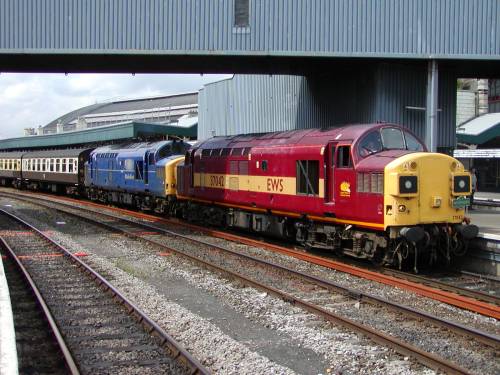 37042 & 37372 at Bristol Temple Meads.
Just before we left I saw my first "Adelante" unit on the move, 180106 running in from the Exeter direction. We set off from back in the direction we had arrived, back through Bristol Parkway then as far as Yate station. Here we diverted off about a trains length onto the Tytherington branch then stopped. This was our reversing point to enable the train to run down to Westerleigh which we duly did. I last did this line a couple of years ago behind BR standard tank 80079.
Having done the branch we returned to the same point just onto the Tytherington line to reverse again. Yate station saw us for the fifth time that day (as did one train spotter on the platform who was seen to be dutifully writing down the loco and stock numbers each time we went through!!).
After Parkway this time we took the middle line through to Hallen Marsh Junction and Avonmouth where another reversal was made. Passing over the M5 both carriageways were seen to be almost stationary! Back to Filton West Junction the south to Temple Meads again. This time however we ran through on the don through line (i.e. not platformed). At Parson Street we then turned off on to the recently re-opened branch that once went to Portishead but now goes to Portbury.
At Portbury we passed under the M5 (stationary there too!) then into the automotive depot. Stacks and stacks of new Fiats, Alfa Romeos and Mercedes were lined up as far as the eye could see. Was surprised to note the 4WD Mercs had factory paperwork on the windows which said "made in the USA" on them!
We retraced our steps back to the docks entrance then headed into the coal terminal thus in the one visit to the docks we covered the track into the two major sites on the complex.
37798 & 37670 were now in charge all the way home. We dropped 37042 & 37372 off as we paused in the up through line at Temple Meads (i.e. not platformed again). From our seats in coach S (two bays from the front) the assault on Filton Bank was memorable - and very loud!
Final highlight for most of us was the run up The Lickey. We were slowed on the approach to Bromsgrove and then the driver really "let rip" at the start of the bank. Speed was slow but consistent all the way to the summit at Blackwell. If Filton bank was described as very loud then I have to say Lickey was considerably louder still!!
After dropping passengers off at Barnt Green we staggered via Camp Hill to New Street where I got off.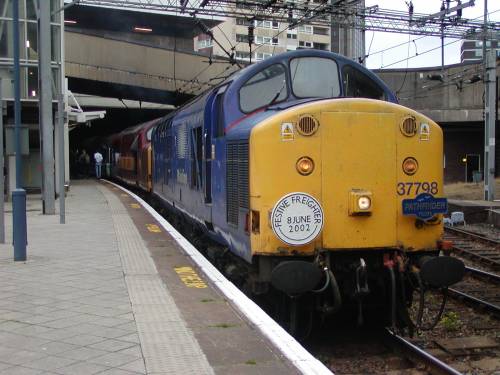 37798 & 37670 at New Street on the return leg northwards.
Waiting for the 19.18 back to Marston Green turned into an interesting experience....
....showing as leaving from platform 2A we got to the platform to find a 12-car Voyager rake at the platform busy disgorging passengers. I walked along getting the vehicle numbers (to make sure the unit was correctly formed) only to find the last coach and a half were off the end of the platform...with one of the doors off the platform open!! Seems it is possible for the door release to be activated when the train is in motion...hmm....With a farce developing we didn't get the chance to see how it ended as our train was changed to leave from platform 6, we got away before the voyager (which was the 18.32 for Brighton by the way).
Arrival into Marston Green was also quite amusing. We stopped. The doors were not released for several minutes. Just down our coach the gripper had found a young chap without a ticket....and no money. Name and address were extracted before he finally released the doors!
Verdict: From the track perspective, other than Portbury the tour had gone from a very good one to a bit of a washout for me personally, others needed Westerleigh and Avonmouth so were probably pleased by the changes. With a pair of winning 37's and being sat two bays from the loud end it was an excellent day out!
Gary Thornton.
---
(2) by Chris Morley
Originally the tour spec. was for a class 66 to assist on the branches. As soon as this unwelcome motive power changed to another pair of 37s the tour became a 'must-do' and our ching ( for 3 of us ) went straight into the Pathfinder high-interest account. Personally I was glad that Avonmouth & Westerleigh eventually substituted for the boring Machen stub as I've never got round to doing them. The re-opened Portbury branch was however the main attraction for me - in October 1977, as a young crank I enviously watched 31005 / 019 pass through Temple Meads with an RPPR tour which had just come from Portishead. After a quarter of a century I could now retrace their route along the banks of the Avon .
Annoyingly we only got the timings on Thursday morning and the tour was retimed to leave New Street earlier at 0831. We couldn't risk the 0600 ex Paddington so the 0450 ex Reading was the move with 47826. It's a sobering thought that there will be no such option next time as the plastic plague will wipe out all the loco-hauled service trains on this route. Personally I will be less inclined to travel so far just to catch a tour if I can't travel behind a loco. After a leisurely breakfast we were on the platform to watch the tour arrive a few minutes early with 37670/798 at the sharp end of a massive 14 coach train. Every seat was sold out & there is a clear & simple lesson here for all the tour operators. Rostering 4 big freight 37s will sell out your charter and fill your pockets. I wonder why Pathfinder are the only ones who realise this.
Leaving some 9 minutes late it became obvious that the pair were really loud and strong. We were looped at Longbridge where 47826 overtook at the head of a Paignton Virgin service. A quick run to Temple meads followed, where an identically liveried pair of huge 37/0s were tied on. Funny, I thought EWS didn't allow 37/0s on charter trains ? Certainly an excellent choice as we had expected 37/4s. The line up Filton bank was very busy and we left about 20 minutes late. A stirring climb up the hill was experienced despite the 770 tonne gross load of 14 coaches and two heavyweights. After covering the Westerleigh branch and reversing the train was passing wrong line through Yate at about 10 mph when we were overtaken by a class 66 with a train of aggregate hoppers. I expected us to be stopped, but we continued wrong line, able to see the freight train joining the GW mainline ahead of us. At this point I became aware that only one exhaust plume could be seen, presumably from 37798, the lead engine. If so, one Type 3 engine was pulling a load of about 875 tonnes - is this a record loading for a British charter train ? Slowly the 37 climbed To Westerleigh Jcn where we regained the correct line and speed picked up on the downgrade. After slowly passing through Parkway the Avonmouth route was taken. This line is fairly steeply downhill and speeds between 50 and 60 mph were maintained past Filton Airfield. Several miles later there was a brief view of the Severn Estuary and the 'new 'bridge before stopping next to the Severn Beach passenger line.
Being somewhat late we didn't stop long, retracing our steps to Filton and through Temple Meads. Her 47726 was seen shunting a West Coast DVT set Having turned onto the Portbury line there was a brief stop where we admired the brand new track, laid with steel sleepers, new ballast & continuously welded. Very soon the tour was passing under Clifton suspension bridge at a surprisingly quick 30 -35 mph. Unfortunately the spectacular view of the Avon gorge was too often obscured by a wall of green foliage. Perhaps mid winter would be the best time to do this branch. Shortly after the M5 viaduct came into view and the overgrown alignment of the Portishead line bore West just before the train passed under the motorway & a short tunnel. Here the line splits, and we visited both the car terminal and coal terminal, despite warnings that we might not be able to do the latter.
Retracing our steps, the 37/0s were uncoupled from the rear as we halted on a through line at Temple Meads. We left about 40 minutes late, although having nearly two hours to get to New street I couldn't see any problem regaining the time. Both 798 & 670 were clearly working fine as they stormed up Filton Bank, and again blasting away from Parkway. Feeling the urge for alcohol and conversation I put the stopwatch away. I took it up again some 15 minutes after leaving Cheltenham and was surprised to find our speed at a steady 73-74mph, even though two healthy 37s should be capable of 80 + with 7 coaches each. Signal checks at Stoke Works Jcn lost even this limited impetus for the Lickey incline and the speed at Bromsgrove was barely 40. There was a lot of thrashing at the sharp end, but the speed quickly fell to just under 19mph and stuck there for the last half mile before the summit. It was clear that one of the 37s was sick, as the minimum speed should have been about 25mph. I have the feeling one of them was overheating, probably the reason for one engine working earlier in the day. Even so, we arrived in New St. virtually on time, having been sent via Camp Hill. After watching the 37s leave, there was time for a few beers before going home with 47805 on 1V98.
All in all a very good day, roll on the next tour with 4 class 37s
Chris Morley



Timings (Booked and Actual)
(by Gary Thornton/Phil Pearson)
M.C
Location
Booked
Actual
Booked
Actual
M.C
0.00
Crewe
07.03d
07.03
20.55a
20.39
161.44
1.64
Basford Hall Jn
07/09
07/07
20/50
20/34
159.60
8.06
Madeley
07/15
07/13
20/43
20/29
153.38
19.08
Norton Bridge
07/26
07/23
20/34
20/20
142.36
24.37
Stafford
07.33a ~ 07.36d
07.32 ~ 07.36
20.24a ~ 20.27d
20.12 ~ 20.14
137.07
38.14
Bushbury Jn
07/51
07/53
40.62
Portobello Jn
07/55
07/57
43.61
Darlaston Jn
08/00
08/00
Colwich
20/17
20/03
160.52
Rugeley
20/10
19/59
127.66
Rugeley Town
20/07
19/54
126.34
Hednesford
20/00
19/48
122.26
Ryecroft Jn
19/40
19/32
103.14
Walsall
19*19a ~ 19*35d
19/30
102.44
Pleck Jn
19/15
19/27
11.57
44.79
Bescot Stadium
08/02
08/01
19/12
19/24
100.70
49.36
Perry Barr North Jn
08/10
08/10
19/02
19/16
96.33
Perry Barr West Jn
18/56
19/15
95.74
Soho East Jn
18/48
19/13
93.75
Soho South Jn
18/47
19/11
93.42
51.58
Aston
08/20
08/15
53.58
Proof House Jn
08/25
08/21
54.34
Birmingham New Street
08.28a ~ 08.31d
08.25 ~ 08.36
18.39a ~ 18.42d
18.57 ~ 19.04
91.41
57.65
Selly Oak
08/38
08/44
Proof House Jn
18/36
18/50
90.67
St Andrews Jn
18/33
18/47
89.70
Bordesley Jn
18/32
18/46
89.44
59.79
King's Norton
08/43
08/47
18/26
18/36
84.29
62.32
Longbridge
08/50
08/55
18/22
18/31
81.76
65.07
Barnt Green
08.54a ~ 08.56d
08.59 ~ 09.01
18.14a ~ 18.16d
18.24 ~ 18.25
79.21
68.50
Bromsgrove
09/01
09/06
18/07
18/15
75.58
70.63
Stoke Works Jn
09/03
09/08
18/05
18/12
73.45
82.00
Abbotswood Jn
09/14
09/20
17/56
18/01
62.28
92.67
Ashchurch
09/23
09/29
17/47
17/52
51.41
99.78
Cheltenham Spa
09.31a ~ 09.34d
09.36 ~ 09.38
17.36a ~ 17.38d
17.41 ~ 17.45
44.30
105.41
Barnwood Jn
09/41
09/44
17/28
17/32
38.67
106.28
Gloucester Yard Jn
09/43
09/46
17/27
17/31
38.00
112.38
Standish Jn
09/48
09/52
17/21
17/25
31.70
125.63
Charfield
09/59
10/03
17/09
17/14
18/45
132.24
Yate
10/05
10/09
17/03
17/08
12.04
133.76
Westerleigh Jn
10/09
10/12
17/00
17/05
10.32
138.46
Bristol Parkway
10.15a ~ 10.17d
10.18 ~ 10.21
16.51a ~ 16.54d
16.56 ~ 16.59
5.62
139.65
Filton Jn
10/21
10/23
16/39
16/54
4.43
142.65
Stapleton Road
10/26
10/28
16/30
16/48
1.43
143.62
Dr Days Jn
10/27
10/30
16/29
16/46
0.46
144.04
Bristol East Jn
10/29
10/34
16/26
16/45
0.24
144.28
Bristol Temple Meads
10L34a
10.37
16L25d
16.44
0.00
M.C
Location
Booked
Actual
0.00
Bristol Temple Meads
11L10d
11.26
0.46
Dr Days Jn
11/12
11/30
4.43
Filton Jn
11/20
11/39
5.62
Bristol Parkway
11/22
11/41
10.32
Westerleigh Jn
11/28
11/50
12.04
Yate
11/31
11/55
(12.24)
0.00
Yate Middle
11.34a ~ 11.48d
11.57 ~ 12.08
0.20
Yate
11/51
12/48
(2.68)
0.00
Westerleigh ACC RTS
11.59a ~ 12.09d
12.25 ~ 12.29
2.48
Yate
12/17
12/48
(2.68)
0.00
Yate Middle
12.20a ~ 12.37d
12.50 ~ 12.55
0.20
Yate
12/40
12/56
1.72
Westerleigh Jn
12/44
13/05
6.42
Bristol Parkway
12/49
13/15
7.58
FiltonWest Jn
12/52
13/18
(14.64)
0.00
Avonmouth RT Limit
13.02a ~ 13.09
13.36 ~ 13.38
7.06
Filton West Jn
13/21
(13.55a) - 14.00d
7.77
Filton Jn
13/24
14/04
11.74
Dr Days Jn
13/31
14/11
12.40
Bristol Temple Meads
13/33
14.14a ~ 14.17d
14.29
Parson St
13/37
14/23
15.32
Ashton Jn
13*40a ~ 13*50d
14*26a ~ 14*32d
20.71
Portbury Dock Stop Board
14*04a ~ 14*14d
14.46 ~ 14.48
(21.60)
0.00
Portbury Automotive Terminal
14.24a ~ 14.35d
15.15 ~ 15.19
(0.69)
0.00
Portbury Dock Stop Board
14.45a ~ 14.55d
15.38 ~ 15.42
(0.3)
0.00
Portbury Coal Terminal
15.05a ~ 15.12d
15.48 ~ 15.53
0.30
Portbury Dock Stop Board
15.22a ~ 15.32d
15.58 ~ 15.59
6.09
Ashton Gate
15t47a ~ 15t57d
16.16 ~ 16.22
7.12
Parson St
16/00
16/26
8.01
Bristol Temple Meads
16L03a
16.32
Timings continue in first table.
Key;
a : arrival time
c : crew change
d : departure time
L : loco change
t : token collection/drop off
* : operational stop
/ : passing time
A time or mileage in brackets is approximate.
All distances, in miles and chains (M & C), are taken from the timing sheet given out on the train. No attempt has been made to verify the mileages given.



Back to "The Railtour Files"