6th - 7th May 2002
Pathfinder Tours
Penzance Castles
| | |
| --- | --- |
| Locos Used | 431, 449 & Steam : 5051 (1) |
| Stock Used | set CP01 |
Route:
1Z50 : Crewe to Penzance
1Z51 : Penzance to Crewe
| | | |
| --- | --- | --- |
| Date | Loco(s) | Route |
| 06/05 | 431 + 449 | Crewe - Stafford - Birmingham New Street - Barnt Green - Cheltenham Spa - Bristol Parkway - Bristol Temple Meads (2) |
| 06/05 | 431 | Bristol Temple Meads - Taunton - Exeter St Davids - Plymouth - Penzance |
| 06/05 | 5051 + 431 | Penzance - Par - Plymouth - Exeter St Davids (3) |
| 06/05 | 5051 | Exeter St Davids - Taunton - Bristol Temple Meads |
| 06/05-07/05 | 431 + 449 | Bristol Temple Meads - (reverse of outward route) - Crewe |
Notes :
(1) Train was booked to have used GWR Castle's 5029 + 5051 but 5029 ran a hot-box en-route from Penzance to St Blazey on Sunday 5th May (after working the Saturday 'Penzance Castles' from Taunton to Penzance).
(2) 449 failed at Bristol. It went to St Philips Marsh for attention.
(3) 431 ran ahead with the support coach.
(4) Gordon Jakes comments: Passengers were able to detrain at Par on the downward run where a bus connection was provided for a visit to the Eden Project. The return journey was plagued by problems – I assume the delay at Penzance was due to the unplanned shunting movements which were necessary to release 431 and once the path was lost the mandatory one hours delay was invoked! The other serious delay on the return journey was at Bristol – I cannot recall the reason for this but it does not seem likely that the loss of the booked train path could have been the problem given the time of night and the onwards motive power. It was a long day!
Sources : Dave Seaton & Gordon Jakes (joined/left the train at Stafford)



Photo Review
(all photos: Gordon Jakes unless otherwise stated)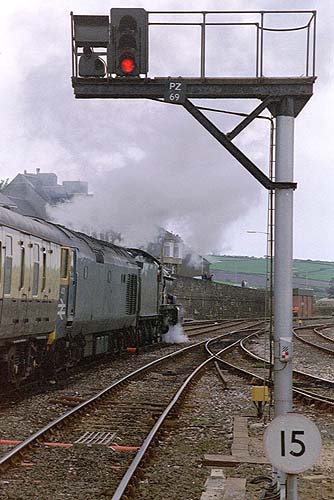 431 & 5051 wait to leave Penzance.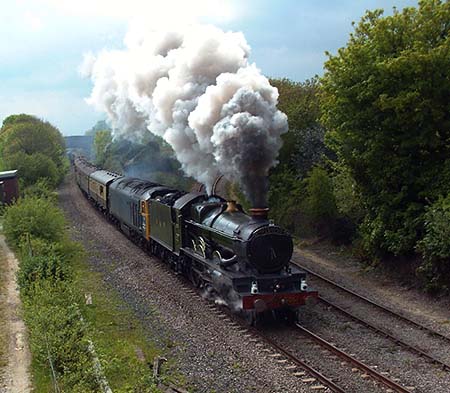 5051+431 passing Burngullow (photo: Roger Geach)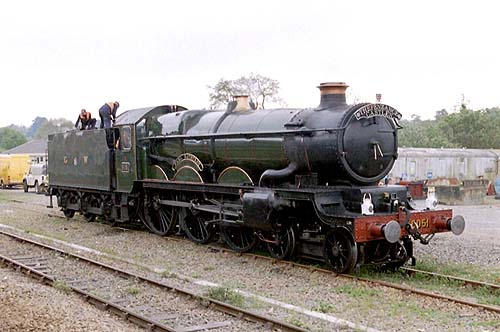 5051 - off the train and being serviced at Par.


Timings (Booked & Actual)
(from Gordon Jakes)
M.C
Location
Booked
Actual
Booked
Actual
0.00
Crewe
05.05d
?
Timings not

provided

by Railtrack

?
1.64
Basford Hall Jn
Timings not

provided

by Railtrack

?
?
8.06
Madeley
?
?
19.08
Norton Bridge
?
?
24.37
Stafford
??.?? ~ 05.51½
02.03 ~ ??.??
38.14
Bushbury Jn
?
?
40.62
Portobello Jn
?
?
43.61
Darlaston Jn
?
?
44.79
Bescot Stadium
?
?
49.36
Perry Barr North Jn
?
?
51.58
Aston
?
?
53.58
Proof House Jn
?
?
54.34
Birmingham New Street
06.13 ~ 06.13
01.35 ~ 01.40
57.65
Selly Oak
?
?
59.79
Kings Norton
06/28
?
62.32
Longbridge
?
?
65.07
Barnt Green
06.37a ~ 06.40d
06.35 ~ 06.40
00.16a ~ 00.19d
01.17 ~ 01.19
68.50
Bromsgrove
06/45
?
00/09
?
70.63
Stoke Works Jn
06/47
?
00/07
?
82.00
Abbotswood Jn
06/55
06/55
23/57
?
92.67
Ashchurch
07/03
07/03
23/49
00/53
99.78
Cheltenham Spa
07.12a ~ 07.15d
07.10 ~ 07.15
23.36a ~ 23.40d
00.43 ~ 00.46
105.41
Barnwood Jn
07/23
?
23/30
?
106.28
Gloucester Yard Jn
07/24
?
23/29
?
112.38
Standish Jn
07/31
?
23/23
?
125.63
Charfield
07/43
?
23/11
?
132.24
Yate
07/50
?
23/05
?
133.76
Westerleigh Jn
07/53
07/49
23/02
?
138.46
Bristol Parkway
08.00a ~ 08.02d
07.55 ~ 08.04
22.53a ~ 22.56d
23.58 ~ 00.01
139.65
Filton Jn
08/16
?
22/50
?
142.65
Stapleton Road
08/21
?
22/46
?
143.62
Dr Days Jn
08/27
08/13
22/45
?
144.28
Bristol Temple Meads
08.28a ~ 08.33d
08.15 ~ 08.33
22L05a ~ 22L42d
22.13 ~ 23.47
146.17
Parson Street
?
?
22/04
?
157.07
Yatton Loop
08*47 ~ 09*04
08.55 ~ 09.04
161.13
Worle Jn
09/11
09/10
21/46
22/24
164.06
Uphill Jn
09/18
09/18
21/43
?
171.27
Highbridge & Burnham
09/25
?
21/36
22/12
177.49
Bridgwater
09/32
?
21/30
22/05
184.11
Cogload Jn
09/38
?
21/23
?
189.14
Taunton
09.43a ~ 09.56d
09.46 ~ 09.58
21.06a ~ 21.14d
21.40 ~ 21.51
203.28
Tiverton Parkway
10/13
10/15
20/48
21/22
218.54
Cowley Bridge Jn
10/27
10/27
20/32
?
219.74
Exeter St Davids
10.29a ~ 10.32d
10.31 ~ 10.35
19w22a ~ 20w29d
20.05 ~ 20.59
230.36
Dawlish Warren
10/44
?
19/16
?
240.08
Newton Abbot
11/00
10/59
18/49
19/44
248.65
Totnes
11/13
11/09
18/37
19/32
260.29
Ivybridge
11/30
11/24
18/23
?
265.12
Hemerdon
11/36
?
18/18
19/18
270.37
Lipson Jn
11/41
?
18/09
?
271.77
Plymouth
11*43 ~ 11*46
11.37 ~ 11.40
17w23a ~ 18w04d
18.29 ~ 19.00
274.69
St Budeaux Jn
11/52
?
17/12
?
276.15
Saltash
11/56
11/50
16*58 ~ 17*07
?
281.13
St Germans
12/02
?
16/49
18/13
289.55
Liskeard
12/12
12/07
16/39
18/00
294.26
St Pinnock Viaduct East
12/19
?
16/31
17/51
294.70
Largin
12/20
?
16/30
?
302.23
Lostwithiel
12/28
12/22
16/20
?
306.58
Par
12.35a ~ 12.38d
12.30 ~ 12.33
15w12a ~ 16w10d
16.22 ~ 17.26
311.18
St Austell
?
?
?
?
313.45
Burngullow Jn
12/48
?
15/00
?
320.18
Probus
12/50
?
14/50
?
325.46
Truro
13/03
12/57
14/43
15/50
338.29
Camborne
13/13
13/14
14/25
15/32
345.56
St Erth
13/21
13/22
14/13
?
350.01
Long Rock
13/28
?
14/07
?
351.39
Penzance
13L32a
13.32
14L02d
15.00