20th April 2002
Past Time Rail
The Western Sunrise
| | |
| --- | --- |
| Locos Used | D1015 'Western Champion' & D7535 |
| Stock Used | 1813+3144+3133+3132+1671+3131+35469+4949+4946+4996+4916+5008 |
Route :
1Z52 : London Paddington to Paignton
1Z15 : Paignton to London Paddington
| | |
| --- | --- |
| Loco | Route |
| D1015 | London Paddington - (via GWML) - Reading - Reading West - Southcote Jn - Newbury - Westbury - Castle Cary - Cogload jn - Exeter St Davids - Newton Abbot - Paignton |
| D7535 (1) | Paignton (Queens Park) - Kingswear |
| D7535 (1) | Kingswear - Paignton (Queens Park) |
| D1015 | Paignton - (reverse of outward route) - London Paddington |
Notes:
(1) Not strictly part of the railtour but Past Time had arranged for a special round-trip on the P&DR with the railways class 25 for those choosing to pay an additional £7.50 on the day.
Source : Gary Thornton (on the train throughout)



Tour Review
(by Gary Thornton)
Railtour number two since the return of D1015 'Western Champion' to the mainline. Having been on the first back in February I was looking forward to this one too. An early start was required and four of us headed from Northampton direct to Paddington by car. Whilst expensive to park there for the day (£14) split four ways the fuel and parking worked out a lot cheaper than using public transport (and probably a sight more reliable too!).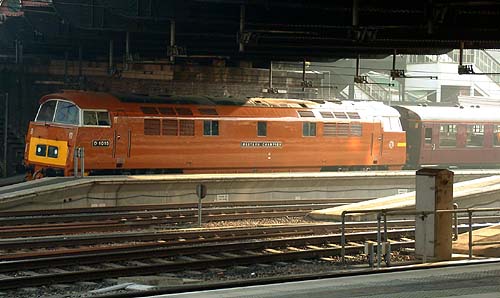 D1015 makes a fine sight at London Paddington (photo: Roger Geach)
This was a straight out-and-back run for 'Champion' with pick-ups en-route. Our group was sat in coach C, the second from the front (no coach A in the formation) on the outward journey. Departure, like on February 23rd, was quite subdued but after Old Oak Common the driver got D1015 wound-up as we headed along the down slow line towards Slough, the first pick-up after Paddington.
Timed for an hour for the 36 miles between London and Reading...we took 63 minutes! This being on account of following various Thames turbos on the slow line no doubt. Our route on was via the 'Berks & Hants' with a further pick-up at Newbury. Not much to tell you about other than we were having a superb time at the front listening to D1015 going through her paces up to 90mph.
Highlight of the outward journey was, without doubt, thrashing along the sea wall at Dawlish. I don't normally condone people hanging out of windows on trains but I don't think one single window was empty as we sped along past countless photographers and quite right too, this was something to be savoured, the first '52' along the sea wall under its own power in over 25 years! The driver of the Western put on a good show too with the loco being under power most of the way.
All to soon we were at Paignton. Many chose to fill their time here by taking a trip over the preserved line to Kingswear - Past Time having arranged a special train hauled by the lines class 25 (D7535) which was available for £7.50 for a return ticket. Many of us took advantage (I certainly did as I required the 25 for haulage!). The local ferry company did good business when we arrived as most of the participants piled on to 'Dartmouth Princess' for the short sailing over to Dartmouth.
I like many, found a pub to while away an hour....nice sunny weather, a nice small pub and good beer...what a decent day out it was!
D7535 took us back to Paignton and there was time enough to walk to the sea front as well as grab a bite to eat in one of the many typical fish-and-chip cafes near the station.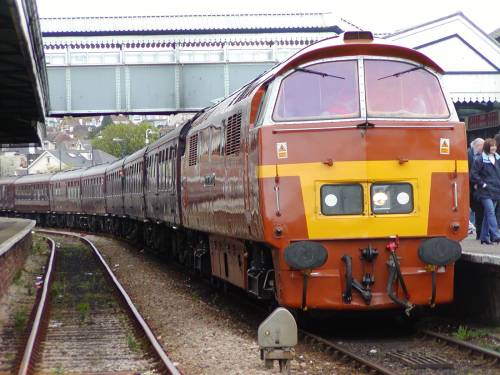 D1015 'Western Champion' waits to leave Paignton on the way home
(photo: Gary Thornton)
For those of us now at the back of the train the return working was pretty quiet. D1015 performed well all the way and, had it not been for staggering around Reading and into Paddington, an early arrival would have happened. as it was we got back to Paddington bang on time.
Verdict : D1015's second outing was, if anything, better than the first. Loads of high speed running combined with a fair amount of mid-speed thrash...absolutely brilliant :-)
Gary Thornton.



Timings (Booked & Actual)
| | | | | | | | |
| --- | --- | --- | --- | --- | --- | --- | --- |
| Miles | Location | Booked | Actual | | Booked | Actual | Miles |
| 0.0 | London Paddington | 08.39d | 08.41 | | 22.14a | 22.14 | 202.0 |
| 2.0 | Ladbroke Grove | 08/42 | 08/45 | | 22/11 | 22/07 | 200.0 |
| 5.0 | Acton West | 08/46 | 08/47 | | 22/08 | 22/04 | 197.0 |
| 9.1 | Southall | 08/51 | 08/51 | | 22/03 | 22/01 | 192.9 |
| 11.2 | Airport Jn | 08/53 | 08/53 | | 22/01 | 21/59 | 190.8 |
| 18.5 | Slough | 09.00a ~ 09.04d | 09.01 ~ 09.04 | | 21.51a ~ 51.52d | 21.50 ~ 21.52 | 183.5 |
| 24.3 | Maidenhead | 09/13 | 09/14 | | 21/41 | 21/44 | 177.7 |
| 31.1 | Twyford | 09/24 | 09/21 | | 21/36 | 21/39 | 170.9 |
| 36.0 | Reading | 09.40a ~ 09.46d | 09.44 ~ 09.47 | | 21.26a ~ 21.28d | 21.28 ~ 21.33 | 166.0 |
| 37.8 | Southcote Jn | 09/49 | 09/50 | | 21/19 | 21/18 | 164.2 |
| 53.1 | Newbury | 10.07a ~ 10.09d | 10.08 ~ 10.12 | | 20.52a ~ 21.03d | 20.51 ~ 20.59 | 148.9 |
| 66.4 | Bedwyn | 10/23 | 10/26 | | 20/40 | 20/38 | 135.6 |
| 78.9 | Woodborough | 10/33 | 10/36 | | 20/29 | 20/28 | 123.1 |
| 88.1 | Lavington | 10/40 | ??/?? | | 20/21 | 20/21 | 113.9 |
| 94.6 | Heywood Road Jn | 10/47 | 10/48 | | 20/15 | 20/15 | 107.4 |
| 95.6 | Westbury | 10c49a ~ 10c51d | 10.51 ~ 10.53 | | 20c10a ~ 20c12d | 20.08 ~ 20.12 | 106.4 |
| 97.1 | Fairwood Jn | 10/45 | 10/56 | | 20/04 | 20/01 | 104.9 |
| 100.3 | Clink Road Jn | 10/57 | 11/00 | | 20/00 | 19/57 | 101.7 |
| 102.5 | Blatchbridge Jn | 10/59 | 11/02 | | 19/58 | 19/54 | 99.5 |
| 115.4 | Castle Cary | 11/08 | 11/13 | | 19/46 | 19/44 | 86.6 |
| 137.9 | Cogload Jn | 11/24 | 11/30 | | 19/26 | 19/26 | 64.1 |
| 142.9 | Taunton | 11/29 | 11/35 | | 19/24 | 19/22 | 59.1 |
| 157.1 | Tiverton Parkway | 11/42 | 11/45 | | 19/12 | 19/11 | 44.9 |
| 172.5 | Cowley Bridge Jn | 11/56 | 11/55 | | 18/58 | 18/58 | 29.5 |
| 173.7 | Exeter St Davids | 11.58a ~ 12.01d | 11.58 ~ 12.04 | | 18.35a ~ 18.55d | 18.35 ~ 18.55 | 28.3 |
| 184.2 | Dawlish Warren | 12/11 | 12/17 | | 18/25 | 18/24 | 17.8 |
| 193.9 | Newton Abbot | 12/21 | 12.29a ~ 12.32d | | 18/15 | 18/14 | 8.1 |
| 199.9 | Torquay | 12/31 | 12/43 | | 18/05 | 18/05 | 2.1 |
| 202.0 | Paignton | 12.37a | 12.48 | | 18.00d | 18.00 | 0.0 |