20th April 2002
P.M.R. Tours
The Citadel Express
Locos Used
31602, 33108 & steam: 6233 'Duchess of Sutherland'
Stock Used (1)

3143

+

99125+4951+4994+1981+99680+99318+4940+4984+5032
Route :
1Z48 : Birmingham International to Carlisle
1Z49 : Carlisle to Birmingham International
| | |
| --- | --- |
| Loco(s) | Route |
| 33108 + 31602 | Birmingham International - Stechford - Aston - Perry Barr North Jn - Bescot Stadium - Portobello Jn - Wolverhampton - Bushbury Jn - Stafford - Crewe |
| 6233 | Crewe - (via WCML) - Carlisle |
| 6233 | Carlisle - (via WCML) - Crewe |
| 31602 + 33108 | Crewe - (reverse of outward route) - Birmingham International |
Notes:
(1) Plus support coach (identity required) whilst 6233 was on the train.
Sources : Mark Sutton & Gordon Jakes



Photo Review
(all photos: Gordon Jakes)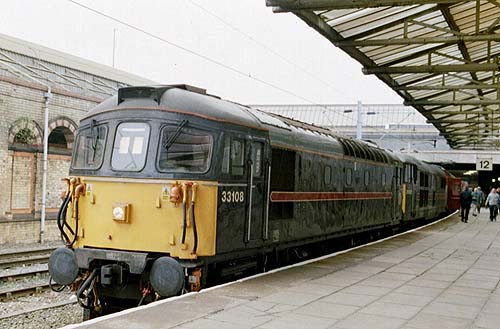 33108 & 31602 at Crewe in the morning.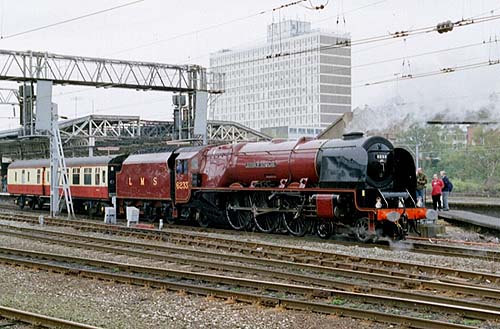 6233 and support coach at Crewe.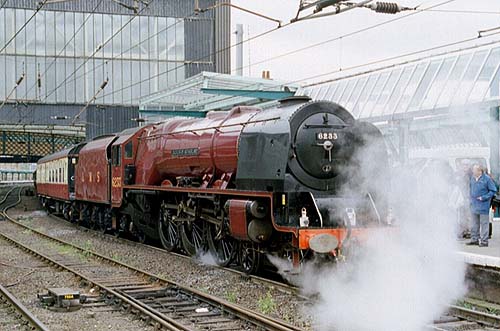 6233 on arrival into Carlisle...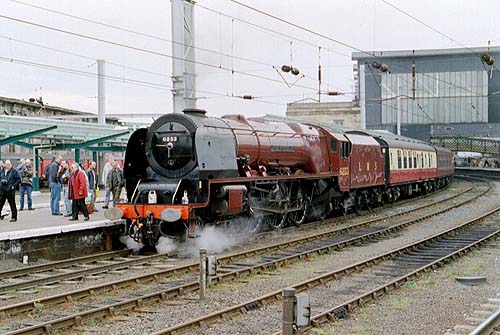 ....and ready to leave again...


Timings (Booked & Actual)
(from Gordon Jakes)
M.C
Location
Booked
Actual
Booked
Actual
0.00
Birmingham International
06.02d
?
22.12a
?
4.33
Stechford
06/07
?
22/05
?
7.22
Aston
06/16
?
21/55
?
9.43
Perry Barr North Jn
06/21
?
21/51
?
14.01
Bescot Stadium
06/28
?
21/46
?
15.19
Darlaston Jn
06/37½
?
21/45
?
18.18
Portobello Jn
06/40½
?
21/41
?
20.08
Wolverhampton
06.46½a ~ 06.54d
?
21.28a ~ 21.35d
?
20.45
Wolverhampton North Jn
06/57
?
21/25
?
21.56
Bushbury Jn
07/00
?
21/23
?
35.22
Stafford No.4
07/11
?
21/11
?
35.33
Stafford
07.13a ~ 07.15d
07.11 ~ 07.15
21.08a ~ 21.10d
?
40.58
Norton Bridge
07/22
?
20/59
?
51.64
Madeley
07/32
07/30
20/38
?
58.12
Basford Hall Jn
07/44
07/35
20/32
?
59.70
0.00
Crewe [P12]
07L52a ~ 08L32d
07.40 ~ 08.32
20L01a ~ 20L32d
19.56 ~ ??.??
7.41
Winsford SB
08/42
08/45
19/50
19/37½ [SL]
16.41
Weaver Jn SB
08/50
08/51
19/42
19/29½
22.20
Acton Grange Jn
08/56
08/55½
19/36
19/23½
24.11
Warrington Bank Quay
08/58
08/58
19/33
19/20½
27.44
Winwick Jn
09/01
09/03
19/28
19/17
34.49
Springs Branch Jn
09/08
?
19/20
19/09½
35.71
Wigan North Western
09/09
09/13
19/19
19/08
43.42
Balshaw Lane
09/17
?
19/14
18/54
45.46
Euxton Jn
09/19
09/22
19/10
?
51.01
Preston
09/28
09/27
19/01
18.37 ~ 18.44
(55.26)
Barton & Broughton Loop
09*37 ~ 09*47
09.35 ~ 09.45
71.79
Lancaster
10/07
10/04½
18/33
18/14
(77.70)
Carnforth UDL
10w14 ~ 11w14
10.14 ~ 11.08½
17w35 ~ 18w25
17.39 ~ 18.04
78.05
Carnforth North Jn
11/17
?
17/33
?
91.10
Oxenholme
11/31
11/25
17/16
17/20½
104.17
Tebay North
11/43
11/42½
17/02
17/10
[Clifton & Lowther UL]
123.19
Penrith
12/14
12/06½
16/40
16/39½
141.08
Carlisle
12w47a
12.45
16w14d
16.14