13th April 2002
Deltic Preservation Society
The Silver Jubilee
(mainline tour no.9)
| | |
| --- | --- |
| Locos Used | 55019, 56120 (& 91128) |
| Stock Used | 3107+3115+3148+1658+4938+5005+4999+4959+21246+4991+4956+4998 |
Route :
1Z55 : London Kings Cross to Edinburgh Waverley
1Z18 : Edinburgh Waverley to London Kings Cross
| | |
| --- | --- |
| Loco | Route |
| 55019 | London Kings Cross - (via ECML) - Edinburgh Waverley |
| 55019 | Edinburgh Waverley - Portobello Jn - Niddrie West Jn - Craiglockart Jn - Slateford - Carstairs East Jn - Carstairs South Jn - Carlisle - Hexham - Low Fell Jn - (via ECML) - Peterborough |
| 56120 (1) | Peterborough - (via ECML) - London Kings Cross |
Notes :
(1) Owing to 55019 being failed with a faulty AWS north of Grantham, after "limping" to Peterborough 56120 was used to get the train home (55019 being dead-in-tow. Some passengers however transferred to the 22.20 GNER departure (hauled by 91128) to get to Kings Cross earlier.
Source : Gary Thornton (on the train throughout)



Tour Review
(by Gary Thornton)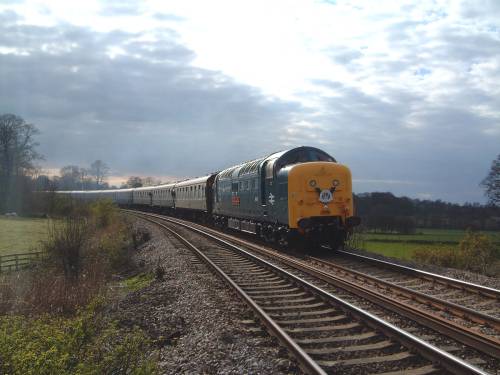 55019 en-route from Carlisle to Newcastle (photo : Gordon Nattrass)
When I joined the Deltic Preservation Society back in 1978 it had been going only a year. I begin to feel old then to find ourselves in 2002 and celebrating the society Silver Jubilee! Back in 1977 it was the Queens Silver Jubilee and to commemorate that event BR (ER) "named" the 07.45 Kings Cross to Edinburgh (arriving 13.20) and 15.00 return working "The Silver Jubilee". Those around in those days may remember that the train was Deltic hauled (what else!) and normally carried a headboard.
So, what better way to mark the DPS silver Jubilee year then than run a tour in 2002 also named "The Silver Jubilee" and covering the same route as BR's named train of 1977!
Engineering works north of Newcastle forced a diversion of the return route but when the tickets arrived the scene was set;
07.35 Kings Cross - Edinburgh Waverley (13.24)
14.55 Edinburgh Waverley - Kings Cross (22.00)
Thus, the outward leg would follow very closely that of the train in 1977.
My street became the marshalling point (a little after 05.00) for two friends from Birmingham and my Father. We'd chosen to do the whole tour and drive down rather than trust to Silverlink or similar...little did we know that was the right decision...
Was pleasantly surprised to find the new car park at Kings Cross is on the site of the former stabling point (my first memories of Deltics - looking across from the platforms to the stabling point on a visit to Kings Cross in 1976). Even more surprised to find the barrier up onarrival and a notice saying that as the pay machines weren't working the car park was free :-)
Time enough to met and greet a few others on the trip before 47749 "Atlantic College" arrived with the tour stock. A walk to the front found our seats in coach A, leading. A few photos of a rather splendidly prepared 55019 "Royal Highland Fusilier" (thankfully not renumbered/renamed 55012 "Crepello" as had been rumoured) then time to settle back for the thrash. Seeing a blue Deltic on blue/grey coaching stock brought back happy memories - and it is suggested that this is the first time since January 2nd 1982 (the farewell tour) that such a combination has been out on the mainline. It was also nice to see the (replica) "Silver Jubilee" headboard proudly displayed on Deltic 19.
Departure from Kings Cross was however rather subdued. An early bout of wheelslip followed by a very cautious run through the tunnels. It wasn't until after Finsbury Park in fact that 19 got into her stride.
Stops were made to collect passengers at Peterborough and York. All the way to Edinburgh 19 performed really well, though probably it has to be said slightly better after the crew change at York. Conversation in a mark 1 coach doing 100mph with all windows open is not exactly easy....but then again, that wasn't what we were there for, was it!
The prospect of a non-stop run from York to Edinburgh (as per booked timings) was spoilt by a brief halt alongside Tyne yard, another of those "why did we do that" type moves, on to the slow line, stop at a signal for a minute or so, then carry on...nothing else about etc.
Arrival into Edinburgh was within a minute of booked time - indeed all the way north we'd been fairly close to time - a few minutes late in places, but upwards of 15 early over some of the run. At Edinburgh the stock stayed in the platform for the 91 minute layover whilst Deltic 19 went off to Craigentinny depot for refuelling. We went in search of our own form of refuelling....
Back at the station, suitably watered (19 and ourselves) we settled back in for the return leg. As coach A was now at the rear we chose to move up to the leading standard class coach (G) which had spare seating bays in it. Quite a few others had the same idea it seemed as I heard comments that it was somewhat fuller than on the northward journey.
We set off back from whence we'd come but only as far as Portobello Junction where we turned off onto the "Edinburgh Suburban" line. This move was made to ensure the first class passengers had their turn with "RHF" at their end of the train (the direct route home otherwise would have meant those of us in standard would've had 19 to ourselves all day. This change had pleased me as it meant I would get some new track, the curve from Craiglockart Junction to Slateford Junction. This was duly scratched in as we made our way home via the Carstairs avoider and the West Coast Main Line. The climb to Beattock summit was superb.
Another scoop for me was the sighting of 66088 on the approach to Carlisle - just two EWS examples left to see now. A pause at Carlisle to change crew then we carried on our way via the line to Newcastle. What a stagger! Having missed a booked pathing stop at Lockerbie we left Carlisle 19 minutes early but by the time we reached Tyne Yard we saw this reduced to just 2 minutes in credit.
As we approached Newcastle I'd migrated further forward as there were a few people I wanted to chat to in the first class section (yes, OK, I admit one ear was on the conversations, the other on what 19 was doing just in front of us!).
19's performance continued to be top grade and we left our first set of passengers at York, departing just a minute late. With a 2 hour 16 minute timing to London and a booked stop at Peterborough we were expecting (and looking forward to) a good fast run.
Alas, a good fast run it was not! We were checked near Shaftholme Junction (I suspect as a result of one of the level crossing 'boxes being too slow getting their barriers down) then at Doncaster we were pathed through the platform rather than storming through. As we rolled down the platform we then got a green back on to the fast line. As nothing had passed us the reason for this move was left unexplained - and very annoying as it cost us 6 minutes on top of the couple we'd already lost being checked near Shaftholme Junction. I later heard a very strong rumour on the train that Doncaster power box staff had in fact routed us through the platform for no reason other than to allow themselves a better look at the Deltic! If that rumour is true then those in Doncaster power box responsible need disciplining for taking that action and delaying the train unnecessarily.
We continued on our way southwards running about 10 minutes late, until Barkston South Junction where we slowed, then sped up a bit before coming to quite an abrupt halt. I had a quick look out to see we had in fact stopped at a green signal and a member of the loco crew was out on the signal phone. Eventually we set off again but at a very slow pace. At Grantham (by now 26 minutes late) we were routed onto to the slow thus denying us the chance to catch any time back - in fact a move guaranteed to lose us more. Word however soon went round the train that the reason for the delay was that a fault had developed with the locos AWS equipment hence we had to run at reduced speed as a level of safety was removed due to the inoperable equipment.
As a result of this fault, Deltic 19 was technically "failed" and, we were informed over the PA system, a replacement loco would be required at Peterborough. Lots of sad faces on board at this news (but some smiles too as it was mentioned we were supposed to get a class 56) but at least we'd enjoyed some 750 miles of Deltic haulage.
Cue farce....
....arrival at Peterborough was booked for 21.00 but we only got there at 21.37 then by the time the 56 was on the train (56120 - not one I needed) we did not get away until 22.30, 88 minutes down. The stewards I believe did their best in the circumstances to keep people informed of what was happening, no an easy task I suspect with all the rumours, stories and counter-stories flying around! In the hour or so we were waiting I personally heard several stories circulating about why the problems had occurred and easy ways to sort it all out, but these are probably best not repeated here. Suffice to say it seems to me this was another classic case of one small issue developing into something much larger that then degenerated into a farce as more officialdom got involved. I doubt much, if any, blame lies at the door of the DPS - indeed I believe the fault was rectified quite quickly but Railtrack would not permit 55019 to continue the journey once the fault had been logged.
Credit to those involved though, arrangements were made for those passengers wanting home quicker to catch the 22.20 GNER service and quite a few duly did so, 91128 being their motive power home. We stuck with the tour and 56120 put up a very creditable performance back to Kings Cross. On load 12 with a dead Deltic the grid made the 76 mile journey in just 66 minutes (only 8 more than booked for the Deltic), helped quite a bit by a clear run all the way to the stops at Kings Cross.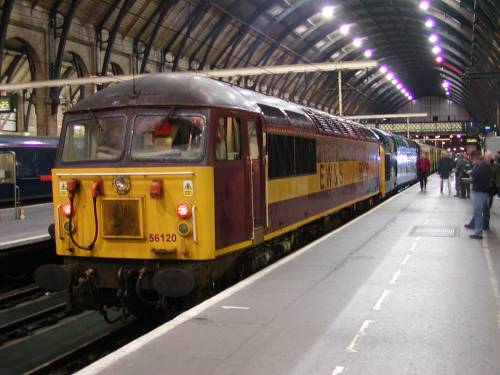 Not the way to arrive into Kings Cross with a Deltic!
Conclusion - a really quite excellent day out, yes spoilt a little by the "failure" of Deltic 19 late in the day, but in all honesty that incident will be forgotten quickly compared to the memories of Royal Highland Fusilers performance during the rest of the day. May there be many more similar outings in the future!
Gary Thornton.
The following comments come direct from the Deltic Preservation Society regarding the problem experienced by 55019 during the tour;
Most people will be aware that the final leg of the tour was hauled by 56120. This was due to an AWS fault developing on 55019 just north of Peascliffe Tunnel at signal DN32, resulting in the driver missing the muted horn and the AWS correctly applying the brakes as it had not been cancelled. Although the fault was remedied by the DPS engineer within a few minutes of arrival at Peterborough, it was still declared a failure by the driver.



Timings (Booked & Actual)
(by Gary Thornton)
Location
Booked
Actual
Booked
Actual
Kings Cross
07.35d
07.40
22.00a
23.36
Finsbury Park
07/39
07/46
21/55
23/31
Alexandra Palace
07/42
07/48
21/53
23/39
Potters Bar
07/47
07/55
21/48
23/22
Welwyn Garden City
07/52
08/00
21/43
23/16
Woolmer Green Jn
07/55
08/02
21/40
23/13
Stevenage
07/58
08/04
21/36
23/11
Hitchin
08/01
08/07
21/32
23/07
Sandy
08/11
08/14
21/3
22/58
Huntingdon
08/22
08/26
21/13
22/47
Holme LC
08/30
08/33
Connington South Jn
21/08
22/40
Peterborough
08.38a ~ 08.43d
08.39 ~ 08.43
21.00a ~ 21.02d
21L37 ~ 22L30
Helpston Jn
08/56
08/53
Tallington Jn
09/06
08/57
??/??
21/27
Grantham
09/22
09/15
20/40
21/06
Barkston South Jn
09/24
09/19
20/37
20/50
Newark North Gate
09/32
09/26
20/31
20/41
Retford
09/48
09/37
20/20
20/30
Loversall Carr Jn
09/58
09/48
20/12
20/02
Doncaster
10/01
09/50
20/09
20/15
Shaftholme Jn
10/05
09/53
20/05
20/07
Temple Hirst Jn
10/11
10/00
19/58
20/00
Hambleton North Jn
10/15
10/04
19/55
19/57
Colton Jn
10/20
10/09
19/49
19/51
York
10.25a ~ 10.28d
10.15 ~ 10.28
19.42a ~ 19.44d
19.41 ~ 19.45
Skelton Jn
10/31
10/33
19/40
19/32
Tollerton Jn
10/39
10/38
19/33
19/26
Thirsk
10/53
10/47
19/25
19/19
Northallerton
11/02
10/51
19/20
19/14
Darlington
11/14
11/01
19/10
19/05
Ferryhill South Jn
11/22
11/10
19/01
18/55
Tursdale Jn
11/24
11/12
18/59
(18/54)
Durham
11/29
11/17
18/50
18/48
| | | |
| --- | --- | --- |
| Location | Booked | Actual |
| Birtley | 11/38 | 11/26 |
| King Edward Bridge South Jn | 11/41 | 11/38 |
| Newcastle Central | 11/44 | 11/41 |
| Heaton South Jn | 11/48 | 11/45 |
| Morpeth | 11/57 | 11/57 |
| Alnmouth | 12/09 | 12/13 |
| Belford | 12/19 | 12/25 |
| Berwick-upon-Tweed | 12/29 | 12/36 |
| Reston | 12/40 | 12/46 |
| Grantshouse | 12/47 | 12/50 |
| Dunbar | 12/57 | 12/59 |
| Drem | 13/06 | 13/07 |
| Monktonhall Jn | 13/18 | 13/18 |
| Portobello Jn | 13/20 | 13/20 |
| Edinburgh Waverley | 13.24a ~ 14.55d | 13.25 ~ 14.58 |
| Portobello Jn | 14/59 | 15/05 |
| Niddrie West Jn | 15/02 | 15/08 |
| Craiglockart Jn | 15/12 | 15/24 |
| Slateford Jn | 15/15 | 15/25 |
| Midcalder Jn | 15/28 | 15/36 |
| Carstairs East Jn | 15/48 | 15/51 |
| Carstairs South Jn | 15/50 | 15/53 |
| Abington | 16/05 | 16/06 |
| Beattock Summit | 16/13 | 16/14 |
| Beattock | 16/20 | 16/20 |
| Lockerbie UPL | 16.31a ~ 16.46d | 16/29 |
| Quintinshill | 17/01 | (16/40) |
| Gretna Jn | 17/04 | (16/42) |
| Carlisle | 17.13a ~ 17.14d | 16.49 ~ 16.55 |
| Carlisle London Road Jn | 17/16 | 16/57 |
| Petteril Bridge Jn | 17/17 | 16/58 |
| Brampton | 17/29 | 17/13 |
| Haltwhistle | 17/41 | 17/30 |
| Haydon Bridge | 1750 | 17/41 |
| Hexham | 18/01 | 17/55 |
| Blaydon | 18/23 | 18/22 |
| Gateshead Metro Centre | 18/26 | 18/26 |
| Norwood Jn | 18/31 | 18/31 |
| Low Fell Jn | 18/37 | 18/35 |
| Birtley Jn | 18/45 | 18/39 |
Timings continued in first table.
Key;
a : arrival time
c : crew change
d : departure time
L : loco change
/ : passing time
* : operational stop
A time in brackets is approximate.
All distances, in miles and chains (M & C), are taken from the timing sheet given out on the train. No attempt has been made to verify the mileages given.



Back to "The Railtour Files"