2nd February 2002
Pathfinder Tours
The Spiders Web
| | |
| --- | --- |
| Locos Used | 37688, 37797, 56046, 56111, 58020, 60030 & 92026 |
| Stock Used | 6310+3122+3112+3140+3098+21272+1863+5009+4927+5040+4963+5029+4902 |
Route :
1Z27 : Reading to Lincoln
1Z28 : Lincoln to Birmingham International
| | |
| --- | --- |
| Locos | Route |
| 37688 + 37797 | Reading - Didcot Parkway - Oxford - Leamington Spa - Kenilworth - Coventry - Birmingham International - Stechford - Aston - Four Oaks - Lichfield TV HL - Wichnor Jn - Burton-on-Trent - Stenson Jn - Sheet Stores Jn - Trent East Jn - Toton Centre |
| 58020 | Toton Centre - Trowell Jn - Pye Bridge Jn - Pinxton - Kirkby Lane End Jn - Mansfield Woodhouse - Shirebrook - Woodend Jn - Worksop - Retford (Low Level) - Gainsborough Lea Road - West Holmes Jn - Lincoln Central |
| 60030 | Lincoln Central - West Holmes Jn - Newark Crossing East Jn - Newark Northgate - Grantham (DN/Up Goods line) |
| 56111 (1) | Grantham (DN/Up Goods line) - Peterborough - (2) - March - Ely - Cambridge - Bishops Stortford - Broxbourne - Cheshunt - Tottenham Hale - Temple Mills East Jn - Stratford |
| 92026 (3) | Stratford - Carpenters Road East Jn - Lea Jn - Hackney Central - Canonbury East Jn - Barnsbury Jn - Camden Road - Gospel Oak - Willesden Junction High Level - Willesden High Level Jn - Mitre Bridge Jn - Kensington Olympia |
| 56046 | Kensington Olympia - Clapham Junction - Barnes - Richmond - Twickenham - Feltham Jn - Staines - Ascot - Wokingham - Reading Spur Jn - Reading New Jn - Reading - (same route as morning) - Birmingham International |
Notes :
(1) Should have been a class 92 with a 47 or 90 coupled "dead inside". Was changed owing to operational problems further south (see note 2).
(2) Train diverted due to ECML being closed between Hitchin & Stevenage because of strong winds and overhead line damage. Booked route was to have been : Hitchin - Stevenage - Hertford North - Alexandra Palace - Kings Cross Freight Jn - Camden Road - Willesden West London Jn - Harlesden Jn - Wembley Europort. Here a class 56 should have taken over and run via Willesden West London Jn to Mitre Bridge Jn, then route home as given in above tabulation.
(3) plus 56046 "dead in tow".
Source : Gary Thornton.
(joined/left the train at Banbury)



Tour review
(by David Clark, photos by Gary Thornton)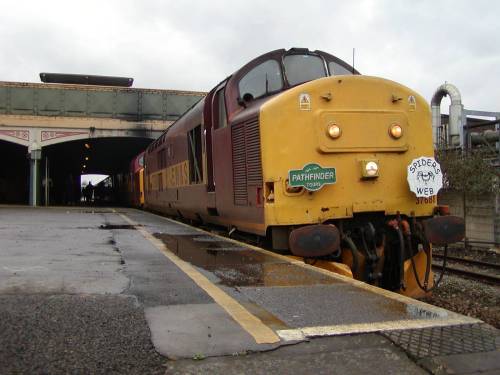 37688 leads 37797 at Burton-on-Trent.
After the exploits of some North Yorkshire town last weekend, which enabled me to recharge my batteries, and have fun, fun and more fun, it was back to the world of insanity and that is Railtouring. Normally, it takes up to an hour in the car from Scunthorpe to Lincoln, but today it would take 7 hours outwards, and 10 hours return!!! Madness or what?!? What, keeps me doing these tours then? Please discuss… What an essay question eh??
When this tour first appeared in October, on the tone bone, the opportunity to sample a 58 to Lincoln, 92 up the East Coast, and a 56 to Birmingham International was too much to resist. So a booking was made, and we all waited for the day to come. The tour was to spend two hours in the lovely delights of Lincoln, my first visit since the infamous Christmas market tour!
At 0450 Saturday, we departed the Delights of Scunthorpe, to head down the A15 to Lincoln. Woops, that would have been too good to be true. No, we set off for Retford, and thence as booked to Birmingham International. The 37s, 797/688 (both winners) arrived at 0751 and departed at 0753 (2 late) to Stechford, Aston, Lichfield, Wichnor Jct. But during this time it was alerted to us, that the wires had come down at Hitchin, and that part of the East Coast Main Line would be blocked for the rest of the day, which put our tour itinerary in to doubt (well the 92 bit anyway). A few Virgin Voyagers were seen at Wichnor Jct, as well as some proper trains (ie HST's). We were held there for a pathing stop (0847-0908) before we set off for Burton on Trent, our final pick up point. From Burton we headed out to Toton via Sheet Stores and Trent, from where 58020 came on to the train, and the 37s went back to Bescot. As Miggy said, "you wait a long time for this loco, and then it produces twice within a month!"
With the ECML blockage, many options were considered, but finally it was decided to leave Lincoln earlier, bring 56111 off Peterborough, to take the train From Grantham, down to Stratford via March, Ely, Cambridge and Tottenham Hale, from where 92 (with 56 DIT) would take the train to Kensington Olympia, and thence as booked to Birmingham International. Well hopefully!!!
During the loco change, the resident gronk came shunting in the yard, with people wanting to go out and get the gronk for haulage. Nice!! So, we departed Toton at 1020, and then headed up to Pye Bridge Jct, Pinxton, Kirby lane Jct and up the Robin Hood Line to Worksop. But along the Robin Hood Line, kids / adults were waiting for their train to Nottingham, and got a bit of a shock when people started bellowing / shouting at them from Door Windows. Marvellous!!!!
Worksop was passed at 1145, with numerous 66s and 56007 seen. We then passed through Retford LL, Gainsborough Lea Road (from where I was 18 miles from home).
Just to inform you, that I was educated at Lincoln University, and as well as being educated in to disappearing early to go and chase 47s, 56s and anything else big that dropped, It was also brought to my attention that the residents of Lincoln were not best pleased when there were plans to increase the number of Freight / Passenger trains through Lincoln. So after our tour passed West Holmes Jct, East Holmes LC, and then High Street crossing appeared, many a bellow was carried out on the shoppers of Lincoln. We arrived at Lincoln at 1222, but with the revised timings we only had just over an hour before our tour left again. Ah, High Street crossing from which reminded me on the Lincoln Market tour, that the level crossing barriers hit someone. Hmmm. Well, he was out enjoying himself in Scunthorpe, and I was in Lincoln.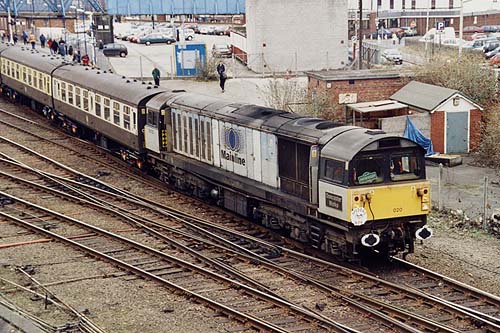 58020 removes the stock from Lincoln Central (photo: Gordon Jakes)
After finally getting off the train, some 10 minutes after we stopped, I met a friend from my uni days and we went for a lovely drink, and also passed the lovely shops of Lincoln, from which Daniel Bound (named and shamed) made a few comments. So, after a nice drink, some interesting conversation (sweet caroline, cauldrons, Lincolnshire Bus stops and the police – but no mention of cranking) we set off back to the station, to witness the 1317 to Nottingham depart, and then the tour ECS with 60030 at the helm arrive.
Due to the platforms at Lincoln being quite a bit short, only a few coaches were on the platform, and so it took a while for everyone to get on.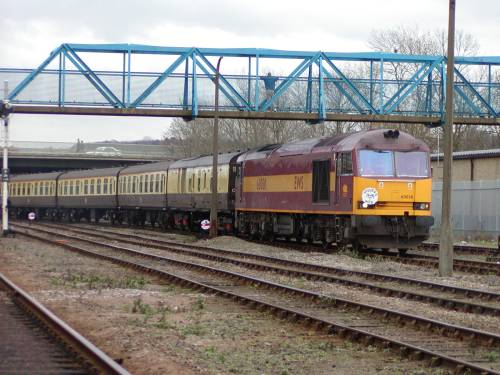 60030 brings the stock into Lincoln Central at the start of the return trip.
The tour departed Lincoln Central at 1335, and we headed for Newark North Gate, Grantham UDG where 60030 came off, and 56111 came on the train. We were now running under control conditions, and everything was in the hands of EWS, Railtrack. We took a crew change at Peterborough, and the extent of GNER's problems was seen, as train sets were lying all over the station, and also in the yard! The timing sheet went out the window at this point, and it was a case of just finding some interesting points to take timings. So, we passed March at 1602, but progress before that was a bit slow.
However, once we hit the main line at Ely, speed steadily progressed. We passed Cambridge 1633, Audley End 1646, Bishops Stortford 1657, Harlow Mill 1703, Cheshunt 1714, Tottenham Hale 1723 and arrived at Stratford at 1723. The speeds on some of the stretch of line were pretty quick, which made us more optimistic of getting to Reading for Right time! The 56 was detached, and 92026 along with 56046 was attached to the train. We departed Stratford at 1756, Lea Jct 1759, Dalston Jct 1805, a stop was taken at Camden Road (1815-1820), passed Gospel Oak 1824, Kensal Green Jct 1831, Willesden Jn High Level 1832, but the braking after Willesden on the 92 caused some coffee and beer to be spilled in our coach, and also in coach B. Hmmm.
We arrived at Kensington Olympia at 1847, and the 92 was detached and came storming through the platform with its horn making more noise than the 37s had in the morning. This caused residents to look out their windows to see what was going on! Well, they wanted to live near the Railway didn't they?!? We departed at 1902 just 28 late.
The journey through West London, Clapham Junction and in to Barnes was uninteresting, but after Barnes a 455 passed us on the slow lines, and some bellowing was taken at one of the participants. And he just sat there looking glum and humourless. He either had a sense of humour bypass, or he was German. And in the words of Basil Fawlty, "you have absolutely no sense of humour do you?" And I think this could be applied to him too!
Well, on the original schedules we were to sit outside Reading station for 30 minutes, but with us being late we went straight in, bode farewell to quite a few people on the tour, and departed Reading Just 12 late. A Spirited run up saw us depart Didcot Parkway (9 late), Oxford (Right Time! – first time since before Lincoln!), Banbury (2 early!) and then we passed through Leamington Spa 7 early. But lots of people stuck their heads out as 1v99 Birmingham New Street to Paddington had 47287 causing lots of people to bail off at Banbury for it. Quite a few exchanges of bellows from trains were taken, before it set off in the evening darkness.
In fact, this loco was one of a few working for other Train Operating Companies that day (as well as our Charter!). 58030 rescued two Virgin Voyagers, 60067 worked a passenger train between Sunningdale and Ascot! Riots all over the country were to be found!
The tour departed Coventry at 2216, and we finally arrived at Birmingham International at 2233 (7 early). After a splendid drive home we arrived back in to Scunthorpe at 0100.
VERDICT: As tours go, there is nothing to complain about, the locos were fine (although two dud grids and a dud bone), the route was interesting and even more interesting after the diversion. And the arrival home in to Birmingham International being early was splendid. But what made a lot of people happy was the fact that EWS and Railtack together with Pathfinder, managed to turn this tour after the East Coast Main Line farce, in to a really well organised tour. A big well done to everyone concerned on the tour / and those who helped control the tour from both companies! And all this occurred, after constant criticisms on the TV / and in the Press that the Railways were in a mess. How wrong they were after this railtour!
David Clark (2002)
Webmasters Note : Thanks and recognition must go to all those involved with the organising and operation of this particular railtour - with the operational problems as they were on the ECML there had actually been talk at high levels of terminating the train at Birmingham in the morning. A lot of efforts and co-operation was required to get us the alternative route and alterations as required for the traction changes, something all of us on board are grateful for. It should also be noted that Hertfordshire Railtours' tour to Newcastle was cancelled just before departure from Kings Cross on Saturday morning - a great disappointment I'm sure for all the passengers on that tour.
---
And another review of the day, this one by Chopper K :
A semi early start was the order of the day, 0734 departure from Coventry was booked, so me and my mate Moz arrived in plenty of time to see what was buzzing through beforehand. 87009 appeared on a Euston bound stopper, closely followed by 87003 whizzing south and 87028 charging through towards Brum. Then 37797 + 37688 appeared, only a few mins down. Approaching International 220014 + 220029 were noted on the late running XC service to Bomo. The run to Wichnor Jct. was pretty uneventful, only a few 180 cars at Washwood Heath stirred the ink in my biro. At Wichnor jct. We sat and waited for our booked path north. Whilst waiting, 60093 headed south with an MGR at 09:05. Central Rivers was completely empty except for 220027 which had just arrived. All the barn doors were shut. Very disappointing. Burton arrived rapidly where we stopped for pick-ups for the last time. Just before we pulled out 66073 headed south with an MGR at 09:18. Very surprised not to see anyone at Willington Jct. taking piccies!! At Sheet Stores Jct. 66240 passed us heading south on yet another MGR at around 09:48. At Toton we were disappointed to be dumped in the yard area rather than up near the depot whilst we waved goodbye to the tractors and said hello to Bone 20. 08714 looking resplendent in EWS livery was shunting a couple of Porterbrook livered EMU translator vehicles. The usual suspects were in the training ground, whilst 37057, 37717, 56081, 37520, 37198, 60072, 56034, 37198 and 73108 were all noted as we accelerated past the fueller and sheds. The run up to Worksop was dark, windy and very wet, only the bellowing at a group of skateboarding youths at Mansfield provided us with any fun. Worksop was reached at around 11:35, 66151 was in the yard, whilst at the stabling point was 08633, 66097, 66029, 66238, 66071, 66018, 66189 and 56007. Not much else happened between here and Lincoln except for 142019 passing on a local service. On the approach to Lincoln we were informed of the ECML situation and now only had around 1 hour to spend here. 66605 was sat on a train of oil tanks waiting for a path over the infamous level crossings to continue its voyage towards Immingham. Lincoln had 144001 just departing as we crossed the bridge trying to get a photo of the bone. Our next loco, 60030 ran light through the station at 1248, closely followed by probably the most photographed train of the day 66605 four minutes later. Both of these photo opportunities were missed by Moz, who had snuck over to the buffet for a beef burger!!! It's his own fault really. 60030 then dragged our stock back into the station – well some of it anyway, the back 5 coaches weren't actually on the platforms. We headed off again, 43095 + 43111 were noted at Newark on a north bound GNER service. Sat outside the station waiting to follow the tram north was 60020 on a rake of TDA tanks. We then bobbed across the mainline to Grantham freight loops and switched locos to 56111. Whilst this was happening, 43109 + 43110, 91116 and 91019 were noted on south bound GNER services. Before we could leave, we had to wait for 66543 to charge through on the Leeds – Ipswich liner at around 14:43. We headed for Peterborough, and I couldn't help but notice that the ECML was surprisingly quiet. Soon the yards of Peterborough appeared, 08569 was connected to GNER livered 90224 and a rake of EWS intermodal wagons, whilst 08538 was shunting some engineers wagons around. The effects of the wires down had the unusual sight of 91130 and it's full train sat in the yard, on the approach to the station, we could see all of the sets which had buzzed south past us at Grantham. 170631 headed towards Leicester as we trundled past the stabling point, 47749, 56106 and 66098 were all that was present. Much to the despair of the poor stranded punters on Peterborough station, we got the green light and headed south – well sort of – only a few hundred meters before we headed East towards March. 317662 was noted in the station as we departed, and 365519, 365526 and 365534 were at Nene C.S. The journey to March was incredibly slow, stopping and starting. 150255 passed us heading for Peterborough. A 170/2 unit passed as well, could have been 170205 but can't be sure. At Ely were 170508 and 170514. Cambridge was full of units, 317301, 317302, 317325, 317343, 317652, 317660, 317665, 365521, 365527, 365530 and 365540 with others jotted. Added bonus was a couple of student type girlies who waved at our wolf whistles!!! The run south to 'The Smoke' was quite boring, 317333 was at Bishop Stortford and 317656 was at Broxbourne. The real pleasure was the grid haulage over this unit dominated stretch of line. Temple Mills Depot and Yard was teeming with locos and wagons. Only a few jotted down due to lack of decent lighting. What we did see was 37503, 37712, 60015, 66005 and 66704. Just as we got to Stratford station, 66702 and 66707 headed north past us at 1730. From here, we kissed goodbye to 56111 and welcomed 92026 and 56046. We were both to lazy/intoxicated to run through 4 coaches and down to the locos to watch the change over, we instead gazed forward at the 321's whizzing through the station and looked at the progress the new CTRL rail link thingy. From Stratford we took the North London line around to Kensington Olympia. 313115 passed us at Hackney Wick, closely followed by 170207 at Homerton. 313108 and 313114 were both on services at Olympia. At Olympia 92026 peeled off the grid and headed back once it came. A stirring display of health and safety was the order of the day by the driver of 92026, a quite beautiful series of horn blasts as it sped back past us caused many a figure at the overlooking flats to appear. 56046 was started up and we headed for home. At Clapham Jct. the usual units were pottering around. Four EPS class 37's were noted with a few barrier connector vehicles, but I was more interested it yet more window hanging for the grid thrash!! Reading arrived after a quick sprint over the third rail territory. Not much to note, a few Voyagers around the station. We charged along to Didcot and was disappointed to see a FGW HST parked right in front of the stabling point. For the love of god, why did it have to fail there!! As we headed north past the yard only 08480 and 66205 were identifiable. There were a few more sheds there though. As we continued our journey north someone shouted out that 66545 was stabled near the south end of Oxford station, but our coach was steamed up and I didn't see it. As we left Oxford, there was much chit chat that 47287 was on the Birmingham to Paddington service. Many packed up and prepared to get off at Banbury to catch it. We soon took the through line at Leamington and forked north for Coventry. On the bend, 47287 (with 47822 in transit) passed us with much hollering back and forth. A damp Coventry was arrived at before the scheduled time. A few more piccies and the grid disappeared into the night. As we were leaving the station, 47780 arrived with Brum bound service, with 87030 dead at the rear. Just as we finished packing the cameras away again, 220022 and 220023 ran through the station towards Brum. This was due to the Solihull line closure. All in all a top day out with some interesting routing and motive power. A big thumbs up to everyone involved with the running of excursion. Chaps, chappesses, we salute you.
Chopper K
---
...and also one from Jonathan Wilcox :
The gen for this tour came through rather late, with the pair of 37s being quoted as 688 and 667(667 dud), and 688 and 797 (which, in the end produced). I needed 37688 (although most needed the other one, 797 - including Gary Thornton until someone pointed out to him that he had in fact had 37081 to Oban in 1983!). I'd had it as 37797 on the "Cymric Gallivant" tour in April 1995, along with 37106 and 37013.
Major disappointment with the choice of bone - 58020. I personally, have not done too well with this class! When all 50 were still operational, all of those I had are now still working! Along with many others, I'd scratched it in on the Grid Iron Grinder, so that was two dud ones at least.
The 60 was quoted to be 60030 - alright there, I needed it.
The 92 was 92026, and that was definitely a scratch as I'd only had three of them.
And, finally, the most decent traction of the day - the Grid - was quoted to be 56110. Yes, that would be a scratch too.
So, on with the tour review itself then!
My dad dropped me off at International shortly before the booked arrival time of the tour, where I met up with a few of my companions for the day, and found myself seated in the front bay of the front coach! Nice one - especially for the grid thrash later on...
We staggered our way through the Birmingham suburbs to be Wichnor Junction where we were booked to stand for an unhealthy amount of time. I was disappointed because we arrived early, and a couple of Voyagers, a 60, a 47 and a tram passed us before we headed for Burton.
For those of you who haven't heard of the EAM (Empty Atlas Merchant) and EBM (Empty Book Merchant) competitions, check out Gary's personal pages for the link, as you'll be hearing a lot about these in this review!
Onto my first piece of required track then, Stenson to Sheet Stores. A very boring line I decided, but one that had to be done.
A swift-ish loco change at Toton saw us on our way with the quoted dud bone (58020) which took us to Pye Bridge Junction, then across to join the Robin Hood line up to Worksop. From Pye Bridge to Worksop was all required for me, which didn't do my EAM mileage total any favours as passenger miles count double! After suffering yet another boring piece of track, I decided on the fact that it was boring to be my lame excuse for not having done it.
Onto the next piece of required passenger track then, the "Lincoln north curve". Yes, I know. I've done the avoider a couple of times and been from the Newark direction into the station even more times, but at least I don't have to visit Lincoln again. Because, even though it's not a million miles away from places like Grimsby and Cleethorpes, we walked from the station into town and back across the level crossing, passing many closed/shut down chip shops but not an open one! We only found one in the end, and that was in the old gatehouse on the site of St Marks station.
Onto the second required loco of the day then, 60030. Being at the back of the train, there was no thrash to be heard (that said, there'd have been no thrash at the front either). During the morning, rumours had circulated that the East Coast near Stevenage was closed because the wires were down, and so we'd have had to have been diverted via somewhere, probably Cambridge. This of course meant that the requested 92 couldn't reach the tour at Grantham, and so would have had to have been put on somewhere else. Ely would have been nice, but as they aren't passed for that line, that was a definite no. It was then proclaimed that the 92 would be put on at Stratford, which was indeed what happened.
But not before what was probably the best thrash of the day (although we couldn't hear it). 56111 was our onward loco from Grantham to Stratford, via Ely. No required track there then, and not a required loco, as I'd had 56111 on the Mancunian Marauder about a year ago, and having witnessed the thrash up the Lickey I knew that she was "something special".
A moment of disappointment next then, at Peterborough, where 56106 was stabled, which was required by many people including me, most of those people have had more for haulage than me anyway! I don't know why, but as soon as you leave the East Coast at Peterborough everything seems so flat and boring. Well, my friend, that's probably because East Anglia is flat. We were held for a few minutes just past some level crossing, somewhere. Being the last bay of the last coach, we'd just cleared the crossing but the half barriers were still down and it was amusing so watch some old Bert being stuck there. Aims to call him across (even though we could see in the distance an Anglia 170 coming towards us) proved futile.
Some impressive speeds were reached south of Cambridge, but my stopwatch refused to work, as it did on the Santa's Revenge, so I can't tell you what they were. I'll just say that the run was impressive, and leave you to work out the rest.
I almost cleared my GBRf sheds around Temple Mills (just need 1 and 5 now) but 111 was removed in Stratford's platform 11, to be replaced with 92026 and 56046 dead inside. At least these were two needs (yes, I needed 56046. Where have I been?)
The 92 was removed at Kensington Olympia, just leaving the grid to take us back to International. We were going to have been at the front again for the thrash but in the end we weren't - but I can't remember why. Still, at least we got the grid for haulage.
My EAM mileage total rose off the scales next, cos I needed the whole lot from Richmond to Wokingham - no comment! Well, I've never had much reason to do the line, as railtours aren't exactly common down there and I don't want to waste my time doing units over required pieces of track (which will be there for years to come) when I can be doing locos. The track can wait till later!
Being at the back there wasn't much thrash to be heard, so the only real bit of "excitement" - if you can call seeing a 47 on a passenger train that - was just past Leamington when 47287 passed us. Required, but I wasn't too bothered.
And so ended a great day out, as 56046 thrashed away into the night from International!
Jonathan Wilcox



Timings (Booked & Actual)
(by Gary Thornton & David Clark)
| | | | | | | | |
| --- | --- | --- | --- | --- | --- | --- | --- |
| M.C | Location | Booked | Actual | | Booked | Actual | M.C |
| 0.00 | Reading | 05.40d | 05.46 | | 20.12a ~ 20.23d | 20.24 ~ 20.26 | 47.32 |
| - | Didcot East Jn | - | - | | 20/39 | 20/42 | 64.20 |
| 17.12 | Didcot Parkway | 05.58a ~ 06.00d | 06.03 ~ 06.06 | | 20.41a ~ 20.42d | 20.44 ~ 20.51 | 64.44 |
| 17.76 | Didcot North Jn | 06/03 | 06/09 | | 20/50 | 20/54 | 65.28 |
| 27.43 | Oxford | 06.15a ~ 06.17d | 06.19 ~ 06.23 | | 21.06a ~ 21.08d | 21.06 ~ 21.08 | 74.75 |
| 30.34 | Wolvercote Jn | 06/21 | 06/26 | | 21/13 | 21/12 | 77.66 |
| 39.23 | Heyford | 06/29 | 06/34 | | 21/21 | 21/20 | 86.55 |
| 54.14 | Aynho Jn | 06/35 | 06/40 | | 21/28 | 21/26 | 92.46 |
| 50.18 | Banbury | 06.40a ~ 06.45d | 06.44 ~ 06.49 | | 21.34a ~ 21.36d | 21.32 ~ 21.33 | 97.50 |
| 58.78 | Fenny Compton | 07/02 | 06/59 | | 21/49 | - | 106.30 |
| 70.27 | Leamington Spa | 07/16 | 07/10 | | 22/02 | - | 117.59 |
| 71.26 | Milverton Jn | 07/17 | 07.12a ~ 07.19d | | 22/04 | - | 118.65 |
| 75.66 | Kenilworth | 07/22 | 07/25 | | 22/12 | - | 123.25 |
| 79.16 | Coventry Park Jn | 07/26 | 07/29 | | 22/23 | - | 126.55 |
| 79.61 | Coventry | 07.31a ~ 07.34d | 07.35 ~ 07.37 | | 22.26a ~ 22.28d | - | 127.31 |
| 90.37 | Birmingham International | 07.48a ~ 07.51d | 07.50 ~ 07.53 | | 22.40a | - | 137.07 |
M.C
Location
Booked
Actual
94.70
Stechford
07/59
08/00
97.63
Aston
08/08
08/6
104.09
Four Oaks
08/21
08/16
106.03
Blake Street
08/28
08/19
111.35
Lichfield City
08/40
08/29
112.69
Lichfield TV HL
08/43
08/39
116.72
Alrewas LC
08/50
08/44
118.16
Wichnor Jn
08*54a ~ 09*10d
08.47 ~ 09.08
123.59
Burton-on-Trent
09.18a ~ 09.20d
09.16 ~ 09.20
129.32
North Stafford Jn
09/30
09/26
129.76
Stenson Jn
09/31
09/29
142.28
Sheet Stores Jn
09/53
09/46
142.71
Trent East Jn
09/57
09/48
144.28
Toton Jn
10/00
09/52
144.66
0.00
Toton Centre
10L05a ~ 10L25d
09.54 ~ 10.20
0.51
Stapleford & Sandiacre
10/28
10/23
3.25
Trowell Jn
10/32
10/26
10.05
Langley Mill
10/38
10/31
14.05
Pye Bridge Jn
10/48
10/37
15.20
Sleights East SB
10/51
10/41
15.70
Pinxton
10/52
10/42
18.43
Kirkby Lane End Jn
11/02
10/54
19.23
Kirkby Summit
11/03
10/55
24.34
Mansfield Woodhouse
11/13
11/06
27.76
Shirebrook Jn
11/20
11/16
31.51
Elmton & Cresswell Jn
11/24
11/25
36.05
Woodend Jn
11/29
11/31
36.44
Shireoaks East Jn
11/31
11/33
37.40
Worksop
11/38
11/36
44.11
Thrumpton West Jn
11/45
11/43
45.14
Retford Low Level
11/47
11/45
49.14
Clarborough Jn
11/52
11/50
53.74
Gainsborough Trent Jn
11/57
11/58
54.54
Gainsborough Lea Road
11/58
11/59
69.34
West Holmes Jn
12/17
12/19
70.22
0.00
Lincoln Central
12L19a ~ 14L20d
12.22 ~ 13.35
0.68
West Holmes Jn
14/22
13/38
1.18
Boultham Jn
14/24
13/39
15.64
Newark Crossing East Jn
14/43
13.57a ~ 14.01d
16.35
Newark North Gate
14/45
14/04
26.67
Barkston South Jn
15/03
14/16
31.05
0.00
Grantham (U&D Goods)
15L08a ~ 15L29d
14.26 ~ 14.44
5.57
Stoke Jn
15/35
14/54
20.48
Tallington Jn
15/34
15/07
29.09
Peterborough
15/58
15.30a ~ 15.31d
At this point the train was diverted from the booked route.
Booked timings and route were as follows;
| | | |
| --- | --- | --- |
| M.C | Location | Booked |
| 38.35 | Connington South Jn | 16/04 |
| 46.48 | Huntingdon | 16/11 |
| 61.28 | Sandy | 16/21 |
| 73.44 | Hitchin | 16/31 |
| 77.73 | Stevenage | 16/37 |
| 78.72 | Langley Jn | 16/39 |
| 87.25 | Hertford North | 16/54 |
| 101.18 | Bowes Park | 17/12 |
| 101.75 | Alexandra Palace | 17/13 |
| 104.32 | Finsbury Park | 17.18a ~ 17.24d |
| 105.30 | Holloway South Jn | 17/29 |
| 106.09 | Kings Cross Freight Jn | 17/32 |
The actual route and timings were however as follows;
| | |
| --- | --- |
| Location | Actual |
| Whittlesea | 15/39 |
| March | 16/02 |
| Ely | 16/18 |
| Cambridge | 16/34 |
| Audley End | 16/46 |
| Bishops Stortford | 16/57 |
| Cheshunt | 17/14 |
| Brimsdown | 17/17 |
| Tottenham Hale | 17/23 |
| Temple Mills East Jn | 17/29 |
| Stratford | 17L31a ~ 17L56d |
| Carpenters Road Jn | 17/58 |
| Dalston Kingsland | 18/05 |
| Highbury & Islington | 18/08 |
Back onto booked route...for a short period;
| | | | |
| --- | --- | --- | --- |
| M.C | Location | Booked | Actual |
| 106.43 | Camden Road East Jn | 17/35 | 18/12 |
| - | Camden | - | 18.15a ~ 18.20d |
| 106.68 | Camden Road Jn | 17/37 | 18/21 |
Deviated again, booked route was to have been;
M.C
Location
Booked
107.58
Camden Jn
17/41
111.27
Willesden West London Jn
17/47
112.05
Harlesden Jn
17/51
(113.01)
0.00
Wembley Europort
18L00a ~ 18L15d
1.54
Willesden West London Jn
18/28
What we actually did was;
| | |
| --- | --- |
| Location | Actual |
| Gospel Oak | 18/24 |
| Willesden Junction High Level | 18/32 |
And finally, back where we should have been;
| | | | |
| --- | --- | --- | --- |
| M.C | Location | Booked | Actual |
| 2.16 | Mitre Bridge Jn | 18/30 | 18.35a ~ 18.40d |
| 2.53 | North Pole Jn | 18/31 | 18/42 |
| 4.41 | Kensington Olympia | 18/35 | 18L47a ~ 19L02d |
| 7.24 | Latchmere Jn | 18/42 | 19.08a ~ 19.14d |
| 7.70 | Clapham Junction | 18/49 | 19/17 |
| 11.03 | Barnes | 18/57 | 19/26 |
| 13.53 | Richmond | 19/00 | 19/31 |
| 15.18 | Twickenham | 19/03 | 19/35 |
| 17.31 | Feltham Jn | 19/05 | 19/38 |
| 22.78 | Staines | 19/12 | 19/48 |
| 27.11 | Virginia Water | 19/19 | 19/56 |
| 32.75 | Ascot | 19/27 | 20/03 |
| 40.47 | Wokingham | 19/35 | 20/13 |
| 44.40 | Earley | 19/40 | 20/17 |
| 46.35 | Reading Spur Jn | 19/45 | 20/21 |
| 46.74 | Reading New Jn | 19*47a ~ 20*10d | 20/23 |
Timings continued in first table (top down).
Key;
a : arrival time
c : crew change
d : departure time
L : loco change
/ : passing time
* : operational stop
All distances, in miles and chains (M & C), are taken from the timing sheet given out on the train. No attempt has been made to verify the mileages given - but obviously after Peterborough they are a complete work of fiction owing to the diversion. PRAR suggests the following, but these have not been verified;
144.825 : Reading - Toton Centre (from the tour brochure)
70.275 : Toton Centre - Lincoln Central (from the tour brochure)
31.0625 : Lincoln Central - Grantham Up & Down Goods Loop (from the tour brochure)
128.1875 : Grantham Up & Down Goods Loop - Stratford (using Mile By Mile book)
14.8125 : Stratford - Kensington Olympia (using Mile By Mile book)
93.1125 : Kensington Olympia - Banbury (from the tour brochure)



Back to "The Railtour Files"