26th January 2002
Mercia Charters Limited
The Next Phase
| | |
| --- | --- |
| Locos Used | 202.020, 5135, 7305 & 7313 |
| Stock Used | 9001 + 21015 + 21123 + 21026 |
Train Reporting Codes :
Z18034 : Mons - Monceau Formation
Z18035 : Monceau Formation - Pieton - Fontaine l'Eveque - Pieton
Z18036 : Pieton - Marchienne Zone
Z18037 : Marchienne Zone - Charleroi Sud
Z18038 : Charleroi Sud - Aisemont (BK5853)
Z18039 : Aisemont (BK5853) - BK4500
Z18040 : BK4500 - Charleroi Sud
Z18041 : Charleroi Sud - Mons
| | |
| --- | --- |
| Loco | Route |
| 202.020 | Mons - Obourg - Y La Paix - La Louviere Centre - Y Bois d'Haine - Manage - Luttre - Roux - Monceau Yard |
| 5135 (1) | Monceau Yard - Y Martinet - Pieton |
| 7313 (2) | Pieton - Fontaine l'Eveque |
| 5135 (1) | Fontaine l'Eveque - Pieton - Vierney |
| 7313 (2) | Vierney - Charbonnages d'Anderlues |
| 5135 (1) | Charbonnages d'Anderlues - Vierney |
| 7313 (2) | Vierney - Peiton - Y Martinet - Marchienne au Pont - Y La Sambre - Y La Sambre Sud - Marchienne Zone - yard just south of station |
| 7305 + 5135 (1) | yard just south of station - Marchienne Zone - Y La Sambre Sud - La Villette - Marcinelle |
| 5135 (1) | Marcinelle - Charleroi Sud |
| 202.020 (3) | Charleroi Sud - Chatelet - Tamines - Aisemont (BK5853) |
| 5135 (4) | Aisemont (BK5853) - Tamines - Chatelet - Bouffioulx - End of Line (BK4500) |
| 202.020 (3) | End of Line ( BK4500) - Bouffioulx - Chatelet |
| 5135 (4) | Chatelet - Charleroi Sud |
| 202.020 | Charleroi Sud - Marchienne Au Pont - Luttre - Manage - Y Ecaussinnes - Y Soignies - Jurbise - Mons |
Notes :
(1) plus 202.020 (train heating only), 7313 on rear.
(2) 5135 & 202.020 (latter for train heating only) on rear.
(3) 5135 on rear.
(4) 202.020 on rear.
Source : Gary Thornton
(on the train throughout)



Tour Review
Another day, another railtour! After the successful short day out on the Friday, Saturday was to be the full day tour. A change from previous Mercia Charters railtours, this one was run using a PFT preserved diesel as main motive power (and train heater) all day, with other locos being added and detached at various points en-route. Though originally planned to use the preserved type 60, 6077, it wasn't regarded to be in good enough condition so the PFT "NOHAB" was substituted. Painted and numbered as SNCB 202.020 it is in fact ex-CFL (Luxembourg Railways) no. 1602. No matter, it would be a winner for me!
Most of the tours participants arrived from Brussels on a "break" EMU about 15 minutes before the tour was due to kick-off. Still plenty of time though to find a place to sit on the train and get a few photos before departure time. The first hour or so of the day was spent meandering our way towards the large freight yard at Monceau - a route that "scored" some track in the shape of the curve just before La Louviere Centre.
At Monceau we were due to have a type 73 loco added onto each end of the train....
....but when they let us off the train to get some photos we discovered that 5135 had been added onto the front! At least 7313 was lined up ready to go on the back. It later came out that this was a local management decision - despite the official paperwork for the train stating that the stated locomotives MUST be used. This can be one difficulty when running charter trains in another country. All credit to Mercia though as they were "on it" straight away....
From Monceau we headed for Pieton and here we traversed two short branches. First was a reversal from Pieton to do the one to Fontaine l'Eveque which was accompanied by the normal end-of-branch photo-stop.
The second branch turned out to be a bit of a mystery - advertised as "Anderlues" it was then shown in the route map given out by the stewards as "Viernay". My rail atlas didn't help either as "Anderlues" was shown as a third (different) branch heading off from Pieton! In the event we took the line to Viernay. At this point another line joins, coming in from a colliery/coking plant named as "Charbonnages d'Anderlues" in my rail atlas. At first we heard that Viernay was as far as we were going, then soon after it was confirmed that the train would in fact reverse and go as far as we could get along the line to Charbonnages d'Anderlues. We made it right to the colliery/coking plant!
Smiles all round as we again had covered track not actually advertised as part of the days itinerary.
Trundling back to Viernay then retracing our tracks to Pieton all the back-and-forth travels found us still broadly on-time to the schedule. Good job too - Mercia Charters had managed to get through to the right level of SNCB management and they had confirmed that we would indeed get the other 73 that was advertised. From Pieton we headed towards Charleroi Sud, but then at Y La Sambre we curved off on to line 130A - another curve "in the book"!
A short distance on and we pulled in to the yard just after Marchienne Zone station. Here 7305 appeared and was added on to the front of the train - atop 5135 & 202.020!! We then headed for Chareloi Sud, pausing at the closed station of La Villette for a photo-stop. Whilst here a cry of "Seminar" went up and 7305 was suitable "stormed" by many of those present.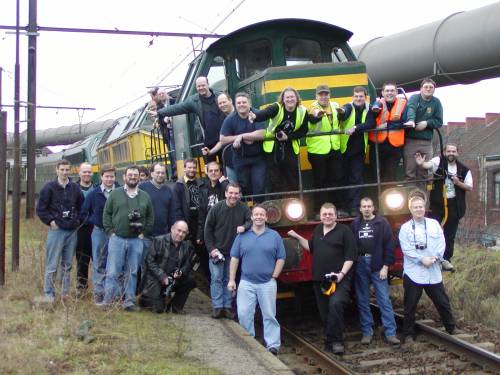 Rent-a-mob in action!
A short stagger later and we arrived at Marcinelle, a few hundred metres short of Charleroi Sud. Here we lost 7305 and 5135 continued to the station where a short break was taken. It later transpired that 7305 had been "borrowed" from a trip freight working in order for SNCB to fulfil their obligation to Mercia Charters (who had paid for 2 type 73's) and it was then returned to its train to continue on its way. Can't ever see that happening in the UK....
During the break at Charleroi Sud we lost 7313 and 5135 ran round to the back of the train. Shortly after the loco movements had been completed and a near riot erupted when a bride & groom turned up on the station having their wedding photos taken - our train and the NOHAB in particular creating a suitable backdrop for them!!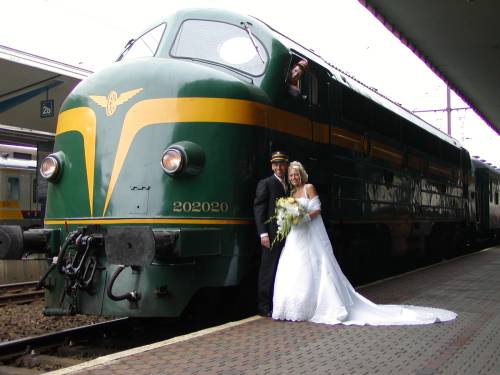 NOHAB 202.020 is "borrowed" to form a backdrop for some wedding photos!
From Chareloi Sud we continued eastwards to Tamines where we turned on to the freight branch to Aisemont. We travelled this line right through to the sidings at the end (though one or two commented we could have gone about a trains length further to the buffer-stop). As per the norm, a few minutes were allowed to capture the sight on 35mm film, digital camera cards etc.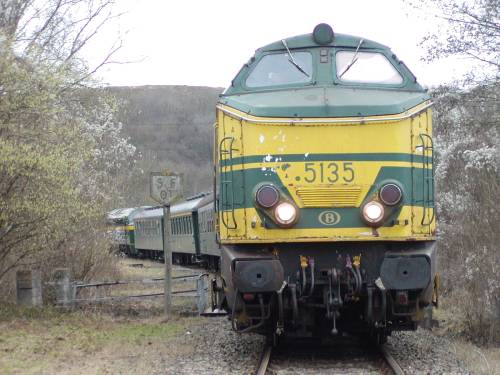 5135 & 202.020 are seen during a photo-stop en-route back from Aisemont.
Once back onto the main line it was a short sprint back to Chatelet at which point we curved off onto another freight branch. Formerly running to Acoz, the line now ends in the middle of nowhere, simply identified as "BK4500" (i.e. 4.5km from the junction off the main line). Passing through Bouffioulx on this branch I wonder how many people saw the ex-SNCB coach which is now grounded and in use as a restaurant? At the end of the line we pulled up about 50 metres short of the buffers. A quick discussion in the leading vestibule and one of the Mercia Charters stewards was despatched "up front" to ask if we could "BSK" this branch - in case your wondering .... BSK = "Buffer Stop Kiss" i.e. make it right to the buffer stops. Not a problem....though the first two attempts to move forward failed as the NOHAB's brakes were on! Lots of thrash but we went nowhere!! Once the brakes were released we eased forward until the gap between 5135's buffers and the buffer stops was down to a little less than my reach with arms outspread (I know - I stood there tried it!). That should keep the track-bashers happy!
With all the branches done it was now time to return homewards. Along the way we'd managed to lose about 30 minutes since leaving Chareroi Sud, but things took a turn for the worse at Couillet where we stopped...and stayed stopped. We were on the slow (or freight) line and ahead of us something had managed to break-down! We sat for over half an hour before the obstacle as finally cleared. As a result of this unpredictable delay we got back to Chareloi Sud station just over an hour late (RST - Railtour Standard Time - had been achieved!).
Here we lost 5135 and 202.020 was run-round the train and this was our engine home. Two more required curves to be done though as our route was via Luttre, Manage and Jurbise. Dark and raining so not much to report. We arrived back at Mons at 19.03 against 17.46 as booked, but I doubt anyone on board was too bothered about the delays at the end of what had been an excellent day out - all the track done (and possibly some extra too) and locos had ... even if not quite as advertised... We'd been quite lucky with the weather too - the UK had seen a very wet day but we'd not had any significant rain until after it was dark.
Thanks are due to all at Mercia Charters for two successful days out. For those of you who haven't experienced railtours in Belgium then what are you waiting for? As the older diesel types are being phased out in the coming few years NOW is the time to get yourselves over and out on railtours and railrovers!
Gary Thornton.



Timings (Booked & Actual)
(by Gary Thornton)
KM
Location
Booked
Actual
0.00
Mons
08.58d
08.58
-
Obourg
09/02
09/04
17.20
Y La Paix
09/10
09/14
18.95
La Louviere Centre
09/12
09/16
-
Y Bois d'Haine
09/18
09/22
25.80
Manage
09/20
09/24
28.85
Luttre
09/34
09/36
-
Roux
09/41
09/44
38.75
0.00
Monceau Formation
09L46a ~ 10L16d
09.47 ~ 10.25
0.70
Y Martinet
10/20
10.27a ~ 10.33d
9.00
0.00
Pieton
10.26a ~ 10.32d
10.43 ~ 10.52
4.20
0.00
Fontaine l'Eveque
10.45a ~ 11.00d
11.00 ~ 11.08
4.20
Pieton
11.12a ~ 11.12d
11.16 ~ 11.17
6.65
0.00
Vierney (Anderlues)
11.34a ~ 11.44d
11.26 - 11.39
0.95
0.00
Charbonnages d'Anderlues
-
11.44a ~ 11.47d
0.95
0.00
Vierney (Anderlues)
-
11.52a ~ 11.53d
2.45
Pieton
12.06a ~ 12.07d
12.02 ~ 12.05
-
Y Martinet
12/14
12/15
11.35
Marchienne au Pont
12/15
12/18
11.95
Y La Sambre
12/16
12/20
12.95
Y La Sambre Sud
12/17
12/22
14.85
0.00
Marchienne Zone (into yard)
12.20a ~ 12.32d
12.26 ~ 12.32
-
Y La Sambre Sud
12/34
12/36
2.40
La Villette
12.35a ~ 12.45d
12.38 ~ 12.51
3.30
0.00
Marcinelle
12.47a ~ 13.08d
12.54 ~ 12.56
1.00
0.00
Charleroi Sud
13.11a ~ 13.45d
12.59 ~ 13.45
-
Chatelet
13/52
13/56
15.10
Tamines
13.59a ~ 14.00d
14.03 ~ 14.08
20.40
0.00
Aisemont (BK5853)
14.20a ~ 14.30d
14.32 ~ 14.41
5.30
Tamines
14.50a ~ 14.52d
15.15 ~ 15.15
13.40
Chatelet
15.00a ~ 15.02d
15.27 ~ 15.28
-
Bouffioulx
15.12a ~15.32d
14.42 ~ 14.48
17.90
0.00
BK4500
15.37a ~ 15.47d
16.04 ~ 16.16
-
Bouffioulx
15/52
16/27
4.50
0.00
Chatelet
16.12a ~ 16.22d
16.42 ~ 16.49
-
Couillet
-
16.54a ~ 17.31
6.80
0.00
Charleroi Sud
16.29a ~ 16.48d
17.37 ~ 18.02
-
Marchienne au Pont
16/52
18/08
-
Luttre
17/00
18/16
27.55
Manage
17/15
18/27
-
Ecaussinnes
17/24
18/35
38.90
Y Ecaussinnes
17/26
18/38
40.20
Y Soignies
17/28
18/39
-
Jurbise
17/38
18/52
68.10
Mons
17.46a
19.03
Distance behind 202.020 : 131.75km
Distance behind 5135 : 42.30km
Distance behind 7305 : 3.30km
Distance behind 7313 : 20.00km
All distances courtesy of Stuart Clarke.
No attempt has been made to verify the distances given.



Back to "The Railtour Files"