25th January 2002
Mercia Charters Limited
The Time Trap
| | |
| --- | --- |
| Locos Used | SNCB : 8011 & 8047 |
| Stock Used | 42396 + 42462 |
Train Reporting Codes :
Z18032 : Brussels Midi - Quenast
Z18033 : Quenast - Brussels Midi
| | |
| --- | --- |
| Loco | Route |
| 8047 (1) | Brussels Midi (Platform 22) - (via line 96) - Y Ruisbroek - Halle - Y Clabecq - Clabecq - end of line (km post 4.9) (2) |
| 8011 (3) | end of line (km post 4.9) - Clabecq - Tubize - Quenast |
| 8047 (1) | Quenast - Tubize - Halle - Y Ruisbroek - (via line 96) - Brussels Midi |
Notes :
(1) 8011 on rear.
(2) Tour advertised to go to Clabecq (station) but, after a photostop at the station, the train continued south to km post 4.9 which was within a few yards of the physical end of this line.
(3) 8047 on rear.
Source : Gary Thornton.
(on the train throughout)



Tour Review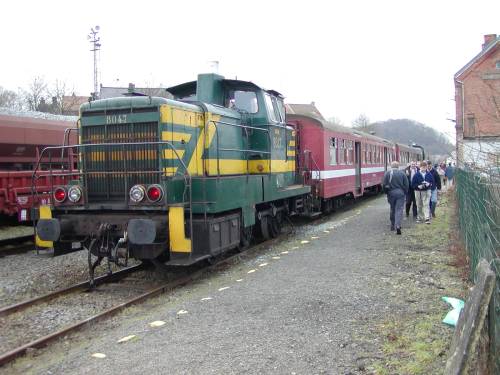 8047 at Quenast, the second branch covered on this brief outing.
A trip so short it was almost difficult to actually think of it as a fully blown railtour - from start to finish the duration was only scheduled to take 84 minutes! Nonetheless a railtour it was and it was the first of two organised by Mercia Charters on the last Friday and Saturday in January.
I'd arrived late on the Thursday night via the 18.27 Eurostar from London and had spent the morning chasing down a few required loco haulages, which included a run out to Gent and back. Walking onto platform 21 at Brussels Midi the train was already in, though it still had to shunt across into platform 22, the bay platform at the extreme east side of Midi station. There appeared to be quite a turn-out for this short spin out to two local freight branches, always good to see foreign railtours being well supported!
Our traction consisted of two type 80 diesel shunters, 8047 & 8011. Both were "required" by me as I'd never had one of this type for haulage before. The train itself was formed of two M2 type coaches.
An on-time departure and the train headed south by way of line 96 to Y Clabecq (Clabecq Junction) where we turned off onto the short branch to Clabecq. We stopped in the now disused station at Clabecq - for a photo-stop and this was, I thought, also our reversal point. After a few photos there was a message passed round by word of mouth that we should all get back on quickly as the train crew were going to take the train further down the branch. This they duly did and we made it to within about 100 metres of the end of branch "proper" (at km post 5). Another photo-stop here then we trundled our way back to civilisation. As we approached the mainline however we took the second side of the triangle towards Tubize. This was to enable us to travel over the other short freight branch in the area, line 115 to Quenast. This one was about the same length as the one we'd just done. At Quenast we stopped at the closed station and, as per usual, a photo-stop was taken before we set off again.
Unfortunately the scheduled timings had been somewhat optimistic and we'd been losing time throughout the short trip. A slow run back to Brussels saw us arriving back 40 minutes later than booked, but at least the tour had produced all the advertised track (erm, and more!) plus the locos "as booked". I heard some comments from people who thought the trip was almost too short, but I thought it was actually pretty good - covering two short branches over the lunch period left the rest of the day to do other things - how often do we spend 12 - 14 hours on a railtour just to cover the same amount of "required" track?
Oh, spare a thought for one of the Mercia Charters team, Roy Smith - he'd chosen to fly out on the morning of the tour...but his flight was cancelled so he managed to miss the train! Bad luck Roy!
For most of us there was the rest of the day now free to go off bashing again. Saturday would see most of us (and a few more) heading to Mons for the second tour that was on offer.
Gary Thornton.



Timings (Booked & Actual)
(by Gary Thornton)
| | | | | | | | |
| --- | --- | --- | --- | --- | --- | --- | --- |
| KM | Location | Booked | Actual | | Booked | Actual | KM |
| 0.00 | Brussels Midi | 11.43d | 11.43 | | 13.07a | 13.47 | 22.70 |
| - | Y Ruisbroek | 11/47 | 11/50 | | 13/01 | 13/36 | - |
| - | Halle | 11/54 | 12/00 | | 12/55 | 13.23a ~ 13.25d | - |
KM
Location
Booked
Actual
-
Y Clabecq
11/56
12/05
-
Clabecq
12.00a ~ 12.15d
12.09 ~ 12.14
20.50
E.O.L. (km post 4.9)
-
12.23a ~ 12.27d
0.00
Clabecq
-
12/33
3.30
Tubize
12/19
12.36a ~ 12.37d
7.40
0.00
Quenast
12.26a ~ 12.43d
12.46 ~ 12.56
4.10
Tubize
12/49
13/15
Timings continue in first table.
Distance behind 8011 : 7.40km
Distance behind 8047 : 43.20km
All distances courtesy of Stuart Clarke.
No attempt has been made to verify the distances given.



Back to "The Railtour Files"