3rd January 2002
Hertfordshire Rail Tours
The Scarborough Flyer
Locos Used
Steam : 60800 "Green Arrow"
Diesel : D9000 "Royal Scots Grey"
Route :
1Z45 : Kings Cross to York
1Z46 : York to Scarborough
1Z47 : Scarborough to York
1Z48 : York to Kings Cross
| | |
| --- | --- |
| Locos | Route |
| D9000 | London Kings Cross - (via ECML) - York |
| 60800 | York - Malton - Scarborough |
| 60800 | Scarborough - Malton - York |
| D9000 | York - (via ECML) - London Kings Cross |
Source : David Garnett (on train to Peterborough on the return leg)
(Headcodes courtesy of Scott Spencer)



Tour reviews
(a) by Chris Morley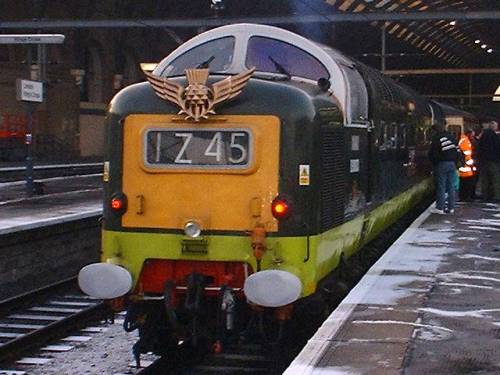 D9000 at Kings Cross (photo : David Garnett)
"At last, Napier power back on the ECML and no need to re-mortgage the house. Thanks are due to Hertfordshire for arranging the late substitution and properly marking the 20 year anniversary of 'the end' (albeit 24 hours late). A bad start to the day courtesy of Thames trains saw your writer rushing onto the King's Cross concourse with just 9 minutes to spare. After a few seconds I heard a faint hum, just like the old days. GNER services were seemingly in total meltdown as I made my way quickly past old-timer 47635 on the blocks and found my seat in coach A, in prime position at the front of the 11 coaches. Just enough time for a quick photo before we were off, dead on time at 0836. A relatively subdued and smooth start without too much clag was enjoyed. Soon in her stride, RSG was hampered by a temporary speed restriction at Wood Green, but clawed her way up to 70 mph climbing the Northern heights before slowing for a stop at Potter's Bar - unheard of in BR days!
We were tightly timed even by class 90 standards as far as Peterborough, so departing 6 minutes down was no surprise. Speed quickly picked up on the downgrade, passing Hatfield at 88mph before the brakes came on and we had to follow a unit onto the slow at Woolmer Green. After the Stevenage stop we remained on the slow only to be stopped in Hitchen station, probably the first Deltic to stop there in over 20 years. The look on the normal's faces were a sight to behold. After the 0900 GNER 'stealth' overtook, we were allowed onto the fast some 15 minutes late and were soon up into the nineties. Shortly after Sandy the speed started falling and the engine went very quiet. The 1 in 200 uphill past Huntingdon saw a minimum of 52mph, and it was obvious we were in trouble. Finally our train was looped at Holme where a 91 and then a 465 passed. Then a rattle and a whoosh signified an engine starting up and we soon proceeded, a half hour late. Even more checks outside Peterborough, before arriving 33 down and to the sight of 37706, one of the few remaining 37s I need for haulage. Our engine did sound better, but as we were routed onto the down fast I wondered if we would be blocking the Flying Scotsman before very long.....
Thankfully I was wrong and a superb run unfolded, speed rising to 93 before Essendine and Stoke summit being cleared without falling below 87. Another brake application - thankfully just a short speed restriction. Finally at milepost 111 came the first 100 and the next 70 miles saw a flying average of 98.4mph without exceeding 101. The blast through Doncaster at 98mph must have been an awesome sight ! The Railtrack signalmen screwed up as usual approaching York, but we stopped in 76 minutes 54 seconds, an average of 87.5mph start-to-stop That's probably a Deltic record! We had arrived at 11.27, only 7 minutes late after a superb run. Without the delays we would have achieved the full 90mph average.
Standing next to the Deltic I realised how muted the sound is nowadays. Sure, it's loud but your internal organs used to vibrate and it hurt your ears! No doubt it wouldn't be allowed to operate in the real world without the modern lagging so I mustn't grumble.
A quick visit to the NRM followed before the blast to Scarborough with the V2. A superb sight and it chuffed nicely, but we were badly delayed in both directions by Railtrack problems and pathing difficulties. Barely enough time now for a couple of pints before the return departure time of 1805. In the bar we learnt that the earlier problems with the Deltic were caused by condensation tripping electrical relays, a potential problem when any engine is not used frequently.
A major farce developed as we waited for the stock. Shunting difficulties (lack of Railtrack planning?) meant hundreds of shivering punters waiting on Platform 14. We were treated to the delights of a Eurostar, Class 91s and HST's - arguably the premier motive power of their respective decades. Finally the premier power of the 1960s backed it's coaches into the station and we were away 70 late at 19.15. A slow start meant that a rancid 'fred' paced us out to Challoner's Whin. More checks meant I gave up sticking my head out in the dark and got in some zeds.
Annoyingly we were put onto the slow line at Stoke despite being by now 85 minutes late, yet nothing passed us on the up fast. We were stopped for several minutes south of Peterborough only to be overtaken by a mail unit before getting a fast run to Hitchin. From there on it was a total stagger and we finally arrived at 22.20, still 85 minutes late and all because of Railtrack's ineptitude. Clearly our national network is descending into chaos and even a Deltic couldn't do anything about it. Despite the severe delays, the day was memorable and superb value. I would do this every month if I could. More of the same please Mr. Farrow ( Railtrack allowing )!"
(b) by David Garnett
The booking for this tour was not a problem getting to and from King's Cross was going to be. I left all the organisation in the hands of my friend, five days before the tour the bad news was broken to me, our first train would be the 0505 Leeds to King's Cross, and our return 2200 King's Cross to Newcastle. (This is when you realise that 20 years ago the 2300 King's Cross to Bradford was not such a bad train).
The day started nicely (the de-icer worked on the car), 91103 was the train engine on the 0505, by the time it departed Peterborough full and standing it was about 20 minutes late, however this reduced the waiting time, and the heating was working on the train (just).
Passing Hornsea Depot R.S.G. could be seen awaiting her next turn of duty, not long to go.
After about an hour, while meeting and viewing all the usual suspects, 47635 appeared with the ECS, closely followed by R.S.G.. Departure from Kings Cross was slow and foggy, but that's why you sit in coach "A". A slow run losing time rather quickly followed until Peterborough, rumours abounded of a flashover, but when you spend time on the slow following Peterborough stoppers, who knows ?
Leaving Peterborough R.S.G. seemed to go into Warp factor 8 , also known as some fine 3 figure running, obviously warmed to the task. Doncaster was a place where you want an out of body experience which was better been on the train centre road, or on the end of the platform with video camera.
Soon York arrived only a few minutes late, where a move to the Maltings was undertaken, then a return to York for the 13.25 to Scarborough, 60800 arrived with the train. At this point we had to eject some steam enthusiasts from our seats. A slow run to Scarborough followed (That's what I was told, I had adopted sleep mode). Once arrived a quick trip to the bakery and supermarket to obtain the necessary's followed.
Back at Scarborough a slight delay occurred (Just long enough for frostbite), the its back to York (yes sleep mode).
Once back at York 60800 and stock went to Holgate sidings, for engine change and brake change (vac to air), and if you belong to some e-groups you will have seen this discussion carrying on. Departure was due at 18.05 all I will say is left at 19.18 a little bit late and meaning our plus 1 hour 5mins was in doubt, by the time we flew through Doncaster we had lost another 12 minutes.
Not been one for minus connections a group discussion followed which was as follows "Peterborough", a chorus of "Yes", by Retford another 3 minutes had been lost, but R.S.G. and Driver(s) still kept going. Until Stoke Bank and then we were looped, must be a G.N.E.R. not likely, a 325 postal now do not get me wrong but when second class mail can have priority over my train I know the world gone mad.
Peterborough arrived 1 hour 26 minutes late, off we got, slowly R.S.G. departed, only to be held at a red just out of sight, for guess what, know not a 365 but the same 325 to get passed, another 6 minutes elapsed the she was away, at Nine o'clock it is quiet in Peterborough and you could hear moving away, hopefully a sound that will long live with me.
Within a few minutes we were on our way back home on 91103 again, arrival at Wakefield was a few minutes after R.S.G. had pulled into Kings Cross, our connection had passed at Alexander Palace!


Timings (Booked & Actual)
(by David Garnett)
M.C
Location
Booked
Actual
Booked
Actual
0.00
Kings Cross
08.36d
-
20.55a
-
2.41
Finsbury Park
08/40
-
20/48
-
4.78
Alexandra Palace
08/42
-
20/44
-
12.57
Potters Bar
08.48a ~ 08.49d
- ~ -
20.35a ~ 20.36d
- ~ -
20.25
Welwyn Garden City
08/56
-
20/27
-
23.73
Woolmer Green Jn
08/59
-
20/24
-
27.45
Stevenage
09.02a ~ 09.04d
- ~ -
20.18a ~ 20.20d
- ~ -
31.74
Hitchin
09/09
-
20/14
-
44.10
Sandy
09/16
-
20/05
-
58.70
Huntingdon
09/25
-
19/48
-
69.26
Holme
09/32
-
19/38
-
76.29
Peterborough
09.38a ~ 09.40d
- ~ -
19.31a ~ 19.32d
- ~ -
84.64
Tallington Jn
09/55
-
19/19
20/45
99.61
Stoke Jn
10/06
10/35
19/05
20/32
105.38
Grantham
10/10
10/40
19/01
20/24
109.56
Barkston South Jn
10/13
-
18/58
-
120.08
Newark North Gate
10/20
10/50
18/51
20/12
138.49
Retford High Level
10/31
11/00
18/40
20/00
152.00
Loversall Carr Jn
10/40
11/10
18/32
19/48
155.77
Doncaster
10/43
11/12
18/29
19/46
160.16
Shaftholme Jn
10/47
11/15
18/25
-
169.16
Temple Hirst Jn
10/56
-
18/19
-
174.75
Hambleton North Jn
11/03
11/23
18/16
-
182.79
Colton Jn
11/14
11/27
18/10
19/24
188.40
0.00
York
11L27a ~ 13.25d
11.32 ~ ??.??
16.24a ~ 18.05d
??.?? ~ 19.18
21.12
Malton
13/50
-
15/54
-
39.17
Seamer
14/12
-
15/32
-
42.06
Scarborough
14.22a
-
15.25d
-
Key;
a : arrival time
d : departure time
L : loco change
/ : passing time
All distances, in miles and chains (M & C), are taken from the timing sheet given out on the train. No attempt has been made to verify the mileages given.



Back to "The Railtour Files"