"The Boys Are Back In Town" USA Tour 2006
Day 8 : Saturday 6th May
Our final day was spent chasing down AEM7's & HHP8's on the North East Corridor between Philadelphia and New York (with the odd beer thrown in during waits between trains);
| | | |
| --- | --- | --- |
| Loco | Type | From - To |
| AMTK 906 | AEM7 | Philadelphia 30th Street - Trenton |
| AMTK 658 | HHP8 | Trenton - Newark Penn |
| AMTK 942 | AEM7 | Newark Penn - New York Penn |
| AMTK 931 | AEM7 | New York Penn - Philadelphia 30th Street |
| AMTK 912 | AEM7 | Philadelphia 30th Street - Trenton |
| AMTK 932 | AEM7 | Trenton - New York Penn |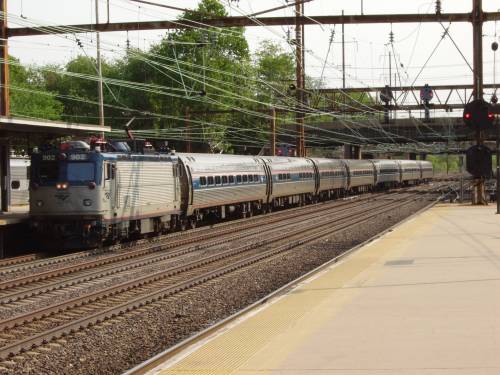 AEM7 electric AMTK 902 at Trenton (this was one of our haulages from
two days previously).
Final meal was in Stout NYC in New York, close to Penn station. Whilst there Steve got on the 'Net and checked the flight to see how full it was. He was a bit puzzled to see their reserved seats showing as free but we thought no more about it after the predictable jokes about them not being on the flight. As the Thin Lizzy track "The Boys are Back in Town" played in the brewpub we agreed that to start and finish the holiday with this song meant there was no other more appropriate title for this trip.
A LIRR EMU then got us to Jamaica on Long Island from where the JFK Airtrain would transport us to the departure terminal and our flight home. As we approached Jamaica Steve discovered why their seats were showing free on the plane...their return air ticket was dated 2nd May, not the 6th! Bearing in mind this was a "free" flight as Steve & Richard had volunteered to take a later flight returning from October 2005's bash it was all the more annoying for them! After much negotiation they were allowed on our flight, but it cost them $200 each for the change of date. No doubt American Airlines were being contacted within hours of their return home! Boeing 777 N779AN delivered us back to the UK and then end of another superb US-trip.


Please use your "back" button to return a Page