"The Boys Are Back In Town" USA Tour 2006
Day 6 : Thursday 4th May
...and went...
We did debate getting off at Alexandria, the stop before Washington, as from there we could (in fact, had planned to) cover the inbound Virginia Rail Express morning rush hour turns. In the event there is only so much cranks can take and the consensus was to get to the hotel, check in, de-rance and get a few hours kip. That didn't go as smoothly as expected however - though the rooms were pre-paid for the hotel had not kept three twin-rooms open for us and one only had a double bed. Steve and Richard agreed to take this temporarily as Steve didn't want to get his head down.
09.30 and after 2-3 hours doss in a non-moving bed it was time to get out on the bash again.
Amtrak was employed to get to Baltimore (AEM7 AMTK 951 doing the business - a dud one for me!). Here we planned a fill-in move to West Baltimore and back on MARC. Slight problem, the ticket clerk initially refused to sell us tickets as the area apparently has a very bad reputation. It took some time to convince him we would only be there (not even leaving the station) for 8 minutes until the service coming the other way was due. He finally relented and MARC 68 (a GP40WH-2) was duly scooped.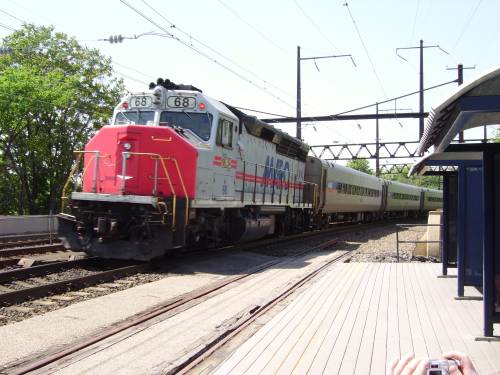 MARC 68 propels away from West Baltimore suburban station.
We survived the wait, though the almost constant sound of sirens made us wonder! I guess this move is not recommended unless you are in a big group...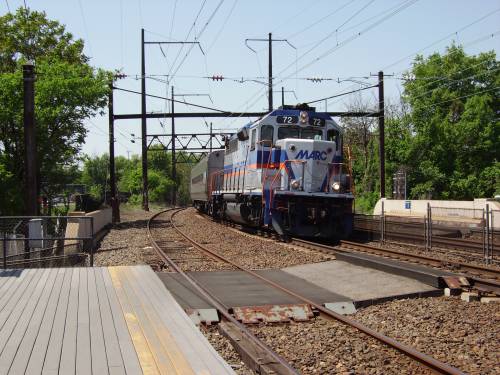 MARC 72 arrives to rescue us from any danger... Note the narrow extended
platform to negate the need to switch tracks.
MARC 72 (a GP39H-2) returned us to Baltimore's main station and then we headed back to New Carrolton (one stop short of Washington) behind AEM7 electric AMTK 928. Another dud one turned up now, AEM7 AMTK 906 for a run to BWI station. Our layover here saw a chance to photograph MARC services in each direction, one of which had MARC 68 returning back to Baltimore.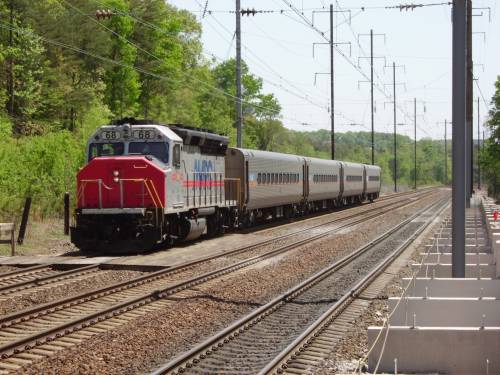 MARC 68 heads north through BWI station.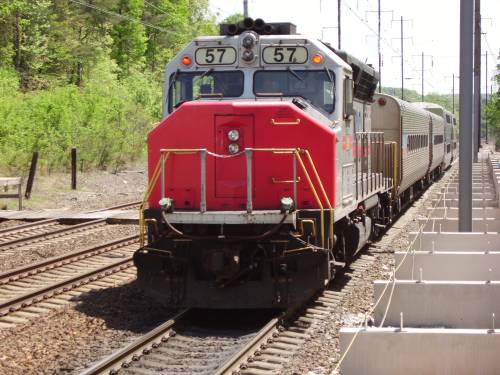 At BWI, GP39H-2 MARC 57 pushed its train towards Washington.
Winning AEM7 AMTK 902 arrived next but on a late-running service. As Amtrak tickets are issued specific to the train requested we did not have validity but the Conductor was happy to take us so AMTK 902 was duly scored to Washington Union.
We spent the afternoon rush-hour on VRE (Virginia Rail Express). As this was our second visit we be choosy so by the end of the rush we had scored V07, V04+V32, V21 & V40 with no dud locos had - maximum value from the tickets then!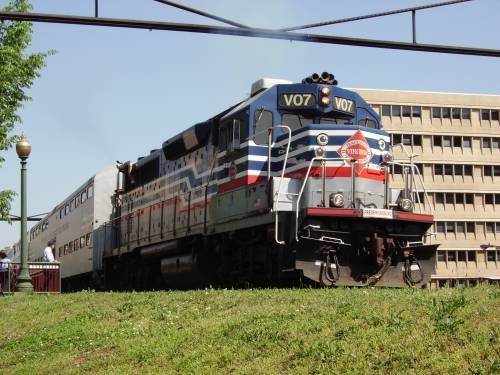 GP39-2C VRE V07 leaves L'Enfant station in the Washington suburbs.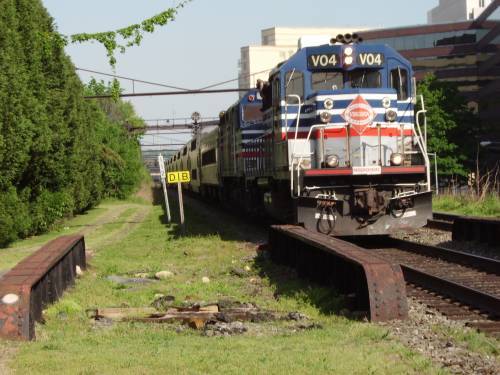 GP39-2C VRE V04 & F40 VRE V32 approach L'enfant station.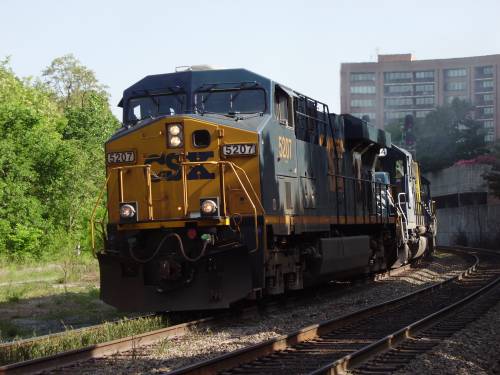 Passing freight to photograph at Crystal City too!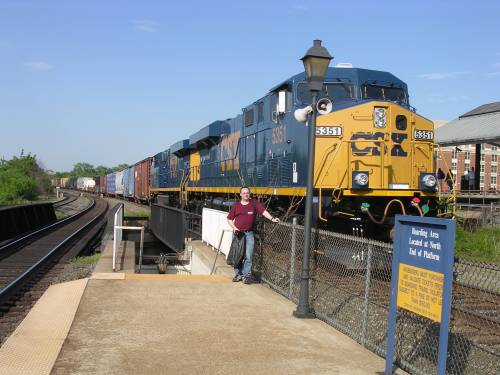 Nice weather in Alexandria and more freight to view. Yours truly poses
alongside two brand new CSX ES44DC's (photo: Simon Bennett).
The evening was spent in the Capitol City Brewery adjacent to Union station in Washington. Unfortunately we got the waiter who obviously wasn't too enthralled with his job and, a relative rarity in the US, we experienced pretty poor service. He even tried to put a 18% gratuity on our bill as we were a group of six. This was refused - we pointed out the menu said groups of 8 or more and he made some excuse and departed. A poultry $1 tip was left to make the point we were not at all impressed with his level of service!


Please use your "back" button to return a Page