"The Boys Are Back In Town" USA Tour 2006
Day 2 : Sunday 30th April
After a well needed nights sleep it was up and out early for a few out and back moves on NJT:
| | | |
| --- | --- | --- |
| Loco | Type | From - To |
| NJT 4119 | F40PH-2CAT | Newark Penn - Roselle Park |
| NJT 4115 | F40PH-2CAT | Roselle Park - Newark Penn |
| NJT 4137 | GP40FH-2 | Newark Penn - Roselle Park |
| NJT 4128 | F40PH-2CAT | Roselle Park - Newark Penn |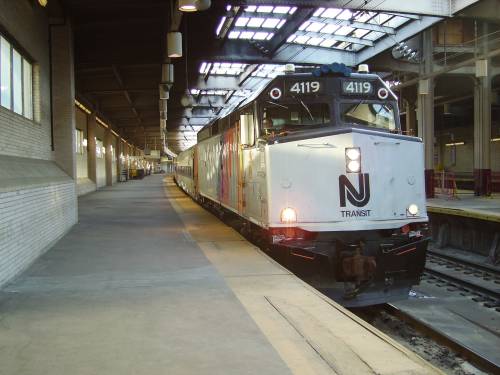 F40PH-2CAT NJT 4119 at Newark Penn station about to work the 07.38
departure (train NJT 5511 from New York Penn to Raritan).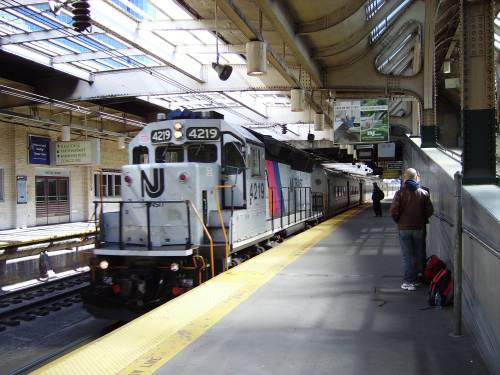 Not a train we caught but this shot at Newark Penn shows NJT 4219, an
example of a GP40FH-2B, a number of which were sampled later in the holiday.
Time for a quick breakfast then it was a case of settling down for the day courtesy of Amtrak train 43 the "Pennsylvanian" which we caught from Newark right through to Pittsburgh, a journey of some 9 hours. AEM7 AMTK 952 was the motive power to Philadelphia where diesel traction in the form of P42B AMTK 168 took over. Highlight of the journey was, without doubt, traversing the Horseshoe Pass just north of Altoona (though for the spotters amongst us passing the Norfolk Southern Juniata Loco Shop at Altoona was quite rateable too!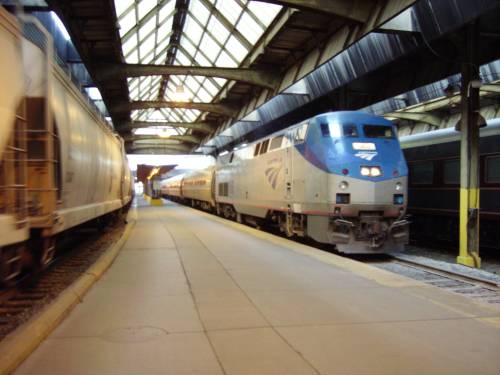 Pittsburgh - AMTK 168 is seen in the bay platform after arriving with the
"Pennsylvanian" from New York.
We had four hours to kill in Pittsburgh before our next train (The Capitol Limited, 23.45 departure to Chicago). What to do at seven in the evening for four hours...well, for a change our group decided it was high time we went to church!
So we did....
OK, not exactly a traditional church but we were happy to pay our respects :-)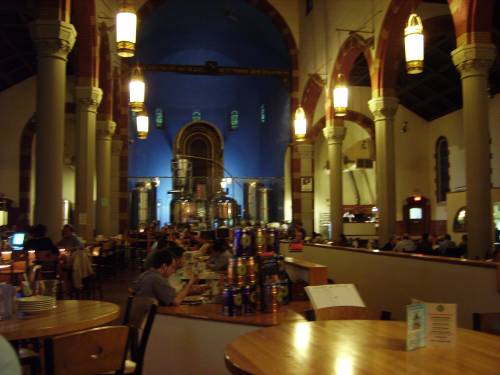 And on the eighth day....Man created beer - sounds fine to me!
I put the slight blurring in this shot down to the long exposure rather than
the brewery products that had been sampled....honest!
Getting there and back proved entertaining too. At the station we were approached by a guy asking if we wanted a taxi but he led us to what looked like an extremely clapped out private car. En-route to our destination he then "suggested" a $15 dollar fare but we negotiated him down to $10. In the other car our colleagues also had the company of a fellow passenger who was headed in the same direction. I later found out they were indeed taxi's but the private-hire kind. When we came to leave we ordered two taxi's and as we stood waiting on the church steps a hotel courtesy mini-bus passed by heading out of town, then a minute later pulled up and asked us if we needed a lift. Perfect timing so in we got. We assume the fare never went to the hotel chain...
Back at the station and we had a short wait before our train arrived, headed by a pair of P42B's. A delay ensued as there were two private coaches to be shunted on to the rear (by a pair of freight locos, we did try hanging around to see if we could scoop them in but alas it was not to be). That took longer than planned as they had been shunted up to a third coach which wasn't going but they couldn't get them uncoupled. Midnight came...


Please use your "back" button to return a Page