"The Boys Are Back In Town" USA Tour 2006
Day 1 : Saturday 29th April
Due to the early start we had once again booked rooms in the Ibis hotel just outside Heathrow, having met up with four of the others in the Wetherspoons on Friday evening before checking in. Out for the free bus a little after 5am we were soon at Heathrow. Last year the check-in took minutes leaving plenty of time for a TGI Friday cooked breakfast...this year the queue was absolutely massive and it took about 1 1/4 hours to get checked in. By the time we cleared security we had no time left for a breakfast, cooked or otherwise!
Boeing 777 N755AN was our home for the 7 hour flight to New York. There were a number of films on offer and the flight time meant there was time to watch two of them. I opted for "Memoirs of a Geisha Girl" and fell asleep about two-thirds through (so no-one please tell me how it finished, I'll watch it again sometime!) and "Chronicles of Narnia" which I succeeded in seeing all the way through and quite reasonable it was too. Hearing the Thin Lizzy hit "The Boys Are Back In Town" on one of the radio channels seemed quite appropriate as this was to be our third group visit to the US.
On arrival into New York JFK we took the JFK Airtrain to Jamaica station on the LIRR (Long Island Railroad) where an EMU was taken to get us to Penn station. Our first loco of the trip was NJT 4417, an ALP44 electric built by ABB. This was taken the short distance to Newark where we met up with Bob, our sixth group member, who had travelled down from his base in Canada. Our hotel (Hilton) was right opposite Newark Penn station so we popped over to rid ourselves of unwanted luggage and freshen up. On returning a short while later we spent the remainder of the day chasing down NJT traction;
| | | |
| --- | --- | --- |
| Loco | Type | From - To |
| NJT 4128 | F40PH-2CAT | Newark Penn - Hoboken |
| NJT 4133 | GP40FH-2 | Hoboken - Ramsay (mainline route) |
| NJT 4120 | F40PH-2CAT | Ramsay - Allendale |
| NJT 4031 | PL42AC | Allendale - Waldwick |
| NJT (MTA) 4191 | F40PH-2CAT | Waldwick - Secaucas Junction (via Bergen County line) |
| NJT 4120 | F40PH-2CAT | Secaucas Junction - Ridgewood (via Bergen County line) |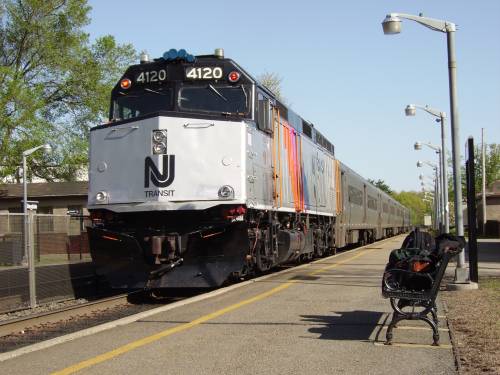 NJT 4120 brings up the rear at Allendale on a pleasant warm afternoon.
At Ridgewood a pause was taken for our evening meal in the Office Beer Bar & Grill which we'd pre-sussed on the 'Net as a potentially good place for beer choice. In the event it was OK, though many of the beer choices were not available but they had beers on that weren't on the menu - very confusing after a days travelling, jet lag etc. Quick hop back to the hotel for some well needed sleep, the end of an enjoyable day.
| | | |
| --- | --- | --- |
| Loco | Type | From - To |
| NJT 4031 | PL42AC | Ridgewood - Secaucas Junction (via Bergen County line) |
| NJT 4605 | ALP46 | Secaucas Junction - Newark Penn |


Please use your "back" button to return a Page