27th November 1999
Regency Rail
Regency Edinburgh Experience
Route :
Route
Stafford - Bushbury Jn - Oxley Chord - Telford - Shrewsbury - Wrexham - Chester - Frodsham - Acton Grange Jn - (via WCML) - Carstairs South Jn - Carstairs East Jn - Haymarket - Edinburgh Waverley
Edinburgh Waverley - (reverse of outward route) - Stafford
Source : Ralph Barrett
(joined at Stafford/left at Warrington Bank Quay



Tour review
(by Ralph Barrett)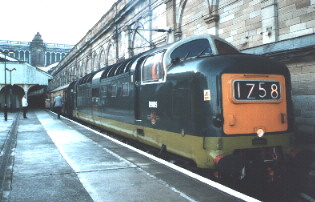 D9009 on arrival at Edinburgh Waverley (Photo : G.Thornton)
Regency Rail is now part of the Sea Containers group, which also includes GNER & VSOE. Regency currently operate from Crewe, and are trying to build up a luxury rail-tour business, similar to VSOE in the south. During the first half of 1999, Regency signed a deal with the Deltic Preservation Society (DPS), whereby two DPS Deltics would be used on the Regency Rail Luxury Dining trains. Deltics 9 & 19 have both been mainline cerified by VSOE/Regency, and are now used several times per week on special trains.
When the deal between the DPS and VSOE was signed, I made a mental 'resolution' to try and travel on at least one Regency 'posh-nosh' tour per year. Deltic hauled of course, which means leaving the booking to the very last moment, when Deltic haulage is 'confirmed'. As Deltic 19 has a damaged power unit, the Regency tour from Stafford to Edinburgh was booked for Deltic D9009 'Alycidon'. I only booked my ticket two days before the tour was due to run, when the diagramming details were confirmed on that excellent DPS website.
Train was booked to start from Stafford at 06:30, and not scheduled to arrive in Edinburgh until 13:15. The return was even longer, with a booked departure from Waverley at 16:57, and arriving back in Stafford at 00:18. Over 7 hours from Edinburgh to Stafford!
I had been looking forward to this Regency Tour, and not just for the Deltic haulage over some rare track. In the brochure, Regency pride themselves on their customer care, and the high standard of their on board food. Indeed the Regency brochure states "Enjoy food and wine served with meticulous care, while you relax and enjoy the splendour of the surrounding scenery". I was expecting this tour to be a cut above the 'average' Hertfordshire or Pathfinder railtour which nornally use the Bounds Green posh-nosh stock. Apologies for concentrating on the the catering and service aspects of the tour in this review, rather than the locomotive :-) However, Regency sell themselves on their service.
I drove to Stafford, and arrived just in time to hear Deltic 9 arriving in the station with the stock, which comprised 7 Mk1s and a Mk3 sleeping car. Even at this time in the morning, a couple of enthusiasts were out to photograph Deltic 9. However, other passengers from Stafford were noticable by their absence. There were only two other passengers besides me, and they lived near Shrewsbury but hadn't realised that the train called there!
After walking the length of the platform and having a good look at the Deltic, I boarded the train and found my seat which was in coach 'Chatsworth'. Regency give all their passenger vehicles names rather than letters - this is the Pullman tradition. However, once in the coach, it became apparent that the stock had not been pre-heated. Indeed it felt as though the heating had just been stiched on in Stafford. Fridgidaire would have been a better name for the coach :-(
At 06:30 sharp, we set of *south* towards Wolverhampton. We were booked to pick-up at Telford, Shrewsbury, Wrexham, Chester, Frodsham, Warington and Wigan. Great Way Round indeed ! Just before Wolves we were switched onto the Oxley Chord, which was required track for me, and was possibly also the first ever Deltic hauled train around this curve ?
Although the Regency coaches have been superficially refurbished, they are pretty draughty on a cold dark November morning. The temperature in our coach was not increasing much, if at all. The couple who had also joined at Stafford were sat in the seats immediately behind mine, and started to complain bitterly to the Regency staff about the cold. It appeared that the only heating in 'Chatsworth' was the electric heater on my side of the coach. I'm fairly immune from the cold, as I live in a house with no central heating. However, I was wearing a thick woolen coat, but I was cold too. Things were not helped by the constant procession of VSOE staff through the coach, many of whom left the end doors open despite repeatedly being asked to close them. After much ado, the frozen couple were finally moved into the next coach which I hope was warmer. Not a good start to what was meant to be a luxury rail tour.
Some technical explanation is necessary about the way ETH works on a Deltic, for the locomotive was partly to 'blame', although this can be blamed on BR not EE!. The ETH provision on a Deltic was a compromise introduced during the life of the locomotives. Deltic ETH does not function as well as (say) a Class 47. Deltic supply ETH from their main generator windings, whereas most other locomotives have independent altenators. With a Deltic the ETH voltage is *very* dependent upon the power handle setting. Full ETH power is only really available when both power units are close to full power, or both power units are on idle with the power handle in the 'off' position (normally only achieved when the train is stationary). Furthermore a Deltic only supplies ETH at around 650volts, whereas a Duff would supply around 800v. Although this doesn't sound too much of a difference, the power generared by an electric heater is proportional to the square of the voltage. Even running with the power handle at maximum, a Deltic will only heat Mk1 and early Mk2 stock with 2/3 of the power of a Class 47.
From Oxley to Telford, we appeared to be stuck behind a stopping local train, so Deltic 9 was coasting most of the way, which meant that the heating was not really providing much heat. What would the coach have been like on a cold Winter's morning when the outside temperature was 15 Deg. C ? Our coach 'Chatsworth' did not really become warm enough, until the sun has risen a couple of hours into the journey. Luckily it was a sunny day, and once the sun was high enough, heating was no longer a problem. Toilets were unheated, and there was no hot water available. Not very satisfactory on a luxury train, me thinks.
Most of the passengers joined the train at Shrewsbury and Chester, but the train was by no means full. I estimate the passenger count as around 120ish, which must be close to only covering the direct costs of running the tour. Staffing costs are high, as there are about 10 stewards/catering staff, in addition to the travelling engineer, drivers and guards. We had crew changes at Preston, to three drivers and three gaurds would have been required.
But where was our breakfast ? I'd left home at 04:45, and had been on the train since around 06:15. We were not served breakfast until about 09:00-09:30. Just as well I'd anticipated this, and already had some breakfast before leaving home. Upon leaving Stafford we were offered tea or coffee, and it was nice to warm our hands on the hot cups.
At the time of booking, I had specified the vegetarian food option. However, when breakfast was finally served, I was offered the same breakfast as everyone else. Steward said he had not been notified of any vegetarian booking, but he said that he would do his best. I was eventually served the same breakfast as the others, minus the meat. Not a problem in itself, but it is normal to increase the portions slightly to compensate for not having the full breakfast. I was served scrambled eggs, one half tomato, a few bits of mushroom and a few nuggets of potato. After the hot breakfast we were offered toast/croisants *once*. They had apparently run out of Marmalade ! I was offered just one cup of tea whilst eating beakfast, although I'd previously been offered a cup of tea/coffee upon departure from every pick up station. I was still quite hungry when I'd finished my breakfast, a new sensation on a train. Breakfast was *below* the standard of GNER, where you can get a nice bowl of porridge in addition to as much toast as you can eat, and as much tea as you feel like drinking. Indeed this was below the standards of the Rail Charter catering teams from Bounds Green, which are themselves slightly worse than the BR Inter City catering 'standard'.
Regency appear to have instructed their drivers to limit their speed at 80mph during normal running. Fair enough, as this is meant to be a luxury dining train for 'normals', and not a crank-ex for bashers. Once we finally reached the WCML proper at Warrington, we appeared to run at 70-80mph for most of the way to Edinburgh. Exception was upon leaving Preston where after a crew change, we reached 95mph. I reckon the new driver was 'testing' his steed to ensure everything was working OK ;-)
Driver accelrerated before Tebay, which was passed in fine style at 92mph. Speed at Shap summit had fallen to 75mph. Pretty good for 'load 8', and much faster than D9000's VXC debut down the WCML in 1997, where Deltic 22 cleared Shap at 70mph with 8 MkII air-cons. Beattock was climbed in fine style, and the balancing speed was reached soon after passing Beattock village at 78mph. Summit was passed at 67mph, minimum speed on the bank was 66mph (gradient varies on Beattock, unlike Shap). These figures demonstrate that Alycidon is generating close to her rated rail horsepower or 2650bhp.
An unwelcome feature of the tour, was the extremely slack schedule in both directions. In the morning, we appeared to wait for at least 10 minutes in Warrington, Wigan, Preston and Carlisle. Finally we were looped at Abington for about 15 minutes, just before Carstairs, to let another railtour bound for Edinburgh past! This was the late running Past Time Tours special from Euston with Gary Thornton on board (check out The Edinburgh Explorer for more details). Just to rub it in, the posh-nosh section of the Past Time tour was being served lunch as they passed us at Abington. We were offered nothing after our meagre breakfast, despite being on the train for longer! Needless to say that due to inadequate signalling etc. on the Cartairs branch, we were slightly delayed and finally arrived at Waverley a couple of minutes late.
Even with 80mph max running, I believe that we could have arrived in Waverley about one hour earlier, and departed an hour later, if the *excessive* pathing?/recovery time had been removed. This would have allowed more than 5 hours in Edinburgh, rather than just over three hours, which is not really sufficient to do much, especially if you've not visited Edinburgh before. It appeared that the Regency tour had been timed for only a 50mph average speed. Lots of leisurely running along the main line, punctuated with frequent *long* stops.
The return from Edinburgh to Stafford was undertaken in the dark. Departure was scheduled at 16:57, in the event we departed at 17:13. We ran at the usual 70-80mph back along the WCML, but we still arrived in Preston more than 30 minutes early on our pathetic schedule. We then waited for our departure time (what was the point?). We departed Preston on the up slow, as it transpired that a VXC Class 86 had failed on the up main at Leyland. Even despite running as slowly as possible, we still arrived at Wigan early.
At Warrington, I decided that I could not face more than 3 hours to get to Stafford, so I baled out, and got a VXC direct to Stafford (with the failed 86 d-i-t behind another can). I arrived back in Stafford 2 hours 10 minutes before the Regency tour was due to arrive, the Regency being routed via Chester and Shrewsbury, and presumably waiting a considerable time at every stop. At Warrington, it was nice to listen to Deltic 9 powering away into the night - the southerly wind helping to carry the sound. That said, Deltic 9 is still very quiet for a Deltic, and whilst in the 4th coach of our train, I could not hear the Deltic, except in the tunnels.
Dinner on the return was really a repeat of breakfast. Indeed it became like a scene from Faulty Towers, with every member of the Regency staff apparently trying to offer me meat at every course (I'm a veggie don't forget). Regency offer free wine with their evening meal. However, the Chilean wine I mistakenly chose, was almost undrinkable (ultra-cheapo?), so I tipped it out of the window. The french red wasn't too bad, although there appeared to be a reluctance by staff to refill wine glasses. Final insult was the cheese plate. Cheeses all tasted far from fresh, and were all *extremely* dry with the consistency (and taste) of a bar of soap :-( Certainly not the fresh food promised in the brochure. The almost inedible cheese made this the worst meal I've ever eaten on a train. Especially bad, as I'd had very high expectations of the Regency 'Experience'.
Luxury trains are all about attention to detail. I was *very* dissappointed by the lack of attention to all sorts of details, on this Regency trip - and I've omitted quite a few other 'observations'. If Regency are going to establish a business in the North West, they need to build a base of regular customers. They need to ensure that everything goes right...
Still, the Deltic performed admirably in her new role. Shame that she was not called upon, to demonstrate how well she can recover time...


Back to "The Railtour Files"