16th January 1999
Pathfinder Tours
The London Experience / Kentish Container
| | |
| --- | --- |
| Locos Used | 56031, 60039 & 66042 |
| Stock Used | 6311+4991+4938+17015+4956+4939+4949+5005+4998+3115+3107+3131 |
Route :
1Z68 - Crewe to London Victoria
1Z81 - Kent perambulations
1Z84 - London Victoria - Crewe
| | |
| --- | --- |
| Locos | Route |
| 56031 | Crewe - Chester - Wrexham - Shrewsbury - Wolverhampton - Darlaston Jn - Bescot Stadium - Perry Bar North Jn - Soho South Jn - Birmingham New Street - Coventry - (via WCML, Weedon) (1) - Willesden West London Jn - Kensington Olympia - Latchmere Jn - Longhedge Jn - Stewarts Lane Jn - London Victoria |
| 66042 (2) | London Victoria - Factory Jn (3) - Voltaire Road Jn - Brixton - Nunhead - Lewisham - Courthill Loop North - Courthill Loop Jn South - Hither Green - Sidcup - Dartford - Gravesend - Hoo Jn - Grain Old Station |
| 60039 (4) | Grain Old Station - Hoo Jn - Gravesend - Dartford - Slade Green - Woolwich Arsenal - Angerstein Jn - Angerstein Wharf branch (5) |
| 66042 (2) | Angerstein Wharf branch (5) - Woolwich Arsenal - Slade Green - Perry Street Fork Jn - Barneshurst - Blackheath - Lewisham - Nunhead - Brixton - Voltaire Road Jn - London Victoria |
| 56031 | London Victoria - (reverse of outward route) - Birmingham New Street - Dudley Port - Wolverhampton - (reverse of outward route) - Crewe |
Notes :
(1) booked route was via Northampton, but not done.
(2) 60039 on rear.
(3) Booked route was via Stewarts Lane Jn, but not done.
(4) 66042 on rear.
(5) Booked to Angerstein Wharf itself but due to a broken rail along the branch we only just got about a trains length onto the branch beyond the junction before being stopped.
(6) Tour ran as 'The London Experience' for passengers de-training in London for the day and 'The Kentish Container' for those staying on board for a bash round Kent.
Source : Gary Thornton (joined/left train at Coventry)



Tour review
(by Gary Thornton)
For the second year running, the month of January saw Pathfinder running a tour to London with an "add-on" tour, using the same stock, in the London area. The journey to and from the capital ("The London Experience") would be behind a Class 56 whilst the circular tour ("The Kentish Container") would feature a Class 60/Class 66 top-and-tail combo. Visits to the Grain and Angerstein Wharf branches would also provide something for those interested in covering unusual non-passenger track.
Although the train left Crewe at the mind-numbingly early hour of 05.06, the route south meant it did not reach Coventry (where I would pick it up) until 09.10, a much more respectable time. Rail-gen did it's usual good job and over breakfast I saw a message to confirm that we had 56031 (a required haulage) and that the train was on time at Ruabon. I made my way to Coventry to join a gathering crowd of railtour participants but was a bit miffed to arrive and see 87007 (one of only two 87's I need for haulage) on a Virgin service for Birmingham. Unfortunately I had to flag the 87 in case I couldn't make it back to Coventry in time to catch the tour (though in the event I suspect I'd have had no problems).
Flooding in the Berkswell area - unsurprising considering the extreme wet and windy weather we'd had overnight - was causing some delays and our train was shown as running about 15 minutes down. A chat with some other friends on the platform suggested the 66 for our train might just be one of the three that had already hauled passenger trains as all of them were at Acton where our tour loco was booked to come from. Time would tell but I was certainly hoping for "cheeseburger" no. 4 for haulage, rather than a "dud" one.
A touch before 09.30 and in rolled a rather tatty 56031 on our train.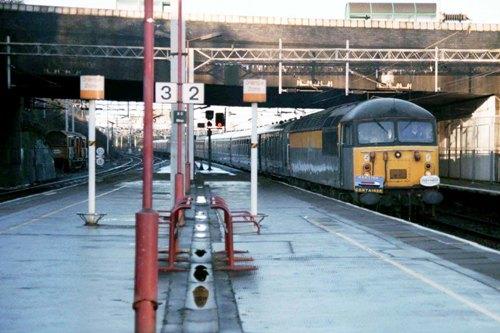 Coventry, 09.30 and in rolls 56031 (photo: Gary Thornton)
Our route was to take us to Rugby, round the Northampton loop and then West Coast MainLine to Willesden where we would branch off to get to London Victoria. In the event we did not go via Northampton and arrival into the London terminus was actually a few minutes early! Not an awful lot of note on the way - except maybe for the loco's stabled at Rugby which included 08765, 37073/383/683/885, Fragonsett "thunderbird" 47703 and finally a shiny new looking 66047. Passing the Wembly area we did see two Heathrow Express Class 332 EMU's along with the usual line up of 47's and 92's. As we turned off the WCML we passed 60039 and 66042 which we were informed via the pa system were in fact our two loco's for the run around Kent. The latter loco, of course, being a very recent import from Canada to play a big part in EWS's plans to revive freight traffic by rail in the UK.
Once at Victoria it was a case of "everyone off" so the stock could be taken out to nearby Stewarts Lane depot to have the grid swapped for 60039. To affect this, 66042 was attached to the rear of the train to draw it out. Once coupled to the train, I did notice the secondman in the 66 removing a protective seat covering from his seat in one cab - just maybe he was the first person to sit in this seat since the loco had entered service a few weeks earlier, a sign of just how new this loco was! One unusual sighting during our layover at Victoria was a Gatwick Express service with a pair of Class 73's (206 & 212) at the head.
All the mucking about with the stock took a little while (we were booked an hours break) but our departure time of 12.21 soon came with no sign of the train returning. Several people were also saying that there was a rumour that there were problems with one or both of the freight branches. Around 12.45 and an announcement over the station tannoy confirmed that the stock was still at Stewarts Lane. By this time I was getting quite hungry. Unfortunately I had left my bag on the train and it, of course, contained my rations for the day! A quick forray out of Victoria station by two of us however secured some supplies to see us over our immediate hunger.
As 13.00 approached 60039 appeared with the train and, finally, at 13.01 we departed on "The Kentish Container" (proper!) with 66042 at the head. As we rolled over Grosvenor Bridge we noted 73206 & 73212 going in the opposite direction - they had been to Gatwick Airport and back whilst we had been festering at Victoria! Our route to Grain took us through some really exotic places - Brixton, Nunhead, Lewisham and Dartford to name but some of them. Heading towards the latter we did get a good view of the Queen Elizabeth II Bridge (one half of the Dertford Crossing, the other half being the Dartford Tunnel). Onward to our first destination and at Hoo Junction we noted 09024, 37057 "Viking", 37802, 47519 (in BR green and numbered D1102) and 56053 "Sir Mogannwg ganol/County of Mid Glamorgan".
For me, the Grain branch was my primary reason for booking on this tour as I needed this 10 mile freight branch. The original plan to go on a little further to Thamesport Freightliner Terminal was scuppered as Freightliner decided to fill their site up with trains so there was no room for us! The run to Grain was, well, not to put too fine a point on it;
BORING!!!
It was a long, slow stagger all the way (and back again). Funny really how sometimes the day's "highlight" on a railtour often turns out to be the most boring bit. This is not really a criticism, just an observation. On the way back off the branch I wandered back along the train from my coach (G) to see some other friends who were in coach E (it was either that or fall asleep). As I walked through coach F, I estimated about half that coaches occupants were asleep, such was their opinion of the branch too I suspect... By this time, the late start from Victoria, combined with the stagger along the branch, meant we had been running upwards of 45 minutes late.
Getting to the days second freight branch involved a short dash back to Dartford then we turned right at Dartford Junction towards Slade Green, Erith, Plumstead and Woolwich. Once at Charlton we took the line to Blackheath for a very short distance before arriving at Angerstein Junction and the short branch to the Wharf. Now although it is less than a mile to the end of the branch, we only succeeded in getting about a fifth of this distance (and that's being generous!). The earlier rumour we'd heard about a broken rail on one of the branches turned out to be true and Railtrack decided to only allow us a very short way down the branch to the first stop board. From my perspective I was not so upset as I'd done the branch back in the early '90's but I suspect for some it was a bit galling to do so little of the line. With the quick turn-around however we suddenly found ourselves running a little early (the first time on this tour we'd been "in credit" with our time keeping!). Retracing our steps to Slade Green we then took the line through Eltham to get back to Lewisham and, from there, retrace our steps back to Victoria. Our arrival into platform 2 was 7 minutes early.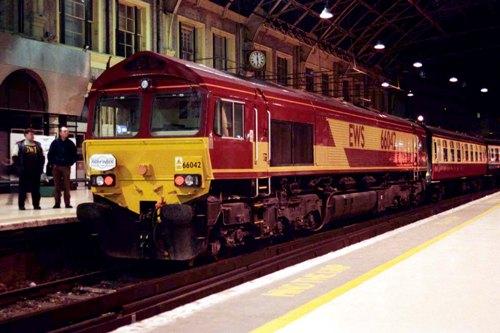 66042 on arrival back into London Victoria (photo: Gary Thornton)
Time to watch the 60 being disposed of and 56031 come back onto the train. A lack of someone to couple the grid onto the stock however turned our early arrival into a 10 minutes late departure at 18.40 rather than the booked 18.30 dead. Before we departed someone noticed that the pair of 73's was back in with the Gatwick Airport service - I wonder how many round trips they made? Our journey back to Coventry was by exactly the same route as we'd come. One noticeable difference however (other than it being done in the dark) was the performance of grid 031. At every opportunity our driver had the loco flat out so very swift progress was made along the WCML. Indeed, alongside the M1 motorway at Watford Gap there were not many cars keeping up with us! Despite all the thrash, we were only just keeping to the timetable and by Milton Keynes had only gained back two minutes. Liberal timing on the run between MK, Rugby and Coventry however turned us around and we pulled into Coventry station at 20.19, 14 minutes early!
On the final stretch to Coventry we noticed one of our number was studying the front cover of the tour brochure in minute detail. We all had a look ourselves just as he realised what had caught his attention - the cover photo had been printed back-to-front. Maybe Pathfinder have now got a well known fortnightly railway publication (renowned for publishing "about face" pictures) to do the tour brochures for them?
Spare a thought for those travelling back to Crewe - I'm just finishing these notes at 22.30 but according to the timing sheet, the train (if its on time), is just passing through Wellington on its way to the next set-down point at Shrewsbury. For Crewe passengers they still have another TWO hours aboard as the booked arrival time home is 00.27 on Sunday morning!
Verdict ; Another good day out, though maybe marred slightly by the problem that resulted in us not really traversing the Angerstein Wharf branch.



Timings (Booked and Actual)
(from Gary Thornton & John Cowlishaw)
'The London Experience'
M.C
Location
Booked
Actual
Booked
Actual
M.C
0.00
Crewe
05.06
?
00.27
?
222.07
1.41
Crewe Steelworks
05/12
?
00.24
?
220.46
10.60
Beeston Castle
05/23
?
00.16
?
211.27
21.10
Chester
??.??a ~ 05.37d
?
00.03a ~ 00.04d
?
200.77
21.01
Saltney Jn
05/47
?
23/58
?
199.06
33.25
Wrexham
05.55a ~ 05.57d
??.?? ~ 05.57
23.35a ~ 23.45d
?
188.62
38.16
Ruabon
06.05a ~ 06.07d
??.?? ~ 06.06
23.26a ~ 23.28d
?
183.71
42.37
Chirk
06.14a ~ 06.16d
?
23.17a ~ 23.19d
?
179.50
45.41
Gobowen
06.22a ~ 06.24d
?
23.09a ~ 23.11d
?
176.46
63.45
Shrewsbury
06.44a ~ 06.48d
?
22.45a ~ 22.47d
?
158.42
73.70
Wellington
07/08
?
22/29
?
148.17
77.51
Telford Central
07.12a ~ 07.14d
?
22.18a ~ 22.20d
?
144.36
84.22
Cosford
07/22
?
22/07
?
137.65
92.62
Wolverhampton North Jn
07/33
?
21/47
?
129.25
93.25
Wolverhampton
07.35a ~ 07.38d
?
21.43a ~ 21.45d
?
128.62
95.00
Portobello Jn
07/45
?
97.79
Darlaston Jn
07/49
?
99.17
Bescot Stadium
07/52
?
103.54
Perry Bar North Jn
08/00
?
Dudley Port
21/34
?
123.22
Galton Jn
21/30
?
119.57
106.45
Soho South Jn
08/14
?
21/28
?
117.79
108.46
Birmingham New Street
08.19a ~ 08.33d
?
21.20a ~ 21.23d
?
115.78
109.20
Proof House Jn
08/35
?
21/17
?
115.24
112.31
Stechford
08/39
?
21/10
?
112.13
116.64
Birmingham International
08*43a ~ 08*49d
?
21/01
?
107.60
127.40
Coventry
09.02a ~ 09.10d
09.27 ~ 09.31
20.33a ~ 20.50d
20.19 ~ ??.??
97.04
138.79
Rugby
09/22
09/43
20/19
20/09
85.45
148.29
Long Buckby
09/33
DIV
157.76
Northampton
09/42
DIV
??
Weedon
DIV
09/54
19/58
19/59
72.61
166.78
Hanslope Jn
09/52
10/04
19/45
19/50
59.71
173.79
Milton Keynes Central
10/00
10/09
19/37
19/45
52.70
177.18
Bletchley
10/03
10/11
19/35
19/43
49.51
185.48
Ledburn Jn
10/14
10/17
19/29
19/36
41.21
192.11
Tring
10/22
10/22
19/22
19/31
34.58
206.29
Watford Junction
10.40a ~ 10.42d
10.38 ~ 10.40
19.08a ~ 19.10d
19.15 ~ 19.17
20.40
212.34
Harrow & Wealdstone
10/50
10/46
19/02
19/09
14.35
218.41
Willesden West London Jn
10/57
10/52
18/55
19/03
8.28
219.32
Mitre Bridge Junction
11/00
10/54
18/53
19/00
7.79
221.57
Kensington Olympia
11/05
10/58
18/48
18/53
5.54
224.40
Latchmere Jn
11/10
11/03
18/41
18/50
2.71
225.25
Longhedge Jn
11/12
11/05
18/36
18/48
2.06
225.75
Stewarts Lane Jn
11/15
11/07
18/35
18/46
1.36
226.46
Grosvenor Bridge Jn
11/18
11/09
18/32
18/43
0.65
227.31
London Victoria
11L21a
11.17
18L30d
18.40
0.00
n.b. The train did not take the booked route via Northampton on the outward leg hence the mileages for this leg require to be adjusted to compensate.
'The Kentish Container'
M.C
Location
Booked
Actual
Booked
Actual
M.C
0.00
London Victoria
12L21d
13.01
18L00a
17.53
27.04
0.65
Grosvenor Bridge Jn
12/23
13/04
1.36
Stewarts Lane Jn
12/25
DIV
1.61
Factory Jn
12/27
13/06
2.06
Voltaire Road Jn
12/28
13/06
17/55
17/48
24.78
3.08
Brixton
12/29
13/09
17/52
17/45
23.76
3.68
Cambria Jn
12/31
13/11
17/50
17/41
23.16
5.77
Nunhead
12/34
13/15
17/48
17/38
21.07
7.63
Lewisham
12/41
13/21
17/41
17/32
19.21
-
Blackheath
17/35
17/29
18.30
-
Eltham
17/29
17/23
16.14
-
Barneshurst
17/24
14/14
10.34
-
Perry Street Fork Jn
17/20
17/11
9.18
-
Slade Green
17/18
17/08
8.68
-
Woolwich Arsenal
17/00
16/57
2.70
-
Charlton
16/57
16/53
1.02
-
Angerstein Wharf stop board
--.--
16.44d
?
-
Angerstein Wharf
16D20a ~ 16D47d
DIV
0.00
32.00
-
Angerstein Wharf stop board
--.--
16.39a
?
-
Charlton
16/10
16/37
30.78
-
Woolwich Arsenal
16/07
16/31
29.10
-
Slade Green
15/59
16/17
23.12
-
Crayford Creek Jn
15/58
16/17
22.36
8.22
Courthill Loop Jn South
12/42
13/23
9.02
Hither Green
12/44
13/26
9.52
Lee
12/46
13/27
13.59
Sidcup
12/51
13/35
17.11
Crayford
13/04
13/42
18.78
Dartford
13/11
13/46
15/53
16/13
21.10
25.61
Gravesend
13/21
13/56
15/42
16/05
14.27
29.05
Hoo Jn
13/26
14/03
15/37
16/00
11.03
?
Hoo Jn D19 Signal
13*27a ~ 13*28d
14/04
15*23a ~ 15*35d
15.57 ~ 15.58
?
30.47
Hoo Jn D12 Signal
13*31a ~ 13*34d
14.08 ~ 14.10
15*18a ~ 15*21d
15.49 ~ 15.50
9.41
40.08
Grain Old Station
14.05a
14.54
14.45d
15.05
0.00
n.b. Failure to traverse the entire Angerstein Wharf branch means that mileages from that point onward require to be adjusted.
All distances, in miles and chains (M & C), are taken from the tour booklet. No attempt has been made to verify the mileages given and some are not valid due to reasons as explained under each table.



Back to "The Railtour Files"