28 November 1998

Hertfordshire
Railtours
| | |
| --- | --- |
| Locos Used | 66009 & 66011 |
| Stock Used | 6311+3150+1696+3127+3123+3114+1679+17023+4925+5023+4986+5027+5037+5007 |
Route :
1Z33 : Paddington to Cardiff Central
1Z66 : Cardiff Central to Onllwyn to Cardiff Central
1Z35 : Cardiff Central to Paddington
| | |
| --- | --- |
| Loco(s) | Route |
| 66011 | Paddington - Ealing Broadway - Slough - Reading - Didcot Parkway - Bristol Parkway - Severn Tunnel Junction - Newport - Cardiff Central |
| 66011 (1) | Cardiff Central - Barry - Aberthaw - Bridgend - Court Sart Jn - Dynevor Jn - Swansea Burrows Sidings |
| 66009 (2) | Swansea Burrows Sidings - Neath & Brecon Jn - Onllwyn Washery |
| 66011 (1) | Onllwyn Washery - Neath & Brecon Jn |
| 66009 (2) | Neath & Brecon Jn - Cwmgrach |
| 66011 (1) | Cwmgrach - Neath & Brecon Jn - Jersey Marine South Jn |
| 66009 (2) | Jersey Marine South Jn - Dynevor Jn - Port Talbot Parkway - Pontyclun - Cardiff Central |
| 66009 | Cardiff Central - (reverse of outward route) - Slough - Ealing Broadway - Acton Wells Jn - Willesden Junction HL - Gospel Oak - Camden Road - Freight Terminal Jn - Finsbury Park |
Notes :
(1) 66009 on rear.
(2) 66011 on rear.
Source : Gary Thornton (Joined at Paddington, left at Slough on return leg)



Tour Review
(by Gary Thornton)
This tour was billed as the first passenger train to be hauled by a new EWS Class 66 locomotive. Originally planned to have run in August, a distinct lack of available locomotives at the time forced Hertfordshire Railtours to postpone the tour until November.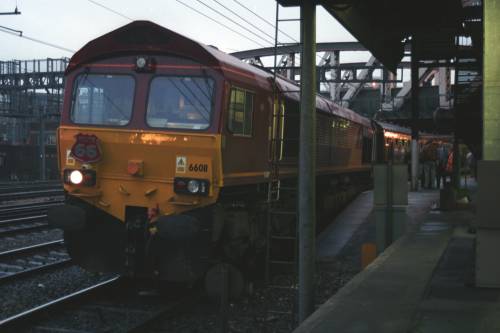 66011 waits departure time at Paddington.
In order to help out a couple of friends who were travelling down from Yorkshire I acted as a "staging post" on their way south (chance for a short break and a coffee). They arrived a little after 4.30am (!) and, suitably watered, we set off for Slough at about 5am. This enabled us to get to Paddington for the start of the tour by way of the 06.46 service (unit 166216). We rolled into Paddington and in the darkness could see 66011 already in platform 1 with our train. At the buffers we also noted 60093 "Jack Stirk" which had brought the stock into Paddington. There was enough time to view a handful of Heathrow Express EMU's arrive before we wandered up to find our seats in coach M which was the leading coach. Our seats were actually in the front bay of the coach so we couldn't complain about our location with the 66 only a few feet in front of us! With 14 coaches in tow at least the 3,300hp loco would have to work a little.
Departure was bang on time at 07.50 and it was soon evident just how quiet these engines are. By the time we reached 20mph the noise of the coaches and track completely drowned out the 66. More amazing (or maybe not) was the fact that no-one had bothered to take up position at the front door windows. This was the case most of the day too! I will admit to being very impressed with the acceleration of the 66 though with the heavy freight trains that this class is designed to haul, maybe its fair to say our train was not so much of a challenge.
Our first stop was at Slough (where we had been about 90 minutes earlier...) followed by Reading where quite a few more passengers joined the tour. On leaving Reading we were all on the lookout for the 06.36 Poole to Liverpool Virgin XC service which was due through Reading (actually around the avoiding curve due to weekend diversions) about the same time as us. Why were we all so keen to see it? Well on this particular Saturday it was rostered to be hauled by Deltic D9000 "Royal Scots Grey". With a booked stop at Tilehurst it was just possible we would end up running parallel with it, us on the fast lines and the Deltic on the slow. As we accelerated past Reading DMU depot there was a cheer in our coach as we spotted a rake of Virgin liveried coaches on the avoiding curve. Sure enough, there was D9000 (with 47703 also attached) on the said cross-country service. It had actually been stopped to allow us by first! The driver of D9000 gave a few blasts on the horn as we passed. Hopes that D9000 might catch us up were dashed and soon we had put the booked stops at Didcot, Swindon and Bristol Parkway behind us. The only sighting of note was 66021 at Wootton Bassett Junction.
After the usual rough ride through the Severn Tunnel we popped out in Wales. A non-stop run was made to Cardiff where another Class 66 (66009) was attached to the rear to assist on the branches and eventually take us back to London. Unfortunately both locos were off the platform ends so getting a decent photograph was not possible. I retired to the shop on-board to have a look at what was on offer. There was however a chance to photograph another mainline-certified preserved diesel as 50031 "Hood" rolled off Canton depot with the stock for a service train to Rhymney and stopped in the adjacent platform to pick up passengers. We left Cardiff bang on schedule and headed off towards Barry. A look over the EWS depot revealed 66008 amongst the ranks of older locos on shed. Around this time an announcement was made to the effect that the buffet and some toilets had already run out of water (it was not yet lunchtime) so it appeared that the coaches had not been properly serviced prior to the tour. A promise was made to try to rectify the situation at some stage in the day.
Once round the "Vale of Glamorgan" line and through Bridgend we soon passed Margam depot (66019 sighted) then at Briton Ferry we curved off the mainline and headed towards Swansea docks. A reversal at Burrows Sidings and 66009 became the second Class 66 to haul passengers. As we approached Neath & Brecon Junction signalbox we passed close to a Burger King restaurant which had a drive through counter just alongside us. The train stopped with our carriage adjacent and someone aboard shouted across an order for 500 meals, much to the apparent amusement of the staff. A while later and we were still at about the same spot (having only moved forward a few coach lengths). Soon we found out why - there was a fire engine busy filling the buffet and toilet water tanks near the middle of the train! Our true departure was at 13.55, about 3/4 hour late. Being at the back the run to Onllwyn was quiet, "our" 66 not helping out at all. We returned to Neath & Brecon Junction (no sign of the 500 Burgers yet...) then set off for Cwmgrach. Whilst it was a climb to Onllwyn, the run to Cwmgrach seemed largely down hill. At least it meant that 66011 had to work a bit on the way back off the branch.
By the time we got back onto the mainline at Briton Ferry it was almost dark so there was little to see. Passing Cardiff Canton depot we got a closer look at 66008 which was stabled next to 66015. A rapid stop at Cardiff (9 minutes) saw 66011 dropped off and we departed about 35 minutes down. Good running combined with very liberal timing saw us almost make a half hour early arrival at Bristol Parkway, though a long stop outside the station (waiting our booked path) put us back a few minutes late. At Parkway I noted 60040 and 56019 waiting to go the other way. The remainder of the run home was quite rapid and we were dropped off at Slough between 5 and 10 minutes early. Listening to 66009 depart we got the impression that this loco was actually a bit louder than 66011.
Verdict : A good sociable day out with some reasonable running on the mainline stretches. Would have been better though if there had been a suitable photo-stop to allow those of us on board (and whose money made the tour happen) the opportunity to get some good photographs of our own.
Gary Thornton.



Timings (Booked and Actual)
(from Gary Thornton & Janet Cottrell)
M.C

Location

Booked
Actual

0.00
London Paddington
07.50d
07.50
5.13
Acton West
07/56
07/57
9.01
Southall
08/00
08/00
11.20
Heathrow Airport Jn
08/02
08/02
18.31
Slough
08.09a ~ 08.11d
08.09 ~ 08.11
24.14
Maidenhead
08/17
08/20
30.76
Twyford
08/27
08/27
35.73
Reading
08.33a ~ 08.40d
08.32 ~ 08.40
53.05
Didcot Parkway
09.03a ~ 09.06d
09.03 ~ 09.06
63.75
Challow
09/17
09/20
66.34
Uffington
09/19
09/22
77.18
Swindon
09.31a ~ 09.33d
09.35 ~ 09.37
83.02
Wootton Bassett Jn
09/40
09/44
107.07
Westerleigh Jn
10/06
10/09
111.57
Bristol Parkway
10.06a ~ 10.09d
10.10 ~ 10.12
116.45
Pilning
10/15
10/19
123.41
Severn Tunnel Junction
10/21
10/26
133.30
Newport
10/32
10/35
138.40
Marshfield
10/37
10/42
145.10
Cardiff Central
10L50a ~ 11L18d
10.51 ~ 11.18
147.55
Cogan Jn
11/26
11/26
153.33
Barry
11/41
11/36
158.78
Aberthaw
11/49
11/47
172.59
Bridgend
12/10
12/15
184.73
Port Talbot Parkway
12/22
12.28a ~ 12.29d
188.71
Court Sart Jn
12/26
12/31
190.00
Dynevor Jn
12/28
12/43
191.08
Jersey Marine Jn South
12/32
12/47
193.55
Swansea Burrows Sidings
12.40a ~ 12.50d
12.57 ~ 13.03
196.22
Jersey Marine Jn South
12/58
13/12
199.24
Neath & Brecon Jn
13t05a ~ 13t07d
13.18 ~ 13.55
209.60
Onllwyn Washery
13.35a ~ 13.45d
14.23 ~ 14.30
220.16
Neath & Brecon Jn
14t06a ~ 14t16a
15.00 ~ 15.08
228.33
Cwmgrach
14.46a ~ 14.56d
15.42 ~ 15.54
236.50
Neath & Brecon Jn
15t25a ~ 15t27a
16.26 ~ 16.27
239.52
Jersey Marine Jn South
15.36a ~ 15.46d
16.36 ~ 16.38
240.60
Dynevor Junction
15/50
16/44
242.43
Briton Ferry UFL Jn
15/53
16/49
245.70
Port Talbot Parkway
15/57
16/54
258.04
Bridgend
16/13
17/05
267.09
Pontyclun
16/27
17/15
278.19
Cardiff Central
16L51a ~ 17L08d
17.35 ~ 17.44
284.69
Marshfield
117/20
17/50
289.79
Newport
17/32
17/57
299.68
Severn Tunnel Junction
17/59
18.09
306.64
Pilning
18/09
18/17
311.52
Bristol Parkway
18.43a ~ 18.45d
18.46 ~ 18.47
316.22
Westerleigh Jn
18/51
18/53
329.24
Hullavington
19/01
19/03
340.27
Wootton Bassett Jn
19/10
19/12
346.11
Swindon
19.16a ~ 19.18d
19.19 ~ 19.23
356.75
Uffington
19/30
19/33
359.34
Challow
19/32
19/35
363.12
Wantage Road
19*38a ~ 19*41d
19/44
370.24
Didcot Parkway
20.00a ~ 20.02d
19.52 ~ 19.53
387.36
Reading
20.18a ~ 20.20d
20.13 ~ 20.16
392.33
Twyford
20/25
20/21
399.15
Maidenhead
20/31
20/27
404.78
Slough
20.40a ~ 20.42d
20.33 ~ 20.34
412.09
Heathrow Airport Jn
20/49
?
414.28
Southall
20/51
20/46
417.58
Ealing Broadway
20.57a ~ 20.59d
20.48 ~ 20.54
419.33
Acton Main Line
21/04
?
419.65
Acton Wells Jn
21/07
21/00
420.50
Willesden Junction HL
21/11
21/02
420.72
Kensal Green Jn
21/13
21/03
424.79
Gospel Oak
21/22
21/19
426.18
Camden Road
21/26
21/22
426.69
Freight Terminal Jn
21/31
21/31
427.53
Finsbury Park
21.35a
21.35