17th October 1998
Hertfordshire Rail Tours
Trawsfynydd Lament
| | |
| --- | --- |
| Locos Used | 47785, 56108 & 86401 |
| Stock Used | 3150+1696+3127+3123+3114+1679+17023+4925+5023+4986+5027+5037+5007 |
Route : 1T70 throughout
| | |
| --- | --- |
| Loco(s) | Route |
| 86401 | London Euston - (via WCML, Northampton & Trent Valley) (5) - Crewe |
| 47785 (1) | Crewe - Chester - Rhyl - Llandudno Junction |
| 56108 (2) | Llandudno Junction - Bleanau Ffestiniog - Trawsfynydd |
| 47785 (1) | Trawsfynydd - Bleanau Ffestiniog - Llandudno Junction |
| 56108 (2) | Llandudno Junction - (reverse of outward route) - Crewe |
| 86401 | Crewe - (reverse of outward route) (5) - London Euston |
Notes :
(1) 56108 on rear.
(2) 47785 on rear.
(3) Train was some four hours late back to London owing to the diesel locos being late onto the train at Crewe and the path being lost on the Blaenau Ffestiniog branch.
(4) Howard Parker comments: It was understood that the original diesel locos supplied were not deemed acceptable as sanding equipment was either non-existent or defective, this being considered essential for the branch. The replacement had to come from Warrington, hence the delay. Having visited Trawsfynydd, the train returned north but was held south of Blaenau Ffestiniog station. The service train timetable was such that no path was available along the branch for a considerable time as we were rather late. John Farrow offered to run the special north stopping at all stations to carry any intending passengers if the service train could be cancelled but the service train company wouldn't go along with this. We therefore all sat there watching it get dark with only the occasional sightseer from the local population to entertain us. At least the train crew were able to alight and were seen coming back from the nearby fish & chip shop with their tea! I had travelled to Nuneaton by train from Leicester, as had several others and arrived back at Nuneaton well after the last train. However, comprehensive arrangements had been made by Hertfordshire and a taxi was provided for travel back to Leicester. The final instalment was that a refund of half the fare was received several days later, as the freight loco operator had acknowledged they were to blame.
(5) Confirmation required of the route south of Nuneaton (in both directions).
Sources : Alex McGlasham (joined/left the train at Watford Junction), Kevin Driscoll
& Howard Parker (joined/left the train at Nuneaton)



Photo Review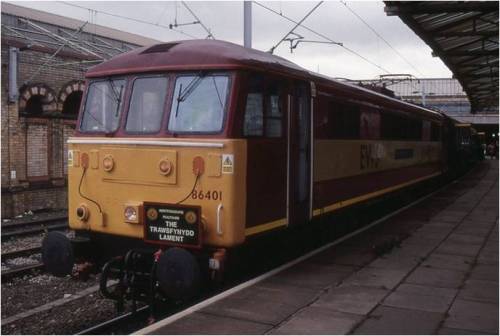 86401 at Crewe (photo: Howard Parker) - 'all well so far!'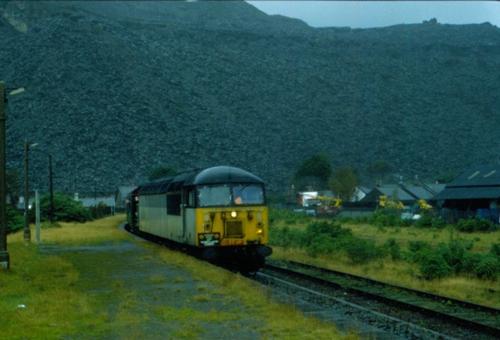 56108 at Bleanau Ffestiniog North station (photo: John Cowlishaw)

47785 just north of Trawsfynydd PS sidings (photo: John Cowlishaw)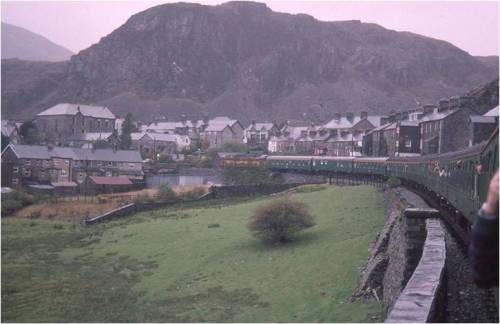 View from the train...for 3 hours! (photo: Howard Parker)


Timings (Booked & Actual)
(from Howard Parker)
| | | | | | |
| --- | --- | --- | --- | --- | --- |
| Location | Booked | Actual | | Booked | Actual |
| Euston | 07.57d | ? | | 21.48a | ? |
| Willesden WL Jn | 08/04 | ? | | 21/41 | ? |
| Harrow & Wealdstone | 08/10 | ? | | 21/30 | ? |
| Watford Junction | 08.15a ~ 08.17d | ? | | 21.16a ~ 21.17d | ? |
| Tring | 08/30 | ? | | 21/05 | ? |
| Ledburn Jn | 08/35 | ? | | 20/55 | ? |
| Bletchley | 08/46 | ? | | 20/46 | ? |
| Milton Keynes Central | 08.49a ~ 08.51d | ? | | 20.35a ~ 20.636d | ? |
| Hanslope Jn | 08/56 | ? | | 20/30 | ? |
| Northampton | 09/15 | ? | | 20/12 | ? |
| Long Buckby | 09/26 | ? | | 20/02 | ? |
| Rugby | 09/43 | ? | | 19/52 | ? |
| Nuneaton | 09.56a ~ 09.57d | ??.?? ~ 09.58 | | 19.39a ~ 19.40d | 23.44 ~ ??.?? |
| Tamworth LL | 10/15 | ? | | 19/27 | ? |
| Lichfield TV | 10/22 | ? | | 19/21 | ? |
| Armitage Jn | 10/26 | 10/20 [DS] | | 19/17 | ? |
| Colwich Jn | 10/30 | 10/24 | | 19/13 | ? |
| Stafford | 10/36 | 10/30 | | 19/08 | 23.10 ~ 23.15 |
| Norton Bridge | 10/41 | ? | | 19/04 | ? |
| Madeley Jn | 10/50 | ? | | 18/57 | ? |
| Basford Hall Jn | 11//02 | ? | | 18/53 | ? |
| Crewe | 11L05a ~ 11L31d | 10.51 ~ 12.24 | | 18L28 ~ 18L51d | 22.25 ~ 22.46 |
| Crewe Steel Works | 11/34 | ? | | 18/26 | ? |
| Beeston Castle & Tarporley | 11/43 | ? | | 18/19 | ? |
| Chester | 11/53 | 12/54 | | 18/09 | 21.58 ~ 22.01 |
| Saltney Jn | 11/57 | ? | | 18/05 | ? |
| Rockcliffe Hall | 12/04 | ? | | 17/49 | ? |
| Holywell Jn | 12/10 | ? | | 17/49 | ? |
| Rhyl | 12/21 | 13/21 | | 17/32 | ? |
| Colwyn Bay | 12/32 | 13/44 | | 17/23 | ? |
| Llandusno Junction | 12.36 ~ 12.57 | 13.48 ~ 14.04 | | 17.03 ~ 17.18 | 2.42 ~ 20.52 |
| North Llanwrst | 13*15 ~ 13*17 | 14.24 ~ 14.44 | | 16*32 ~ 16*42 | 20.18 ~ 20.19 |
| Bleanau Ffestiniog | 13*54 ~ 13*56 | 15.21 ~ 15.31 | | 15*54 ~ 15*56 | 19.38 ~ 19.42 |
| No4 Ground Frame | 14*00 ~ 14*02 | 15.33 ~ 15.34 | | 15*49 ~ 15*51 | 16.52 ~ 19.34 |
| Trawsfynydd | 14.54a | 16.07 | | 15.05d | 16.20 |