30th May 1998
Hertfordshire Rail Tours
The Cheetham Fiddler
| | |
| --- | --- |
| Locos Used | 56033, 56062 & 86261 |
| Stock Used | 4956+4939+4977+5007+5037+5027+4986+5023+4925+17023+1679+3114+3123 |
Route : 1T54 throughout
| | |
| --- | --- |
| Loco(s) | Route |
| 86261 | London Euston - (via WCML, Northampton & Trent Valley) - Stafford |
| 56062 (1) | Stafford - Norton Bridge - Madeley - Salop Goods Jn - Sydney Bridge Jn - Sandbach - Middlewich - Northwich West Jn - Greenbank - Hartford LNW Jn - Acton Grange Jn - Walton Old Jn - Arpley Jn - Latchford Sidings |
| 56033 (2) | Latchford Sidings - Arpley Jn - Fiddlers Ferry - Ditton Jn - Speke Jn - Allerton - Edge Hill |
| 56062 (1) | Edge Hill - Huyton - St Helens Central - Ince Moss Jn - Bamfurlong Jn - Golborne Jn - Parkside Jn - Eccles - Deal Street Jn - Manchester Victoria - Cheetham Hill Jn - Thorpes Bridge Jn - Castleton (Down Goods Loop) (3) |
| 56033 | Castleton (Down Goods Loop) - Thorpes Bridge Jn - Brewery Sidings - Philips Park No.1 - Denton Jn - Heaton Norris Jn - Stockport - Wilmslow - Sandbach - Crewe - Madeley - Norton Bridge - Stafford |
| 86261 | Stafford - (via WCML, Trent Valley & Northampton) - London Euston |
Notes :
(1) 56033 on rear.
(2) 56062 on rear.
(3) Originally advertised to traverse the line to Heywood but could not be done owing to engineering works in conjunction with ELR extension.
Sources : Gary Thornton & LASERman



Tour Review
(by Gary Thornton, including photos)
A relaxing jaunt around some freight lines and branches in Cheshire and the Manchester area. Motive power from London to Stafford was a class 86 then it was top-and-tail class 56's until we got back to Stafford (though 56062 was dropped off at Castleton).
One of the rare tours that picked up at my local station, Northampton, meant a quite civilised start for me (well, compared to most other tours anyway). As I lay in bed at about half past six I could hear quite a bit of rail traffic suggesting that the mainline was closed and all the WCML traffic was coming through Northampton. Hmm, that would mean the first 06.58 Birmingham to Ramsgate service of the summer timetable (with Deltic D9000 at the head) would be passing through. By my calculations it would be at the station about 8 o'clock - around 20 minutes before Hertfordshire Railtours' "Cheetham Fiddler" was due in. Too good an opportunity to miss!!
I arrived at the station about 7.45 to what seemed absolute chaos as in the 35 minutes or so I was there the trains in both directions just never stopped. This included no less than five freightliners, several Virgin West Coast trains, a Connex and two Silverlink County EMU's and, of course, D9000 'Royal Scots Grey' on the Ramsgate which appeared pretty well on cue at 8 o'clock.
A few minutes down and in rolled EWS-liveried 86261 'The Rail Charter Partnership' on 'The Cheetham Fiddler' - though I noted there was only a Hertfordshire Railtours headboard on the loco. I was in coach P which was at the front of the train. We set off (past another Freightliner train approaching from the north) and the journey to Stafford was pretty average. Stops were made at Nuneaton (where three of my friends got on) and Stafford (where a fourth friend joined us). Here it was also time to say goodbye to the buzz-box in favour of two class 56's. 56062 'Mountsorrel' was duly attached to the front and 56033 'Shotton Paper Mill' to the rear.
Being sat towards the front of the first coach made conversation quite difficult - most windows were fully open and grid 062 was not exactly quiet! Our route for the next fifty-plus miles took us past Crewe (using the independent lines that avoid the station), Middlewich and on briefly to the West Coast Main Line before curving off to traverse the freight branch to Latchford. A strange sight in the passing loop at Middlewich was 47711 in Network SouthEast livery.
From Latchford things were a bit quieter as 56033 became lead engine for the run via Ditton Junction and Allerton to Edge Hill (where we reversed in the freight sidings adjacent to the station). Back to a noisy journey again and 062 sped us along through St Helens Central towards Ince Moss Junction. Here we turned right on to the WCML and headed south briefly before turning left at Golborne Junction onto the Liverpool to Manchester line. The stretch from Lowton Junction to Parkside Junction was my first bit of required track of the day.
It was quite uneventful as we journeyed on through Eccles and Manchester Victoria where we took a slight diversion around the Cheetham Hill line to Thorpe Bridge Junction (also required track for me). The original tour plan was to have covered the Heywood branch but engineering work prevented this and we reversed in the Castleton down good loop. Not quite as simple as first envisaged as our 'load 13' plus two grids was longer than the loop. In order to clear the points back onto the Manchester bound line required us to set forward towards the station first. This left us with 56062 and our coach in the 'no-mans land' over the points between the goods loop and running line. We were all hoping an Oldham bound nodding-donkey wouldn't appear at this stage of the proceedings! Once we had set forward it was also time to drop off 062 as it was no longer needed.
Our return route to Stafford was via my last bit of required track of the day - the curve from Brewery Sidings to Philips Park No.1 - a piece not often traversed by passenger trains, either service or specials. Indeed, one of my friends was on the tour for this curve alone. As we approached it was fingers crossed that we would do it! We did. At Ashton Moss North Junction we took the little used passenger line to Stockport and, to add a little interest, stopped at Denton station for a photo-stop. This station normally only sees one stopping train a week (and this is sometimes a bus or taxi replacement). The logistics of a ten minute stop when only 2 of the 13 coaches are in the platform has to be seen to be believed. Most of us wanted to get off to get a few photo's as, except for the loco changes, this was the only opportunity to do so all day. Just as the last person got off the driver blew the horn to signal everyone back on board!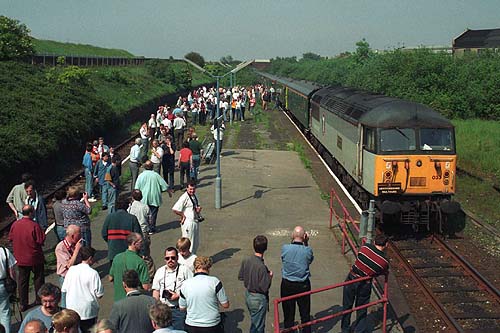 Denton - not the best location for a quick photostop! 56033 in charge.
The run on to Stafford was without any significant incidents. Up to now the tour had spent the whole day running around 10 to 20 minutes down.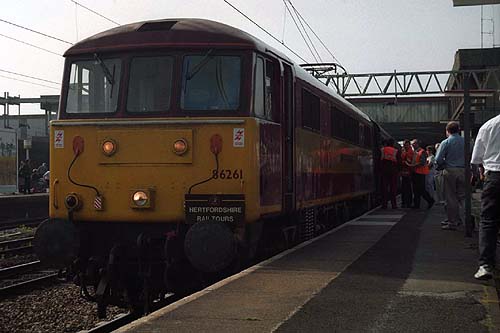 Back to our electric locomotive, 86261, at Stafford.
Once past Stockport and the variance between actual time and RST (railtour standard time) began to go haywire (doesn't it always on tours...). Mind you, I don't mean we got later - just the opposite in fact. At every timing point we seemed to have gained a minute or five over the plan and we arrived in Stafford 12 minutes early. A quick loco change back to "can" 261 and we were on our way some 17 minutes up on schedule. The Nuneaton stop out of the way and we were now a staggering (by railtour standards, well, by any railway standard actually) 46 minutes ahead of schedule! Northampton was reached in similar form although a relatively slow run from Nuneaton had brought our early running back to just 34 minutes. Looking at the timing sheet I suspect arrival at Euston was also significantly early.
Gary Thornton.



Timings (Booked and Actual)
(from Gary Thornton, LASERman & Stuart Prentice)
| M.C | Location | Booked | Actual | | Booked | Actual | M.C |
| --- | --- | --- | --- | --- | --- | --- | --- |
| 0.00 | London Euston | 07.15d | 07.15 | | 20.25a | 19.37 | 458.12 |
| 5.23 | Willesden West London Jn | 07/21 | 07/22 | | ? | ? | ? |
| 11.30 | Harrow & Wealdstone | 07/25 | 07/26 | | ? | ? | ? |
| 17.35 | Watford Junction | 07.30a ~ 07.32d | 07.31 ~ 07.32½ [FL] | | 19.48a ~ 19.50d | 19.19½ ~ 19.20½ | 440.57 |
| 31.53 | Tring | 07/42 | 07/43½ | | 19/37 | 19/09 | 426.39 |
| 38.16 | Ledburn Jn | 07/46 | 07/47 | | ? | 19/03 [FL] | ? |
| 46.46 | Bletchley | 07/52 | [SL] 07/57 | | ? | 18/55 | ? |
| 49.65 | Milton Keynes Central | 07.55a ~ 07.57d | 08.00 ~ 08.01½ | | 19.20a ~ 19.22d | 18.49½ ~ 18.51 | 408.27 |
| 56.47 | Hanslope Jn | 08/03 | 08/14 | | 19/14 | 18/37½ | 401.45 |
| 65.68 | Northampton | 08.50a ~ 08.52d | 08.26 ~ 08.30½ | | 19.00a ~ 19.02d | 18.24 ~ 18.27 | 392.24 |
| 75.37 | Long Buckby | 08/29 | 08/39 | | ? | 18/13 | ? |
| 84.67 | Rugby | 08/38 | 08/47 | | 18/40 | 18/03 | 373.25 |
| 99.37 | Nuneaton | 08.50a ~ 08.52d | 08.59 ~ 09.02 | | 18.25a ~ 18.27d | 17.40 ~ 17.41 | 358.55 |
| 112.37 | Tamworth Low Level | 09/02 | 09/12 | | 18/05 | 17/30 | 345.53 |
| 118.50 | Lichfield TV Low Level | 09/06 | 09/16 | | 17/57 | 17/27 | 339.42 |
| ? | Armitage | ? | ? | | 17/54 | 17/23 | 334.34 |
| 129.35 | Colwich Jn | 09/13 | 09/23 | | 17/41 | 17/20 | 328.57 |
| 135.70 | Stafford | 09L18a ~ 09L51d | 09.28 ~ 09.54 | | 17L10a ~ 17L30d | 16.58 ~ 17.13 | 322.22 |
| 141.19 | Norton Bridge | 10/00 | 10/01 | | 17/05 | 16/52 | 316.73 |
| 152.21 | Madeley Jn | 10/09 | 10/10 | | 16/54 | 16/43 | 305.71 |
| 158.43 | Basford Hall Jn | 10/16 | 10/23 | | 16/49 | 16/37 | 299.49 |
| | | | |
| --- | --- | --- | --- |
| M.C | Location | Booked | Actual |
| 160.20 | Salop Goods Jn | 10/32 | 10/32 |
| 161.23 | Sydney Bridge Jn | 10/36 | 10/38 |
| 164.77 | Sandbach | 10/45 | 10/53 |
| 168.57 | Middlewich | 10/59 | 11/06 |
| 173.57 | Northwich South Jn | 10/13 | 11/24 |
| 173.76 | Northwich West Jn | 11/17 | 11/26 |
| 175.21 | Greenbank | 11/22 | 11/31 |
| 176.09 | Hatford CLC Jn | 11/24 | 11/33 |
| 176.74 | Hartford LNW Jn | 11/27 | 11/38 |
| 181.39 | Weaver Jn | 11/31 | 11/42 |
| 186.43 | Acton Grange Jn | 11/41 | 11/50 |
| 187.47 | Walton Old Jn | 11/43 | 11/54 |
| 188.35 | Arpley Jn | 11/46 | 11/59 |
| 189.32 | Latchford Sidings | 11.48a ~ 11.58d | 12.05 ~ 12.10 |
| 190.29 | Arpley Junction | 12/00 | 12/16 |
| 193.72 | Fiddlers Ferry | 12/09 | 12/25 |
| 195.54 | Carterhouse Jn | 12/12 | 12/28 |
| 198.01 | Ditton Jn | 12/17 | 12/35 |
| 202.06 | Speke Jn | 12/21 | 12/42 |
| 203.11 | Allerton | 12/25 | 12/43 |
| 206.34 | Wavertree Jn | 12/30 | 12/49 |
| 207.35 | Edge Hill | 12.37a ~ 12.45d | 12.54 ~ 13.01 |
| 211.54 | Huyton | 13/04 | 13/10 |
| 217.40 | St. Helens Central | 13/17 | 13/21 |
| 224.26 | Ince Moss Jn | 13/24 | 13/33 |
| 225.06 | Bamfurlong Jn | 13/26 | 13/37 |
| 228.76 | Golborne Jn | 13/32 | 13/43 |
| 229.54 | Parkside Jn | 13/36 | 13/46 |
| 240.57 | Eccles | 13/48 | 13/59 |
| 244.10 | Deal Street Jn | 13/59 | 14/10 |
| 244.48 | Manchester Victoria | 14/01 | 14/13 |
| 245.41 | Cheetham Hill Jn | 14/03 | 14/17 |
| 247.03 | Thorpes Bridge Jn | 14*07a ~ 14*17d | 14/20 |
| 249.46 | Vitriol Works SB | 14/21 | 14/25 |
| 253.42 | Castleton DGL | 14.28a ~ 14.53d | 14.36 ~ 15.06 |
| 257.38 | Vitriol Works SB | 15/01 | 15/12 |
| 260.01 | Thorpes Bridge Jn | 15/06 | 15/17 |
| 260.43 | Brewery Sidings | 15/08 | 15/19 |
| 261.07 | Philips Park No.1 | 15/11 | 15/23 |
| 264.58 | Ashton Moss North Jn | 15/16 | 15/32 |
| 267.79 | Denton Jn | 15/21 | 15/38 |
| 268.50 | Denton | 15.24a ~ 15.44d | 15.40 ~ 15.51 |
| 272.09 | Heaton Norris Jn | 15/55 | 15/59 |
| 272.64 | Stockport | 15/58 | 16/02 |
| 273.29 | Edgeley Jn No.1 | 15/59 | 16/03 |
| 275.05 | Cheadle Hulme | 16/10 | 16/05 |
| 279.00 | Wilmslow | 16/15 | 16/09 |
| 280.44 | Alderley Edge | 16/21 | 16/10 |
| 293.15 | Sandbach | 16/31 | 16/20 |
| 297.65 | Crewe | 16.40a ~ 16.42d | 16.31 ~ 16.33 |