2nd May 1998
Past Time Rail
The Conwy Climber
| | |
| --- | --- |
| Locos Used | 47757, 47772 & steam: 80079 |
| Stock Used | 4915+99000+99001+99002+1813+99356 |
Route :
| | |
| --- | --- |
| Loco(s) | Route |
| 47772 | ?London Euston or Watford Junction? - (WCML, via Northampton, Trent Valley) - Crewe - Chester |
| 80079 | Chester - Llandudno Junction |
| 80079 | Llandudno Junction - Betws-y-Coed - Pant Tunnel (1) |
| 80079 (2) | Pant Tunnel - Betws-y-Coed |
| 47757 (3) | Betws-y-Coed - Llandudno Junction |
| 80079 (4) | Llandudno Junction - Chester |
| 47772 | Chester - (reverse of outward route) - ?Milton Keynes, Watford Junction or London Euston? |
Notes :
(1) Was booked to run to Blaenau Ffestiniog but train reversed at Pant Tunnel instead (see review).
(2) Loco propelling.
(3) 80079 on rear.
(4) Was 47757 on the rear to Chester?
(5) Much confusion surrounds this tour - originally it was uploaded as running from Euston to Crewe and return via the WCML behind 47757 with 80079 from/to Crewe. Sources still however seem unable to agree if the train started/finished at Milton Keynes, Watford Junction or London Euston.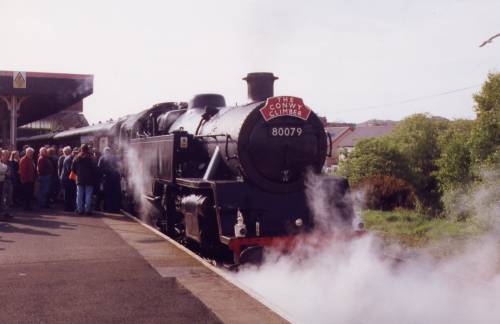 Robert Frise captured the train at Llandudno Junction.
Sources : various including Mike Harries (joined/left the train at Chester), Robert Frise & Dave Lodwick



Tour Review
(from Mike Harries)
Various passengers who claimed to remember steam when it was normal said that the train was too long – normally it would have been no more than FOUR coaches behind a class 4 or even a class 5 loco. The section above Betws is not only steep – 1 in 47 – but curvaceous – 10-chain curves in quick succession.
When the train stalled, the front of the train was on a left-hand curve, but the rear was still on a right-hand one. The loco just barely got into the Pant Tunnel – the gradient eases just beyond – but after setting back, trying again, hand sanding, etc, the crew had to admit defeat. Water was running low, and we were permitted to set back the four miles to Betws y Coed, where passengers were able to leave the train while the support crew located a hydrant and topped up the tanks. We were not permitted to set back further to North Llanrwst, where there is the only loop between Llandudno Junction and Bleanau Ffestiniog, but had to wait until 47757 came, presumably from Chester, to lead us back to Llandudno Junction.
Then there was the saga of coaling. It had been intended to run 80079 into a short siding on the north side of the station, leaving the train in the platform; but it transpired that the presence of the train prevented the points being reset for the siding, so that 80079 could not draw up alongside the coal lorry as intended. So coal was thrown, lump by lump, from the lorry to the bunker – a good deal overshot and landed on the platform, and was lobbed up from that side!
This left the impression of insufficient attention to details in the planning, but was nevertheless an enjoyable afternoon!
Mike Harries



Timings (Booked and Actual)
(from Mike Harries)
| Miles | Location | Booked | Actual | | Booked | Actual |
| --- | --- | --- | --- | --- | --- | --- |
| ? | London Euston or Watford Junction | ? | ? | | ? | ? |
| ? | Milton Keynes Central | ? | ? | | ? | ? |
| ? | Northampton | ? | ? | | ? | ? |
| ? | Rugby | ? | ? | | ? | ? |
| ? | Crewe | ? | ? | | ? | ? |
| 0.0 | Chester | 10L08a ~ 10L45d | ??.?? ~ 10.45 | | 19L18a ~ 19L58d | 19.38 ~ ??.?? |
| 0.5 | Chester South Jn | 10/48 | ? | | ? | ? |
| ? | Saltney Jn | ? | ? | | 19/11 | 19/35 |
| 10.4 | Rockcliffe Hall | 11/01 | ? | | 19/01 | ? |
| 16.8 | Holywell Jn | 11/09 | 11/09 | | 18/53 | 19/20 |
| 30.0 | Rhyl | 11/29 | 11/24 | | 18/33 | 19/06 |
| 40.5 | Colwyn Bay | 11/41 | 11/37 | | 18/19 | 18/52 |
| 44.6 | Llandudno Junction | 11.50a ~ 12.49d | 11.45 ~ 12.52 | | 17.07a ~ 18.10d | 17.30a ~ 18.40 |
| ? | North Llanrwst | 13.09 ~ 13.10 | 13/15 | | ? | 16.33 ~ 16.41 |
| ? | Betws-y-Coed | ? | 13/21 | | ? | ??.?? ~ 16.14 |
| ? | MP 19 | ? | 13.42a | | ? | ??.??d |
| ? | Blaenau Ffestiniog | 14.01a | DIV | | 15.54d | DIV |