24th January 1998
Pathfinder Tours
The Thames Valley Freighter
| | |
| --- | --- |
| Locos Used | 37379, 37403 & 37408 |
| Stock Used | 4902+5025+5030+5029+1863+5040+35453+3098+3112 |
Route :
1Z68 : Crewe to Morris Cowley
1Z69 : Morris Cowley to Crewe
| | |
| --- | --- |
| Loco(s) | Route |
| 37403 (1) | Crewe - Chester - Wrexham General - Gobowen - Shrewsbury - Telford Central - Wolverhampton - Dudley Port - Soho South Jn - Birmingham New Street - Proof House Jn - Birmingham International - Coventry - Rugby - (via WCML, Weedon) - London Euston |
| 37379 (2) | London Euston - Willesden West London Jn - Acton Wells Jn - Acton Main Line - Southall - Southall Traffic Centre |
| 37403 (3) | Southall Traffic Centre - Brentford Town Yard |
| 37379 (2) | Brentford Town Yard - Southall Traffic Centre - Slough - Reading - Didcot Parkway - (4) - Didcot North Jn - Kennington Down Goods Loop |
| 37403 (3) | Kennington Down Goods Loop - Morris Cowley |
| 37379 (2) | Morris Cowley - Kennington Up Goods Loop |
| 37403 (3) | Kennington Up Goods Loop - Didcot North Jn - (via avoiding curve) - Didcot East Jn - Reading (Up Goods Line) - Slough - Iver - (6) - West Drayton |
| 37379 (2) | West Drayton - Colnbrook Elf Oil Siding |
| 37403 (3) | Colnbrook Elf Oil Siding - West Drayton - Southall - Acton Main Line - Acton Wells Jn - Willesden West London Jn - London Euston |
| 37379 | London Euston - (WCML via Weedon) - Rugby |
| 37408 | Rugby - (reverse of outward route) - Chester (5) - Mickle Trafford Jn - Mouldsworth - Greenbank - Northwich West Jn - Northwich South Jn - Middlwwich - Sandbach - (5) Crewe |
Notes :
(1) Crewe to/from Euston also operated as "The London Experience". 37403 struggled all the way to Euston and a farce there with a brake problem on coach D meant the train left 80 minutes down.
(2) 37403 on rear.
(3) 37379 on rear.
(4) Booked to run to Foxhall Jn and reverse, taking the Foxhall Curve to Didcot North Jn. Plan abandoned as it had been decided earlier in the day that 37403 was on low power and the lack of reversal meant 37379 would lead out of Euston in the evening. The "problem" with 37403 was actually the sticking brakes on coach D and nothing to do with the loco! Guess also who went on the tour primarily for the Foxhall Curve :-(
(5) Was booked to run direct but last minute advice of engineering works forced a change of routing.
(6) Stuart Smith questions if the train used the Up Goods line from Iver to West Drayton?
Source : Gary Thornton (joined/left train at Birmingham New Street)



Tour Review
(by Gary Thornton)
At first glance this tour did not grab me as a "must do", but on closer inspection I did notice that it was going to do two bits of my required track - the Foxhall Curve and Thorney Mill to Colnbrook. Combined with the prospect of a single tractor along the WCML and I decided it was worth the ching to do this tour. A number of my colleagues were also tempted too, so at least I would have some company on the day.
As Birmingham International was not advertised as a pick-up point it was a case of dump the car, get a day return to New Street and see if any required traction could be got on the short hop. So there I was, stood on the platform as in rolled a Virgin service to London - complete with 87007 on the back - one of my 3 required Class 87's! No time to do it however and I had a choice of 323216 or 47826. I chose the latter, although one of my colleagues decided on the 323 as he required it (to save his embarrassment I'll not mention who he is...so don't worry David, your secrets safe with me...oops!)
Departure time from New Street was 0921 however by quarter past there was no trace of the train on the departure board nor any announcement made. The grapevine however came good and we had just walked down to platform 4 when the first announcement was made! D6607 (37403) "Ben Cruachan" duly arrived and we took our seats in the grandstand (well, first coach) for the WCML thrash.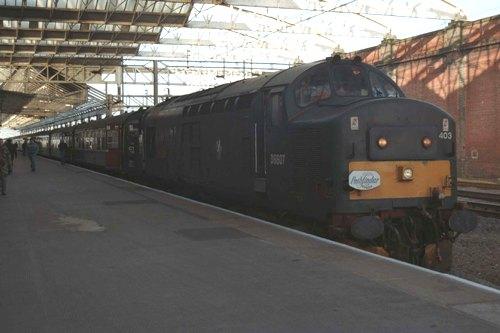 A pause at Rugby enabled a photo of 37403 (photo: Gary Thornton)
The bash to Euston was extremely entertaining and driver of '403 rarely shut off the power for more than a few seconds. Despite this we never seemed to get to a very fast speed and, combined with some quite tight timings, we ended up arriving some 25 minutes late into Euston. The only frustrating part of the journey was having a booked stop at Birmingham International for 10 minutes to allow a Silverlink County service past. To add insult to injury the same service was held for us further south as we went from the fast to slow lines!
The reason for our losing time despite the thrash was soon evident - the brakes had been dragging on coach D. To sort out this little problem took the combined resources of several fitters, a number of mobile phones and one very large crowbar. Whilst all this was going on our other tractor, 37379, was attached to the train. Time for a lot of photographs and rumours to start about abandoning the tour whilst lots of hammering and head scratching took place. Departure from Euston was finally achieved at 1322, 1 hour and 18 minutes behind schedule.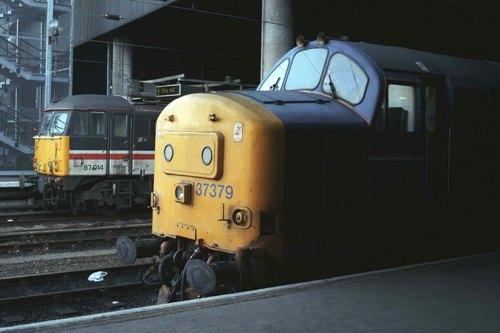 37379 at Euston, with 87014 for company (photo: Gary Thornton)
The Brentford branch was our first port of call, following a reversal at Southall. Our to and fro antics did give some opportunity to view the new Heathrow Express units, as several of them passed us. After Brentford we trundled off towards Didcot and my first bit of required track - the Foxhall Curve. We were stopped approaching Didcot then, as we headed through the station, the front of the train could be seen rounding the passenger curve towards Oxford (we were in the rear coach at this stage). So, the curve I wanted was not being done! It later transpired that this move was for two reasons. Firstly, to try to gain some time and secondly to reverse the train formation on return to Euston. A decision had been made that 37403 was low on power and as a result, 37379 would be used for the return WCML thrash.
Those who wanted the Morris Cowley branch were probably quite disappointed - we only made it as far as the entrance to the Rover complex and were dispatched on our way home again. The last time I did this branch we got a long way inside the works, so I was not too bothered.
By the time we got to West Drayton it was nearly 6pm and so the Colnbrook branch was traversed in the dark. At least we did get further than my last visit when that tour was turned round at Thorney Mill. We arrived back at Euston at 1857, just under an hour late. My first reaction on arrival back was just how empty the station was - every platform (except ours) was empty. It soon became clear that all was not well on the WCML. Various problems (broken rail, power off etc) in the Tring area meant that no trains had reached Euston for quite some time.
As we sat waiting to leave, various rumours circulated concerning our return journey - we would have 37379 as far as Rugby where 37408 would take over or our route would be via Oxford and Banbury to avoid the WCML chaos being two of them. In the event the former proved correct and we eventually departed at 1930, 50 minutes down. Coach A now being at the back of the train meant we had a very quiet journey back. As we passed Tring we did have the amusing site (for us at any rate) of train after train in the southbound direction stopped at signals due to the problems being experienced. There were some very bored looking people aboard some of those trains!
At Rugby we pulled up alongside the station platform (much to the disgust of several passengers who wanted to alight there!) as 37379 was exchanged for large-logo 37408 for the rest of the journey. At 2133 we sped through Birmingham International and arrived in New Street at 2141, still around 50 minutes down. Our next problem was getting back to International - most services having been cancelled as the trains were stuck in the Tring area! Eventually we escaped from New Street around 2215 on a Virgin West Coast service using loco 87029. The final indignation was having to scrape the ice off the car windows to get away from the station and head for home.
Verdict - despite the problems and changes made this was quite a reasonable tour. The highlight was undoubtedly the morning thrash along the WCML to Euston with 37403. For me, missing out the Foxhall Curve was the only real disappointment of the day.



Timings (Booked and Actual)
"The Thames Valley Freighter/London Experience";
M.C
Location
Booked
Actual
Booked
Actual
M.C
0.00
Crewe
06.05d
?
23.26a
?
219.02
1.41
Crewe Steelworks Jn
06/08
?
23/23
DIV
(see *** below)
217.41
10.60
Beeston Castle
06/18
?
23/16
208.22
21.10
Chester
06.29a ~ 06.31d
?
23.02a ~ 23.03d
?
197.72
23.01
Saltney Jn
06/37
?
22/58
?
196.01
33.25
Wrexham General
06.59a ~ 07.01d
?
22.42a ~ 22.44d
?
185.57
38.16
Ruabon
07.08a ~ 07.09d
?
22.32a ~ 22.34d
?
180.66
42.37
Chirk
07.15a ~ 07.16d
?
22.24a ~ 22.25d
?
176.45
45.41
Gobowen
07.23a ~ 07.24d
?
22.16a ~ 22.18d
?
173.41
63.45
Shrewsbury
07.45a ~ 07.50d
?
21.52a ~ 21.54d
?
155.37
73.70
Wellington Telford West
08.04a ~ 08.07d
?
21.37a ~ 21.39d
?
145.12
77.51
Telford Central
08.15a ~ 08.18d
?
21.29a ~ 21.31d
?
141.31
84.22
Cosford
08/25
?
21/22
?
134.60
92.62
Wolverhampton North Jn
08/40
?
21/13
?
126.20
93.25
Wolverhampton
08.44a ~ 08.56d
?
21.08a ~ 21.10d
?
125.57
98.65
Dudley Port
09/05
?
21/03
?
120.17
102.30
Galton Jn
09/11
?
21/00
?
116.52
104.08
Soho South Jn
09/15
?
20/58
?
114.74
106.09
Birmingham New Street
09.19a ~ 09.21d
09.20 ~ 09.24
20.50a ~ 20.54d
21.44 ~ 21.48
112.73
106.63
Proof House Jn
09/24
09/26
20/48
21/41
112.19
109.74
Stechford
09/32
09/30
20/43
21/37
109.08
114.27
Birmingham International
09*40a ~ 09*50d
09.38 ~ 09.47
20/36
21/33
104.55
125.03
Coventry
10/00
10/00
20/26
21.21a ~ 21.22d
93.79
136.42
Rugby
10.14a ~ 10.20d
10.13
20/15
20.53a ~ 21.08d
82.40
149.26
Weedon
10/32
10/35
19/53
20/41
69.56
162.35
Hanslope Jn
10/42
10/49
19/42
20/30
56.47
169.17
Milton Keynes Central
10/49
10/56
19/37
20/25
49.65
172.36
Bletchley
10/55
11/03
19/34
20/23
46.46
?
Ledburn Jn
11/00
11/14
19/26
20/16
?
187.29
Tring
11/08
11/23
19/19
20/10
31.53
201.47
Watford Junction
11/19
11/39
19/02
19/50
17.35
207.52
Harrow & Wealdstone
11/30
11/47
18/55
19/44
11.30
213.59
Willesden West London Jn
11/35
11/56
18/48
19/38
5.23
219.02
London Euston
11L46a
12.11
18L40d
19.30
0.00
*** Due to engineering works advised at the last moment, the train was re-routed between Chester and Crewe;
| M.C | Location | Booked | Actual |
| --- | --- | --- | --- |
| 197.72 | Chester | 23.03d | ? |
| 200.45 | Mickle Trafford Jn | 23/09 | ? |
| 204.74 | Mouldsworth | 23/15 | ? |
| 213.58 | Greenbank | 23/27 | ? |
| 215.03 | Northwich West Jn | 23/29 | ? |
| 215.32 | Northwich South Jn | 23/31 | ? |
| 220.22 | Middlewich | 23/44 | ? |
| 223.70 | Sandbach North Jn | 23/58 | ? |
| 228.36 | Sydney Bridge Jn | 00/02 | ? |
| 228.52 | Crewe | 00.05a | ? |
"The Thames Valley Freighter"...continued;
M.C
Location
Booked
Actual
0.00
London Euston
12L03d
13.22
5.23
Willesden West London Jn
12/10
13/37
6.59
Acton Wells Jn
12/16
13/41
7.31
Acton Main Line
12/20
13/48
8.10
Acton West
12/22
13/51
11.70
Southall East Jn
12/26
13/56
12.16
Southall
12/27
13/58
12.50
0.00
Southall Traffic Centre
12.29a ~ 12.37d
13.59 ~ 14.06
3.24
0.00
Brentford Town Yard
12.52a ~ 13.02d
14.24 ~ 14.27
3.24
Southall Traffic Centre
13.17a ~ 13.20d
14.42 ~ 14.44
3.41
Southall West Jn
13/25
14/46
?
Heathrow Airport Jn
13/27
14/50
12.20
Slough
13/34
14/56
18.03
Maidenhead
13/38
15/01
24.65
Twyford
13/43
15/06
29.62
Reading (Up Main Through)
13/48
15/13
46.50
Didcot East Jn
14/03
15/36
46.74
Didcot Parkway
14/04
15.36a ~ 15.40d
47.39
0.00
Foxhall Jn
14.06a ~ 14.14d
DIV
0.54
Didcot North Jn
14/17
15/43
8.20
0.00
Kennington Down Goods Loop
14.26a ~ 14.34d
15.53 ~ 15.55
3.62
0.00
Morris Cowley
14.45a ~ 14.55d
16.07 ~ 16.12
3.62
0.00
Kennington Up Goods Loop
15.07a ~ 15.22d
16.23 ~ 16.33
7.46
Didcot North Jn
15/31
16/42
8.53
Didcot East Jon
15/33
16/44
23.56
Scours Lane Jn
15/54
17/02
?
Reading West Jn (cross to UG)
?
17/04
25.33
Reading Up Goods Line
16/00
17/09
30.30
Twyford
16/05
17/14
37.12
Maidenhead
16/11
17/19
42.29
Slough West
16/16
17/25
42.75
Slough
16/18
17/26
43.71
Dolphin Junction
16/20
17/28
46.51
Iver Up Goods Line
16/23
17/33
48.14
0.00
West Drayton
16.32a ~ 16.40d
17.46 ~ 17.48
3.09
0.00
Colnbrook Elf Oil Siding
17.00a ~ 17.10d
18.03 ~ 18.08
3.09
0.00
West Drayton
17*30a ~ 17*34d
18.21 ~ 18.23
?
Heathrow Airport Jn
17/37
18/26
7.20
Southall
17/40
18/30
?
Ealing Broadway
?
18.35a ~ 18.38d
11.26
Acton West
17/46
18/41
12.05
Acton Main Line
17/48
18/42
12.57
Acton Wells Junction
17/52
18/44
14.13
Willesden West London Jn
18/00
18/47
19.36
London Euston
18L00a
18.57