15th November 1997
Pathfinder Tours
The Hardy Flyer
| | |
| --- | --- |
| Locos Used | at least 47766 & steam : 2968 & 7325 |
| Stock Used | set BN91 consisting: 99001+99002+1813+35469+3100+3110+3144+3131+80041+3133 |
Route : 1Z56 throughout
| | |
| --- | --- |
| Loco(s) | Route |
| 47766 | Wolverhampton - Dudley Port - Galton Jn - Soho East Jn - Perry Barr West Jn - Aston - Proof House Jn - Birmingham New Street - Soho South Jn - Galton Jn - Rowley Regis - Stourbridge Junction - Kidderminster - Droitwich Spa - Worcester Shrub Hill - Abbotswood Jn - Ashchurch - Cheltenham Spa - Standish Jn - Yate - Westerleigh Jn - Bristol Parkway - Filton Jn - Stapleton Road - Dr Days Jn - Bristol Temple Meads |
| 7325 + 2968 | Bristol Temple Meads - North Somerset Jn - Bath Spa - Trowbridge - Westbury - (via Frome avoiding line) - Castle Cary - Yeovil Pen Mill |
| 47766 | Yeovil Pen Mill - Dorchester West - Weymouth |
| 2968 + 7325 | Weymouth - (reverse of outward route) - Bristol Temple Meads |
| 47766 | Bristol Temple Meads - (reverse of outward route) - Wolverhampton |
Notes :
(1) 2968 was a substitute for 7802 'Bradley Manor'. It was claimed that this trip made 2968 the first LMS Mogul to depart from Weymouth.
Sources : Gordon Jakes (on the train throughout) & Guy Vincent



Photo Review
(all photos: Gordon Jakes)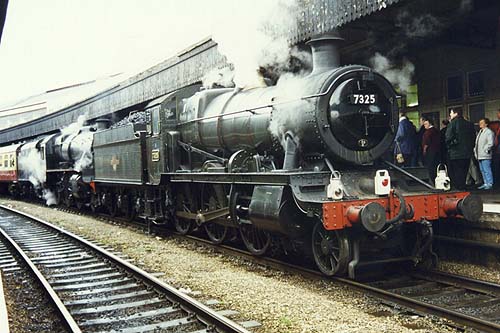 7325 & 2968 wait to depart from Bristol Temple Meads.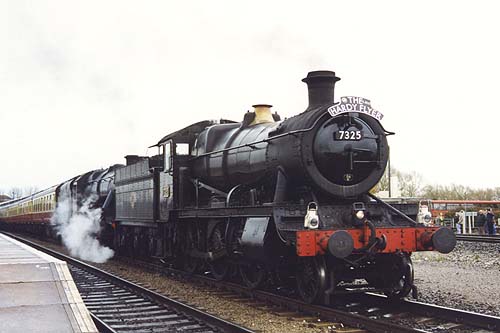 The pair, now complete with headboard, pause for water at Westbury.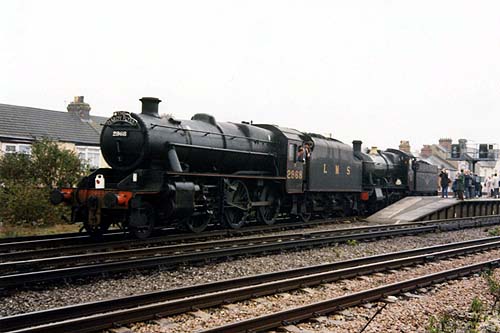 2968 & 7325 back onto the train at Weymouth, for the return leg to Bristol.


Timings (Booked & Actual)
(from Gordon Jakes)
| | | | | | | |
| --- | --- | --- | --- | --- | --- | --- |
| M.C | Location | Booked | Actual | | Booked | Actual |
| 0.00 | Wolverhampton | 06.03d | 06.03 | | 23.27a | ? |
| 5.40 | Dudley Port | 06/10 | ? | | 23/19 | ? |
| 9.08 | Galton Jn | 06/14 | ? | | 23/16 | ? |
| 10.32 | Soho North Jn | 06/15 | ? | | ? | ? |
| 10.56 | Soho East Jn | 06/17 | ? | | 23/11 | ? |
| 12.56 | Perry Barr West Jn | 06/20 | ? | | ? | ? |
| 13.16 | Perry Barr | 06/22 | ? | | 23/05 | ? |
| 14.64 | Aston | 06/27 | ? | | 23/00 | ? |
| 16.64 | Proof House Jn | 06/31 | ? | | 22/57 | ? |
| 17.40 | Birmingham New Street | 06.33a ~ 06.35d | ??.?? ~ 06.36 | | 22.53a ~ 22.54d | 22.53 ~ ??.?? |
| 19.40 | Soho South Jn | 06/41 | ? | | 22/48 | ? |
| 21.16 | Galton Jn | 06/43 | ? | | 22/47 | ? |
| 24.24 | Rowley Regis | 06/53 | ? | | 22/44 | 22/43 |
| 29.40 | Stourbridge Junction | 07.03a ~ 07.05d | 06.58 ~ 07.05 | | 22.31a ~ 22.33d | 22.32 ~ 22.33 |
| 36.24 | Kidderminster | 07.13a ~ 07.15d | 07.13 ~ 07.15 | | 22.18a ~ 22.20d | 22.19 ~ 22.20 |
| 39.72 | Hartlebury | 07/19 | ? | | 22/13 | ? |
| 45.56 | Droitwich Spa | 07/24 | ? | | 22/07 | ? |
| 51.40 | Worcester Shrub Hill | 07.33a ~ 07.35d | ??.?? ~ 07.35 | | 21.57a ~ 22.00d | 21.58 ~ 22.01 |
| 54.48 | Norton Jn | 07/41 | ? | | 21/51 | ? |
| 67.00 | Ashchurch | 07/52 | ? | | 21/40 | ? |
| 74.08 | Cheltenham Spa | 08.00a ~ 08.02d | 07.57 ~ 08.02 | | 21.30a ~ 21.32d | 21.32 ~ 21.36 |
| 79.48 | Barnwood Jn | 08/08 | ? | | ? | ? |
| 86.64 | Standish Jn | 08/14 | ? | | 21/16 | ? |
| 100.08 | Charfield | 08/24 | ? | | 21/03 | ? |
| 106.48 | Yate | 08/31 | 08/29 | | 20/57 | 21/06 |
| 108.21 | Westerleigh Jn | ? | ? | | ? | ? |
| 112.64 | Bristol Parkway | 08.39a ~ 08.42d | 08.37 ~ 08.42 | | 20.47a ~ 20.49d | ??.?? ~ 20.57 |
| 117.00 | Stapleton Road | 08/52 | ? | | 20/42 | ? |
| 117.72 | Dr Days Jn | 08/53 | ? | | 20/40 | ? |
| 118.40 | Bristol Temple Meads | 08L56a ~ 09L25d | 08.57 ~ 09.29 | | 20L00a ~ 20L37d | 20.30 ~ 20.45 |
| 118.64 | Bristol East Jn | 09/27 | ? | | 19/58 | ??.?? ~ ??.?? |
| 119.16 | North Somerset Jn | 09/30 | ? | | 19/56 | ? |
| 129.72 | Bath Spa | 09.48a ~ 09.50d | 09.46 ~ ??.?? | | 19.34a ~ 19.36d | ??.?? ~ 19.40 |
| 132.08 | Bathampton Jn | 09/56 | ? | | 19/29 | ??.?? ~ ??.?? |
| 141.08 | Bradford Jn | 10/10 | ? | | 19/14 | ? |
| 146.48 | Westbury | 10w22 ~ 11w16 | 10.28 ~ 11.16 | | 18w04 ~ 19w00 | 17.58 ~ 19.00 |
| 148.00 | Fairwood Jn | 11/20 | ? | | 17/54 | ? |
| 151.24 | Clink Road Jn | 11/26 | ? | | 17/49 | ? |
| 153.24 | Blatchbridge Jn | 11/28 | ? | | 17/46 | ? |
| 166.16 | Castle Cary | 11/48 | 11/41 | | 17/24 | 17/32 |
| 177.72 | Yeovil Pen Mill | 12L04 ~ 12L42 | 12.00 ~ 12.42 | | 17*05 ~ 17*08 | ? |
| 190.64 | Maiden Newton | 13*02 ~ 13*06 | 13.00 ~ 13.04 | | 16p28a ~ 16p24d | ??.?? ~ 16.43 |
| 198.32 | Dorchester West | 13.14 ~ 13.17 | ? | | 16/17 | 16/17 |
| 195.64 | Dorchester Jn | 13/18 | ? | | 16/16 | ? |
| 205.32 | Weymouth | 13.27a | 13.27 | | 16.01d | 16.02 |


Associated Light Engine Movements
47766 : Bristol Temple Meads to Veovil Pen Mill
47766 : Weymouth to Bristol Temple Meads