1st November 1997
Past-Time Rail
The Pilgrim Hoover
| | |
| --- | --- |
| Locos Used | 50031 'Hood' & 87101 'Stephenson' |
| Stock Used | 3133+80041+3131+3144+3110+3100+35469+1813+99002+99001+99000+4915 |
Route :
| | |
| --- | --- |
| Loco | Route |
| 87101 | London Euston - (via WCML, Northampton) - Rugby - Coventry - Birmingham International |
| 50031 | Birmingham International - Stechford - Proof House Jn - Birmingham New St - Selly Oak - Kings Norton - Stoke Works Jn - (direct route) - Abbotswood Jn - Cheltenham Spa - Bristol Parkway - Bristol Temple Meads - Bridgwater - Exeter St Davids - Plymouth |
| 50031 | Plymouth - (reverse of outward route) - Birmingham International |
| 87101 | Birmingham International - (reverse of outward route) - London Euston |
Notes :
First run for 50031 on the mainline since entering preservation. Tour originally named "The Pilgrim Hoovers" and was to have used 50031 & D444 but the latter was not certified in time.
Source : Gary Thornton (Joined/left train at Northampton)



Tour Review
(by Gary Thornton)
After two false starts this day dawned as the return to the mainline for another class of diesel - the Class 50. The previous attempts had both been cancelled due to lack of bookings so it had been fingers crossed that this one would run. For me I had the relative luxury of a local pick-up point (Northampton) although a very early departure time from London (05.50) still meant quite an early start!
So there I was at a little before 7am on my local station when in rolled 87101 'Stephenson' with set BN91, load 12. At least the solitary Hoover booked for the tour would have something to work with! Progress towards Birmingham was not exactly exciting but nevertheless we were on course to make International on time - at least we were, but then we were stopped for no apparent reason at Berkswell which meant we arrived around 15 minutes down at International for the loco change. 50031 was due to run light engine from Kidderminster and arrived shortly after we did, to cheers of approval from the assembled crowd. Soon coupled up, just time for a photo or two and we were off.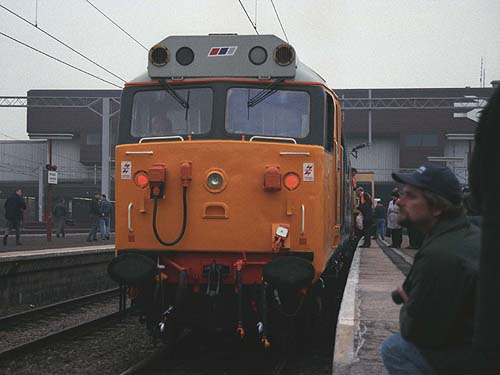 50031 eases onto the stock at International (photo: Gary Thornton)
Although restricted to 75mph, during the run down to the West Country full use was made of the speed limit. Photo stops at Bristol Temple Meads and Exeter gave everyone a chance to get all the photographs they wanted.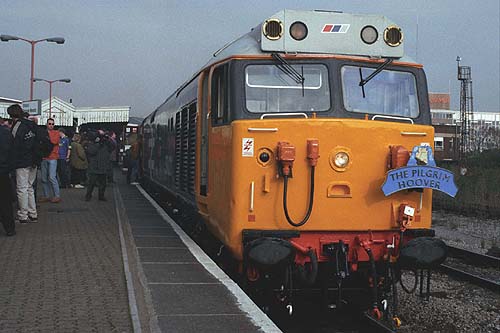 Looking good at Bristol Temple Meads (photo: Gary Thornton)
Out of Exeter and it was a fairly short run before being looped at Dawlish Warren to allow an HST to pass. The run along the seawall was enjoyed by all on board and there was certainly a good turn out of trackside photographers too. The excellent weather - bright and sunny - probably helped. The ascent of Dainton bank did test No.31 a bit and by the summit we were down to around 15 or 20mph. Rattery bank was attacked in style and even we could hear the Hoover doing its work, and we were towards the back of the train! All too soon and half our journey was completed as we rolled into Plymouth station.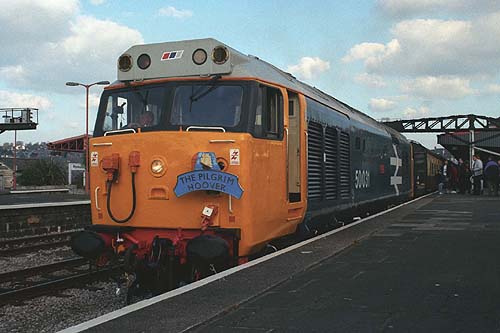 Blue sky over Plymouth - 50031 after arrival (photo: Gary Thornton)
We were only here for less than an hour - time to run 31 round, get a few photographs and back on the train. For the return leg I was seated towards the front of the train, so was looking forward to the thrash up Hemerdon bank and, later, the Lickey. The ascent of Hemerdon starts soon after passing Laira depot and I am sure all of us at the front enjoyed the sounds of 50031 working to pull the train over the bank!
On the run towards Totnes it was noticed that things in the leading coaches was starting to get rather lively - no, not the locomotive performance, but the performance of certain individuals who seemed to prefer consuming large quantities of alcohol and generally hurling verbal abuse amongst themselves, and anyone else in the vicinity - both on and off the train...
Good running through Exeter and onwards soon brought us to the Bristol suburbs. By this time the antics of some on board was causing others in the leading coaches to move back into other, quieter ones. Things sort of came to a head and, shortly after Bristol, one female member of the "lively brigade" took a distinct turn for the worse and, as a result, we had an unscheduled stop at Cheltenham where an ambulance was waiting to take her off. It was also noted that some police were present but this did not seem to do much to quieten down the more vocal amongst those on board. At this stage I too abandoned my seat near the front for a more peaceful time two or three coaches back.
Even from my new vantage point, the attack on Lickey bank was without doubt the highlight of the day. I am sure we could be heard for miles around and we even had our own firework display as clouds of exhaust and sparks were seen floating past the window! Yes, the bank did slow us down a bit, but there was no question that this 50 was capable of tackling the climb with 12 on.
Arrival at Birmingham was about 15 down (mainly due to the delay at Cheltenham) but here the British Transport Police turned out in some force and whatever events occurred at the front, it was not until 19.39 (43 late) that we eventually departed, complete with a BTP contingent on board! At International we dropped 50031 off in favour of 87101 - and we also said goodbye to our police escort. As No.31 headed back to Kidderminster the driver opened it up through the station to the salutes and cheers of many on the platform.
I eventually left the train at Northampton some three quarters of an hour later than booked time and had only around five minutes drive home, so even my arrival time home was pleasantly early compared to my usual off a railtour!
I should say this was an excellent tour from the point of view of locomotive performance, but somewhat marred by the behaviour of a minority who seemed not to care about the effect their antics may have on future railtours and the opinion people form of the rail enthusiast fraternity from seeing their "performance". I do hope that the girl taken off was alright but I also hope this incident might make some who were on board take a close look at their behaviour and its effect on other passengers. Most of us want to continue to enjoy "heritage traction" on the mainline for many years to come!
Gary Thornton.



Timings (Booked and Actual)
(from Gary Thornton)
M.C

Location

Booked
Actual
Booked
Actual

0.00
London Euston
05.50d
?
21.32a
?
5.65
Harrow and Wealdstone
06/04
?
21/15
?
17.35
Watford Junction
06.09a ~ 06.11d
?
21.02a ~ 21.04d
?
46.46
Bletchley
06/31
?
20/44
?
49.65
Milton Keynes Central
06.34a
?
20.40d
?
56.47
Hanslope Jn
06/42
?
20/33
?
65.68
Northampton
06.51a ~ 06.53d
06.52 ~ 06.54
20.10a ~ 20.24d
20.55 ~ 20.57
75.37
Long Buckby
07/02
07/07
20/00
20/45
84.67
Rugby
07/22
07.16a ~ 07.22d
??/??
20.32a ~ 20.34d
96.25
Coventry
07/30
07/34
19/40
20/23
107.02
Birmingham International
07L38a ~ 08L08d
07.53 ~ 08.13
19L10a ~ 19L32d
19.52 ~ 20.11
111.35
Stechford
08/18
08/19
19/04
19/47
114.46
Proof House Jn
08/22
08/22
19/00
19/42
115.20
Birmingham New Street
08.26a
08.25
18.57d
19/39
118.51
Selly Oak
08/42
08/41
18/44
19/02
120.65
Kings Norton
08/45
08/44
18/41
18/56
125.73
Barnt Green
09/02
08/49
18/28
18/51
129.36
Bromsgrove
09/05
08/52
18/22
18/44
131.49
Stoke Works Jn
09/08
08/54
18/20
18/42
142.66
Abbotswood Jn
09/18
09/04
18/11
18/33
153.53
Ashchurch
09/30
09/13
18/03
18/25
160.64
Cheltenham Spa
09/39
09/20
17/55
18.06a ~ 18.16d
166.27
Barnwood Jn
09/44
09/27
17/49
17/59
173.24
Standish Jn
09/51
?
17/42
17/52
186.49
Charfield
10/03
09/40
17/31
17/41
193.10
Yate
10/10
09/53
17/25
17/36
199.32
Bristol Parkway
10/28
10/01
17/17
17/26
203.51
Stapleton Road
10/32
10/07
17/12
17/18
204.48
Dr Day's Jn
10/33
10/10
17/10
17/16
205.14
Bristol Temple Meads
10.37a ~ 10.53d
10.23 ~ 10.54
17.04a ~ 17.08d
17.11 ~ 17.14
221.79
Worle Jn
11/12
11/15
16/43
16/52
224.72
Uphill Jn
11/14
11/18
16/41
16/50
232.14
Highbridge and Burnham
11/21
11/24
16/35
16/43
238.36
Bridgwater
11/27
11/30
16/29
16/37
244.78
Cogload Jn
11/33
11/36
16/24
16/31
250.01
Taunton
11/39
11/39
16/20
16/27
264.15
Tiverton Parkway
11/52
11/53
16/07
16/14
279.41
Cowley Bridge Jn
12/07
12/06
15/53
15/58
280.61
Exeter St Davids
12.14a ~ 12.31d
12.10 ~ 12.32
15/51
15/56
291.23
Dawlish Warren
12*44a ~ 12*55d
12.46 ~ 12.55
15/37
15/43
300.75
Newton Abbot
13/09
13/08
15/27
15/33
309.52
Totnes
13/20
13/20
15/16
15/21
322.08
Ivybridge
13/37
13/37
15/02
15/08
325.79
Hemerdon
13/42
13/42
14/58
15/01
331.24
Lipson Jn
13/48
13/47
14/50
14/53
332.64
Plymouth
13.51a
13.51
14.47d
14.49