30th August 1997
Pathfinder Tours
The York Cross
| | |
| --- | --- |
| Locos Used | 37012, 37185, 47749 & D9000 |
| Stock Used | 4938+4915+5005+17015+4956+4949+4998+3148+3150+3143+3127 |
Route :
1Z27 : Reading to York
1Z49 : York to Worcester Shrub Hill
| | |
| --- | --- |
| Loco(s) | Route |
| 47749 | Reading - Didcot Parkway - Swindon - Chippenham - Bath Spa - Bristol Temple Meads |
| D9000 | Bristol Temple Meads - Bristol Parkway - Cheltenham Spa - Abbotswood Jn - Worcester Shrub Hill - Stoke Works Jn - Kings Norton - Bordesley Jn - Water Orton - Kingsbury Jn - Burton-Upon-Trent - Derby - Chesterfield - Beighton Jn - Masborough Jn - Swinton - Moorthorpe - Pontefract Baghill - Church Fenton - York |
| D9000 | York - (ECML) - Kings Cross |
| 37012 + 37185 (1) | Kings Cross - Finsbury Park - Hornsey Slow Lines No.2 |
| D9000 (2) | Hornsey Slow Lines No.2 - Finsbury Park - Camden Road East Jn - Camden Jn - Willesden West London Jn - South West Sidings |
| 37012 + 37185 | South West Sidings - Acton Wells Jn - Acton Main Line - Reading - Didcot Parkway - Swindon - Chippenham - Bath Spa - Dr Days Jn - Bristol Parkway - Cheltenham Spa - Abbotswood Jn - Worcester Shrub Hill |
Notes :
(1) D9000 on rear.
(2) 37012 + 37185 on rear.
Source : Gary Thornton (Joined/left train at Didcot Parkway)



Tour Review
(Gary Thornton)
Following on from Pathfinders very successful trip to Penzance on August 23rd, we had only seven days to wait before leaving Bristol on another D9000 hauled charter train. Destination this time was York, returning via London. Highlights of the tour included the assault of Lickey incline and the requested non-stop run from York to Kings Cross.
As I arrived at Didcot station the large digital clock clicked over to 05.50, bringing back memories of a certain Kings Cross to Aberdeen service that was booked for a Deltic to Edinburgh right up to their final withdrawal. Indeed in the early 80's the service would often get one Deltic to Edinburgh and another to complete the journey to Aberdeen. I digress however, back to the plot.
Shortly after 6am and in rolled 47749 "Atlantic College" (for those of you still working in feet and inches, it was originally 47625) on load 12. I was hoping for my coach (A) to be at the rear of the train and was pleased to find that it was. This would give the cross country run added interest as we would be at the front on leaving Bristol. The run with the 47 was not much to write home about and we in fact turned an on-time Didcot departure into a 12 minute late arrival at Bristol. In the rain we watched the 47 being detached and then wandered to the other end of the train to await the arrival of RSG. It arrived a few minutes later but, for reasons unknown, we did not depart until 0810, 18 late.
Our late departure seemed to fire the crew into action and Filton bank was attacked in typical Deltic style of much smoke and noise and the run to Worcester was treated in similar fashion and, despite the minor inconvenience of pick-up stops at Bristol Parkway and Cheltenham, we rolled into Worcester Shrub Hill only 2 minutes behind plan. At Droitwich Spa (on time) we took the single line to Stoke Works Jn and once there (30mph at the junction) we turned out onto the main line and the start of the climb to Lickey Incline. Speed rose quickly and although I will admit the 2 miles of 1 in 37 did slow us a little, the Lickey did not prove much of an obstacle to D9000 (well, did you really think it would?).
The run through Birmingham was a bit stop and start but once past Saltley we had a fast and clear run to Derby which resulted in a 12 early arrival. A photostop had been arranged here so we had plenty of time to capture RSG from all angles.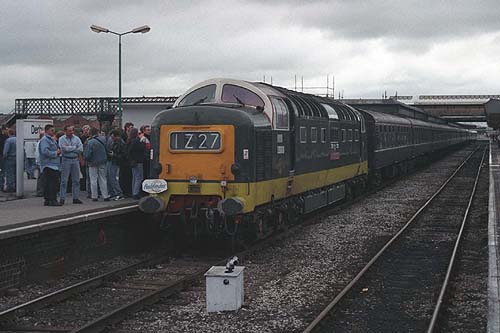 Somewhat dull conditions at Derby (photo: Gary Thornton)
Can't say I thought much of the other visiting trains during our stay, several HST's and a few sprinters. I much preferred Derby in the days of 45's, 46's on passenger services and 20's on the freight workings. On a good day a 44 or two might also be sighted and even, on odd occasions, a class 40. Sorry, I'm digressing again...
Nothing too exiting on the run from Derby to York, but there was a big cheer in our coach as we passed by Booths scrapyard at Rotherham where, amongst the debris, were a class 56 and several 50's. As we passed Ferrybridge we also saw all six class 59/2's on shed along with a Network SE liveried "bubble car" - now what was that doing there? Arrival at York, where we had a break for about two and a half hours, was close to time.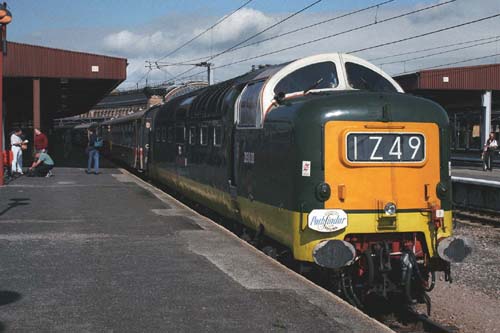 Nicer weather at York (photo: Gary Thornton)
Now came the "classic" Deltic run from York to Kings Cross, requested by the organisers to be non-stop. Speed rose quickly after leaving York and we kept a very respectable pace until just short of Doncaster when the brakes came on. Although much slowed, we were not actually stopped and were soon back at high speed as we swept away past the yards south of the station. Very soon and we were tearing through Peterborough (by now 14 minutes ahead of plan) with London drawing ever nearer. At St. Neots we were turned onto the slow to allow a class 91 to pass and at Sandy we very nearly stopped, waiting the road back onto the fast. South of Welwyn Viaduct and we got routed back to the slow on which we stayed for the rest of the journey. Towards Finsbury Park and another close shave waiting for a signal to clear then, in Copenhagen Tunnel and less than a mile from Kings Cross, we came to a stand, waiting for the road across to platform 1 to clear! Cries of "refund", "failed" etc were heard in our coach at this point.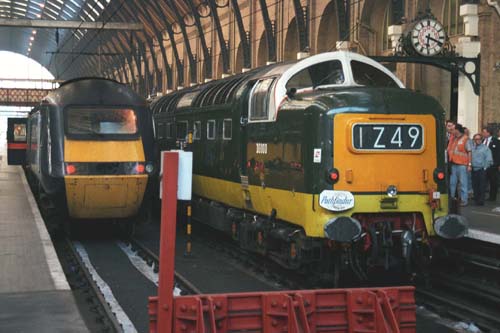 At the stops, Kings Cross (photo: Gary Thornton)
A break at The Cross whilst the somewhat tatty 37012 and 37185 were added and for the next two hours we entered the railway equivalent of the Bermuda Triangle (even the tour itinerary gave no timings over part of the route).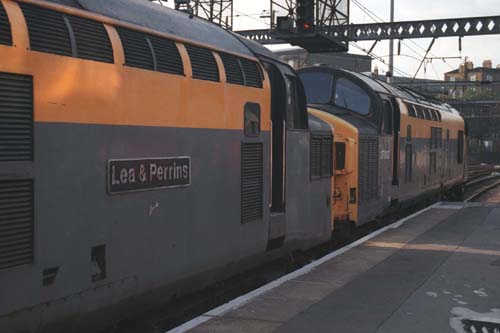 The 37's at Kings Cross (photo: Gary Thornton)
Out of Kings Cross as far as Hornsey where we reversed and, using the Ferme Park Flyover, headed back towards Kings Cross. As we exited Copenhagen Tunnel we took the North London Incline to join the North London Line at Camden Road, the 37's (now at the rear) helping shove RSG around the curve. The line through the former Primrose Hill station was traversed and we joined the WCML for the short run to Willesden. By the time we left Primrose Hill tunnel we were motoring and even our coach, the last one, was full of exhaust smoke courtesy of D9000! Branching off at Willesden we paused in South West Sidings whilst RSG was removed and the 37's ran round to the front of the train. We eventually passed Acton West Jn, by now "dark o'clock" and some 25 minutes late, having taken an hour and 45 minutes to cover about 13 miles...
The run to Reading and Didcot went very quickly (I suspect in part due to the class 37's performance) which saw us only 15 down by Didcot. On arrival I said farewell to my travelling companions and walked back to the car with the sound of the "tractors" still audible some five minutes after departure! Another excellent tour completed (well, for me at least, those going back to Worcester still had nearly three hours on board).
Gary Thornton



Timings (Booked & Actual)
(from Gary Thornton/Nigel Rollings)
M.C
Location
Booked
Actual
0.00
Reading
05.55d
05.55
17.12
Didcot Parkway
06.13a ~ 06.15d
06.11 ~ 16.16
30.41
Uffington
06/27
06/28
41.25
Swindon
06.36a ~ 06.38d
06.38 ~ 06.41
47.09
Wootton Bassett Jn
06/44
06/56
57.78
Chippenham
06.53a ~ 06.55d
07.04 ~ 07.06
60.12
Thingley Jn
06/58
07/10
68.57
Bathampton Jn
07/05
07/17
70.73
Bath Spa
07.08a ~ 07.10d
07.20 ~ 07.23
81.48
North Somerset Jn
07/22
07/33
82.28
0.00
Bristol Temple Meads
07L24a ~ 07L52d
07.36 ~ 08.10
0.46
Dr Days Jn
07/55
08/13
4.43
Filton Jn
07/59
08/17
5.62
Bristol Parkway
08.10a ~ 08.13d
08.19 ~ 08.21
10.32
Westerleigh Jn
08/20
08/27
11.55
Yate
08/22
08/31
18.45
Charfield
08/28
08/36
31.70
Standish Jn
08/39
08/44
38.00
Gloucester Yard Jn
08/44
08/49
38.67
Barnwood Jn
08/45
08/50
44.30
Cheltenham Spa
08.51a ~ 08.54d
08.56 ~ 08.59
51.41
Ashchurch
09/01
09/06
62.28
Abbotswood Jn
09/11
09/14
63.10
Norton Jn
09/13
09/15
66.15
Worcester Shrub Hill
09.18a ~ 09.21d
09.20 ~ 09.24
71.74
Droitwich Spa
09/32
09/32
76.09
Stoke Works Jn
09/38
09/39
78.22
Bromsgrove
09/41
09/42
81.65
Barnt Green
09/46
09/47
86.73
Kings Norton
09/53
09/54
92.08
Bordesley Jn
09/59
10/04
92.34
St Andrews Jn
10/00
10/05
92.72
Landor Street Jn
10/06
10/06
98.78
Water Orton
10/12
10/12
102.73
Kingsbury Jn
10/16
10/15
108.54
Tamworth HL
10/20
10/18
116.02
Wichnor Jn
10/26
10/24
121.45
Burton-on-Trent
10/31
10/27
127.62
Stenson Jn
10/40
10/34
132.46
Derby
10p51a ~ 11p29d
10.39 ~ 11.30
142.39
Ambergate Jn
11/39
11/41
152.47
Clay Cross South Jn
11/48
11/48
156.57
Chesterfield
11/53
11.52a ~ 11.55d
166.05
Beighton Jn
12/05
12/05
172.61
Masborough Jn
12/13
12/14
175.05
Aldwarke Jn
12/16
12/17
177.16
Swinton
12/18
12/18
185.07
Moorthorpe
12/25
12/24
192.05
Pontefract Baghill
12/32
12/31
198.18
Milford Jn
12/39
12/39
202.47
Church Fenton
12/44
12/43
207.64
Colton Jn
12/47
12/50
213.25
York
12.53a ~ 15.32d
12.56 ~ 15.33
218.66
Colton Jn
15/39
15/40
226.70
Hambleton North Jn
15/45
15/45
232.49
Temple Hirst Jn
15/50
15/49
241.49
Shaftholme Jn
15/59
15/55
245.68
Doncaster
16/03
16/00
249.65
Loversall Carr Jn
16/06
16/04
263.16
Retford
16/15
16/13
281.57
Newark North Gate
16/29
16/26
292.05
Barkston South Jn
16/38
16/32
296.23
Grantham
16/42
16/35
302.26
Stoke Jn
16/47
16/41
316.79
Tallington Jn
17/01
16/51
325.34
Peterborough
17/12
16/58
334.58
Connington South Jn
17/18
17/05
342.73
Huntingdon
17/25
17/11
357.53
Sandy
17/36
17/26
369.69
Hitchin
17/45
17/38
374.18
Stevenage
17/48
17/42
377.72
Woolmer Green Jn
17/51
17/45
381.40
Welwyn Garden City
17/54
17/48
389.09
Potters Bar
17/59
17/54
396.69
Alexandra Palace
18/04
18/01
399.24
Finsbury Park
18/08
18/05
401.65
0.00
Kings Cross
18L10a ~ 18L48d
18.14 ~ 18.50
1.43
Holloway South Jn
18/51
18/53
2.41
Finsbury Park
18/55
18/56
4.04
0.00
Hornsey Slow Lines No.2
19.00a ~ 19.15d
19.00 ~ 19.15
1.43
Finsbury Park
19/25
19/23
3.20
Freight Terminal Jn
19/30
19/27
3.54
Camden Road East Jn
19/33
19/36
3.79
Camden Road Jn
?
19/50
4.65
Camden Jn
19/40
19/53
8.38
Willesden WL Jn
19/47
20/01
9.08
0.00
South West Sidings
19L49a ~ 20L09d
20.03 ~ 20.32
0.66
Acton Wells Jn
20/11
20/35
1.38
Acton Main Line
20/19
20/38
2.17
Acton West
20/21
20/43
6.23
Southall
20/25
20/47
?
Airport Jn
20/28
?
15.53
Slough
20/34
20/53
21.36
Maidenhead
20/39
20/57
28.18
Twyford
20/45
21/01
33.15
Reading
20.51a ~ 20.53d
21.07 ~ 21.10
50.03
Didcot East Jn
21/08
21/24
50.27
Didcot Parkway
21.09a ~ 21.16d
21.25 ~ 21.27
50.72
Foxhall Jn
21/20
?
?
Challow
21/31
?
63.56
Uffington
21/33
21/39
74.40
Swindon
21.44a ~ 21.46d
21.47 ~ 21.49
80.24
Wootton Bassett Jn
21/52
21/56
91.13
Chippenham
22.01a ~ 22.03d
?
93.22
Thingley Jn
22/06
?
101.68
Bathampton Jn
22/16
22/19
104.04
Bath Spa
22.19a ~ 22.21d
22.22 ~ 22.25
114.59
North Somerset Jn
22/33
?
115.06
Dr Days Jn
22/35
22/37
116.01
Stapleton Road
22/37
22/38
119.01
Filton Jn
22/40
22/43
120.20
Bristol Parkway
22.43a ~ 22.45d
22.44 ~ 22.48
124.70
Westerleigh Jn
22/51
22/53
126.33
Yate
22/53
?
133.03
Charfield
22/59
23/02
146.22
Standish Jn
23/09
23/11
153.08
Gloucester Yard Jn
23/15
?
153.75
Barnwood Jn
23/16
23/16
159.38
Cheltenham Spa
23.22a ~ 23.24d
23.22 ~ 23.25
166.49
Ashchurch
23/31
?
177.36
Abbotswood Jn
23/41
23/39
178.18
Norton Jn
23*43a ~ 23*49d
?
181.23
Worcester Shrub Hill
23.55a
23.47