12th July 1997
Hertfordshire Rail Tours
The Dungeness Pebbledasher
| | |
| --- | --- |
| Locos Used | 37402 'Bont Y Bermo', 37688, 47761, 92030 'Ashford' & 92038 'Voltaire' |
| Stock Used | 4938+4915+5005+17015+1853+4956+4939+4959+4998+3148 |
Route :
1Z92 : Finsbury Park to Dungeness
1Z93 : Dungeness to Finsbury Park
| | |
| --- | --- |
| Loco(s) | Route |
| 37688 | Finsbury Park - Holloway South Jn - Camden Road East Jn - Kentish Town West - Gospel Oak - Kensal Green Jn - Harlesden Jn - Willesden HL (2) - Mitre Bridge Jn - Kensington Olympia |
| 92030 (2) | Kensington Olympia - Latchmere Jn - Longhedge Jn - Factory Jn - Brixton - Beckenham Jn - Shortlands Jn - Bickley Jn - St Mary Cray Jn - Swanley - Otford - Kemsing - Maidstone East - Ashford International |
| 37688 (3) | Ashford International - Appledore - Lydd Town - Dungeness |
| 37402 (4) | Dungeness - Lydd Town - Appledore - Ashford International |
| 92038 (5) | Ashford International - Paddock Wood - Tonbridge - Seven Oaks - Otford Jn - Swanley - Bickley Jn - Shortlands Jn - Nunhead - Denmark Hill - Factory Jn - Longhedge Jn - Latchmere Jn - Kensington Olympia - Mitre Bridge Jn - West London Jn - Wembley EFOC |
| 47761 | Wembley EFOC - Willesden HL Sidings - Harlesden Jn - (reverse of outward route) - Finsbury Park |
Notes :
(1) This was the first advertised and booked use of class 92's on a passenger train.
(2) original booked route was :
class 37 : Harlesden Jn - Willesden HL Sidings - Wembley EFOC
class 92 : Wembley EFOC - West London Jn - Mitre Bridge Jn
...however a major failure of an electricity substation on the WCML resulted in it not being possible to use the class 92 in the Wembley area (part of the safety case active at the time). The alternative plans had the 92 working from/to Kensington Olympia, but in the event the train did make it back to Wembley with the class 92 on the return leg.
(2) plus 37688 in tow.
(3) 37402 on rear.
(4) 37688 on rear.
(5) plus 37402 in tow.
Sources : Gary Thornton (on train throughout) & Alan Sheppard



Photo Review
(all photos: Gary Thornton)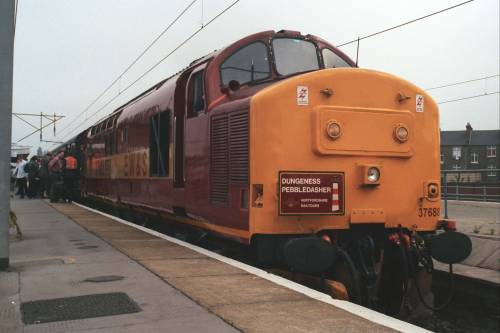 37688 waits to lead away from Finsbury Park at the start of the day.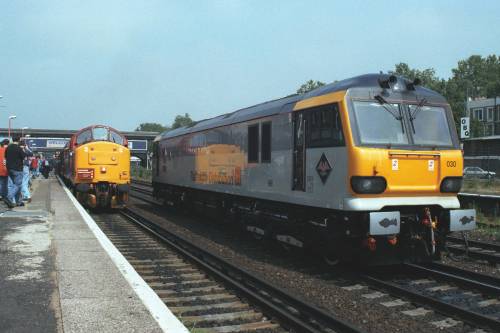 92030 was particularly clean for it's task of becoming the first class 92 on a
booked passenger train working. 37688 waits for the 92 to couple on the
front at Kensington Olympia.

Almost ready to depart from Kensington Olympia, but not until everyone has
got their own 'unique' photograph of the event!


Timings (Booked & Actual)
(from Gary Thornton)
| | | | |
| --- | --- | --- | --- |
| M.C | Location | Booked | Actual |
| 0.00 | Finsbury Park | 10.14d | 10.17 |
| 0.78 | Holloway South Jn | 10/22 | ? |
| 1.57 | Freight Terminal Jn | 10/27 | 10/21 |
| 2.11 | Camden Road East Jn | 10/31 | 10/25 |
| 2.36 | Camden Road Jn | 10/33 | 10/27 |
| 3.47 | Gospel Oak | 10/37 | 10/31 |
| 7.54 | Kensal Green Jn | 10/45 | 10/44 |
| 8.54 | Harlesden Jn | 10/50 | DIV |
| 9.15 | Willesden HL Sidings | 10/53 | DIV |
| ? | Willesden Junction HL | DIV | 10/46 |
| 9.58 | Wembley EFOC | 10L59 ~ 11L35 | DIV |
| 11.49 | West London Jn | 11/48 | DIV |
| 11.78 | Mitre Bridge Jn | 11/50 | 10/48 |
| 12.35 | North Pole Jn | 11/51 | 10/49 |
| 14.23 | Kensington Olympia | 11.55a ~ 12.00d | 10L56 ~ 12L02 |
| 17.06 | Latchmere Jn | 12/05 | 12/07 |
| 17.71 | Longhedge Jn | 12/07 | 12/09 |
| 18.30 | Factory Jn | 12/09 | 12/10 |
| 18.54 | Voltaire Road Jn | 12/11 | 12/11 |
| 19.63 | Brixton | 12/13 | 12/14 |
| 20.45 | Herne Hill | 12/17 | 12/16 |
| ? | Kent House DPL [P4] | ? | 12/23 |
| 25.22 | Beckenham Junction | 12/24 | 12/24 |
| 26.26 | Shortlands Jn | 12/26 | 12/26 |
| 29.07 | Bickley Jn | 12/30 | 12/30 |
| 29.66 | St Mary Cray Jn | 12/31 | 12/31 |
| 34.00 | Swanley | 12/36 | 12/36 |
| 41.22 | Otford Jn | 12/45 | 12/46 |
| 46.15 | Borough Green (DPL) | 12/52 | 12/53 |
| 56.45 | Maidstone East (reversible) | 13/07 | 13/12 |
| ? | Lenham (DPL) | ? | 13/25 |
| 75.66 | Ashford International [P2] | 13L28a ~ 14L00d | 13.36 ~ 14.00 |
| 84.27 | Appledore | 14/16 | 14.22 ~ 14.31 |
| 91.28 | Lydd Town | 14.45a ~ 14.55d | 14/59 |
| 93.38 | Dungeness | 15.00a ~ 15.10d | 15.06 ~ 15.11 |
| 95.48 | Lydd Town | 15.15a ~ 15.25d | 15/19 |
| 102.49 | Appledore | 15/55 | 15/50 |
| 111.10 | Ashford International [P2] | 16L10a ~ 16L46d | 16.08 ~ 16.46 |
| 121.79 | Headcorn (UGL) | 16/58 | 16/59 |
| 132.34 | Paddock Wood (UM) | 17/08 | 17/08 |
| 137.57 | Tonbridge (UF) | 17/12 | 17/12 |
| 145.10 | Sevenoaks | 17/22 | 17/22 |
| 147.26 | Otford Jn | 17/29 | 17/29 |
| 154.48 | Swanley | 17/40 | 17/39 |
| 159.41 | Bickley Jn | 17/45 | 17/46 |
| 162.22 | Shortlands Jn | 17/51 | 17/51 |
| 167.11 | Nunhead | 17/57 | 17.56 ~ 18.02 |
| 168.21 | Crofton Road Jn | 17/59 | 18/05 |
| 168.66 | Denmark Hill | 18/00 | 18/06 |
| 170.76 | Voltaire Road Jn | 18/04 | 18/10 |
| 171.20 | Factory Jn | 18/05 | 18/11 |
| 171.59 | Longhedge Jn | 18/08 | 18/12 |
| 172.44 | Latchmere Jn | 18/15 | 18.14 ~ 18.16 |
| 175.27 | Kensington Olympia | 18.20a ~ 18.22d | 18.22 ~ 18.26 |
| 177.15 | North Pole Jn | 18/25 | 18/31 |
| 177.52 | Mitre Bridge Jn | 18/27 | 18/34 |
| 178.01 | West London Jn | 18/30 | 18/35 |
| 179.72 | Wembley EFOC | 18L39 ~ 19L16 | 18.45 ~ 19.05 |
| 180.35 | Willesden HL Sidings | 19/22 | 19/12 |
| 180.76 | Harlesden Jn | 19/26 | 19/13 |
| 181.76 | Kensal Green Jn | 19/30 | 19/16 |
| 186.03 | Gospel Oak | 19/45 | 19/24 |
| 187.14 | Camden Road Jn | 19/48 | 19/26 |
| 187.39 | Camden Road East Jn | 19/51 | 19/28 |
| 187.73 | Freight Terminal Jn | 20/00 | 19/31 |
| 189.50 | Finsbury Park | 20.20a | 19.39 |