5th July 1997
Past Time Rail
The Napier & Sulzer Pioneer
| | |
| --- | --- |
| Locos Used | Class 46 D172 & Class 55 D9000 |
Route :
1Z54 : Euston to Scarborough
1Z?? : Scarborough to Euston
| | |
| --- | --- |
| Loco | Route |
| D9000 | London Euston - (WCML via Northampton & Trent Valley) - Crewe |
| D172 | Crewe - Sandbach - Wilmslow - Cheadle Hulme - Stockport - Heaton Norris Jn - Denton Jn - Guide Bridge - Stalybridge - Marsden - Huddersfield - Mirfield - Horbury Jn - Wakefield Kirkgate - Altofts Jn - Castleford - Milford Jn - Church Fenton - York - Malton - Scarborough |
| D172 | Scarborough - (reverse of outward route) - Crewe |
| D9000 | Crewe - (reverse of outward route) - London Euston |
Notes :
(1) Return headcode is unconfirmed though the locos both ran with 1Z54 displayed, the same as on the outward leg however confirmation is required if this was correct.
Sources : Gary Thornton (joined/left train at Milton Keynes Central) & Solomon Riley



Tour Review
(by Gary Thornton)
Another Saturday and yet another chance to sample mainline Deltic haulage - we'd never had it so good! This particular tour also had the added bonus of featuring not one but two "preserved" locomotives as Pete Waterman's D172 'Ixion' was also booked to take part. The plan was relatively simple but a winner nonetheless - Deltic D9000 from Euston to Crewe (and return) with D172 from Crewe over the Pennines to Scarborough & back.
Having had D9000 out of Euston back in March on what was the first time a production Deltic had ever departed this London terminus I chose a slightly lazier start this time and drove down to Milton Keynes Central where an 8.30am pick-up was in prospect. Time enough when I arrived to photograph a few other trains including a mark 3 DVT in the relatively new Virgin Trains red livery.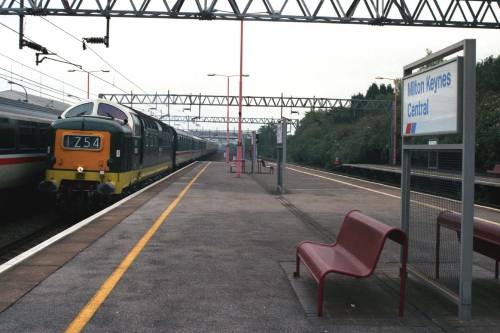 D9000 pulls into Milton Keynes Central (photo: Gary Thornton)
D9000 duly rolled into Milton Keynes just a few minutes down and a reasonable run to Crewe was enjoyed, via the Northampton loop and my home station (shame it wasn't booked to pick up there...).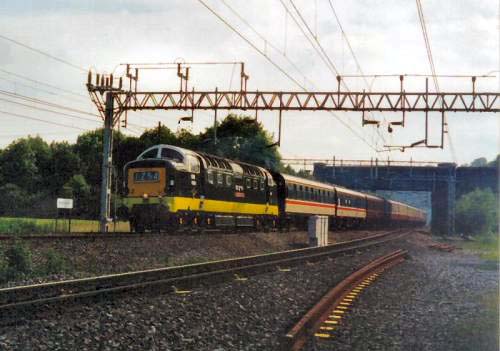 D9000 passes Milford & Brocton on the outward leg (photo: Jonathan Wilcox)
At Crewe we bade farewell to RSG and hello to Ixion - here I have to admit I'm rather embarrassed to own up to D172 being a required haulage! D172 duly appeared, pretending to be a steam loco with a support coach intact. Don't remember much about the trip to Scarborough but in addition to scooping Ixion for haulage I also scooped Pete Waterman for sight as he was now on board the train!
A protracted shunt ensued at Scarborough to get the support coach to the other end of the train (why bother?) then there was time to get a few photographs before we departed.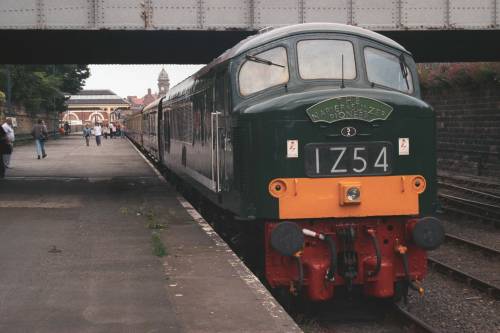 D172 waits to leave Scarborough for Crewe (photo: Gary Thornton)
At Crewe, in the last rays of the evening sun, D172 handed the train back to D9000.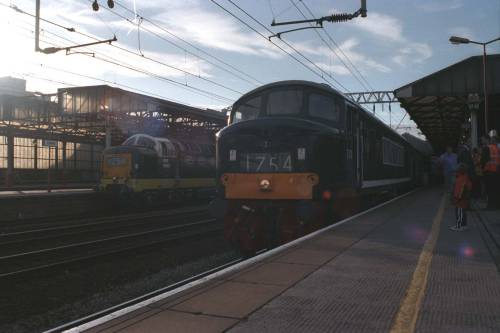 D172 & D9000 share the last of the days sun at Crewe (photo: Gary Thornton)
The run home was the reverse of outward, again via Northampton but this time we were pathed into the platform to allow a couple of expresses past. So, the first ever production Deltic to stop at my home station of Northampton...I couldn't let the opportunity of a photo of the event pass me by. Got a semi-rant from a steward for getting off for the photo but with a green signal on the centre road and us with a red I was unlikely to get left behind. Anyway, other than the minor inconvenience of my car being at Milton Keynes, I was less than two miles from home so what if I had managed to get myself left behind?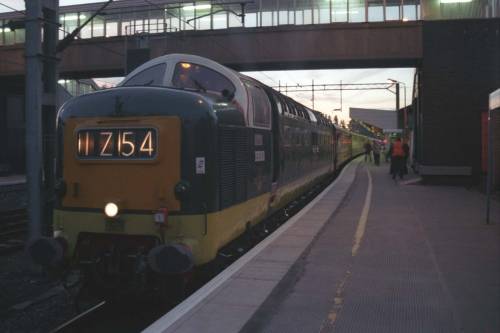 First ever production Deltic to stop at Northampton! (photo: Gary Thornton)
Verdict: another good day out with "preserved" traction, may there be many more of them!
Gary Thornton.



Timings (Booked & Actual)
| | | | | | | | |
| --- | --- | --- | --- | --- | --- | --- | --- |
| M.C | Location | Booked | Actual | | Booked | Actual | M.C |
| 0.00 | Euston | 07.28d | 07.29 | | 23.24a | 23.18 | 590.68 |
| 11.30 | Harrow & Wealdstone | 07/41 | 07/40 | | 23/13 | 23/03 | 579.38 |
| 17.35 | Watford Junction | 07.48a ~ 07.50d | 07.46 ~ 07.48 | | 22.50a ~ 22.52d | 22.50 ~ 22.54 | 573.33 |
| 46.46 | Bletchley | 08/24 | 08/29 | | 22/27 | 22/24 | 544.22 |
| 49.65 | Milton Keynes Central | 08.27a ~ 08.29d | 08.35 ~ 08.38 | | 22.18a ~ 22.20d | 22.19 ~ 22.21 | 541.03 |
| 56.47 | Hanslope Jn | 08/38 | 08/45 | | 22/13 | 22/11 | 534.21 |
| 65.68 | Northampton | 08/47 | 08/55 | | 21*54a ~ 22*02d | 21.47 ~ 22.01 | 525.00 |
| 84.67 | Rugby | 09/09 | 09/14 | | 21/34 | 21/24 | 506.01 |
| 99.37 | Nuneaton | 09.21a ~ 09.23d | 09.31 ~ 09.33 | | 21.14a ~ 21.16d | 21.08 ~ 21.10 | 491.31 |
| 112.39 | Tamworth | 09/35 | 09/49 | | 21/03 | 20/58 | 478.29 |
| 118.50 | Lichfield Trent Valley | 09.41a ~ 09.43d | 09.54 ~ 09.55 | | 20.54a ~ 20.56d | 20.48 ~ 20.51 | 472.18 |
| 129.35 | Colwich Jn | 09/54 | 10/06 | | 20/44 | 20/39 | 461.33 |
| ? | Stafford | 09/59 | 10/11 | | 20/39 | 20/32 | 454.78 |
| 141.19 | Norton Bridge | 10/05 | 10/16 | | 20/30 | 20/26 | 449.49 |
| 152.21 | Madeley | 10/15 | 10/24 | | 20/16 | 20/17 | 438.47 |
| 160.27 | Crewe | 10L26a ~ 10L48d | 10.33 ~ 10.52 | | 19L45a ~ 20L05d | 19.52 ~ 20.08 | 430.41 |
| 161.23 | Sydney Bridge Jn | 10/51 | 10/54 | | 19/43 | 19/48 | ? |
| 164.77 | Sandbach | 10/57 | 11/00 | | 19/36 | 19/44 | 425.71 |
| 177.48 | Alderley Edge | 11/11 | 11/11 | | 19/25 | 19/35 | 413.20 |
| 179.12 | Wilmslow | 11/12 | 11/13 | | 19/23 | 19/33 | 411.56 |
| 183.07 | Cheadle Hulme | 11/18 | 11/18 | | 19/18 | 19/30 | 407.61 |
| 185.28 | Stockport | 11c21a ~ 11c23d | 11.23 ~ 11.24 | | 19/15 | 19/26 | 405.40 |
| 186.03 | Heaton Norris Jn | 11/25 | 11/28 | | ? | ? | ? |
| 190.13 | Denton Jn | 11/31 | 11/36 | | ? | ? | ? |
| 191.00 | Guide Bridge | 11/33 | 11/38 | | 19/05 | 19/12 | 399.68 |
| 193.23 | Stalybridge | 11/40 | 11/44 | | 18c55a ~ 18c57d | 19.02 ~ 19.06 | 397.45 |
| 198.17 | Greenfield | 11/47 | 11/53 | | 18/48 | 18/54 | 392.51 |
| 200.30 | Diggle Jn | 11/50 | 11/56 | | 18/46 | 18/51 | 390.38 |
| 204.25 | Marsden | 11/54 | 12/00 | | 18*31a ~ 18*41d | 18.38 ~ 18.45 | 386.43 |
| 211.31 | Huddersfield | 11/59 | 12/07 | | 18/21 | 18/25 | 379.37 |
| 214.49 | Heaton Lodge East Jn | 12/03 | 12/11 | | 18/15 | 18/20 | 376.19 |
| 216.28 | Mirfield East Jn | 12/09 | 12/14 | | ? | ? | ? |
| 217.71 | Thornhill LNW Jn | 12/11 | 12/15 | | 18/09 | 18/15 | 372.77 |
| 223.34 | Horbury Jn | 12/21 | 12/21 | | 17/59 | 18/05 | 367.34 |
| 225.58 | Wakefield Kirkgate | 12/26 | 12/24 | | 17/55 | 18/00 | 365.10 |
| 229.51 | Altofts Jn | 12/30 | 12/29 | | 17/57 | 17/54 | 361.17 |
| 232.29 | Castleford | 12/34 | 12/35 | | 17/44 | 17/49 | 358.39 |
| 238.21 | Milford Jn | 12/40 | 12/43 | | 17/38 | 17/42 | 352.47 |
| 242.50 | Church Fenton | 12/44 | 12/46 | | 17/34 | 17/38 | 348.18 |
| 247.67 | Colton Jn | 12/48 | 12/47 | | 17/29 | 17/33 | 343.01 |
| 253.28 | York | 12.54a ~ 13.02d | 12.58 ~ 13.04 | | 17.20a ~ 17.23d | 17.24 ~ 17.26 | 337.40 |
| 274.40 | Malton | 13/26 | 13/36 | | 16/52 | 16/57 | 316.28 |
| 292.45 | Seamer | 13/44 | 13/51 | | 16/36 | 16/40 | 298.23 |
| 295.34 | Scarborough | 13.49a | 13.55 | | 16.30d | 16.35 | 295.35 |