15th February 1997
33111 Charters
The Robin Reliant
| | |
| --- | --- |
| Locos Used | 33051, 33116 & 56066 |
Route :
| | |
| --- | --- |
| Loco | Route |
| 33051 + 33116 | Kings Cross - (via ECML) - Grantham - Nottingham Branch Jn - Allington Jn - Bottesford West Jn - Bingham - Netherfield Jn - Nottingham - Mansfield Jn - Radford Jn - Bestwood Park Jn - Hucknall - Newstead - Kirkby Lane End Jn - Shirebrook East Jn - Elmton & Cresswell Jn - Woodend Jn - Shireoaks West Jn - Shireoaks - Kiveton Park - Woodhouse Jn - Woodburn Jn - Nunnery Main Line Jn - Sheffield |
| 33051 + 33116 | Sheffield - Nunnery Main Line Jn - Wincobank Jn - Holmes Jn - Aldwarke Jn - Swinton Jn - Moorthorpe - Pontefract Baghill - Milford J - Church Fenton - Colton Jn - York |
| 56066 | York - Malton - Seamer - Scarborough |
| 33051 + 33116 | Scarborough - Seamer - Malton - York - Colton Jn - Hambleton North Jn - Temple Hirst Jn - Shaftholme Jn - Doncaster - Besscarr Jn - Gainsboro' Trent Jn - Gainsboro' Lea Road - Pyewipe Jn - Boultham Jn - Newark Crossing East Jn - Newark North Gate - (via ECML) - Kings Cross |
Source : Alan Costello



Tour Review
(by Mike Broom)
Ho Hum... What a good way to spend a Saturday..
Here are your national loco numbers for today, 33051, 33116 and 56xxx. Well it's a lot easier to guess the locos on a Crompton tour than it is to get the Lottery Numbers Right.. So I started the day off with a bus into town.. (My normal lift went out of the window..) Then the 0705 Hull to Kings Cross as far as Peterborough. This move almost fell to pieces when we hit Donny. A nasty guy in an orange outfit slapped a "Not To Be Moved" sign on the side of the tram. Luckily it was only something in the buffet car that had burst.. So we left 5 minutes late. Arrival at Peterborough was on-time unlike our tour.
The "ooh what a surprise" 33116 and 33051 arrived 10 minutes late, no doubt being held en-route to let through half a dozen Stealth Bombers (91's). It was only in the tour booklet that we found out about the Harrogate Loop being dropped from the itinerary. Amazing that the train departs earlier than originally planned and arrives back at the same time, yet we lose a large chunk of mileage in the middle.. Hmm.. Once we left Peterborough, we sauntered north towards Grantham. After the stop there, we turned left and headed towards Nottingham, for a brief (not planned) photostop. The next place for us was Sheffield. This was reached by a leisurely meander up the Robin Hood line.. (Amazing these "Hyped Lines". They're all so bloody boring.) After scratching the line, I proceeded to have a quick nap. Arrival at Sheffield was on-time, for a quick run-round so the southern devices could head further north.. The 20 minute's allocated for the move was plenty, as the locos were bolted on the other end in less than 10 minutes. However Sheffield powerbox had other ideas about an on-time departure... Unit's were flying out the North end of the station, while our departure time came and went... About ten minutes after we were due to make a move we eventually did..
The run to York was just about as uneventful.. The only interesting parts was watching all the southern ned's looking out of the wrong side of the train as we passed Ferrybridge Depot, missing out on seeing the 4 59/2's that were on shed.. :) Colton Junction was reached at 1321. We were to stay there for 16 minutes, watching all sorts go flying by on all the other lines.. I counted 1x155, 1xTram, 1x60, 3xScud's, a 91 and a grid.. The Grid was the first to pass us, and guess what? It was the loco that was to take us to the Seaside!! Arrival at York was pretty much on time. A reasonable loco change took place in front of all the bashers, and the usual sad ned's from York..
I met Ian and John at York who both required the "rather large" grid, so they went for a part fare of £15.. Scratch went the grid, with a decent run to Scarborough. Once at Scarborough we had two hours to kill, so a blast in the arcades and a "chippy" move were to be had... Whilst we had cleared off, the people left at the station watched the grid shunt the stock out so it could sod off back to some real work..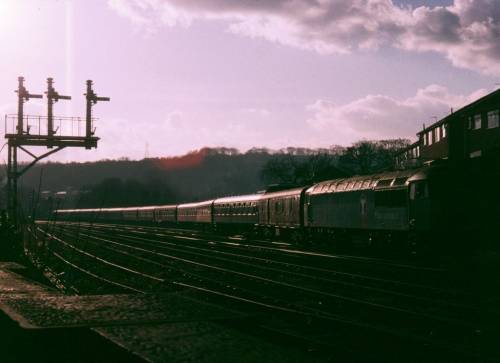 Artistic....or desperate? 56066 at Scarborough (photo: Mark Harrington)
When we arrived the 33's were sat waiting for us.. So, we had a "pushed" run back to York. I say "pushed" because Failtrack had allocated 43 minutes for a 42 mile run, an average of 60mph (near enough). This is nigh on impossible, as was proved, as a ten minute late arrival in York was to be had.. I said ta-ra! to Ian and John who bailed at York ready to go home after a success with the grid..
The run to Doncaster started with a game of "Chase the Railbus", which is what I shouted at Ian and John as we left the station.. The railbus concerned was on a service to my hometown (Hull) and was routed on the Leed's Lines. It left 30 seconds before we set off, and so had a head start, however we caught the thing about half way to Colton Juction. The "Normals" on the unit weren't too chuffed at us bellowing at them as we crept by.. Once at Doncaster it was time for me to leave. The fun did not end there though, as one of the donny "residents" decided he'd annoy the hell out of all the photographers by standing next to the locos all the time they were in the platform despite being asked politely (at first) to move, and then being told to "Get the fxxx out the way.." Once the train had left he quickly vanished...
Summary
A nice pleasant saunter behind a soon to be gone class, with a decent thrash in the middle.. Nothing special, but still enjoyable nonetheless . It's just a shame that the rest of the 33 tours are limited to these two engines..