30th November 1996
Hertfordshire Rail Tours
The Deltic Deliverance
| | |
| --- | --- |
| Locos Used | 37702 'Taff Merthyr', D9000 'Royal Scots Grey', 86424 & 86430 |
Route : 1F50 throughout
| | |
| --- | --- |
| Loco(s) | Route |
| 86424 | London Kings Cross - (via ECML) - Edinburgh Waverley |
| D9000 | Edinburgh Waverley (via ECML) - Berwick-upon-Tweed (2) |
| 37702 (2) | Berwick-upon-Tweed - (via ECML) - Newcastle |
| 86430 | Newcastle - (via ECML) - Doncaster (up fast) - just south of station |
| 86430 | set-back into platform 3 |
| 86430 | Doncaster - (via ECML) - London Kings Cross |
Notes :
(1) What we'd all been waiting for - the return of a Deltic to the mainline after a gap of almost 15 years. Unfortunately the day did not go quite to plan - the tours electric loco was trapped at Euston by a points failure and as a result the outward leg of the tour ran between 75 and 80 minutes late. On the return we only made it as far as Berwick before...
(2) On approach to Berwick station the driver was fighting against dragging brakes. The train stopped in Berwick station for investigation of the problem but this was somewhat overshadowed when it was realised that D9000 was on fire! Presumably the extra power to overcome the brakes dragging had caused additional heat and this ignited oil in the exhaust collector drum of one engine. The powers-that-be declared D9000 a failure and a 37 was sent to rescue the train, even though D9000 could have continued on one engine. G.N.E.R. services were severely disrupted and the wooden canopy of Berwick station and the 25kV overhead wires had a narrow escape!
(2) plus D9000 dead-in-tow.
Source : Gary Thornton (joined/left train at Peterborough)



Tour Review
(from Gary Thornton)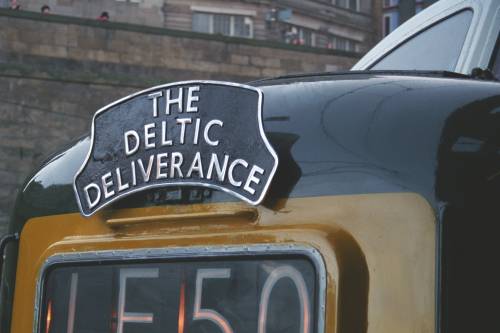 All photographs taken by Gary Thornton except where stated.
How could any old Deltic-basher be kept off this tour? I am sure much wrangling went on in many quarters to ensure tickets were obtained! The problem is, how do you fit 500-odd cranks into the leading coach? Answer, you can't, but we'd have a damn good try!! I was allocated a seat at one end of coach C so at least I'd be 2-3 coaches away from the action (assuming the standard class was at the sharp end when the big noisy green machine appeared at Edinburgh).
There was a definite sense of expectation on the drive to Peterborough where I joined the train on the outward leg - with an electric to Edinburgh the slog to London wasn't worth the effort - but assuming D9000 was still singing away on the return at Peterborough then I planned to stay on and get a single back to Peterborough, after all it wouldn't do to miss the first Deltic-hauled passenger train into the Cross for almost 15 years, would it?
Arriving at Peterborough I was given the gen that the train was mega-late (in fact, was still in London!) due to the booked electric loco being trapped at Euston by a points failure. It eventually departed and got to Peterborough about 75 minutes down.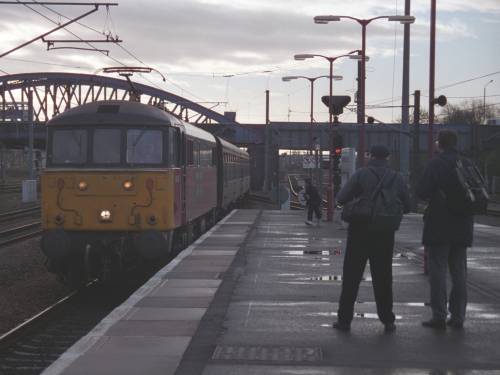 86424 arrives at Peterborough.
All the way to Edinburgh the atmosphere on board was strange - it was difficult to explain but I guess a sense of un-realism if that makes sense...certainly it was quite subdued as surely we were not about to experience a Deltic on the mainline for the first time in just short of 15 years, were we? Really??
No time was gained to Edinburgh. Now here's where it all started to go very wrong, though we had no idea at the time...
...having arrived early into Waverley, D9000 had sat ticking over for some two hours or more waiting our arrival. Requests to shut it down were apparently declined for fear that it might not re-start - nice to know the powers-that-be had such faith in the abilities of the loco then!

A smoky D9000 at Edinburgh, as seen from on high! (photo: David Spaven)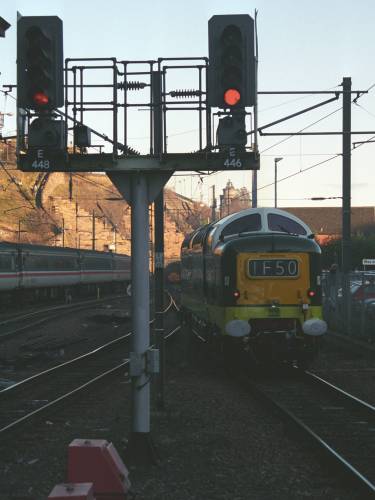 D9000 rolls onto the train.
After a great scrum to get photos of D9000 in the available couple of feet of platform right at the end we all boarded and prepared for history to be made. I made a note to have to re-write all those photographic records of mine which spoke about the last Deltic-hauled train into Kings Cross and all other fairly 'final' statements!
14.02 on this cold afternoon and history was made as D9000 powered out of Waverley and made for Kings Cross. The driver smoked out Calton Tunnel a treat....oh, what a glorious smell...!
We were soon in our stride, Cheshire Cat smiles all round. We were ALIVE again, for some of us it was almost literally a case of coming out of a 15 year railway hibernation! About half way to Berwick and I thought the exhaust smell was a little more hot oil than it had been when we departed Waverley, mind you with a full train to haul maybe it wasn't such a surprise. As we neared Berwick however it became obvious something wasn't right, for those of us who had been on the previous weeks 'Grimsby Reaper' we guessed quite quick the brake drag problem with the stock was still present. So, it seems D9000 had been working a little harder than required so far, fighting the dragging brakes as well as weight of the train. A stop was made short of the station then we pulled forward into Berwick-upon-Tweed station where the train stopped well short of the end of the platform, presumably to allow further investigation of the problem.
After a few seconds however a rumour spread that D9000 was on fire. Abandon train! Unbelievable, but true, D9000 was indeed on fire. It seems the strain had caused too much heat to build up in the exhaust system, as a result of which remaining oily gunk, carbon deposits etc had taken light.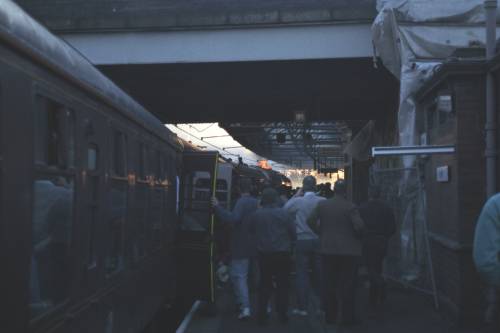 The moment we began to realise what was happening, even from two coaches
back the flames were clearly visible.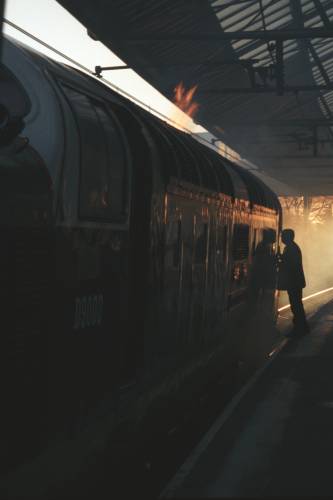 Trying to blow it out with power...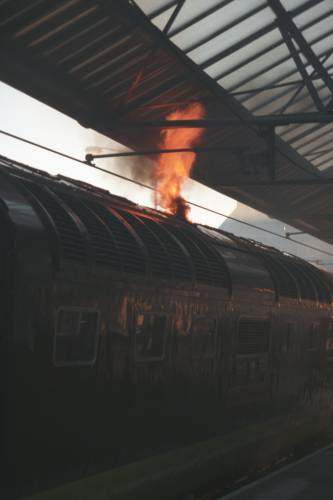 Nope, not working...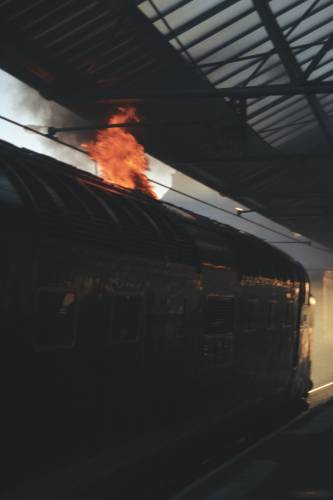 The wooden canopy was definitely in danger, as
were the 25kV overhead wires...
The situation then became very confused, records show we were at Berwick for just over an hour but it seemed a lot longer. We were ordered on the train, allowed off again etc etc. The train was moved forward to clear the wooden canopy. The fire brigade turned up but the D9000 support crew were trying to get the driver to power the fire out i.e. rev the engine hard. D9000 was uncoupled and moved further forward. We were all, quite simply, gutted.
News eventually filtered through a class 37 was on it's way from Newcastle and, as daylight turned to darkness, 37702 'Taff Merthyr' (!) rolled in and coupled to D9000. It happened to be a wining 37 for haulage for me, but it was not the sort of circumstances in which I was pleased to scoop a winner! The tractor powered us south to Newcastle where D9000 was removed, still smoking gently, and 86430 backed on for the remainder of the run home. I had no need to go to Kings Cross now so got off at Peterborough and regained my car for the remainder of the journey back to Northampton.
Verdict : Not much to say, we were all distraught as the day had promised so much but ended so sadly. You can't help but feel for those involved who had put in so much effort to make the day a success. Fate had played the cards such that second Deltic age was not quite here...yet...
Gary Thornton.



Timings (Booked & Actual)
(from Robin Addison, Gary Thornton & Nigel Rollings)
| | | | | | | |
| --- | --- | --- | --- | --- | --- | --- |
| M.C | Location | Booked | Actual | | Booked | Actual |
| 0.00 | Kings Cross | 07.05d | ? | | 19.35a | 22.13 |
| 2.41 | Finsbury Park | 07/09 | ? | | 19/16 | 22/08 |
| 4.78 | Alexandra Palace | 07/11 | ? | | 19/14 | 22/06 |
| 12.57 | Potters Bar | 07/15 | ? | | 19/07 | 22/01 |
| 20.25 | Welwyn Garden City | 07/20 | ? | | 19/01 | 21/57 |
| 23.73 | Woolmer Green | 07/22 | ? | | 18/59 | 21/54 |
| 27.45 | Stevenage | 07/24 | ? | | 18/56 | 21/52 |
| 31.74 | Hitchin | 07/27 | ? | | 18/52 | 21/49 |
| 44.10 | Sandy | 07/34 | ? | | 18/37 | 21/42 |
| 58.70 | Huntingdon | 07/43 | ? | | 18/27 | 21/33 |
| 69.26 | Holme LC | 07/49 | ? | | 18/18 | ? |
| 76.29 | Peterborough | 07.56a ~ 07.58d | 09.12 ~ 09.14 | | 18.07a ~ 18.09d | 21.18 ~ 21.22 |
| 84.64 | Tallington | 08/05 | 09/22 | | 17/53 | 21/10 |
| 99.61 | Stoke Jn | 08/14 | 09/32 | | 17/43 | 21/01 |
| 105.38 | Grantham | 08/17 | 09/36 | | 17/38 | 20/57 |
| 109.56 | Barkston South Jn | 08/20 | 09/38 | | 17/34 | 20/55 |
| 120.08 | Newark Northgate | 08/26 | 09/45 | | 17/13 | 20/48 |
| 138.49 | Retford | 08/37 | 09/56 | | 17/03 | 20/37 |
| 152.00 | Loversall Carr Jn | 08/47 | 10/05 | | 17/03 | 20/32 |
| 155.77 | Doncaster | 08/52 | 10/08 | | 16c52a ~ 16c56d | 20.07 ~ 20.24 |
| 160.16 | Shaftholme Jn | 08/55 | 1011 | | 16/45 | 20/03 |
| 169.16 | Temple Hirst Jn | 09/01 | 10/17 | | 16/37 | 19/58 |
| 174.75 | Hambledon North Jn | 09/04 | 10/20 | | 16/32 | 19/54 |
| 182.79 | Colton Jn | 09/10 | 10/26 | | 16/26 | 19/51 |
| 188.40 | York | 09.16a ~ 09.18d | 10.32 ~ 10.34 | | 16.18a ~ 16.20d | 19.41 ~ 19.46 |
| 190.11 | Skelton Jn | 09/20 | 10/38 | | 16/14 | 19/37 |
| 198.00 | Tollerton | 09/25 | ? | | 16/06 | 19/31 |
| 210.56 | Thirsk | 09/32 | 10/51 | | 15/58 | 19/24 |
| 218.36 | Northallerton | 09/39 | 10/56 | | 15/52 | 19/19 |
| 232.50 | Darlington | 09/52 | 11/11 | | 15/42 | 19/11 |
| 244.57 | Ferryhill South Jn | 10/00 | ? | | 15/33 | 19/02 |
| 254.53 | Durham | 10/06 | 11/28 | | 15/25 | 18/56 |
| 268.02 | King Edward Bridge South Jn | 10/22 | 11/42 | | 15/13 | 18/43 |
| 268.56 | Newcastle-upon-Tyne | 10/24 | 11.39a ~ 11.53d | | 15c09a ~ 15c11d | 18.06 ~ 18.41 |
| 285.26 | Morpeth | 10/38 | 12/10 | | 14/50 | 17/46 |
| 303.45 | Alnmouth | 10/50 | 12/23 | | 14/34 | 17/29 |
| 319.13 | Belford | 11/00 | 12/34 | | 14/20 | 17/13 |
| 335.56 | Berwick-upon-Tweed | 11c11a ~ 11c13d | 12.46 ~ 12.48 | | 14/08 | 14.50a ~ 16.57d |
| 345.78 | Reston | 11/21 | 12/57 | | 13/59 | 14/39 |
| 351.78 | Grantshouse | 11/26 | 13/02 | | 13/54 | 14/34 |
| 364.07 | Dunbar | 11/35 | 13/10 | | 13/38 | 14/26 |
| 375.32 | Drem | 11/42 | 13/17 | | 13/24 | 14/17 |
| 389.53 | Portobello Jn | 11/53 | 13/27 | | 13/09 | 14/09 |
| 393.12 | Edinburgh Waverley | 12L10a | 13.30 | | 13L05d | 14.02 |