1st June 1996
Pathfinder Tours
The Cumbrian Coaster
| | |
| --- | --- |
| Locos Used | 20301, 20302, 20303, 37604 & 37611 |
| Stock Used | 4949+4939+4925+21246+5037+5027+5023+5007+3148 |
Route : 1Z37 throughout
Locos
Route
37604 + 37611
Bristol Temple Meads - Bristol Parkway - Cheltenham Spa - Worcester Shrub Hill - Droitwich Spa - Kidderminster - Galton Jn - Soho South Jn - Birmingham New Street - Aston - Perry Barr North Jn - Portobello Jn - Stafford - Crewe
20302 + 20301
Crewe -

Warrington Bank Quay - Wigan North Western - Preston - Lancaster - Carnforth

20302 + 20301 + 20303

Carnforth - Dalton Jn - Barrow-in-Furness -

Park South Jn - Sellafield - Workington
20303 + 20301 + 20302
Workington - Sellafield
20301 + 20302
Sellafield - Park South Jn - (via Barrow avoider) - Dalton Jn - Carnforth
37611 + 37604
Carnforth - (reverse of outward route) - Bristol Temple Meads
Notes :
(1) Nigel Benning comments: A grand day out behind EPS and DRS locomotives. The only point of note during the day was that according to the letter sent with the tickets, we would be travelling via Barrow-in-Furness in both directions, as the direct line between Park South Junction and Dalton Junction is unavailable at weekends, due to the weekend closure of Dalton South signal box. On the outward journey we did indeed travel via Barrow, but on the return we took the short cut via Park South Junction and Dalton Junction (they must have found a signalman from somewhere).
(2) Actual mileages due to diversion via Barrow avoider -
Dalton Jn - 52m 30ch
Ulverston - 57m 40ch
Plumpton Jn - 59m 06ch ~ (59m 13ch)
Arnside - 70m 47ch ~ (70m 49ch)
Carnforth - 76m 68ch ~ (76m 47ch)
(figures in brackets are worked out using timing sheet).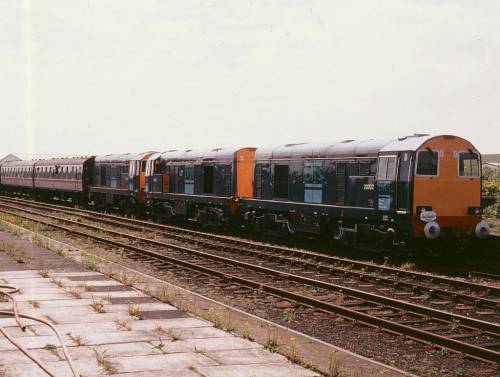 20302 leads 20301 & 20303 at Workington (photo: Mark Harrington)
Sources : Nigel Benning, Alan Sheppard & Alan Vickers



Timings (Booked & Actual)
(from Alan Sheppard, Alan Vickers & Nigel Benning)
M.C
Location
Booked
Actual
Booked
Actual
M.C
0.00
Bristol Temple Meads
05.50d
05.50
23.03a
22.54
232.65
4.43
Filton Jn
05/56
?
22/55
?
228.22
5.62
Bristol Parkway
05.58a ~ 06.00d
05.58 ~ 06.00
22.51a ~ 22.53d
22.41 ~ 22.43
227.03
10.32
Westerleigh Jn
06/05
?
22/46
22/35
222.33
18.45
Charfield
06/14
?
22/37
22/28
214.20
31.70
Standish Jn
06/24
?
22/28
22/18
200.75
38.00
Gloucester Yard Jn
06/30
?
22/22
?
194.65
38.67
Barnwood Jn
06/31
?
22/21
?
193.78
44.30
Cheltenham Spa
06.38a ~ 06.41d
??.?? ~ 06.41
22.11a ~ 22.14d
22.03 ~ 22.07
188.35
51.41
Ashchurch
06/48
?
22/04
21/56
181.24
62.28
Abbotswood Jn
06/57
06/57
21/55
21/48
170.37
66.15
Worcester Shrub Hill
07.06a ~ 07.08d
07.06 ~ 07.08
21.46a ~ 21.48d
21.41 ~ 21.42
166.50
71.74
Droitwich Spa
07/16
?
21/38
21/34
160.71
77.56
Hartlebury
07/22
07/21
21/33
?
155.09
81.30
Kidderminster
07.27a ~ 07.29d
07.26 ~ 07.28
21.26a ~ 21.28d
21.23 ~ 21.24
151.35
88.09
Stourbridge Junction
07/40
07/36
21/18
21/16
144.56
96.33
Galton Jn
07/59
07/59
21/04
21/03
136.32
98.11
Soho South Jn
08/01
?
21/02
?
134.54
100.12
Birmingham New Street
08.05a ~ 08.12d
08.08 ~ 08.12
20.51a ~ 20.56d
20.52 ~ 20.56
132.53
102.68
Aston
08/20
?
20/41
?
129.77
105.10
Perry Barr North Jn
08/23
?
20/35
?
127.55
109.47
Bescot
08/27
08/30
20/31
20/36
123.18
113.64
Portobello Jn
08/32
?
20/27
?
119.01
116.32
Bushbury Jn
08/39
08/38
20/23
20/26
116.33
130.09
Stafford
08.50a ~ 08.53d
08.52 ~ 08.54
20.08a ~ 20.10d
20.09 ~ 20.11
102.56
135.38
Norton Bridge
09/00
09/00
20/03
20/02
97.27
146.40
Madeley Jn
09/09
?
19/47
?
86.25
154.46
0.00
Crewe
09L21a ~ 09L35d
09.25 ~ 09.39
19.34a ~ 19.36d
19.41 ~ 19.45
78.19
7.41
Winsford Signal Box
09/46
?
19/21
?
70.58
17.20
Weaver Jn
09/52
?
19/14
?
61.77
24.11
Warrington Bank Quay
09/57
10/06
19/04
19/17
54.08
27.47
Winwick Jn
10/10
10/10
19/01
19/11
50.52
35.71
Wigan North Western
10/26
10/31
18/55
19/06
42.18
45.45
Euxton Jn
10/34
?
18/46
?
32.54
51.01
Preston [P4 both ways]
10.43a ~ 11.11d
10.50 ~ 11.11
18.35a ~ 18.37d
18.50 ~ 18.52
27.18
71.79
Lancaster
11/32
11/35
18/15
18/33
6.20
73.71
Morecambe South Jn
11/33
?
18/14
?
4.28
78.19
Carnforth
11.37a ~ 11.39d
11.45 ~ 11.47
17L55a ~ 18L10d
18L05 ~ 18L24
0.00
(83.79)
84.17
Arnside
11/53
?
17/44
17/53
(78.01)
95.43
Plumpton Jn
12/14
?
17/32
?
(66.55)
97.16
Ulverston
12/16
12/20
17.27a ~ 17.29d
17.33 ~ 17.35
(65.02)
102.26
Dalton Jn
?
?
?
17/24
(2)
106.73
Barrow-in-Furness
12/32
12/36
17/17
DIV
55.25
110.64
Park South Jn
12/38
12/40
17/10
17/21
51.34
118.28
Foxfield
12/48
12/53
17/00
17/09
43.70
122.75
Millom
12/54
12/59
16/54
17/01
39.23
131.25
Bootle
13/04
?
16/44
?
30.73
135.67
Ravenglass
13.09a ~ 13.19d
13.14 ~ 13.20
16.36a ~ 16.38d
16.42 ~ 16.44
26.31
141.64
Sellafield
13.28a ~ 13.30d
13.30 ~ 13.32
16.26a ~ 16.28d
16L28 ~ 16L34
20.34
149.74
St Bees
13/41
13/42
16/18
16/18
12.24
153.50
Corkickle
13/47
13/49
15.59a ~ 16.11d
16/09
8.48
155.38
Whitehaven
13.51a ~ 13.53d
13.53 ~ 13.54
15.53a ~ 15.55d
16.03 ~ 16.05
6.60
156.70
Parton
14/04
14/00
15/49
15/59
5.28
162.18
Workington
14.18a
14.17
15.40d
15.41
0.00