21st October 1995
Waterman Railways / Pathfinder Tours
The Cornubian
| | |
| --- | --- |
| Locos Used | 47519 (D1102), 47746 & steam: 70000 'Britannia' |
| Stock Used | 12 mark 1's (TSO+TSO+TSO+RMB+BCK+FO+FO+FO+PFO+RBR+PFO+PFO) |
Route :
Loco(s)
Route
47519

Wolverhampton – Portobello Jn – Bescot – Perry Barr North Jn – Aston – Proof House Jn – Birmingham New Street – Soho South Jn – Galton Jn – Stourbridge Junction – Kidderminster – Droitwich Spa – Worcester Shrub Hill – Abbotswood Jn – Ashchurch – Cheltenham – Barnwood Jn – Gloucester Yard Jn – Standish Jn – Yate – Westerleigh Jn – Bristol Parkway – Filton Jn – Stapleton Road – Dr Days Jn – Bristol Temple Meads – Worle Jn – Uphill Jn – Bridgwater – Taunton – Exeter St Davids – Newton Abbot – Totnes – Plymouth – Liskeard – Par – Penzance

70000 + 47519
Penzance

– (reverse of outward route) – Exeter St Davids

70000
Exeter St Davids

– (reverse of outward route) – Bristol Temple Meads

47746
Bristol Temple Meads

– (reverse of outward route) – Wolverhampton
Source : Gordon Jakes (on the train throughout)



Tour Review
(from Gordon Jakes)
The day was somewhat disappointing because the steam section of the route between Penzance and Bristol was advertised as being double headed by 7802 and 70000. In the event 7802 failed and 47519 was substituted because of the length of the train. We were advised that the original plan had been for 47519 to pilot 70000 but after representations, Railtrack agreed to 70000 leading and working the train with the diesel assisting only as and when required and obviously on the Devon banks. I cannot comment on the amount of assistance given by the diesel but despite a late departure from Penzance, to some extent caused by the late arrival of the down train, arrival in Exeter was only six minutes late. It has to be said that this was probably due to conservative timings rather than spectacular train performance. The section from Exeter to Bristol was more interesting with 70000 in sole charge and despite a four minute late departure from Exeter, Bristol was reached some six minutes early – a very solid performance to end the day.
There were few photo opportunities for those of us who traveled on the train because the water stops were well patrolled by BT police and Railtrack personnel.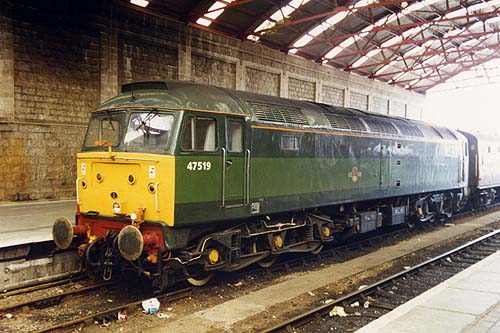 Views of 47519 & 70000 at Penzance (photos: Gordon Jakes)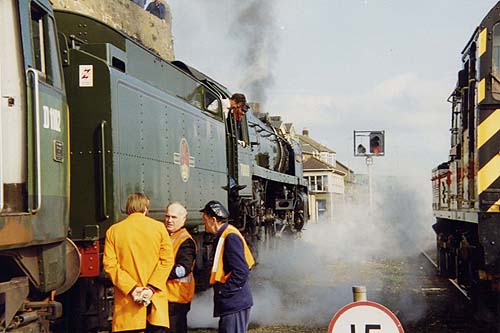 Gordon Jakes



Timings (Booked & Actual)
(from Gordon Jakes)
M.C
Location
Booked
Actual
Booked
Actual
M.C
0.00
Wolverhampton
05.00d
?
22.38a
23.01
115.48
1.64
Portobello Jn
05/04
?
22/34
?
113.64
6.01
Bescot
05/08
?
22/27
?
109.47
12.60
Aston
05/17
?
22/20
?
102.68
15.36
Birmingham New Street
05.23a ~ 05.25d
?
22.05a ~ 22.12d
22.34 ~ 22.37
100.12
20.15
Galton Jn
05/33
?
22/00
?
96.33
27.39
Stourbridge Junction
05/46
?
21/48
22/15
88.09
34.18
Kidderminster
05.55a ~ 05.56d
?
21.37a ~ 21.38d
22.00 ~ 22.06
81.30
43.54
Droitwich Spa
06/09
?
21/26
21/26
71.74
49.33
Worcester Shrub Hill
06.17a ~ 06.19d
?
21.17a ~ 21.19d
21.31 ~ 21.33
66.15
53.20
Abbotswood Jn
06/23
?
21/11
?
62.28
64.07
Ashchurch
06/35
?
21/03
?
51.41
71.18
Cheltenham Spa
06.41a ~ 06.44d
??.?? ~ 06.46
20.52a ~ 20.55d
21.06 ~ 21.09
44.30
77.48
Gloucester Yard Jn
06/51
?
20/45
?
38.00
83.58
Standish Jn
06/57
?
20/38
?
31.70
97.03
Charfield
07/07
?
20/27
?
18.45
105.16
Westerleigh Jn
07/15
?
20/20
?
10.32
109.66
Bristol Parkway
07.21a ~ 07.23d
??.?? ~ 07.31
20.13a ~ 20.15d
20.26 ~ 20.28
5.62
115.02
Dr Days Jn
07/31
?
20/06
?
0.46
115.48
Bristol Temple Meads
07.33a ~ 07.40d
07.42 ~ 07.45
19L43a ~ 20L04d
19.37 ~ 20.17
0.00
207.11
132.33
Worle Jn
08/00
?
19/21
?
190.26
148.69
Bridgwater
08/13
?
19/00
18/56
173.70
155.31
Cogload Jn
08/18
?
18/50
?
167.28
160.34
Taunton
08.23a ~ 08.25d
08.22 ~ 08.25
18.41a ~ 18.43d
18.40 ~ 18.42
162.25
174.48
Tiverton Parkway
08/41
?
18/22
18/23
148.11
189.74
Cowley Bridge Jn
08/54
?
18/04
?
132.65
191.14
Exeter St Davids
08.56a ~ 08.59d
??.?? ~ 09.00
17L10a ~ 18L00d
17.16 ~ 18.04
131.45
201.56
Dawlish Warren
09/09
09/11
16/56
17/03
121.03
211.28
Newton Abbot
09/19
09/22
16/44
16/51
111.31
220.05
Totnes
09/31
09/35
16/31
16/40
102.54
232.41
Ivybridge
09/44
09/51
16/19
16/23
90.18
236.32
Hemerdon
09/50
?
16/13
?
86.27
241.57
Lipson Jn
09/55
?
15/59
?
81.02
243.17
Plymouth
09c57 ~ 10c00
10.04 ~ 10.06
15w15a ~ 15w55d
15.10 ~ 15.55
79.42
246.09
St Budeaux Jn
10/05
?
15/07
?
76.50
247.35
Saltash
10/08
10/15
15/03
15/00
75.24
252.33
St Germans
10/14
10/21
14/54
?
70.26
260.75
Liskeard
10/23
10/32
14/43
?
61.64
266.10
Largin
10/29
?
14/35
?
56.49
273.43
Lostwithiel
10/37
10/47
14/23
14/27
49.16
277.78
Par
10/42
10/53
13w33a ~ 14w13d
??.?? ~ 14.17
44.61
282.35
St Austell
10/47
11/02
13/26
13/41
40.24
284.65
Burngullow Jn
10/49
?
13/23
?
37.74
291.38
Probus
10/56
?
13/12
?
31.27
296.66
Truro
11/03
11/17
13/03
13/23
25.73
297.34
Penwithers Jn
11/04
?
13/02
?
16.62
309.49
Camborne
11/15
11/33
12/45
13/08
13.10
316.76
St Erth
11/22
11/41
12/32
?
5.63
322.59
Penzance
11L32a
11.50
12L19d
12.48
0.00