24th June 1995
Pathfinder Tours
The Logistician
| | |
| --- | --- |
| Locos Used | 37048, 37098 + 37371 |
| MoD Locos Used | MoD 255 'Mulberry' + MoD 256 'Marlborough' |
| Stock Used | 35317+4994+4973+35479+4910+4905 |
| MoD Stock | WGP 8809 (ex-cl. 501 unit DTBS 75186) + WGP 8808 (ex-cl.501 unit TS 70170) |
Route : 1Z37 throughout
Loco(s)
Route
37098
Bristol Temple Meads - Bath Spa - Chippenham - Swindon - Didcot Parkway (1)
37048
Didcot Parkway - Reading West Jn - Basingstoke (2) - Andover [P2] - (shunt empty to platform 1) (8)
37048
Andover [P1] - Just onto Branch
37048 (3)
Andover Area - Ludgershall 'Loading Dock'
37371 (4)
Ludgershall 'Loading Dock' - Sidings
37048 (3)
Sidings - 'Tidworth' branch
37371 (4)
'Tidworth' Branch - Ludgershall Loop
37048 (3)
Ludgershall Loop - 'Horse Dock' (9)
37371 (4)
'Horse Dock' - Andover Bay Platform - (shunt empty to platform 1) (8)
37048 +
37371
Andover [P1] - Laverstock North Jn - Laverstock South Jn - Romsey - Eastleigh - Northam Jn - Southampton Tunnel - (Down Main - Up Main) -
Southampton Central [P1] - (Up Fast - Down Slow) - Totton - Marchwood - Exchange Sidings - MoD Loco Shed Area
37371 (4)
MoD Loco Shed Area - Loading Sidings - New Jetty
37048 (3)
New Jetty - Port Gate Halt
MoD 256 (5)
Port Gate Halt - Model Room Halt - Jetty Halt
MoD 255 (6)
Jetty Halt - Model Room Halt - Port Gate Halt - Mulberry Halt
37048
Mulberry Halt - Marchwood - Totton - Southampton Central - Eastleigh (7) - Winchester - Basingstoke - (reverse of outward route) -
Bristol Temple Meads
Notes :
(1) 37098 failed & replaced at Didcot by 37048.
(2) Assist engine attached Andover not Basingstoke as booked.
(3) 37371 on rear.
(4) 37048 on rear.
(5) MoD 255 on rear.
(6) MoD 256 on rear.
(7) Assist engine removed at Marchwood Military Port not Eastleigh as booked.
(8) Alan Sheppard comments: "Due to restrictions imposed by Railtrack South West Zone governing the operation of trains in top 'n' tail mode over their metals, the working of the locos has been amended. However, this will not affect the route of the tour, but does mean that ALL passengers will be required to alight at Andover before, & after the visit to the Ludgershall branch, whilst the shunting movements are carried out." Alan Sheppard comments: "Even though we had to detrain, we got all track, as the connection from [P1] to the branch was done at 12:56, the Bay was done at 14:44 and the Up to Down crossover was done at 15:01".
(9) Alan Sheppard comments: A photo stop at the 'Horse Dock' was cancelled due to late running. It was a shame as there was a display of Military vehicles lined up for us, with description boards. (next to the Horse Dock, but too far away to read from the train).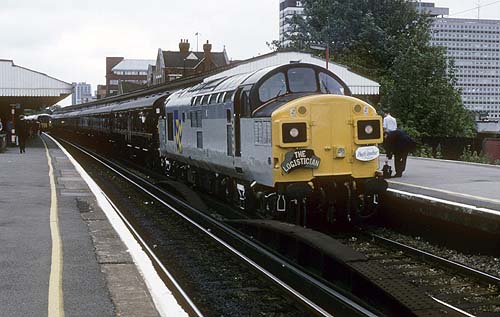 A gleaming 37048 caught on camera at Basingstoke (photo: Roger Geach)
Source : Alan Sheppard



Timings (Booked & Actual)
(from Alan Sheppard & Alan Vickers)
| | | | | | | |
| --- | --- | --- | --- | --- | --- | --- |
| M.C | Location | Booked | Actual | Booked | Actual | M.C |
| 0.00 | Bristol Temple Meads | 08.56d | 08.56 | 20.54a | ? | 135.20 |
| 0.56 | North Somerset Jn | 08/58 | ? | 20/52 | ? | 134.40 |
| 11.35 | Bath Spa | 09.10a ~ 09.12d | 09.12 ~ 09.14 | 20.39a ~ 20.41d | ? | 123.65 |
| 13.51 | Bathampton Jn | 09/15 | ? | 20/36 | ? | 121.49 |
| 22.16 | Thingley Jn | 09/22 | ? | 20/29 | ? | 113.04 |
| 24.30 | Chippenham | 09.24a ~ 09.26d | 09.29 ~ 09.30 | 20.25a ~ 20.27d | 21.23 ~ ??.?? | 110.70 |
| 35.19 | Wootton Bassett Jn | 09/36 | ? | 20/15 | 20/45 | 100.01 |
| 41.03 | Swindon | 09.42a ~ 09.44d | 09.47 ~ 09.49 | 20.07a ~ 20.09d | 20.36 ~ 20.38 | 94.17 |
| 51.67 | Uffington | 09/55 | ? | 19/54 | ? | 83.33 |
| 64.51 | Foxhall Jn | 10/05 | ? | 19/44 | ? | 70.49 |
| 65.16 | Didcot Parkway | 10.07a ~ 10.15d | 10L09 ~ 11L10 | 19.40a ~ 19.42d | 19.55 ~ 19.58 | 70.04 |
| 65.48 | Didcot East Jn | 10/16 | 11/12 | ? | ? | ? |
| 81.30 | Reading West Jn | 10/32 | 11/26 | 19/25 | 19/38 | 53.70 |
| 83.16 | Southcote Jn | 10/36 | 11/29 | 19/18 | 19/35 | 52.04 |
| 96.73 | Basingstoke | 10L53a ~ 11L08d | 11.53 ~ 11.56 | 18.57a ~ 18.59d | 19.10 ~ 19.20 | 38.27 |
| 99.33 | Worting Jn | 11/12 | 12.03 ~ 12.20 | 18/53 | 19/02 | 35.67 |
| | | | |
| --- | --- | --- | --- |
| M.C | Location | Booked | Actual |
| 115.31 | Andover [P2] | 11.30a SM ~ | 12.42a ~ |
| 115.31 | Andover [P1] | ~ 12.00d | ~ 12.56d |
| ? | (Just on Branch) | ? | 12L57 ~ 13L27 |
| 123.02 | Ludgershall MoD Base | 12.20a ~ | ¬ |
| - | 'Loading Dock' Branch | - | 13.55 ~ 13.56 |
| - | Sidings | - | 13.59 ~ 14.02 |
| - | 'Tidworth' Branch | - | 14.05 ~ 14.07 |
| - | Loop | - | 14.10 ~ 14.11 |
| - | 'Horse Dock' | PS cancelled | 14.13 ~ 14.20 |
| 0.00 | Ludgershall MoD Base | ~ 13.20d | '' |
| 7.51 | Andover [Bay] | 13.40a SM ~ | 14L44a ~ |
| 0.00 | Andover [P1] | ~ 14.25d | ~ 15.01d |
| 15.66 | Laverstock North Jn | 14/41 | 15/17 |
| 16.20 | Laverstock South Jn | 14/43 | 15/17 |
| 23.67 | Dean | 14/53 | 15/24 |
| 31.30 | Romsey | 15/00 | 15/31 |
| 38.37 | Eastleigh East Jn | 15/14 | 15.40 ~ 15.43 |
| 38.42 | Eastleigh (Down Fast) | 15/15 | 15/44 |
| 42.17 | St. Denys | 15/20 | 15/52 |
| 43.22 | Northam Jn | 15/22 | 15/53 |
| 44.26 | Southampton Central [P1] | 15/25 | 15/56 |
| 46.77 | Redbridge | 15/29 | 16/01 |
| 47.50 | Totton | 15/31 | 16/03 |
| 51.15 | Marchwood | 15*43 ~ 15*45 | 16.12 ~ 16.13 |
| ? | Marchwood Military Port | 15.56a ~ | ¬ |
| - | Loco Shed Area | - | 16L15 ~ 16L27 |
| - | New Jetty | - | 16.38 ~ 16.41 |
| - | Port Gate Halt | - | 16.50a |
Marchwood Military Railway
M.C
Location
Booked
Actual
-
Port Gate Halt
-
17.08d
-
Jetty Halt
-
17.11a
Other trips were made between Port Gate Halt & Jetty Halt during this time
-
Jetty Halt
-
17.39d
-
Port Gate Halt
-
17.41a ~ 17.45d
-
Mulberry Halt
-
17.49a
Return to Tour Train
M.C
Location
Booked
Actual
-
Mulberry Halt
-
18L03d
?
Marchwood Military Port
~ 17.36d
"
0.00
Marchwood
17*45 ~ 17*47
18.05 ~ 18.09
3.45
Totton
17/59
18/19
4.18
Redbridge
18/01
18/21
6.69
Southampton Central
18/05
18/26
7.23
Northam Jn
18/08
18/28
8.78
St. Denys
18/10
18/29
12.53
Eastleigh [P1]
18L16 ~ 18L26
18.35 ~ 18.37
19.49
Winchester
18/37
18/47