9th March 1995
F.S.S. Railtours
The South Yorkshireman
| | |
| --- | --- |
| Locos Used | 47524 & steam: 35028 'Clan Line' & 60009 'Union of South Africa' |
Route : 1Z27 throughout
| | |
| --- | --- |
| Loco(s) | Route |
| 60009 | London Paddington - Slough - Maidenhead - Reading - Didcot Parkway - Oxford - Aynho Jn - Banbury - Leamington Spa - Dorridge - Tyseley - Small Heath South Jn - Bordesley Jn - Landor Street Jn - Water Orton - Kingsbury Jn - Tamworth HL - Burton-on-Trent - Stenson Jn - Derby (2) |
| 47524 | Derby - Long Eaton - Trent - Toton Centre - Pye Bridge Jn - Clay Cross South Jn - Chesterfield - ??? - Sheffield |
| 47524 | (2) Sheffield - (?reverse of outward route?) - Derby |
| 35028 | Derby - (reverse of outward route) - London Paddington |
Notes :
(1) Organised by FSS Railtours in conjunction with Special Trains and in association with the 60009 Group and the N.M.L.P.S.
(2) Booked route to/from Sheffield was via Ambergate Jn/Barrow Hill (outward) and Dronfield/Ambergate Jn (return). Jim Porter comments: At Derby we were informed that there was a broken rail ahead on the north-bound line and we would have to be diverted back the way we had come to get to Sheffield. As 60009 was facing the wrong direction it was detached and remained at Derby. A class 47 diesel was hooked up to the rear and we set off for Sheffield in the wrong direction. The reason for the train continuing on to Sheffield was to pick up the catering that had been arranged there. On returning to Derby 35028 came on and took the return trip as booked. In spite of the problems the train made good time and was only a few minutes behind schedule when we left it at Slough.
Source : Jim Porter (joined/left train at Slough)



Photo Review
(all photos: Jim Porter)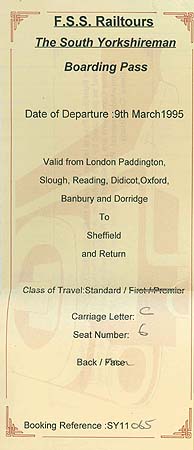 Jim Porter's Ticket.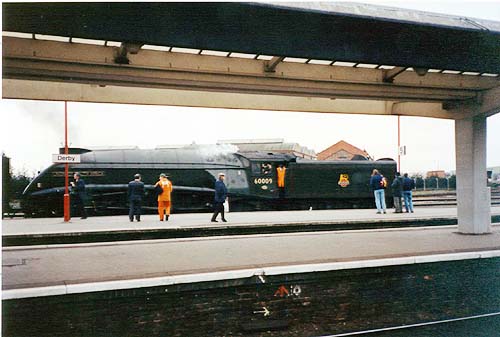 60009 after arrival into Derby and being released from the train.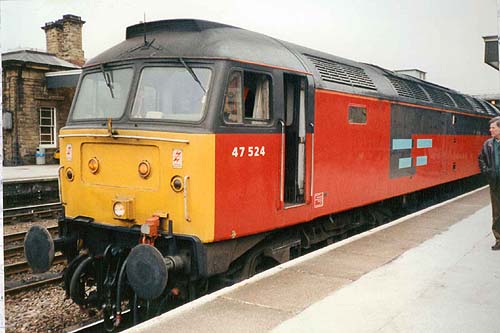 47524 at Sheffield.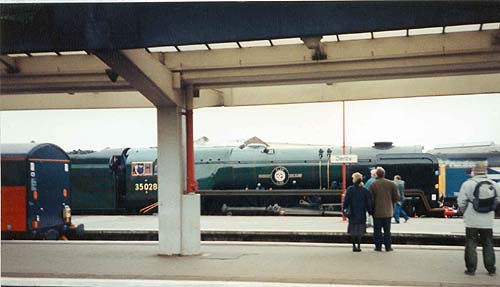 35028 'Clan Line' at Derby.


Timings (Booked Only)
(from Jim Porter)
| | | | | |
| --- | --- | --- | --- | --- |
| M.C | Location | Booked (out) | Booked (rtn) | M.C |
| 0.05 | Paddington | 07.22d | 22.24a | 419.14 |
| 1.73 | Ladbroke Grove | 07/25 | 22/20 | 417.07 |
| 8.67 | Southall | 07/35 | 22/01 | 410.13 |
| 18.36 | Slough | 07.47a ~ 07.49d | 21.49a ~ 21.51d | 400.63 |
| 24.19 | Maidenhead | 07/59 | 21/43 | 395.00 |
| 31.01 | Twyford | 08/07 | 21/36 | 388.18 |
| 35.78 | Reading | 08.15a ~ 08.18d | 21.26a ~ 21.29d | 383.21 |
| 53.10 | Didcot Parkway | 08w40a ~ 09w21d | 21.03a ~ 21.05d | 366.09 |
| 63.41 | Oxford | 09.38a ~ 09.40d | 20.47a ~ 20.49d | 335.58 |
| 66.32 | Wolvercot Jn | 09/44 | 20/43 | 352.67 |
| 75.21 | Heyford | 09/52 | 20/33 | 343.78 |
| 81.12 | Aynho Jn | 10/03 | 20/25 | 338.07 |
| 86.16 | Banbury | 10w10a ~ 11w00d | 19w22a ~ 20w18d | 333.03 |
| 94.36 | Fenny Compton | 11/08 | ? | ? |
| 106.25 | Leamington Spa | 11/21 | 18/54 | 312.74 |
| 112.14 | Hatton | 11/29 | 18/43 | 307.05 |
| 118.75 | Dorridge | 11.37a ~ 11.39d | 18.32a ~ 18.34d | 300.24 |
| 126.05 | Tyseley | 11/50 | 18/19 | 293.14 |
| 126.59 | Small Heath South Jn | 11/52 | ? | ? |
| 128.11 | Bordesley Jn | 11/54 | 18/09 | 291.08 |
| 128.37 | St Andrews Jn | 11/55 | 18/08 | 290.62 |
| 128.75 | Landor Street Jn | 11/58 | 18c02 ~ 18c04 | 290.24 |
| 135.01 | Water Orton | 12/06 | 17/55 | 284.18 |
| 138.76 | Kingsbury Jn | 12/10 | 17/48 | 280.23 |
| 144.57 | Tamworth HL | 12/18 | 17/42 | 274.42 |
| 152.05 | Wichnor Jn | 12/25 | ? | ? |
| 157.48 | Burton-on-Trent | 12/31 | 17/28 | 261.51 |
| 163.65 | Stenson Jn | 12/40 | 17/22 | 255.34 |
| 168.35 | London Road Jn | 12/45 | 17/12 | 250.64 |
| 168.49 | Derby | 12w47a ~ 13w52d | 16L33a ~ 17L10d | 250.50 |
| 178.42 | Ambergate Jn | 14/06 | 16/19 | 240.57 |
| 188.50 | Clay Cross South Jn | 14/21 | 16/10 | 230.49 |
| 192.60 | Chesterfield | 14/29 | 16/04 | 226.39 |
| - | Tapton Jn | ? | 16/03 | 226.00 |
| - | Dronfield | - | 15/59 | 221.15 |
| - | Dore Station Jn | - | 15/56 | 218.09 |
| 202.08 | Beighton Jn | 14/50 | - | - |
| 203.76 | Woodhouse | 14/54 | - | - |
| 214.19 | Sheffield | 15w07a | 15w46d | 214.19 |