23rd October 1994
Pathfinder Tours
The Pixie Returns
| | |
| --- | --- |
| Locos Used | 08645, 08663, 37146 & 37412 |
| Stock Used | 17151+4956+4949+4939+4909+5037 |
Route : 1Z27 throughout
| | |
| --- | --- |
| Loco(s) | Route |
| 37412 | Bristol Temple Meads - Westbury - Yeovil Pen Mill - Yeovil Junction - Exeter St Davids |
| 37146 + 37412 | Exeter St Davids - Plymouth |
| 08663 (1) | Plymouth - Bere Alston |
| 08645 (2) | Bere Alston - Plymouth |
| 37146 (3) | Plymouth - Liskeard [Main Platform] (5) |
| 37412 (4) | Liskeard [Branch Platform] - Coombe no. 1 ground frame |
| 37146 (3) | Coombe no. 1 ground frame - MP2 (Sandplace) (6) |
| 37412 (4) | MP2 (Sandplace) - Coombe station |
| 37146 (3) | Coombe station - Liskeard [Branch Platform] (passengers detrained) |
| 37412 (4) | Liskeard [Main Platform] - Plymouth |
| 37146 + 37412 | Plymouth - Exeter St Davids |
| 37412 | Exeter St Davids - Taunton - Bridgwater - Bristol Temple Meads |
Notes :
(1) 08645 on rear.
(2) 08663 on rear.
(3) 37412 on rear.
(4) 37146 on rear.
(5) Passengers had to detrain as train was not permitted over connection loaded due to lack of check-rails.
(6) Train was planned to go to Looe but due to lack of check-rails it was only permitted as far as milepost 2, just on the Looe side of the station at Sandplace.
Sources : class 37's used provided by Steve Marshall (Globe Video)
remaining data from Stuart Smith (joined/left the train at Bristol TM)
with some additional data from Steve Cassidy & Alan Sheppard



Photo Review
(all photos from Roger Geach)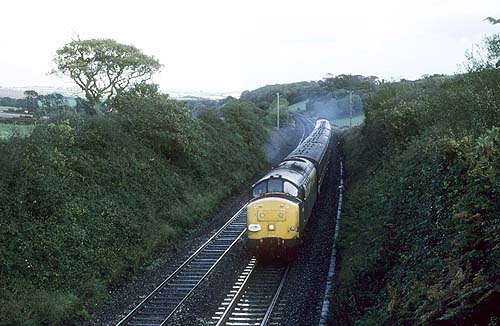 37146 (above) & 37412 (below) on St Germans bank.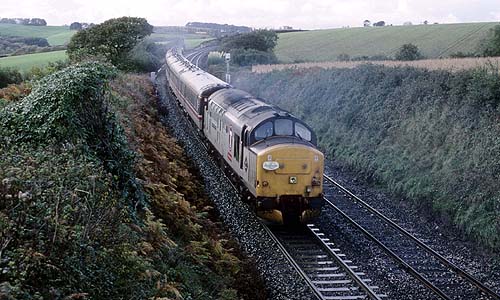 Timings (Booked & Actual)
(from Alan Sheppard)
TABLE 1

M.C
Location
Booked
Actual
0.00
Bristol Temple Meads
07.50d
07.56d
0.60
North Somerset Jn
07/52
07/59
11.35
Bath Spa
08/02
08/09
13.51
Bathampton Jn
08/05
08/12
22.45
Bradford Jn
08/16
08/22
28.17
Westbury
08*32 cc 08*47
08*30 cc 08*47
29.51
Fairwood Jn
08/49
08/49
32.73
Clink Road Jn
08/52
08/54
34.75
Blatchbridge Jn
08/54
08/55
47.64
Castle Cary
09/04
09/06
59.40
Yeovil Pen Mill
09*17 ~ 09*24
09*20 ~ 09*36
61.19
Yeovil Junction
09.29 op 09.30
09/43
78.03
Chard Jn
09/45
09/59
93.31
Honiton
09/58
10.16 ~ 10.17
107.11
Pinhoe
10/09
10/30
108.72
Exmouth Jn
10/10
10/31
TABLE 2

TABLE 5

M.C
Location
Booked (out)
Actual
Booked (rtn)
Actual
M.C
110.01
Exeter St. Davids
10L15a ~ 10L35d
10L36 ~ 10L58
19.28a ~ 19.31d
19.27 ~ 19.34
69.61
121.25
Dawlish Warren
10/45
11/08
19/18
19/16
59.19
130.77
Newton Abbot
10/54
11/16
19/08
19/07
49.47
139.54
Totnes
11/04
11/26
18/57
?
40.70
152.10
Ivybridge
11/20
11/38
18/44
?
28.35
156.01
Hemerdon
11/34
11/43
18/40
?
24.43
161.26
Lipson Jn
11/39
11/49
18/33
?
19.18
162.66
Plymouth
11L41a ~ 12L11d
11L51 ~ 12L13
18L08a ~ 18L30d
18L11 ~ 18L31
17.58
TABLE 3

M.C
Location
Booked (out)
Actual
Booked (rtn)
Actual
M.C
0.00
Plymouth
~ 12L11d
~ 12L13d
14L24 ~ 15L19
14L41 ~ 15L19
10.09
2.72
St. Budeaux Jn
12/23
12/27
14/12
14/27
7.17
7.25
Bere Ferrers
12/41
12/52
13.22a ~ 13.52d #
13.30 ~ 14.06
2.64
10.09
Bere Alston
12p53a
13p04
13p08d ##
13p18d
0.00
Key
## - Retimed to 13p15d
# - Retimed to 14.00d
TABLE 4

M.C
Location
Booked (out)
Actual
Booked (rtn)
Actual
M.C
0.00
Plymouth
~ 15L19d
~ 15L19d
18L08a ~ 18L30d
18L11 ~ 18L31
17.58
2.72
St. Budeaux Jn
15/24
15/25
18/03
18/06
14.66
4.18
Saltash
15/27
15/29
17/59
18/02
13.40
9.16
St. Germans
15/33
15/37
17/52
17/54
8.42
17.58
Liskeard (Main Platform)
15.43a ~
15.49a ~
~ 17.42d
~ 17.44d
0.00
0.00
Liskeard (Branch Platform)
~ 16.13d
~ 16.18d
17.12a ~
17.23a ~
2.03
1.72
Coombe No.1 GF
16.19 ~
16.25 ~
17/05
17/16
0.11
-
Coombe Station
-
-
16.59 ~ 17.04
17.14 ~ 17.15
0.00
4.34
0.00
Coombe No.1 GF
~ 16.24
~ 16.30
16/58
17.10 ~ 17.11
4.23
1.49
St. Keyne
16/28
16/38
16/54
17/05
2.54
2.74
Causeland
16/32
16/42
16/50
17/01
1.29
4.23
Sandplace
16.36a
16.47
16.46d
16.57
0.00
TABLE 6

M.C
Location
Booked
Actual
69.61
Exeter St. Davids
~ 19.31d
~ 19.34d
71.01
Cowley Bridge Jn
19/34
?
86.27
Tiverton Parkway
19/47
?
100.41
Taunton
19/59
19/59
105.44
Cogload Jn
20/03
?
112.06
Bridgwater
20/08
?
125.49
Uphill Jn
20/22
?
128.42
Worle Jn
20/26
?
143.38
Parson Street
20/42
20/30
145.27
Bristol Temple Meads
20.45a
20.37a
Private Preservation Site
at Bere Ferrers
| | |
| --- | --- |
| Loco Used | No. 3395 Hunslet 0-4-0DM of 1946 |
| Stock Used | Brake Vans - RNAD 178 + RNAD 364 |
Trip 1

Platform
13.35d
End of Line
13.36 ~ 13.36
Platform
non-stop
upto Turntable
13.37 ~ 13.37
Platform
13.38a
Trip 3

Platform
13.45d
End of Line
13.46 ~ 13.46
Spur Line
13.47 ~ 13.47
Main / Spur Jn
13.48 ~ 13.48
Platform
non-stop
upto Turntable
13.49a
Trip 5

Cab Ride

Middle of Turntable
14.02d
Platform
14.03a