8th October 1994
Hertfordshire Rail Tours
The Doctor Syn
| | |
| --- | --- |
| EMU's Used | 2306 (61808+70609+69346+61775) + 1886 (76772+62410+71090+76843) |
| Steam Used | RH&DR steam No.s 9 & 10 |
| RH&DR Stock | 452+453+451+53+56+60+71+69+67+806+807+ 805+803+58+54+101+51+52+55+61+57+59 |
Route : 1Z32 throughout
| | |
| --- | --- |
| EMU's | Route |
| 2306+1886 | London Waterloo - [Down Windsor line] - Nine Elms Jn - (1) - Linford Street Jn - [Down Chatham Fast line] - Crofton Road Jn - Nunhead - Lewisham - Courthill Loop Jn Nth - Ladywell Jn - New Beckenham - Shortlands [P4] - [Down Chatham Slow] - Bromley South - Down Chatham Slow - St Mary Cray Jn - [x-overs Down Chatham Slow to Down Chatham Fast] - Swanley - Otford Jn - Sevenoaks - Tonbridge [Down Fast Line] - Paddock Wood - Ashford - Canterbury West - Minster - Minster South Jn - Dover Priory - Folkestone East |
| 1886+2306 | Folkestone East - Folkestone Train Roads |
| 2306+1886 | Folkestone Train Roads - Folkestone Harbour (for buses to RH&DR) (2) |
| 1886+2306 | Folkestone Harbour - Folkestone Train Roads No.1 Siding |
| 2306+1886 | Folkestone Trains Roads No1 Sidings - Folkestone East - Folkestone Central [P1] - Ashford [Up Fast Lines, routed to Up Maidstone] - [Lenham Up Loop, x-over prior to Wheeler Street tunnel] - Maidstone East [Reversible -non platform line] - [Up Line] - Otford Jn - Swanley - [Up Chatham Fast] - Bickley Jn [Up Chatham Slow] - Bickley [P3] - Bromley South - Shortlands [P3] - Catford - Nunhead - Denmark Hill - [Chatham Main] - Linford Street Jn - Nine Elms Jn - [Up Windsor line] - Vauxhall [P2] - London Waterloo |
Notes :
(1) Believed to have been the first railtour to traverse new Eurostar flyover our of Waterloo (in fact, probably first fare paying passengers ever to traverse this piece of track).
(2) For special train on RH&DR hauled by No. 9 & 10 - full round trip of line in a 22-coach train.
Sources : Gary Thornton, Shayne Lewis & Alan Sheppard (all on the train throughout)



Photo Review
(all photos from Gary Thornton)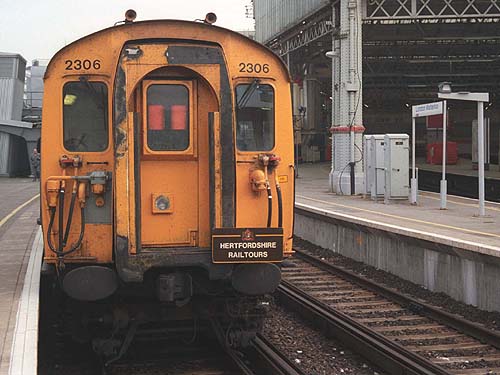 Waiting to leave London Waterloo in the morning.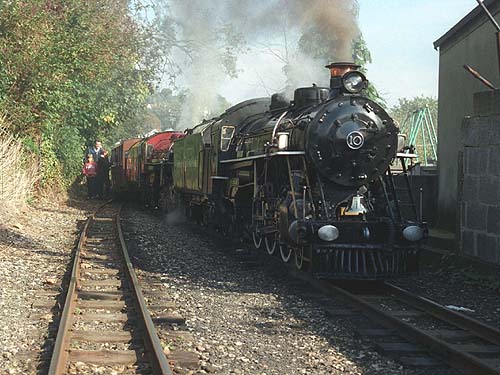 10 & 9 at the head of the train at Hythe - well off the platform end!


Timings (Booked & Actual)
(from Gary Thornton/Shayne Lewis)
| | | | |
| --- | --- | --- | --- |
| M.C | Location | Booked | Actual |
| 0.00 | Waterloo | 09.00d | 09.01 [P19] |
| 2.00 | Nine Elms Jn | 09/04 | 09/05 |
| 2.40 | Lindford Street Jn | 09/06 | 09/07 |
| 2.60 | Voltaire Road Jn | 09/07 | 09/07 |
| 5.26 | Crofton Road Jn | 09/12 | 09/12 |
| 6.36 | Nunhead | 09/15 | 09.14a ~ 09.15d |
| 8.22 | Lewisham | 09/20 | 09/22 [P2] |
| 11.62 | New Beckenham | 09/29 | 09/28 |
| 12.34 | Beckenham Junction | 09/33 | 09/36 |
| 13.38 | Shortlands Jn | 09/35 | 09/37 |
| 14.52 | Bromley South | 09.39a ~ 09.40d | 09.40 ~ 09.41 [P4] |
| 16.78 | St Mary Cray Jn | 09/44 | 09/45 |
| 18.38 | Swanley | 09/48 | 09/49 [P2] |
| 25.60 | Otford Jn | 09/57 | 09/57 |
| 27.76 | Sevenoaks | 10/02 | 10/00 |
| 35.29 | Tonbidge | 10/10 | 10/07 |
| 40.52 | Paddock Wood | 10/15 | 10/12 |
| 61.76 | Ashford | 10c36a ~ 10c37d | 10.32 ~ 10.33 [P3] |
| 66.19 | Wye | 10/43 | 10/38 |
| 76.14 | Canterbury West | 10/55 | 10/49 |
| 87.51 | Minster | 11/08 | 11/09 [P2] |
| 92.38 | Sandwich | 11/14 | 11/15 |
| 96.48 | Deal | 11/18 | 11/19 |
| 100.77 | Martin Hill | 11/23 | 11/23 |
| 104.77 | Buckland Jn | 11/28 | 11/29 |
| 105.68 | Dover Priory | 11/30 | 11/30 |
| 112.18 | Folkestone East | 11.40a ~ 11.46d | 11.39 ~ 11.43 |
| 112.34 | East Train Roads | 11.48a ~ 11.54d | 11.44 ~ 11.47 |
| 113.53 | Folkestone Harbour | 11.59a ~ 18.00d | 11.51 ~ 18.00 |
| 114.72 | East Train Roads | 18.05a ~ 18.11d | 18.03 ~ 18.07 |
| 119.66 | Continental Jn | 18/16 | 18/16 |
| 129.78 | Ashford | 18/26 | 18/31 |
| 140.04 | Lenham (Up Loop) | 18/39 | 18/42 |
| 149.19 | Maidstone East | 18/49 | 18/51 |
| 165.08 | Otford | 19/06 | 19/07 |
| 171.64 | Swanley | 19/15 | 19/14 [P1] |
| 175.78 | St Mary Cray Jn | 19/21 | 19/19 |
| 178.24 | Bromley South | 19.26a ~ 19.27d | 19.22 ~ 19.22 [P3] |
| 179.38 | Shortlands Jn | 19/29 | 19/24 |
| 184.27 | Nunhead | 19/36 | 19/31 |
| 186.34 | Cambria Jn | 19/40 | 19/35 |
| 187.22 | Brixton | 19/43 | 19/36 |
| 188.25 | Voltaire Road Jn | 19/44 | 19/38 |
| 188.45 | Lindford Street Jn | 19/45 | 19/38 |
| 189.05 | Nine Elms Jn | 19/47 | 19/39 |
| 191.05 | Waterloo | 19.59a | 19.43 [P19] |
RH&DR Train :
| | | | |
| --- | --- | --- | --- |
| M.C | Location | Booked | Actual |
| 0.00 | Hythe | 13.40d | 13.42 |
| 4.77 | Dymchurch | 13/58 | 13/59 |
| 6.11 | Jefferstone Lane | 14/01 | 14/03 |
| 8.13 | New Romney | 14/07 | 14/09 |
| 10.14 | Romney Sands | 14/14 | 14/16 |
| 13.34 | Dungeness | 14/24 | 14/28 |
| 16.54 | Romney Sands | 14/34 | 14/38 |
| 18.55 | New Romney | 14.40a ~ 16.30d | 14.45 ~ 16.30 |
| 20.57 | Jefferstone Lane | 16/38 | 16/38 |
| 21.71 | Dymchurch | 16/42 | 16/42 |
| 26.68 | Hythe | 17.00a | 16.59 |