26th June 1994
The Britannia Locomotive Company
The North Wales Coast Express
| | |
| --- | --- |
| Locos Used | 47820, 86243 & steam: 70000 'Britannia' |
Route : 1T13 throughout
| | |
| --- | --- |
| Loco(s) | Route |
| 86243 | London Euston - (via WCML, Weedon) - Rugby - Coventry - Birmingham International - Stechford - Aston - Perry Barr North Jn - Bescot Stadium - Portobello Jn - Bushbury Jn - Stafford |
| 47820 (2) | Stafford - Norton Bridge - Madeley - Crewe |
| 70000 | Crewe - Chester - Rhyl - Llandudno Junction - Bangor - Holyhead |
| 70000 | Holyhead - (reverse of outward route) - Crewe |
| 47820 (2) | Crewe - (reverse of outward route) - Stafford |
| 86243 | Stafford - (via WCML, Trent Valley, Weedon) - London Euston |
Notes :
(1) Operated by the Britannia Locomotive Company in association with Flying Scotsman Services Railtours & Special Trains.
(2) Plus 86243 dead-in-tow (power was off between Stafford & Crewe).
(3) Train left Holyhead at 15.55 but was about 40mins late back at Watford Junction.
Source : Jim Porter (joined/left at Watford Junction)



Photo Review
(all photos: Jim Porter)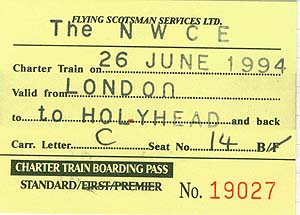 Jim Porter's ticket.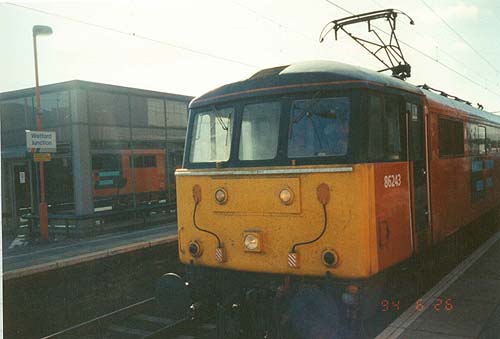 86243 pulls into Watford Junction.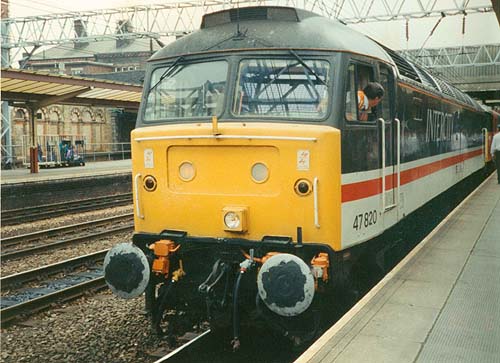 47820 & 86243 about to be removed from the train at Crewe.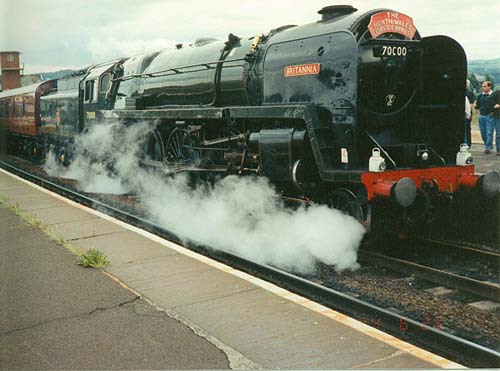 70000 during the first watering stop at Llandudno Junction.


Timings (Booked Only)
(from Jim Porter)
M.C
Location
Booked (out)
Booked (rtn)
M.C
0.00
Euston
08.10d
22.08a
158.00
5.23
West London Jn
08/16
22/00
152.57
11.30
Harrow & Wealdstone
08/20
21/56
146.50
17.35
Watford Junction
08.25a ~ 08.26d
21.37a ~ 21.38d
140.45
31.53
Tring
08/36
21/24
126.27
38.16
Ledburn Jn
08/50
21/20
119.64
46.46
Bletchley
08/55
21/15
111.34
49.65
Milton Keynes Central
08/57
21/13
108.15
56.47
Hanslope Jn
09/11
21/09
101.33
69.56
Weedon
09/19
21/01
88.24
82.40
Rugby
09.39a ~ 09.41d
20.49a ~ 20.51d
75.40
93.79
Coventry
09/51
-
-
104.55
Birmingham International
10/01
-
-
109.08
Stechford
10/05
-
-
112.01
Aston
10/10
-
-
114.23
Perry Barr North Jn
10/12
-
-
118.60
Bescot Stadium
10/17
-
-
122.77
Portobello Jn
10/19
-
-
125.45
Bushbury Jn
10/23
-
-
-
Nuneaton
-
20/32
60.70
-
Tamworth LL
-
20/24
47.68
-
Lichfield TV
-
20/20
41.57
-
Armitage Jn
-
20/17
36.49
-
Colwich Jn
-
20/14
30.72
139.22
Stafford
10/36
20/09
24.37
144.51
Norton Bridge
10/39
20/06
19.08
155.53
Madeley
10/46
19/59
8.06
163.59
0.00
Crewe
10L57a ~ 11L22d
19L27a ~ 19L52d
0.00
105.52
1.41
Steelworks Jn
11/28
19/22
104.11
10.60
Beeston Castle
11/38
19/12
94.72
21.10
Chester
11/52
18*29 ~ 18*56
84.42
23.01
Saltney Jn
11/56
18/21
82.61
31.51
Rockliffe Hall
12/04
18/13
74.01
37.76
Holywell Jn
12/12
18/06
67.56
51.08
Rhyl
12/29
17/50
54.44
61.45
Colwyn Bay
12/41
17/36
44.07
65.55
Llandudno Junction
12w50 ~ 13w20
17w06 ~ 17w28
39.77
70.63
Penmaenmawr
13/29
16/48
34.69
80.11
Bangor
13/41
16/35
24.61
82.62
Menai Bridge
13/45
16/29
22.70
84.29
Llanfair PG
13/47
16/25
21.23
87.15
Gaerwen Jn
13/51
16/19
18.37
102.07
Valley
14/06
16/03
3.45
105.52
Holyhead
14.28a
15.55d
0.00