29th May 1994
Branch Line Society
The Devonport Docker
| | |
| --- | --- |
| Loco Used | steam :7752 |
| DMU Used | 117305 (51410+59520+51368) |
| Stock Used | 18572+16237+1874 |
Route : 2Z37 throughout
| | |
| --- | --- |
| Traction | Route |
| DMU | Plymouth - Lipson Jn - Mount Gould Jn - Plymouth Friary |
| DMU | Plymouth Friary - Maxwell Road LC |
| DMU | Maxwell Road LC - Plymouth Friary |
| DMU | Plymouth Friary - Mount Gould Jn - Laira Jn - Tavistock Jn (up main) |
| DMU | Tavistock Jn (up main) - Tavistock Jn Yard (up goods) |
| DMU | Tavistock Jn Yard (up goods) - Tavistock Jn (up main) |
| DMU | Tavistock Jn (up main) - Laira Jn - Lipson Jn - Plymouth - Saltash - Liskeard |
| DMU | Liskeard - Coombe - Moorswater Crossing |
| DMU | Moorswater Crossing - Coombe - Liskeard |
| DMU | Liskeard - Lostwithiel - Fowey Dock Carne Point |
| DMU | Fowey Dock Carne Point - Lostwithiel |
| DMU | Lostwithiel - Par - St Blazey |
| DMU | St Blazey - Par Harbour |
| DMU | Par Harbour - St Blazey Middleway LC |
| DMU | St Blazey Middleway LC - Par |
| DMU | Par - St Austell - Burngullow Jn - Parkandillack |
| DMU | Parkandillack - Burngullow Jn - St Austell - Par - Lostwithiel - Bodmin Parkway |
| 7752 | Bodmin Parkway - Bodmin General |
| 7752 | Bodmin General - Bodmin Parkway |
| 7752 | Bodmin Parkway - Bodmin General (additional run) |
| 7752 | Bodmin General - Bodmin Parkway (additional run) |
| DMU | Bodmin Parkway - Liskeard - Saltash - Plymouth |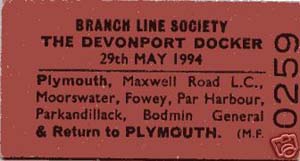 From the ticket collection of Chris Harley
Source : Alan Sheppard



Timings (Booked & Actual)
(from Alan Sheppard)
| | | | |
| --- | --- | --- | --- |
| M.C | Location | Booked | Actual |
| 0.00 | Plymouth | 08.30d | 08.34 [P6] |
| 1.41 | Lipson Jn | 08/34 | 08/38 |
| 1.78 | Mount Gould Jn | 08/37 | 08.41a ~ 08.50d |
| 3.10 | Plymouth Friary | 08.44a ~ 08.47d | 08.56 ~ 09.02 |
| 4.59 | Maxwell Road LC | 09.02a ~ 09.05d | 09.13 ~ 09.16 |
| 6.28 | Plymouth Friary | 09.20a ~ 09.23d | 09.32 ~ 09.34 |
| 7.40 | Mount Gould Jn | 09/30 | 09/44 |
| 7.55 | Speedway Jn | 09/32 | 09/45 |
| 8.01 | Laira Jn | 09/35 | 09/47 |
| ? | Tavistock Jn (up main) | - | 09.53a ~ 10.02d |
| 8.73 | Tavistock Jn Yard (up goods) | 09.40a ~ 09.43d | 10.02 ~ 10.09 |
| ? | Tavistock Jn (up main) | - | 10.10a ~ 10.11d |
| 9.65 | Laira Jn | 09/48 | 10/15 |
| 10.18 | Lipson Jn | 09/49 | 10/16 |
| 11.59 | Plymouth | 09.52a ~ 09.54d | 10.20 ~ 10.22 [P5] |
| ? | St Budeaux Jn | 09/59 | 10/31 |
| 15.76 | Saltash | 10/03 | 10/38 |
| 20.77 | St Germans | 10/10 | 10.45a ~ 10.47d |
| 29.41 | Liskeard | 10.24a ~ 11.25d | [P1] 11.03 ~ 11.33 [P3] |
| ? | Coombe No.1 GF | 11t31a ~ 11t34d | 11/39 |
| 31.51 | Coombe | ? | 11.39a ~ 11.41d |
| 32.08 | Moorswater Crossing | 11.43a ~ 12.00d | 11.43 ~ 11.59 |
| 32.45 | Coombe | ? | 12.01a ~ 12.14d |
| ? | Coombe No.1 GF | 12t04a ~ 12t14d | 12.15 ~ 12.16 |
| 34.55 | Liskeard | 12.20a ~ 12.40d | [P3] 12.24 ~ 12.40 [P1] |
| ? | St Pinnock Viaduct East | 12/46 | 12/46 |
| 39.65 | Largin | 12/47 | 12/47 |
| 47.17 | Lostwithiel | 12*58a ~ 12*59d | 12.56 ~ 12.57 |
| 51.43 | Fowey Dock Carne Point | 13.14a ~ 13.17d | 13.13 ~ 13.17 |
| 55.69 | Lostwithiel | 13.32a ~ 13.35d | 13.30 ~ 13.32 |
| 60.19 | Par | 13*43a ~ 13*45d | 13.43 ~ 13.45 |
| 60.55 | St Blazey | 13.47a ~ 13.50d | 13.48 ~ 13.49 |
| 61.12 | Par Harbour | 14.00a ~ 14.05d | 13.55 ~ 13.58 |
| 61.49 | St Blazey Middleway LC | 14.17a ~ 14.20d | 14.02 ~ 14.05 |
| 62.05 | Par | 14.22a ~ 14.25d | 14.08 ~ 14.26 |
| 66.46 | St Austell | 14/32 | 14/35 |
| 68.46 | Burngullow Jn | 14/36 | 14/40 |
| 74.05 | Parkandillack | 15.01a ~ 15.04d | 15.01 ~ 15.03 |
| 79.34 | Burngullow Jn | 15*29a ~ 15*40d | 15.27 ~ 15.38 |
| 81.34 | St Austell | 15/49 | 15/41 |
| 85.75 | Par | 15.54a ~ 15.56d | 15/46 |
| 90.25 | Lostwithiel | 16/01 | 15/54 |
| 93.56 | Bodmin Parkway | 16.06a | 16.03 |
| 93.70 | Bodmin Parkway | 17.00d | 16.59 |
| 97.34 | Bodmin General | 17.25a | 17.23 |
| 102.46 | Bodmin General | additional | 17.43d |
| 106.10 | Bodmin Parkway | additional | 17.57a |
| 106.24 | Bodmin Parkway | 18.00d | 18.04 |
| ? | Largin | 18/05 | ? |
| ? | St Pinnock Viaduct East | 18/06 | ? |
| 115.35 | Liskeard | 18/11 | ? [P2] |
| 123.79 | St Germans | 18/20 | ? |
| 129.00 | Saltash | 18/25 | ? |
| 130.31 | St Budeaux Jn | 18/29 | 18/35 |
| 133.38 | Plymouth | 18.35a | 18.40 [P3] |
Notes:
(1) At Liskeard the mileage continues from Liskeard P1 to Loop Jn then directly to Coombe (and vice versa for the return).
(2) Moorswater Crossing mileage is that to Moorswater China Clay Works.
(3) St Blazey Middleway LC mileage is that for St Blazey station.
(4) Bodmin Parkway mileages include Bodmin Road Exchange Sidings at 93m 62ch & 106m 18ch).
(5) Bodmin General mileage continues to Boscarne Jn Sidings at 100m 00ch.



Back to "The Railtour Files"