19th March 1994
Worksop Open Day Committee
The Worksop Wanderer
| | |
| --- | --- |
| Locos Used | 37403, 37408, 47972, 56124, 56128 & 58011 |
Route : 1Z40 throughout
| | |
| --- | --- |
| Loco(s) | Route |
| 47972 | Manchester Piccadilly - Stockport - Hazel Grove HL Jn - New Mills South Jn - Chinley - Edale - Dore - Sheffield - Nunnery Main Line Jn - Woodhouse Jn - Kiveton Park - Worksop - Retford HL |
| 58011 + 47972 | Retford HL - Doncaster - Colton Jn - York Yard South Jn - Skelton Jn - Newcastle - (via ECML) - Edinburgh Waverley - Haymarket - Winchburgh Jn - Polmont - Greenhill Upper Jn - Lenzie - Cowlairs West Jn - Springburn - Barnhill - Bellgrove Jn - High Street Jn - Shields Jn - Paisley Gilmour Street - Kilwinning - Irvine - Barassie - Ayr |
| 56124 + 56128 (1) | Ayr - Dalrymple Jn - Holehouse Jn - Chalmerston Colliery |
| 37403 + 37408 (2) | Chalmerston Colliery - Holehouse Jn - Dalrymple Jn - Ayr - Falkland Jn |
| 58011 + 47972 | Falkland Jn - Annbank Jn - Mauchline Jn - New Cumnock - Dumfries - Carlisle - (via WCML) - Preston - Euxton Jn - Chorley - Lostock Jn - Bolton - Salford Crescent - Ordsall Lane Jn - Manchester Piccadilly - Stockport - Hazel Grove HL Jn - New Mills South Jn - Chinley - Edale - Dore - Sheffield - Nunnery Main Line Jn - Woodhouse Jn - Kiveton Park - Worksop - Retford |
Notes :
(1) 37403 + 37408 on rear.
(2) 56124 + 56128 on rear.
(3) Gordon Lacy comments: The published (in the railtour brochure) times are at variance with those in the STN. This was in part due to the advertised (& originally timed & in the brochure, too!) visit to Killoch (after arrival at Ayr) being vetoed by the Civil Engineer, Scotland (or so we were told!). Plan B was to go to Hunterston instead. In the event, due to the late running, this also ended up being cancelled! The Ayr - Chalmerston 'shuttle' was retimed to depart Ayr at 15:43 (the original brochure passing time at Ayr), but, err, actually left at 15:16! In addition, the 16:39 (STN) departure from Ayr reverted to that originally advertised (17:00) as coach trips had been arranged to arrive back at Ayr for this time! Additional quote from the STN: "Class 47/9 and class 58 locos in tandem Retford GN to Ayr (when working in tandem class 47/9 provides ETH only)."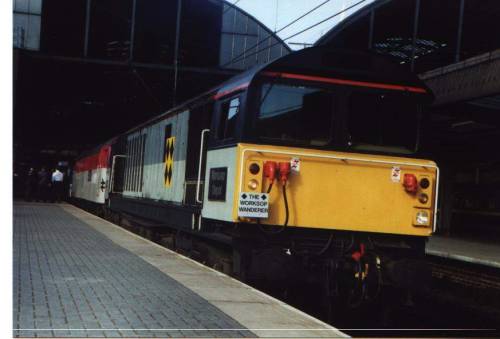 58011 & 47972 at Newcastle (photo: Craig Sullivan)
Source : Andrew Wilson (joined/left train at Worksop)
Additional route information from David Garnett & Paul Griffin



Timings (Booked & Actual)
(from Gordon Lacy)
| | | |
| --- | --- | --- |
| Location | Booked | Actual |
| Manchester Piccadilly | 04.55d | ? |
| Slade Lane Jn | 05/00 | ? |
| Stockport | 05.04a ~ 05.06d | ? |
| Hazel Grove | 05/12 | ? |
| Chinley North Jn | 05/25 | ? |
| Totley Tunnel East | 05/48 | ? |
| Dore Station Jn | 05/50 | ? |
| Sheffield | 05.59a ~ 06.10d | ? |
| Nunnery Main Line Jn | 06/11½ | ? |
| Woodburn Jn | 06/15½ | ? |
| Woodhouse Jn | 06/21½ | ? |
| Kiveton Park | 06/27½ | ? |
| Worksop | 06.36a ~ 06.42d | ??.?? ~ 06.53 |
| Thrumpton West Jn | 06/51 | 07/01 |
| Retford HL | 06L54a ~ 07L14d | 7.05 ~ 07.27 |
| Loversall Carr Jn | 07/28 | 07/40 |
| Doncaster | 07/35 | 07/43 |
| Shaftholme Jn | 07/41 | 07/47 |
| Temple Hirst Jn | 07/48 | 07/54 |
| Hambleton North Jn | 07/53 | 07/58 |
| Colton Jn | 08/04 | 08/04½ |
| York Yard South Jn | 08c14 ~ 08c16 | 08.10½ ~ 08.12 |
| Skelton Jn | 08/22 [SL] | 08/17½ |
| Tollerton | 08/31 | 08/27 |
| Thirsk | 08/44 | 08/38½ |
| Longlands Jn | 08/52 [FL] | 08.46 ~ 08.47 |
| Northallerton | 08/53 | 08/49 |
| Darlington | 09/05 | 09/02 [AL] |
| Ferryhill South Jn | 09/15 | 09/13 |
| Tursdale Jn | 09/17 | 09/15 |
| Durham | 09/23 | 09/20½ |
| King Edward Bridge South Jn | 09/37 | 09/32½ |
| Newcastle | 09.40 ~ 09.42 | 09.36 ~ 10.11 |
| Heaton South Jn | 09/47 | 10/20 |
| Morpeth | 10/00 | 10/33½ |
| Alnmouth | 10/14½ | 10/48 |
| Belford | 10/26 | 11/01 |
| Berwick-upon-Tweed | 10c38 ~ 10c40½ | 11.14 ~ 11.25 |
| Reston | 10/50 | 11/36 |
| Grantshouse | 10/55 | 11/40½ |
| Dunbar | 11/05 | 11/51 |
| Drem | 11/14 | 12/00 |
| Monktonhall Jn | 11/25 | 12/09 |
| Portobello Jn | 11/27 | 12/12 |
| Edinburgh Waverley | 11.31a ~ 11.40d | 12.16½ ~ 12.27 |
| Haymarket | 11/43 | 12/31 |
| Winchburgh Jn | 11/53 | 12/42 |
| Linlithgow | 11/57 | 12/46 |
| Polmont | 12/00½ | 12/51 |
| Greenhill Upper Jn | 12/06½ | 12/58 |
| Lenzie | 12/15 | 13/07 |
| Cowlairs West Jn | 12/20 | 13/14 |
| Springburn ?C? | ? | 13c19 ~ 13c20 |
| Bellgrove Jn | 12/34 | 13/35½ |
| High Street Jn | 12/36 | 13/37 |
| Shields Jn | 12/52 | 13/44 |
| Paisley Gilmour Street | 12/58 | 13/50 |
| Kilwinning Jn | 13/21 | 14/09 |
| Irvine | 13/24 | 14/11½ |
| Barassie | 13/27 | 14/15 |
| Ayr | 13L40a | 14.34½ |
| Ayr | 14L03d | DIV |
| Hunterston | 14.50 | DIV |
| Ayr | 15.33a | DIV |
| Ayr | 15.43d | 15.16 |
| Dalrymple Jn | 15/48 | 15/23 |
| Chalmerston Colliery | 16.18a ~ 16.23d | 15.58½ ~ 16.06 |
| Dalrymple Jn | 16/53 | 16.46 ~ 16.47 |
| Ayr | 16.58a ~ 17.00d | 17.04 ~ 17.17 |
| Falkland Yard | 17L05 ~ 17L27 | 17.26 ~ 18.01½ |
| Annbank Jn | 17/40 | 18/14 |
| Macuhline Jn | 17/54 | 18/38 |
| Kirkconnel | 18/15 | 19.01 ~ 19.10½ |
| Thornhill | 18/30 | 19/27 |
| Dumfries | 18/43 | 19/39½ |
| Annan | 18/59 | 19/52 |
| Gretna Jn | 19/07 | 20/03½ |
| Carlisle | 19.06a ~ 19.56d | 20.13½ ~ 20.15 |
| Penrith | 20/14 | 20/31½ |
| Oxenholme | 20/41 | 20/56 |
| Carnforth | 20/51 | 21/06½ |
| Lancaster | 20/56 | 21/13 |
| Preston | 21.20 ~ 21.21 | 21.30½ ~ 21.32 |
| Euxton Jn | 21/29 | 21/38½ |
| Lostock Jn | 21/42 | 21/54 |
| Bolton | 21/45 | 21/59 |
| Salford Crescent | 22/03 | 22/12 |
| Ordsall Lane Jn | 22/06 | 22/15 |
| Manchester Piccadilly | 22.11a ~ 22.13d | 22.21½ ~ 22.24 |
| Slade Lane Jn | 22/18 | 22/28 |
| Stockport | 22.22a ~ 22.24d | 22.36 ~ 22.38 |
| Hazel Grove | 22/30 | 22/44½ |
| Chinley North Jn | 22/46 | 22/54 |
| Totley Tunnel East | 23/10 | 23/14½ |
| Dore Station Jn | 23/12 | 23/16½ |
| Sheffield | 23.18a ~ 23.25d | 23.24 ~ 23.28 |
| Nunnery Main Line Jn | 23/27 | 23/30 |
| Woodburn Jn | 23/31 | 23/32 |
| Woodhouse Jn | 23/37 | 23/36½ |
| Kiveton Park | 23/43 | 23/41 |
| Worksop | 23.51a ~ 23.52d | 23.49 ~ ??.?? |
| Thrumpton West Jn | 00/01 | ? |
| Retford | 00.04a | ? |