27th November 1993
Lancaster Railtours
The Sherwood Forester
Route : 1Z29 throughout
| | |
| --- | --- |
| Locos | Route |
| 31432 + 31455 | (1) Lancaster - Preston (2) - Blackburn - Accrington - Copy Pit - Hebden Bridge - Sowerby Bridge - Milner Royd Jn - Brighouse - Mirfield - Horbury Jn - Wakefield Kirkgate - Hare Park Jn - South Kirkby Jn - Moorthorpe - Meadowhall - Sheffield - Chesterfield - Alfreton & Mansfield Parkway - Nottingham |
| 31455 + 31432 | Nottingham - (reverse of outward route) - Hare Park Jn - Turners Lane Jn - Altofts Jn - Methley Jn - Engine Shed Jn - Whitehall Jn- (3) - Dewsbury - Mirfield - Brighouse - (3) Milner Royd Jn - (reverse of outward route) - Lancaster - Carnforth - Ulverston - Barrow-in-Furness |
Notes :
(1) The train was due to start at Barrow-in-Furness however the stock was late off Edge Hill CS and thus reversed at Carnforth U&DGL and the tour started at Lancaster. A DMU connection ran from Barrow-in-Furness to Lancaster to pick up passengers from the pick-up points prior to Lancaster.
(2) TRUST report carried the following comments: train departed from Preston at 09.02 but was wrongly routed. Had to set back into Preston station to go correct route.
(3) train was booked via Whitehall Jn and Bradford Interchange but was diverted via Dewsbury to avoid the run round at Bradford.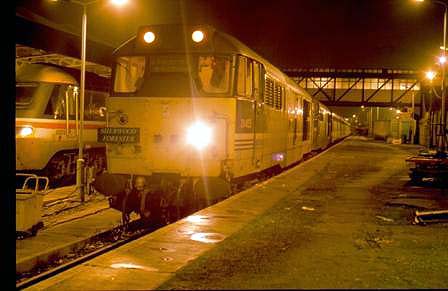 The return run, ready to leave Nottingham (photo: Derek Thompson)
Sources : Craig Sullivan, David Bellamy & Derek Thompson



Timings (Booked & Actual)
(from David Bellamy & Derek Thompson)
Location
Booked
Actual
Booked
Actual
Barrow-in-Furness
?
CANX
23.22a
23.05
Roose
?
CANX
23.12a ~ ??.??d
?
Dalton
?
CANX
23.04a ~ ??.??d
?
Ulverston
?
CANX
22.54a ~ ??.??d
?
Cark & Cartmel
?
CANX
22.44a ~ ??.??d
?
Kents Bank
?
CANX
22.39a ~ ??.??d
?
Grange over Sands
?
CANX
22.34a ~ ??.??d
?
Arnside
?
CANX
22.26½a ~ 22.28½d
?
Silverdale
?
CANX
22.18a ~ ??.??d
?
Carnforth
?
CANX
22.09½a ~ 22.11½d
?
Lancaster
??.??a ~ 08.10d
08.30
22.00½a ~ 22.02½d
21.57 ~ 22.00
Preston
08.41a ~ 08.43d
09.18 ~ 09.20
21.37½a ~ 21.39½d
21.34 ~ 21.37
Bamber Bridge
?
21.25a ~ ??.??d
?
Blackburn
09.07a ~ 09.09d
09.48 ~ 09.50
21.10½a ~ 21.12½d
21.09 ~ 21.10
Acrington
?
?
21.00a ~ ??.??d
?
Gannow Jn
?
10/02
20/48½
20/45
Rose Grove
?
?
20.50½a ~ 20.52d
?
Hall Royd Jn
?
10/18
?
20/29
Hebden Bridge
?
?
20/40
?
Milner Royd Jn
?
?
20/34
?
Halifax
20/29
DIV
Bradford Interchange
19.59 ~ 20.17
DIV
Hare Park Jn
?
?
19/08
19/12
South Kirkby Jn
?
?
19/01½
19/00
Swinton
?
?
18/49
18/51
Holmes Jn
?
?
18/41½
18/45
Meadowhall
11.09a ~ ??.??d
?
18.38a ~ 18.39d
?
Sheffield
11.17a ~ 11.19d
11.49 ~ 11.50
18.31a ~ 18.33d
18.26 ~ 18.34
Chesterfield
11.34a ~ 11.36d
12.05 ~ 12.06
18.14a ~ 18.16d
18.09 ~ 18.11
Alfreton & Mansfield Parkway
?
?
18/03
?
Nottingham
12.15a
12.41
17.37d
17.37