13th November 1993
Hertfordshire Rail Tours
The Speaking Clock
| | |
| --- | --- |
| Locos Used | 20075, 20187, 47705 & 86204 |
| Stock Used | 5378+5293+5379+5304+9431+13225+5322+5393+5353+5291 |
Route : 1T15 throughout
| | |
| --- | --- |
| Loco(s) | Route |
| 86204 | London Euston - (WCML via Weedon) - Crewe |
| 20075 + 20187 (1) | Crewe - Chester |
| 47705 (2) | Chester - Mickle Trafford Jn - Helsby - Frodsham Jn - Halton Jn - Runcorn Jn - Runcorn Folly Lane |
| 20075 + 20187 (1) | Runcorn Folly Lane - Runcorn Jn |
| 47705 (2) | Runcorn Jn - Ditton |
| 20075 + 20187 (1) | Ditton - Carterhouse Jn - Fiddlers Ferry - Arpley Jn - Latchford Sidings |
| 47705 (2) | Latchford Sidings - Arpley Jn - Walton Old Jn - Acton Grange Jn - Weaver Jn - Acton Bridge - Hartford LNW Jn - Hartford CLC Jn - Northwich West Jn - Northwich South Jn - Middlewich - Sandbach - (3) - Crewe |
| 20075 + 20187 (1) | Crewe - Winsford - Weaver Jn - Runcorn - Ditton - Speke Jn - Garston FLT (4) |
| 47705 (2) | Garston FLT - Garston Church Road - Garston Jn - Allerton - Wavertree Jn - Edge Hill |
| 20075 + 20187 (1) | Edge Hill - Regent Road LC - Seaforth Container Terminal |
| 47705 (2) | Seaforth Container Terminal - Regent Road LC - Edge Hill |
| 20075 + 20187 (1) | Edge Hill - Huyton - St Helens Central - Ince Moss Jn - Bamfurlong Jn - Winwick Jn - (via WCML) - Crewe |
| 86204 | Crewe - (WCML) - Rugby - Northampton - Milton Keynes Central - (via WCML) - London Euston |
Notes :
(1) 47705 on rear.
(2) 20075 + 20187 on rear.
(3) Was advertised to traverse the "Up Manchester Loop", but didn't.
(4) At Garston FLT the train reached a brake van which had been placed at the buffers of the Freightliner holding siding.
The tour was originally advertised to go to Silverdale Colliery, Latchford Sidings, Garston Freightliner Terminal Holding Siding, Crown Street No.5 Tunnel and Seaforth Container Terminal in that order. Silverdale & Crown Street were decreed unsuitable for passenger trains so Folly Lane, Northwich to Sandbach & the Frodsham Curve were put in as replacements.
Sources : Gary Thornton (joined/left train at Milton Keynes Central) & Alan Sheppard.



Photo Review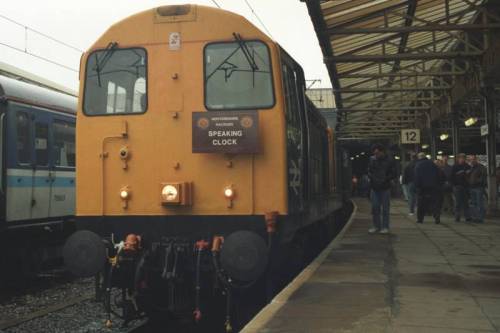 The choppers at Crewe (photo: Gary Thornton)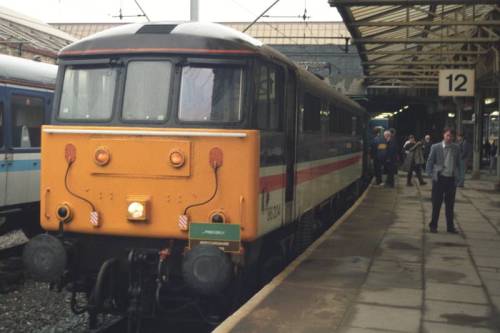 86204 with the second tour headboard - simply '....precisely' (photo: Gary Thornton)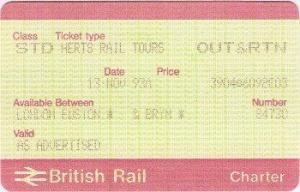 Gary Thornton's ticket.


Timings (Booked & Actual)
(from Robin Addison, Alan Sheppard & Gary Thornton)
M.C
Location
Booked
Actual
Booked
Actual
M.C
0.00
Euston
07.15d
?
21.56a
?
497.79
5.23
Willesden WL Jn
07/21
?
21/48
?
492.56
11.30
Harrow & Wealdstone
07/25
?
21/44
?
486.49
17.35
Watford Junction
07.30a ~ 07.32d
?
21.34a ~ 21.35d
?
480.44
31.53
Tring
07/42
?
21/21
?
466.26
38.16
Ledburn Jn
07/46
?
21/17
?
459.63
46.46
Bletchley
07/52
?
21/12
?
451.33
49.65
Milton Keynes Central
07.55a ~ 07.57d
07.56 ~ 07.58
21.07a ~ 21.08d
21.16 ~ ??.??
448.14
56.47
Hanslope Jn
08/03
08/07
21/02
21/07
441.32
-
Northampton
20/53
20/57
432.11
-
Long Buckby
20/44
20/47
422.42
69.56
Weedon
08/11
08/17
82.40
Rugby
08.35a ~ 08.37d
08.43 ~ 08.44
20.34a ~ 20.35d
20.35 ~ 20.37
413.12
97.10
Nuneaton
08/49
08/55
20/21
20.19a ~ 20.22d
398.42
110.12
Tamworth Low Level
08/57
09/03
20/13
20/10
385.40
116.23
Lichfield Trent Valley
09/01
09/07
20/09
20/06
379.29
121.31
Armitage
09/04
?
20/06
20/03
374.21
127.08
Colwich Jn
09/07
09/13
20/02
?
368.44
133.43
Stafford
09.14a ~ 09.15d
09.20 ~ 09.24
19.55a ~ 19.56d
19.52 ~ 19.53
362.09
138.72
Norton Bridge
09/27
09/29
19/50
19/47
356.60
149.74
Madeley Jn
09/41
09/38
19/43
19/41
345.58
158.00
Crewe
09L53a ~ 10L23d
09.43 ~ 10.21
19L06a ~ 19L36d
19.15 ~ 19.33
337.52
159.41
Crewe Steel Works
10/26
10/25
168.60
Beeston Castle Signal Box
10/34
10/34
179.10
Chester (U&DM)
10.48a ~ 11.10d
10.48 ~ 11.07
181.63
Mickle Trafford Jn
11/15
11/15
186.40
Helsby
11/20
11/22
190.11
Frodsham Jn
11/25
11/26
191.65
Halton Jn
11/31
11/31
192.72
Runcorn Jn
11/34
11/38
193.62
Runcorn Folly Lane
11.44a ~ 11.54d
11.43 ~ 12.07
194.52
Runcorn Jn
12.04a ~ 12.09d
12.14 ~ 12.16
197.24
Ditton
1214a ~ 1219d
12.25 ~ 12.29
199.66
Carterhouse Jn
12/24
12/39
201.48
Fiddlers Ferry
12/28
12/41
205.11
Arpley Jn
12/35
12.52a ~ 12.52d
206.08
Latchford Sidings
12.37a ~ 12.47d
12.59 ~ 13.03
207.05
Arpley Jn
12/49
13.09a ~ 13.09d
207.73
Walton Old Jn
12/52
13.10a ~ 13.10d
208.77
Acton Grange Jn
12/58
13.15a ~ 13.22d
214.01
Weaver Jn
13/03
13/31
216.63
Acton Bridge
13/06
13/35
218.46
Hartford LNW Jn
13/10
13/40
219.31
Hartford CLC Jn
13/11
13/41
221.44
Northwich West Jn
13/14
13/48
221.73
Northwich South Jn
13/15
13/49
230.43
Sandbach
13/50
14/16
234.61
Up Manchester
13.59a ~ 14.14d
14/42
235.13
Crewe
14.16a ~ 14.27d
14.44 ~ 14.52
243.79
Winsford Signal Box
14/37
15/06
18/49
?
328.66
252.33
Weaver Jn
14/42
15/17
18/43
18/55
320.32
-
Acton Grange Jn
18/35
18/50
315.28
257.46
Runcorn
14/48
15/22
260.15
Ditton
14/50
15/24
264.05
Speke Jn
14/58
15/29
265.25
Garston Church Road
15/02
15/35
265.40
Garston FLT
15.05a ~ 15.15d
15.40 ~ 15.42
265.55
Garston Church Road
15/18
15/47
266.03
Garston Jn
15/19
15/48
266.48
Allerton
15/22
15/50
269.71
Wavertree Jn
15/26
15.58a ~ 16.01d
270.72
Edge Hill
15.29a ~ 1539d
16.07a ~ 16.18d
277.04
Regent Road Level Crossing
16/09
16/46
278.43
Seaforth Container Terminal
16.29a ~ 16.38d
17.00 ~ 17.03
280.02
Regent Road Level Crossing
16/57
17/15
280.56
Bootle Jn
16/59
17/17
285.47
Bootle Branch Jn
17/14
17/35
286.14
Edge Hill
17.16a ~ 17.51d
17.38 ~ 17.44
286.61
Bootle Branch Jn
17/52
17/45
290.33
Huyton
17/57
17/53
296.19
St Helens Central
18/04
18/05
303.05
Ince Moss Jn
18/15
18/18
303.65
Bamfurlong Jn
18/18
?
307.55
Golborne Jn
18/23
18/22
310.55
Winwick Jn
18/26
?
313.41
Warrington Bank Quay
18c29a
18.36
18c31d
18.44
313.41