3rd October 1993
Flying Scotsman Services Limited
The Cambrian Coast Limited 1993
| | |
| --- | --- |
| Locos Used | 47578 'Respected', 86204 'City of Carlisle' & steam: 80079, 80080, 9 'Prince of Wales' & 7 'Owain Glyndwr' |
Route : 1T35 throughout
| | |
| --- | --- |
| Loco(s) | Route |
| 86204 | London Euston - (via WCML, Northampton, Trent Valley) - Stafford |
| 47578 (2) | Stafford - Norton Bridge - Madeley - Crewe |
| 80079 + 80080 | Crewe - Whitchurch - Wem - Shrewsbury - Sutton Bridge Jn - Newtown - Machynlleth - Dovey Junction - Aberystwyth |
| 9 | Aberystwyth - Aberffrwd (3) |
| 7 | Aberffrwd - Aberystwyth |
| 80079 + 80080 | Aberystwyth - (reverse of outward route) - Crewe |
| 47578 (2) (4) | Crewe - (reverse of outward route) - Stafford |
| 86204 | Stafford - (via WCML, Trent Valley, Weedon) - London Euston |
Notes :
(1) Operated by Flying Scotsman Services Ltd in conjunction with InterCity and S.L.O.A. and in association with Regional Railways.
(2) Plus 86204 dead-in-tow.
(3) Jim Porter comments: The optional full round trip on the Vale of Rheidol Railway was shortened due to there being insufficient time for a round trip between arrival and departure of the main train at Aberyswyth. Instead of going all the way to Devil's Bridge and back we were hauled to Aberffrwd by 'Prince of Wales' and then the train was split in two, the front half continued on to Devils Bridge while the back half was taken back down to Aberyswyth by 'Owain Glyndwr' which had followed us up the mountain. [Webmasters note: both Jim & myself would appreciate confirmation that Aberffrwd was the reversal point of the train] We were scheduled to depart Aberyswyth at 16.10 but did not depart until 17.30 and we arrived at Watford Junction at ten past midnight, one hour and twenty five minutes late.
(4) Train was booked to run with electric traction from Crewe however the power was still off resulting in 47578 providing traction to Stafford.
Source : Jim Porter (joined/left the train at Watford Junction)



Photo Review
(all photos: Jim Porter)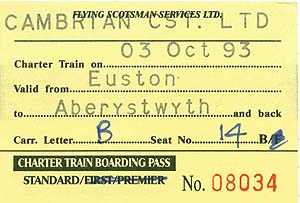 Jim Porter's Ticket's.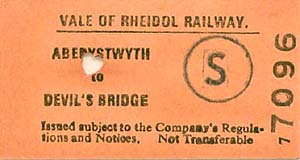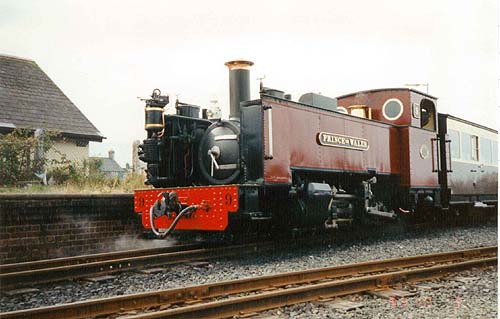 9 'Prince of Wales' at Aberystwyth.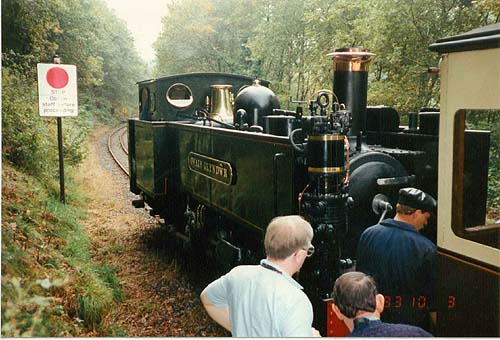 7 'Owain Glyndwr' at Aberffrwd, where the train reversed.


Timings (Booked Only)
(from Jim Porter)
| | | | | |
| --- | --- | --- | --- | --- |
| M.C | Location | Booked (out) | Booked (rtn) | M.C |
| 0.00 | London Euston | 06.35d | 23.19a | 546.69 |
| 5.23 | Willesden WL Jn | 06/41 | 23/11 | 541.46 |
| 17.35 | Watford Junction | 06.49a ~ 06.50d | 22.45a ~ 22.46d | 529.34 |
| 31.53 | Tring | 07/01 | 22/36 | 515.16 |
| 46.46 | Bletchley | 07/20 | 22/26 | 500.23 |
| 49.65 | Milton Keynes Central | 07.23a ~ 07.24d | 22.21a ~ 22.22d | 497.04 |
| 56.47 | Hanslope Jn | 07/40 | 22/16 | 490.22 |
| 65.68 | Northampton | 07/49 | - | - |
| 75.37 | Long Buckby | 07/57 | - | - |
| - | Weedon | - | 22/08 | 477.13 |
| 84.67 | Rugby | 08/09 | 21/58 | 464.29 |
| 99.37 | Nuneaton | 08.21a ~ 08.22d | 21.31a ~ 21.32d | 446.59 |
| 112.39 | Tamworth LL | 08/33 | 21/22 | 436.57 |
| 118.50 | Lichfield TV | 08/39 | 21/18 | 430.46 |
| 129.35 | Colwich Jn | 08/42 | 21/11 | 419.61 |
| 135.70 | Stafford | 08L52 ~ 09L03 | 21/07 | 413.26 |
| 141.19 | Norton Bridge | 09/08 | 21/03 | 407.77 |
| 152.23 | Madeley Jn | 09/15 | 20/57 | 396.73 |
| 160.27 | Crewe | 09L30a ~ 09L50d | 20L29a ~ 20L49d | 388.69 |
| 164.66 | Nantwich | 10/00 | 20/18 | 384.30 |
| 174.02 | Whitchurch | 10/14 | 20/07 | 375.14 |
| 182.24 | Wem | 10w25 ~ 10w55 | 19w40 ~ 19w55 | 366.72 |
| 190.76 | Harlescott Crossing | 11/16 | 19/29 | 358.20 |
| 193.04 | Shrewsbury | 11c31 ~ 11c33 | 19c22 ~ 19c24 | 356.12 |
| 193.68 | Sutton Bridge Jn | 11t40 | 19t17 | 355.28 |
| 204.13 | Westbury | 11t58 | 19t02 | 345.03 |
| 212.58 | Welshpool | 12/13 | 18/49 | 336.38 |
| 226.46 | Newtown | 12w31 ~ 12w51 | 17w48 ~ 18w30 | 322.50 |
| 240.14 | Talerddig | 13t16 ~ 13t21 | 17/29 | 309.02 |
| 253.72 | Machynlleth | 13w46 ~ 14w01 | 16w42 ~ 17w00 | 295.24 |
| 257.71 | Dovey Junction | 14/08 | 16/33 | 291.25 |
| 274.48 | Aberystwyth | 14.40a | 16.03d | 274.48 |