11th September 1993
S.L.O.A. / F.S.S.
The Cumbrian Mountain Express
| | |
| --- | --- |
| Locos Used | 47715 & steam: 60532 'Blue Peter' |
| Stock Used | load 11 |
Route :
| | |
| --- | --- |
| Loco | Route |
| electric | London Euston - (via WCML, Northampton, Trent Valley) - Carlisle |
| 60532 | Carlisle - (via S&C) - Settle Jn - Hellifield (1) - Keighley - Shipley - Bradford Forster Square |
| 47715 | Bradford Forster Square - New Pudsey - Whitehall Jn - Engine Shed Jn - Woodlesford - Altofts - Wakefield Kirkgate - Healey Mills - Huddersfield - Stalybridge - Stockport - (1) Crewe |
| electric | Crewe - (reverse of outward route) - London Euston |
Notes :
(1) Gordon Jakes comments: The return routing and timings were complicated because the route of the train was altered after the printing of the timetable included in the Souvenir Information Wallet. The route from Hellifield to Blackburn was closed to loco-hauled trains due to underbridge problems at Horrocksford. Consequently the CME was diverted to Blackburn Foster Square where 60532 was detached and 47715 took over. The information given to passengers stated the outward times were not altered....but they were different between the timing sheet and the explanation letter (hence both sets are included for reference). No scheduled timings were provided for the section of route from Bradford to Crewe. Passengers who joined at Wigan North Western had to leave the train at Crewe and return home to Wigan on the 19.53 departure from Crewe (18.55 Birmingham New Street to Glasgow Central), arriving 20.23 at Wigan North Western, tour tickets being valid for this journey.
(2) Alex Cunningham comments: An unspectacular but competent ascent to Ais Gill; passed 4498 'Sir Nigel Gresley' coming downhill with the Pilkington rake in the Mallerstang Valley - when last did two LNER Pacifics pass one another at speed on long express trains? Was anyone in the right place at the right time to photograph these two giants of steam in full flight simultaneously? 47715 'Haymarket' took over at Bradford, now in NSE colours, but still bringing back memories of Edinburgh-Glasgow push-pulls. Looped just below Standedge Tunnel for a 158 bound for Manchester Airport to pass. Arrived Crewe 19:40, and darkness was falling as the Cumbrian Mountain Express headed south while I waited a service train north.
Sources : Alex Cunningham (joined at Carlisle, left at Crewe) & Gordon Jakes (joined/left at Crewe)



Photo Review
(all photos: Gordon Jakes)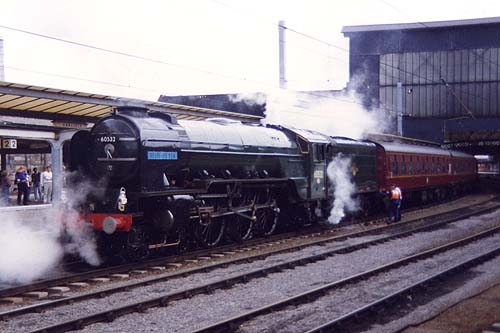 60532 waits to leave Carlisle.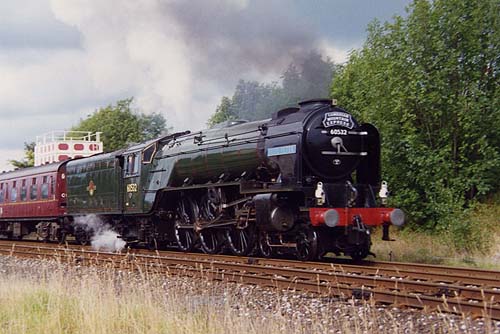 60532 performs a photo/video run-past at Appleby.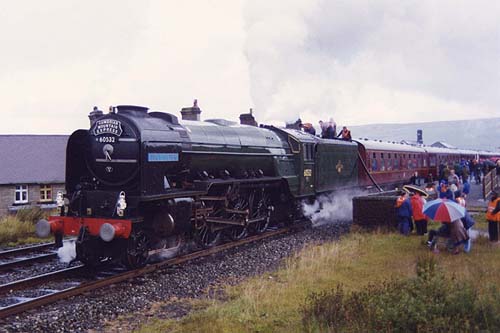 Watering stop & photo-stop at Garsdale.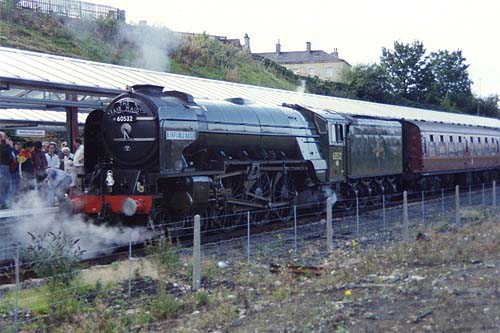 Steam-haulage over, Bradford Forster Square.


Timings (Booked Only)
(from Gordon Jakes)
M.C
Location
Original
Booked (out)
Revised
Booked (out)
Revised
Booked (rtn)
0.00
Euston
07.06d
08.10d
22.12a
5.65
Willesden WL Jn
07/13
?
?
17.35
Watford Junction
07.21a ~ 07.22d
??.??a ~ 08.32d
21.49a ~ ??.??d
31.53
Tring
07/33
?
?
46.46
Bletchley
07/42
?
?
49.65
Milton Keynes
07.46a ~ 07.47d
?
?
56.47
Hanslope Jn
07/53
?
?
65.68
Northampton
08.05a ~ 08.07d
?
?
84.67
Rugby
08/24
?
?
99.37
Nuneaton
08.35a ~ 08.37d
??.??a ~ 09.41d
20.40a ~ ??.??d
112.39
Tamworth LL
08/47
?
?
118.50
Lichfield TV
08.52a ~ 08.53d
?
?
129.35
Colwich Jn
09/01
?
?
135.70
Stafford
09/06
?
?
141.19
Norton Bridge
09/09
?
?
152.21
Madeley Jn
09/18
?
?
160.27
Crewe
09.27a ~ 09.30d
??.??a ~ 10.32d
19.39a ~ ??.??d
167.68
Winsford
09/38
?
(see below for steam-hauled
section Carlisle to Bradford
Forster Square)
184.38
Warrington Bank Quay
09/52
?
196.18
Wigan North Western
10/05
?
205.72
Euxton Jn
10/16
?
211.28
Preston
10/23
?
232.26
Lancaster
10/42
?
251.84
Oxenholme
10/54
?
264.47
Tebay
11/04
?
283.46
Penrith
11/17
?
301.35
Carlisle
11L34a
12L22a
12L56d
M.C
Location
Revised
Booked
0.00
Carlisle
12L56d
0.72
Petteril Bridge Jn
12/59
9.68
Armathwaite
13/11
15.34
Lazonby
13/20
19.61
Langwathby
13/27
30.62
Appleby
13w46a ~ 14w23d
41.44
Kirkby Stephen
14/37
48.27
Ais Gill
14/44
51.29
Garsdale
14w49a ~ 15w04d
58.59
Blea Moor
15/14
73.44
Settle Jn
15/29
76.69
Hellifield
15/37
83.05
Gargrave
15/44
86.63
Skipton
15c49 ~ 15c51
95.78
Keighley
16/02
102.13
Shipley
16/12
104.78
Bradford Forster Square
16L19a ~ ??L??d