2nd January 1993
Hertfordshire Rail Tours
The Wensleydale Lament
| | |
| --- | --- |
| Loco Used | 37714, 37884 & 47820 |
Route : 1G24 throughout
| | |
| --- | --- |
| Loco(s) | Route |
| 47820 | London Kings Cross - Potters Bar - Stevenage - Peterborough - Doncaster - York |
| 47820 (1) | York - Northallerton - Castle Hills Jn |
| 37714 + 37884 (2) | Castle Hills Jn - Bedale - Redmire (3) |
| 47820 (1) | Redmire - Bedale - Castle Hills Jn |
| 37714 + 37884 (2) | Castle Hills Jn - Northallerton - York |
| 47820 (1) | York - Doncaster - Peterborough - Stevenage - Potters Bar - London Kings Cross |
Notes :
(1) 37714 + 37884 on rear.
(2) 47820 on rear.
(3) The tour timing sheet carried the comment: 'At Redmire the intention is to run the train straight past the station in order to get as close to the end of the line as is permissible, then to reverse back into the station for a photo-stop'. Confirmation is required as to the movement(s) at Redmire.
(4) Stephen Chandler had the class 47 used as 47810 and the tour name as 'Redmire Requiem' however the tour itinerary only gave the name as 'The Wensleyale Lament' with no mention of any alternative name on the front page or anywhere in the blurb within. It was questioned if there was another tour over the line on the same day, using 47810 however Dan Adkins has also confirmed 47820 as the class 47 used on this tour (based on a photo his father took of it at York carrying a 'Wensleydale lament' headboard) and Colin Kennington was at Redmire and he confirms no other tour was there on the day. Was this on another date then?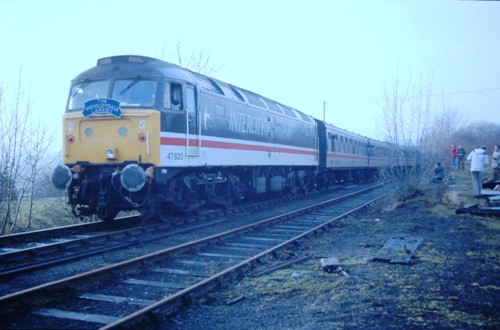 47820 at Redmire (photo: Colin Kennington)
Sources : Dave Burbridge, Martyn Catlin & Stephen Chandler



Timings (Booked Only)
(from John Broderick)
| | | | |
| --- | --- | --- | --- |
| M.C | Location | Booked (out) | Booked (rtn) |
| 0.00 | Kings Cross | 07.40d | 19.58a |
| 2.41 | Finsbury Park | 07/45 | 19/48 |
| 4.78 | Alexandra Palace | 07/48 | 19/46 |
| 12.57 | Potters Bar | 07.59a ~ 08.01d | 19.36a ~ 19.38d |
| 20.25 | Welwyn Garden City | 08/08 | 19/29 |
| 23.73 | Woolmer Green | 08/12 | 19/26 |
| 27.45 | Stevenage | 08.16a ~ 08.18d | 19.19a ~ 19.21d |
| 31.74 | Hitchin | 08/28 | 19/14 |
| 44.10 | Sandy | 08/36 | 19/03 |
| 58.70 | Huntingdon | 08/48 | 18/51 |
| 69.26 | Holme | 08/56 | ? |
| 68.28 | Conington | ? | 18/44 |
| 76.29 | Peterborough | 09.04a ~ 09.07d | 18.33a ~ 18.35d |
| 84.64 | Tallington | 09/17 | 18/23 |
| 99.61 | Stoke | 09/30 | 18/13 |
| 105.38 | Grantham | 09/35 | 18/08 |
| 109.56 | Barkston South Jn | 09/38 | 18/04 |
| 120.08 | Newark Northgate | 09/45 | 17/56 |
| 138.49 | Retford | 09/59 | 17/43 |
| 152.00 | Loversall Carr Jn | 10/09 | 17/33 |
| 155.77 | Doncaster | 10/12 | 17/30 |
| 160.16 | Shaftholme Jn | 10/15 | 17/27 |
| 169.16 | Temple Hirst Jn | 10/22 | 17/21 |
| 174.75 | Hambleton North Jn | 10/57 | 17/16 |
| 182.79 | Colton Jn | 10/34 | 17/09 |
| 188.40 | York | 10L40a ~ 11L12d | 16L33a ~ 17L03d |
| 190.11 | Skelton Jn | 11/16 | 16/30 |
| 198.00 | Tollerton | 11/25 | 16/21 |
| 210.56 | Thirsk | 11/38 | 16/08 |
| 218.36 | Northallerton | 11t49 | 15t59 |
| 219.23 | Castle Hills Jn | 11.52 ~ 11.57 | 15.49 ~ 15.54 |
| 221.74 | Ainderby | 12/09 | 15/35 |
| 224.65 | Leeming Bar | 12/27 | 15/15 |
| 226.46 | Bedale | 12/33 | 15/05 |
| 232.20 | Finghall Lane | 12/48 | 14/52 |
| ? | Leyburn | 13/06 | 14/34 |
| 241.37 | Redmire | 13.35a | 14.15d |