6th September 1992
Network SouthEast
The Network Arrow
(Staff Special)
| | |
| --- | --- |
| Loco Used | E5001 |
| EMU's Used | 1559 & 1594 (used as hauled stock) |
Route : 1Z71 throughout
| | |
| --- | --- |
| Loco | Route |
| E5001 | Ashford – Tonbridge – Sevenoaks – Orpington – Petts Wood Jn – Bickley Jn – Beckenham Junction – Herne Hill – Brixton – Factory Jn – London Victoria |
| E5001 | London Victoria – (reverse of outward route) - Ashford (2) |
Notes :
(1) This was a staff special with all proceeds going to Woking Railcare Centre. Originally uploaded as having run on 19th September in error.
(2) Due to failure of the loco's booster set the train terminated at Ashford on the return leg, missing out the planned run to Dover Western Docks.
Sources : LASERman (on the train from Ashford to London Victoria only)
& David Morgan (on the train throughout)



Photo Review
(all photos: LASERman)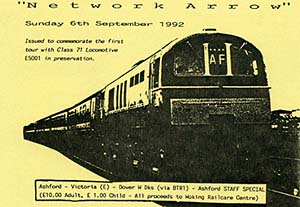 LASERman's ticket (numbered 000010 on rear)
[how many did they expect to sell?]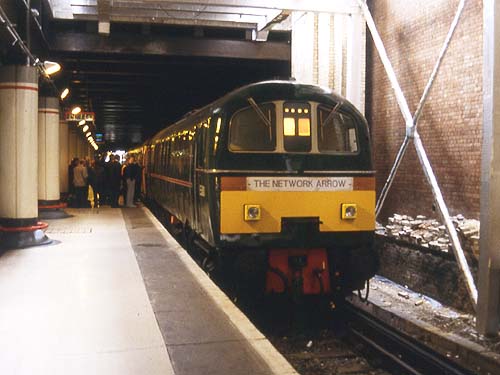 E5001 upon arrival into London Victoria.


Timings (Booked & Actual)
(from LASERman & David Morgan)
| | | |
| --- | --- | --- |
| Location | Booked | Actual |
| Ashford | 11.57 | 12.57½ [P3] |
| Headcorn | 12/13 | 13/08 |
| Paddock Wood | 12/27 | 13/22 |
| Tonbridge | 12/34 | ??/?? [TL] |
| Sevenoaks | 12/47 | 13.37½ ~ 13.38 |
| Orpington | 13/00 | 13/47 |
| Petts Wood Jn. | 13/03 | 13/49 |
| Bickley Jn. | 13/03½ [FL] | 13/50 |
| Shortlands Jn. | 13/07 | 13/53 |
| Beckenham Junction | 13/10 | 13/55½ |
| Herne Hill | 13/22 | 14/00½ |
| Brixton | 13/24 | 14/01½ |
| Factory Jn. | 13/27 | 14/04 |
| London Victoria | 13.31a ~ 14.32d | [P8]14.08 ~ ??.?? |
| Factory Jn | 14/36 | ? |
| Brixton | 14/38 | ? |
| Herne Hill | 14/40 | ? |
| Beckenham Junction | 14/47 | ? |
| Shortlands Jn | 14/49 [FL] | ? |
| Bickley Jn | 14/53 | ? |
| Petts Wood Jn | 14/55 | ? |
| Orpington | 14/58 | ? |
| Sevenoaks | 15/10 | ? |
| Tonbridge | 15/23 | ? |
| Paddock Wood | 15/30 | ? |
| Headcorn | 15/45 | ? |
| Ashford | 16/00 | ??.??a |
| Folkestone East | 16/23 | CANX |
| Dover Western Docks | 16.36a ~ 17.06 | CANX |
| Folkestone East | 17/19 | CANX |
| Ashford | 17.43 | CANX |