6th June 1992
Risborough & District Model Railway Club
Risborough Venturer
| | |
| --- | --- |
| Loco Used | 33102 |
| Stock Used | 4TC sets 410 & 417 |
| DMUs Used | ??? |
| Tube Used | Bakerloo Line service train |
Route :
| | |
| --- | --- |
| Traction | Route |
| DMUs as listed | Aylesbury & Princes Risborough - London Marylebone |
| tube as listed | London Marylebone - London Waterloo |
| 33102 | London Waterloo - Clapham Junction - Wimbledon - Raynes Park - Kingston - Twickenham |
| 33102 | Twickenham - Feltham - Staines - Virginia Water - Ascot - Wokingham |
| 33102 | Wokingham - Blackwater - North Camp - Ash - Guildford |
| 33102 | Guildford - Ash - Aldershot - Bentley - Alton |
| 33102 | Alton - Bentley - Ash Vale - Woking - Byfleet & New Haw - Addlestone Jn - Virginia Water - Staines - Feltham - Hounslow - Brentford - Old Kew Jn - Kew East Jn - South Acton Jn - Acton Wells Jn - Neasden Jn - Wembley Stadium - South Ruislip - Gerrards Cross - High Wycombe - Princes Risborough - Little Kimble - Aylesbury |
| 33102 | Aylesbury - Little Kimble - Princes Risborough |
Notes :
(1) Pete Joels comments: This trip was almost an unmitigated disaster. The loco and stock, stabled the previous overnight at Clapham Junction yard, was parked in the pouring rain with the loco to stock jumper cables directly under a leaking gutter on the footbridge. Upon attempting start-up the following morning to run E.C.S. to Aylesbury, the cables shorted and the circuit breakers failed to reset, necessitating two fitters to be urgently called from Eastleigh to rectify the fault. Meanwhile, all passengers, by now assembled and waiting for the train at Princes Risborough, piled into a service train to Marylebone; then, through telephoned pre-arrangement with London Undergound, boarded a held Bakerloo line train to reach Waterloo. Meanwhile, our pair of on-board catering trolleys (acquired by our British Airways stewarding team) - no longer objected to because we were in the hands of Network SouthEast and not Inter-City On Board Catering(!) were taken by taxi from Marylebone to Waterloo. Emerging from the stairway onto the Waterloo station concourse, the distinctive noise of the idling '33' that had arrived only a few minutes earlier drew the passengers to its source at platform 8. By then of course, our original route and pathing plan was in tatters. Yet it was absolutely imperative that we reached Alton on time to connect with our complicated Mid-Hants rostered schedule - This was made clear to S.R. Divisional management at Waterloo even before we left Princes Risborough who, all credit to them, immediately upon our arrival at Waterloo, placed an Ops. manager (complete with a new-fangled mobile phone the size of a housebrick) with us and our two Flying Scotsman Services stewards in our 'train management team' compartment. Thus, we had direct contact with South West Control, who were giving the 'Risborough Venturer' top pathing priority even over (fortunately very few) conflicting scheduled services where arising, with our route planning/pathing taking place as we went. What should originally have been a reversal at Reading off the Western Region from Aylesbury and Princes Risborough to reach the Southern Region, was being revised and re-pathed even as we were moving out of Waterloo towards Wimbledon via our very own captive S.R. Ops. Manager with South West Division Control 'phoning the relevant signal boxes to create a path for the train in 'real time' as we went! In consequence, emerged the most imaginative and spontaneous 'Plan B' train logistics I've ever seen before or since, unfolding to take the 'Risborough Venturer': Down main from Waterloo to Raynes Park; Down slow to New Malden, Kingston, Twickenham; reverse; to Staines, Wokingham; reverse; to Guildford; reverse; to Alton a 15 minute earlier arrival than originally scheduled in 'Plan A' allowed a more leisurely transfer to Mid-Hants 'Risborough Venturer'. The return route was undertaken as originally planned: dep. Alton to Woking, Chertsey, Staines, Hounslow, Acton Central, Neasden Junction, High Wycombe, Princes Risborough; arr. Aylesbury. However, a final hiccup occurred when the train failed to stop to set down at Princes Risborough; where a large number of passengers were expecting to make connection with a following Northbound Banbury service train (the driver's duty sheet omitted to mention the Princes Risborough stop). Following urgent phone calls upon arrival at Aylesbury station to Marylebone Control, a following Marylebone to Banbury service train was held outside Princes Risborough station until the returning Southbound 'Risborough Venturer' E.C.S. (no longer E.C.S. of course!) had set down passengers at Princes Risborough and left, enabling the Northbound Banbury service train into the station and pick up connecting passengers ex-'Risborough Venturer'. (At that time, Princes Risborough only had a single bi-directional platform in use).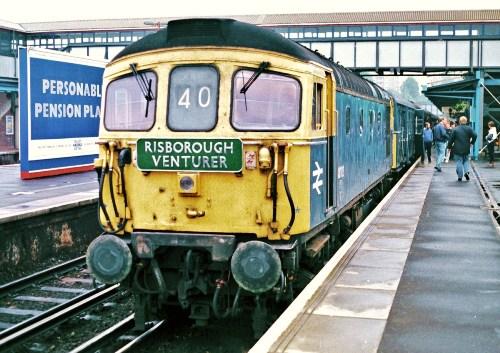 33102 complete with cast 'Risborough Venturer' headboard (photo: Pete Joels)
Source : Pete Joels (tour organiser)



Back to "The Railtour Files"