15th March 1992
DC Tours
Hamworthy Quay Phoenix
| | |
| --- | --- |
| Locos Used | 08845, 33114, 37045, 37216, 37227, 37902, 60018 & 73134 |
Route : 1Z24 throughout
| | | |
| --- | --- | --- |
| Mileage | Locos | Route |
| 104.75 | 37216 + 33114 | London Waterloo - Basingstoke - Laverstock North Jn - Laverstock South Jn - Romsey -Eastleigh |
| 1.75 | 08845 | Eastleigh - Eastleigh Depot Loop - Eastleigh |
| 34.50 | 37227 + 37902 + 33114 | Eastleigh - Bournemouth |
| 10.00 | 37227 + 37902 (2) | Bournemouth - Hamworthy Quay |
| 10.00 | 33114 (1) | Hamworthy Quay - Bournemouth |
| 15.25 | 37902 + 37227 + 33114 (3) | Bournemouth - Brockenhurst |
| 13.50 | 33114 | Brockenhurst - Southampton |
| 55.00 | 37216 + 33114 | Southampton - (4) - Basingstoke - Woking |
| 24.25 | 73134 + 37045 (5) | Woking - London Waterloo |
Evening "wanderette" (additional £3 charge) using the ECS (6) :
2Z24 throughout
| | | |
| --- | --- | --- |
| Mileage | Loco | Route |
| 23.00 | 60018 | London Waterloo - Clapham Junction - Kingston - Richmond - Clapham Junction |
Notes :
(1) 37227 + 37902 on rear.
(2) 33114 on rear.
(3) Delayed at Brockenhurst with dragging brake problems and failure of 37227 (oil leak) and 37902 (low amps). The 37's were therefore removed at this point.
(4) The booked route via Guildford was abandoned to regain time lost at Brockenhurst and also to get back to Woking for the handover of proceeds collected on the previous evening "Wanderette" specials. The presentation was made on behalf of 'DC Tours' by NSE SW Director, Mr. Peter Field, to the Chairman of the 'Woking Homes Committee'. Over £6000 was raised.
(5) 73134 working on diesel power.
(6) Was booked to be Waterloo to Vauxhall only with a diesel shunter but revised into circular tour using a class 60.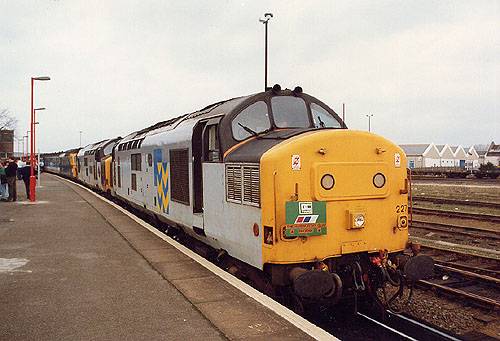 37227, 37902 & 33114 at Eastleigh (photo: Mark Sawyer)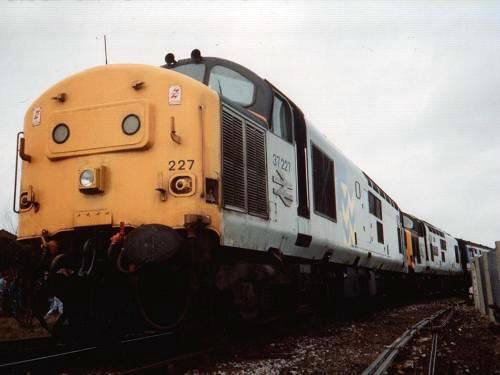 37227 + 37902 at Hamworthy Goods (photo: Richard Rooker)
Source : Richard Hughes (On train throughout)
(last leg, hauled by 60018, provided by Steve Cassidy)



Timings (Booked & Actual)
(from Alan Sheppard)
Location
Booked
Actual
Booked
Actual
Waterloo
10.12d
10.12
19.35a
19.59
Clapham Junction
?
?
19/26
19/54
Wimbledon
10/24
10/26
?
?
Surbiton
10/29
10.32a/d
19/16
19/44
Woking
10/42
10/45
18.34a ~ 19.04d
19.03 ~ 19.32
Basingstoke
11c10a/d
11.06 ~ 11.13
?
18/38
Andover
11/30
11/29
Romsey
12/01
11/59
Eastleigh
12L14a ~ 12L30d
12.07 ~ 12.36
?
18/12
via depot loop
Eastleigh
12L53a ~ 13L05d
12.51 ~ 13.07
Guildford
18/22
DIV
Haslemere
18/09
DIV
Petersfield
17/57
DIV
Havant
17/42
DIV
Farlington Jn
17/35
DIV
Fareham
17/20
DIV
St Denys
?
?
17/00
18/09
Southampton
13/16
13/16
16/58
17.57a ~ 18.05d
Redbridge
?
?
16/49
17/49
Brockenhurst
13/32
13/29
16/37
17.09a ~ 17.35d
Bournemouth
13L48a ~ 14L10d
13.43 ~ 14.11
15L48a ~ 16L20d
15.45 ~ 16.21
Poole
14/20
14/20
15/31
15/30
Hamworthy
14.25a ~ 14.42d
14.26 ~ 14.28
15/26
14.55a ~ 15.26d
Hamworthy TC
14.55a
15.33
15.10d
14.47
"Wanderette" :
| | | |
| --- | --- | --- |
| Location | Booked | Actual |
| Waterloo | 20.05d | 20.33 |
| Vauxhall | 20.12a | ? |
| Clapham Junction | - | ? |
| Richmond | - | ? |
| Kingston | - | ? |
| Wimbledon | - | ? |
| Clapham Junction | - | 21.26a |