19th August 1990
?Hertfordshire Rail Tours?
The Thames Severn Crompton
| | |
| --- | --- |
| Locos Used | 33064 & 37697 |
| Stock Used | 4TC or EMU stock |
Route :
| | |
| --- | --- |
| Loco(s) | Route |
| 33064 (1) | London Waterloo - ??? - Basingstoke |
| 33064 | Basingstoke - Southcote Jn - Reading West Jn - Didcot Parkway - Swindon - Bristol Parkway - Pilning - Severn Tunnel Junction - Newport - Cardiff Central - Barry |
| 33064 (2) | Barry - Penarth Curve South Jn - Penarth Curve North Jn - Radyr |
| 37697 (3) | 14.00 Radyr - Llandaf - Cardiff Queen Street - Cardiff Bute Road |
| 33064 (2) | Cardiff Bute Road - (reverse of outward route) - Radyr |
| 37697 (3) | 15.00 Radyr - (reverse of outward route) - Barry |
| 33064 | Barry - Cardiff Central - Bristol (?Temple Meads? with reversal; or via Dr Days Jn - North Somerset Jn?) - Westbury - Salisbury - London Waterloo |
Notes :
(1) Was booked to have been double-headed class 33's but the other loco was reported to have failed at the last minute, resulting in 33064 working the train on its own. Train believed to have been 45-60mins late arriving into Cardiff Central before setting off on what was advertised as a mystery tour. Jim Rowe comments; I took over as the driver of this tour at Basingstoke on the outward leg. Originally it was supposed to be a Push-Pull Crompton (33/1) and then a 33 each end when a 'pusher' wasn't available. Eventually we had just the one; 33064. The train arrived at Basingstoke very late and we had to run-round. The organiser was concerned and asked me if we would continue. The problem was the 33 couldn't supply train heat and lights. This meant that in the Severn Tunnel, the train would be in darkness, with just perhaps a glimmer of battery lighting. I requested an electric tail lamp and advised the organiser to notify all passengers about the tunnel and to remain seated. So off we went. As I signed the route as far as Didcot, then to the north, a WR conductor joined us at Reading West. At Didcot I offered him the controls but he declined. He was not familiar with the Auto Brake and Triple Valves. The Severn Tunnel was negotiated without losing any passengers! We arrived at Cardiff Central where another conductor driver joined us to Barry. The 37 came on the back and towed us to Radyr where we then worked to Cardiff Queen Street. We were relieved there by a Salisbury crew who then did the Bute Road trip and the reverse to Cardiff Central. The Tour then went via Bristol, Westbury and Salisbury and onto Waterloo.
(2) 37697 on rear.
(3) 33064 on rear.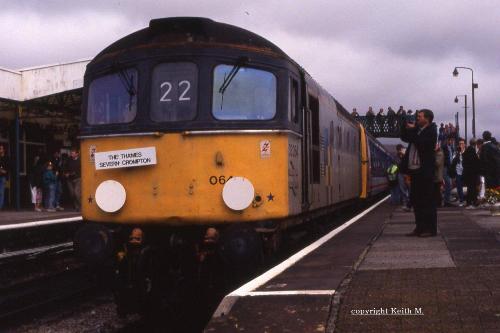 33064 paused at Barry (photo: Keith Mantle)
Sources : John Simmonds, Simon Cresswell & Jim Rowe



Back to "The Railtour Files"